Good news for all of you international customers. You can now use PAYPAL to pay for your Music By Mail orders!
Good news for jazz lovers!
Music By Mail adds 3 important distribution sources to its working platform:
+ Ayler Records: www.ayler.com and Silkheart Records: www.silkheart.se are two labels based in Sweden. If Ayler is more focusing on avantgarde jazz and also to some extent rescued historic recordings, Silkheart " is dedicated to recording improvised music with the final touch that lifts it to the sublime heights of creativity", as they present themselves.
+ Les Allumés du Jazz. The collaboration with this association will open you the doors of many great French independant jazz labels. To name a few: Label Bleu, Deux Z, Nato, Hopi, Evidence, In Situ ....
+ Igloo Records are based in Belgium and for 25 years have been providing a platform for independant European jazz.

ALL ABOUT THE NEW ITALIAN PROGRESSIVE RELEASES!
Acqua Fragile: A New Chant. Esoteric Antenna (EANTCD1069). Street date: 13-10-17. This is a comeback in more than one sense! Not only are we talking of a new studio album by the legendary Italian progressive rock band Acqua Fragile, with original members Piero Canavera, Franz Dondi and Bernardo Lanzetti, reunited after forty-four years but we also talk of the return of lyricist Pete Sinfield, here together with Nick Clabburn (who has penned lyrics for Steve Hackett & Squackett)! "A New Chant" is in the finest tradition of the albums made by the band in the 70's and possesses a vitality that fits perfectly in the Progressive rock arena of the new millennium.
L'Albero Del Veleno: Tale of a Dark Fate. Self release distributed by Black Widow Records (BWRDIST 674). Street date: 13-10-17. L'Albero Del Veleno plants its roots in 2010 to create instrumental music following the style born from the soundtracks of horror and thriller movies of the 60's/70's/80's. The various musical influences, along with the passion for cinema, form a project strongly introspective and emotional, made even more special by the video contribution always present in live performances; every song is in fact supported by a original screenplay for the production of short films. The band is also responsible for composing soundtracks for horror movies on demand.
Banco del Mutuo Soccorso: Io Sono Nato Libero Legacy Edition. Sony Music 2CD + Book or LP + CD + Book. Street date: 06-10-17. This new Legacy edition of "Io sono nato libero", historic third album by Banco del Mutuo Soccorso, is enriched by a bonus disc with 5 inedit tracks recorded with the current line up and a long interview with Vittorio Nocenzi, founder of the band. "Io sono nato libero" will be available in a 40 p. bookset edition + 2CD and in a LP+CD edition with a vinyl-sized booklet. The booklet includes lyrics, interviews, photos and a wonderful genealogical tree of the band.
Goblin: Suspiria 40th Anniversary Box Set (BX MDF002/B). Street date: 31-10-17. This box set features a faithful reproduction of the original soundtrack in LP format (with 'gimmick' insert, identical to the first 1977 edition) and MC; a 10-inch LP with rare and unpublished tracks on clear red vinyl; a CD + DVD set: the CD contains the original soundtrack with bonus tracks, while the DVD carries a documentary with interviews with Dario Argento and Goblin; two 64-page books, in Italian and English language, with detailed analysis of "Suspiria" film and soundtrack.
Il Cerchio D'oro: Il Fuoco Sotto La Cenere. Black Widow (BWRCD 204-2). Street date: 18-09-17. New album, featuring ex New Trolls' member Giorgio Usai as guest on one track (organ and vocals.
Il Cerchio Medianico: Un Opera Prop di Stefano Agnini. AMS282CD. Prop Opera? A self-made expression where the word 'prop' is simply a curious contraction 'prog-pop', a quite fitting definition for "Il Cerchio Medianico", since the apparent immediacy of its compositions (pop) conceals a careful research on arrangements and exceptional compositional skills (prog). If being progressive means knowing how to skillfully wander among different musical genres, this is probably one of the most prog albums you may encounter in recent times: "Il Cerchio Medianico" contains in fact traces of Canterbury sound, jazz-rock, funk, Italian songwriting, spoken word, popular music, classic Italian progressive rock, even moments clearly inspired by Frank Zappa. Agnini is here accompanied by a number of excellent guest musicians: Stefano Lupo Galifi (Museo Rosenbach), Martin Grice (Delirium, Z-Band), Matteo Nahum (Höstsonaten), Boris Savoldelli, Luca Scherani and Melissa Del Lucchese (La Coscienza di Zeno), Daniele Sollo, Andrea Orlando, Marco Callegari and Fabio Zuffanti himself. A particular, eclectic and somewhat anarchic record, released on papersleeve CD and exceptionally in a limited [u]cassette[/u] edition!
Monkey Diet: Inner Gobi (BWDIST671). Featuring Daniele Piccinini, who previously played bass in the band Accordo dei Contrari, this new project arose from a collaboration with PropheXy's guitarist Gabriele Martelli who wanted to challenge himself in a new band, Piccinini wishing himself to play more improvised and less written music; they were joined by Roberto Bernardi, a brilliant drummer, well known on the underground scene because of his wide musical background. He was the perfect third element for such an eclectic project as Monkey Diet are and the nine tracks on the album show the multiplicity of shades and atmospheres that the band is able to offer!
Andrea Orlando: Dalla Vita Autentica. AMS 286. Street date: 22-09-17. This album by La Coscienza di Zeno's drummer (on which he also plays organs and Mellotron) gathers a who's who row of Italian prog musicians / bands (Höstsonaten, Finisterre, La Maschera di Cera). It is a complex but never boring record of modern and Mediterranean progressive rock, mostly made of contrasts between mellow orchestral parts with piano and strings, and other more rushing and 'rock' ones, in which in particular Alessandro Corvaglia's expressive voice is the absolute protagonist. The long title-track at the end is a perfect example of this, over 16 minutes of sound explorations that perfectly seal a beautiful album.
PFM: Emotional Tattoos. InsideOut Music. Street date: 27-10-17. Double news indeed, as it is the band's first album after Franco Mussida's departure and at the same time their first on the German based label InsideOut Music. Several formats are or have been available, from the gatefold limited edition (500 copies) transparent orange 2LP + CD edition (in Italian) to a 2CD edition presenting both Italian and English versions (also released as black 2LP / English + 2CD English / Italian) or a single CD version in Italian only. "Emotional Tattoos" marks the return of the band's trademark sound. The new album takes a melodic rock route while offering surprising musical twists and turns including moody synths, orchestral arrangements, straight-forward guitar-driven passages and wonderful ballads. Recorded between May to July 2017 at Metropolis Recording Studio by Alessandro Marcantoni. "Emotional Tattoos" is an impressive sonic statement that shines with memorable songwriting and ultimately proves to be an energetic, imaginative and encompassing sonic experience, inviting all listeners to really sink into its musical facets and stories.
Prog 50: Progressive Rock Around the World in 50 Years (APP050). Street date: 08-09-17. Written (in English) by Maurizio Gallia, this book is a complete compendium of prog music, starting in the late sixties, flowing through the years up to yesterday. For fans, discographies, historical notes, comments and pictures of hundreds of records are included, with 50 pages more than the previous edition, thousands of artists with bio and discographies
Semiramis: Frazz Live. Black Widow Records (BWRCD 206-2). CD+DVD (PAL, all region). An unforgettable live show in Genova by the legendary 70's Italian Prog Band. This became the last concert with Maurizio Zarrillo who sadly died 2 monthes after the show.. and just before the band played in Japan presenting this DVD-CD.
SHO: Nature Gives You Beer and Wine. Private pressing on digisleeve (SHO01). Sept. 2017. New instrumental guitar power trio and a debut album produced and arranged by Paolo "Ske" Botta of Yugen's fame, who also guests on keyboards together with other musicians on cello, sax and a few vocalists. The music is leaning towards dark hard prog, inspired by bands like Porcupine Tree.
Tazebao: Opium Populi. Ma.Ra.Cash. Records (MRC068). Sept. 2017. Tazebao is a culturally ambitious but extremely fascinating project. They form a free creative collective in balance between music, poetry and visual art, in which we'll find Gigi Cavalli Cocchi on acoustic and electronic drums, Gianni Venturi - lead singer of the band Altare Thotemico, who also contribute to the album's lyrics, a manifesto against among other any religious fundamentalism and ideological extremism - and other lesser known musicians on keyboards, guitars and bass.
Unreal City: Frammenti Notturni. AMS (AMS135LP / AMS283CD). Street date: 11-09-17. This third chapter is destined to consolidate the band's status as one of the most important names in the Italian prog-rock panorama. The current line-up includes Emanuele Tarasconi, the music and lyrics composer, on keyboards and vocals, Francesca Zanetta on guitar, Dario Pessina on bass guitar and the new drummer Marco Garbin. "Frammenti Notturni", which was recorded at the beginning of 2017 at the renowned Studio 2 in Padua, sees the participation of guests Matteo Bertani on violin and Camilla Pozzi on vocals. The album, divided into five long tracks, is as usual characterized by the dark atmospheres that we already encountered in the band's first two records; the sound and the production are far more modern than the past ones, but echoes of the '70s progressive rock music are still very present, as they've always been a trademark for the group.
PROG IN THE UNITED KINGDOM!
Tim Bowness: Songs from The Ghost Light. Digipak edition. Street date: 18-08-17. By turns beautiful and brutal, familiar and unexpected, Songs From The Ghost Light is a companion release to Tim Bowness's Inside Out label albums, Abandoned Dancehall Dreams (2014), Stupid Things That Mean The World (2015) and Lost In The Ghost Light (2017). Comprising an eclectic combination of radical re-imaginings, live performances and atmospheric outtakes, the 34 minute mini-album collects songs relating to the Lost In The Ghost Light concept (which revolves around the onstage and backstage reflections of a fictional 'classic' Rock musician in the twilight of his career). "Stupid Things That Mean The World" and "The Sweetest Bitter Pill" have been reinvented as shimmering string-driven pieces and provide a stark contrast to the guitar led Art Rock attacks of The Warm-Up Man Forever, "Dancing For You" and "The Great Electric Teenage Dream" (all taken from a powerful set at The Band In The Wall, Manchester in 2015). Studio outtakes include the poignant "No Longer The One" and the atmospheric Mellotron-drenched interlude "Once A Record". Tim Bowness is joined by Colin Edwin and Stephen Bennett (who feature throughout the album), plus Michael Bearpark, Andrew Keeling, Andrew Booker, Hux Nettermalm, Kit Watkins and Anna Phoebe. Songs From The Ghost Light has been mixed and mastered by Giancarlo Erra (Nosound/Memories Of Machines), who also contributes piano to a haunting new version of the title track
Chromium Hawk Machine: Annunaki. Black Widow (BWRCD 205-2). Street date: 28-09-17. Nik Turner (Legendary Hawkwind founder), Helios Creed (Mythical Chrome Guitar Player) and Jay Tausig (Multi-instrumentalist) joined for this long waited Psychedelic Space project. A "Cosmic Explosion" with obscure riffs, hypnotic rythms, spacey deep atmospheres? Hawkwind meets Chrome? A musical event? A journey through the unknown universe?
Colosseum: Daughter of Time. Esoteric Recordings (ECLEC2601). Street date: 25-08-17. Remastered & Expanded Edition of the classic 1970 album. It includes three bonus tracks recorded at Lansdowne studios in London in May 1970 and August 1971, including the lengthy opus "The Pirate's Dream". This release fully restores the original album artwork and features an illustrated booklet with a new essay and exclusive interviews with Dave Greenslade and Clem Clempson.
Peter Hammill: From the Trees. Street date: 03-11-17. Digipak CD with 20 page booklet. Peter Hammill's first solo album since 2014's hugely ambitious "... all that might have been ...". Represents a return to a more intimate style of music. The songs on From The Trees are mostly based on single piano, guitar and vocal parts designed for live performance. Consequently the overdubbing is textural (supportive guitars, a central spine of bass, synth and string washes, multiple voices - backing, harmony, choral - behind the main one). In the third act of life it's time to look with a clear eye at where one's been, at where one's going. Another unique entry in Peter Hammill's unique catalogue.
Greg Lake: Live in Piacenza. Manticore Italy (Broken Silence). Street date: 07-12-17. Captured on November 28th 2012, this concert saw the participation of great guests like Aldo Tagliapietra and ex PFM singer Bernardo Lanzetti on Lake's biggest hit "Lucky Man". The repertoire is based on cover versions of songs by Lennon / McCartney, Curtis Mayfield, Elvis Presley, but also bands like King Crimson or ELP, alongside favourite songs penned and chosen by Lake.
King Crimson: Live in Chicago, June 28th, 2017. 2CD Panegyric (KCXP5003). Presented as a King Crimson Collectors' Club special edition, King Crimson Live in Chicago is packaged in a mediabook style hard cover 2CD edition with a 24 pages booklet featuring photographs by Tony Levin, introductory notes by Robert Fripp & photos/production notes by KC producer/manager David Singleton. DGM Japan will also issue Live in Chicago early in 2018.
King Crimson: Sailors' Tales (1970 - 1972) - Limited Edition 27 Disc Boxed Set. Panegyric (KCCBX4). The inflation keeps on! This time, the boxset focuses on the Islands album, with the following content:
+ 3 CDs feature Steven Wilson & Robert Fripp stereo mixes of In The Wake Of Poseidon (1970), Lizard (1970) & Islands (1971) + additional tracks.
+ 6 CDs feature the Islands line-ups early concerts from Germany (new to CD) & the UK (1971).
+ 9 CDs feature live recordings (several new to CD and/or previously unreleased in any format) from the 1972 US tour, including a new stereo mix of Summit Studios & an expanded Earthbound.
+ 3 CDs feature auditions for the Islands band & two further, as yet, unidentified concerts from 1972 (all previously unreleased)
+ 3 Blu-Ray discs contain the main studio albums in 5.1 Surround Sound & recent stereo editions mixed by Steven Wilson & Robert Fripp + 30th anniversary masters of the original stereo albums mixes (all in 24/96 hi-res), plus extensive additional material with each disc also featuring a complete alternate album + a further selection of additional, related studio/live material in hi-res.
+ Lizard Blu-Ray: also contains the audition material from CDs19/20
+ Islands Blu-Ray: also contains the following concerts in stereo Zoom Club (4 shows), Marquee Club, Plymouth, Glasgow, Detroit all from 1971.
+ Earthbound Tour: Blu-Ray features an expanded version of the original album, Summit Studios gig in Stereo & Quadraphonic (newly mixed), the Schizoid Men sequence from the Ladies of the Road album, 2 newly discovered concerts in hi-res stereo & every existing soundboard concert recording from the 1972 US tour: Wilmington, NYC (2 shows), Chicago (2 tracks only), Detroit, Jacksonville, Orlando, Pittsburgh, Milwaukee, Peoria, Indianapolis & Denver (2 shows).
+ 2 DVD-A feature the expanded Earthbound, Summit Studios, Schizoid Men, New York 1972 & the recently discovered live concerts.
+ 12 box with booklet, memorabilia, a further downloadable concert, new sleeve-notes by Sid Smith, Jakko Jakszyk & David Singleton


King Crimson: Earthbound (40th Anniversary Series). CD + DVD-A. Panegyric (KCSP 9). The CD features an expanded 12 track version of the original 5 track album. The DVD features the 12 track expanded album in 24/96 hi-res stereo audio + the Summit Studios performance in a new stereo mix & in quadraphonic. This is the only surviving multi-track performance from the 1972 tour. The DVD also features the album length "Schizoid Men" sequence of edits of 21st Century Schizoid Men taken from the "Ladies of The Road" live album.A transfer of the original vinyl album completes the audio selections. Presented as a 2 x digipak format in a slipcase with new sleeve notes by King Crimson biographer Sid Smith along with rare photos & archive material.
A series of King Crimson shows recorded in Japan in December 1981 at various venues, are now for sale on the DGM web site, alongside other classic Japanese papersleeve reissues in a newly created Japanese Import section!
YES. The band name has also become the title of a book by Aymeric Leroy, going through the story and life of one of the groundbreaking bands in progressive rock. Published by Le Mot et le Reste, it is written in French and will mainly attract those mastering this language. Street date: 07-09-17
OUR LITTLE SCANDINAVIAN CORNER!
Arabs in Aspic: Syndenes Magi. Apollon Records (ARP009CD). Street date: 15-09-17. This is the 6th release from Norwegian progressive rock band Arabs in Aspic. Focusing on an old-school sound, the use of Hammond organs, Mellotron, Rhodes, Space Echo, vintage guitars and tube amps shines through and colors the entire album. The songs on Syndenes Magi are darker and heavier than the previous release, the lyrics are all in Norwegian and reflect the unstability of today's world.
Cities of Mars: Temporal Rifts. Argonauta. Format: CD (REX85) / LP (REX85LP). Street date: 20-10-17. Cities of Mars is a psychedelic fuzz/doom band hailing from Gothenburg, Sweden. The band was formed in 2015 when Danne Palm (bass/vox) teamed up with Christoffer Norén (guitar/vox) and Johan Küchler (drums/backing vox) to create a heavy band with an integrated storyline - the saga of the Cities of Mars - where the KGB cosmonaut Nadia lands on Mars on a covert mission in 1971 and shortly after disappears into the misty depths of an ancient conspiracy. After a two-track single in 2015, followed in 2016 by the EP Celestial Mistress, a 12" gatefold vinyl, they now have completed and released their debut album and are planning extensive touring all over Europe.
Isildurs Bane: Starting with MIND Vol. 1, Isildurs Bane will release new editions of the out of print albums "MIND Vol. 1: The Voyage: A Trip to Elsewhere" and "MIND Vol. 4". The albums will feature new artwork by Matti Engdahl. MIND Vol. 1 was originally released in 1997 to great acclaim and signals a new direction in the band's development with the arrival of percussionist Klas Assarsson, who is heavily featured on marimba, vibraphone and percussion. The reissue Series will start in September and other albums will follow throughout 2017.
Kaipa: Children Of The Sounds. 2LP limited edition of 200 copies pressed on 180 gram dark green vinyl + CD. Street date: 22-09-17.
Kaipa da Capo: Live Stockholm 2017. Street date: 20-10-17. This show is from February 25th, 2017 and also happens to be the birthday of singer Michael Stolt. The setlist is of course a number of old 70's classics plus a few tracks from the band's studio album, enhanced with a few improvisations from keyboarder Lalle Larsson, who stands in for Max Lorentz, attacked and severely injured at a show earlier this year. Recorded by Micha Weber and mixed by Roine Stolt.
Motorpsycho: The Tower. As ever stretching the boundaries of their musical understanding and looking for new ways to express themselves, this is a pretty adventurous album even by Motorpsycho standards. It is easy to hear that both the new environment and the new co-conspirators - very much including new drummer Tomas Järmyr - influenced the band: this sounds nothing like any previous Motorpsycho album! Musically this is in parts the hardest album Motorpsycho has perpetrated in a while, and the material runs the gamut from short and sweet to lengthy and mean - even touching on heavy or stoner rock in places. It certainly is of a rather more explosive nature than most of their last album Here Be Monsters: the sounds are gnarlier and the riffs bigger, and where the last album to some perhaps was a tad too introvert, this album underlines that the band is bigger than the individual players and that it intends to survive whatever challenges fate throws at it. The Tower, then, is a statement of intent from a band that is very much alive and kicking: this is the start of a new era in the Psychoverse, and the album stands as solid proof that there?s bite in the old dog yet! Also available as 2LP!
Wobbler: From Silence To Somewhere. Limited digipak edition. Wobbler cooks here an enigmatic, multi flavoured and adventurous brew in the olde black cauldron. Poignant and edgy guitar riffs, melancholic and harmonious verses, powerful crescendos, energetic spinet driven passages and the odd touch of flamenco and italian recitals. Four epic songs, clocking in at 47 minutes. Musically, there's a connection to all of the three previous albums, while at the same time making new ground. Inspiration from renaissance music and old Italian prog has seeped into the mix, as well.
FROM OVER THE ATLANTIC!
Glass Hammer: Untold Tales. Street date: 20-10-17. This new release presents a collection of rare and previously unreleased studio and live tracks, containing material that actually dates back to the band's beginnings. It also includes two cover songs, "Hold Your Head Up" by Argent, and "It's All Too Much" by The Beatles. A live version of No Man's Land from Glass Hammer's last studio release, Valkyrie, serves as a fitting finale for this special edition album. The band has been performing that album live in its entirely at several festivals around the world. Untold Tales features vocalists Walter Moore, Jon Davison, Carl Groves and current front-girl Susie Bogdanowicz as well many other current members and Glass Hammer alumni.
Mystery: Second Home. Unicorn (UNCR-5115 & UNCDVD-005). The Canadian are proud to present their first Live DVD filmed and recorded live on April 3rd 2016, headlining the ProgDreams V festival in the Netherlands. Also available on Double CD. Recorded at the legendary Cultuurpodium Borderij in Zoetermeer, a place Mystery now calls Second Home, the album contains more than 2 hours of live music including 3 extras songs also recorded at the Boerderij in 2015. Mystery is today Benoit Dupuis on keyboards, François Fournier on bass, Sylvain Moineau on guitar, Jean-Sébastien Goyette on drums, Jean Pageau on vocals, flute and keyboards and Michel St-Père on guitars.
Stick Men: Roppongi. Now available as 2CD (07-08-17) and soon on a 3LP limited edition (numbered from 11 to 200), pressed on 180 gram clear vinyl. Each LP is inserted (with white paper sleeves) in heavy cardboard LP sleeves. Each sleeve is in different color: Disk 1 - Green; Disk 2 -Purple; Disk 3 - Blue. The three LPs are packed in a rigid heavy cardboard box
Stick Men: Roppongi - Live in Tokyo 2017. Two complete shows are available as digital album only on the Iapetus and/or Moonjune Bandcamp sites. It's not the first time the Stick Men have collaborated with a Crimson alumni. In April 2015 David Cross went out to work with the trio, which resulted in the double album "Midori". This time, this is saxophonist Mel Collins who joins the power prog trio, performances recorded on February 21st, 2017.
Unitopia: More Than A Dream: The Dream Complete 3CD Special Edition. Giant Electric Pea. Street date: 24-10-17. GEP are very pleased to announce they've teamed up with Unitopia for a special deluxe edition release of their debut album "More Than A Dream". Originally released in 2005 as a single CD, More Than A Dream The Dream Complete is presented in a triple digipak with 24 page booklet, and features the original album re-mastered by Sean Timms and Matt Williams. CD2 & CD3 offers a wide range of selections: re-worked tracks, remixes, extended mixes and dance mixes, demos, unreleased material and one entirely new song, written especially for this release!
Wingfield Reuter Sirkis: Lighthouse. Moonjune Recordings. October 2017. Lighthouse, featuring guitarist Mark Wingfield, touch guitarist Markus Reuter and drummer Asaf Sirkis, represents a true paradigm shift in what improvised music can be. This isn't jazz, though its improvisational spontaneity suggests at least a tenuous link. It isn't rock - or, more appropriately, progressive rock - though it certainly is, by definition, progressive in its futuristic stance. Nor is it free improv, despite its overall lack of planning. Instead, the bold and utterly fresh Lighthouse represents nothing less than a brand new methodology and a completely unheard-of way of doing things, its sense of progression and imagination miraculously drawn from the ether, with no clear precedent or preconception.
Frank Zappa: Halloween 77. This 3CD set celebrates the historic concert run's 40th Anniversary, that took place on October 20th, 1977. It also contains selected tracks from the October 30th gig.
ZET: Comandante Beat. New Chilean band and album produced by Mediabanda's drummer Christian Hirth. This is a trio whose sound is much modern, urban and electrically charged! Hirth plays drums and drum machines, with electronic added for treatment and effects. Cristobal Arriagada - alias Zorro - drives synths and samplers, Santiago Blanco takes care of electric guitar, samplers and electronics. All music is by the drummer.
WHAT HAPPENS IN EUROPE?
Belugas: Fauves Nocturnes. Great Winds (GW 3183). Sept. 2017. French band Belugas has this special gift for mixing various musical horizons. Ahmed Amine Ben Feguira is playing oud with many effects added, enriching a sound sometimes electro, sometimes pop, sometimes jazz. The various wind instruments used by Renaud Collet are here to colour the music, in an appropriate way. The rhythmic patterns dear to Fabien Humbert, diverse and powerful, are here to make the band more cohesive. As for Alain Siegel's keyboards, they're here to set the tone and the mood of the compositions, with the help of vintage layers as well as current electronic devices. In this music of the instant, each musician is bringing, through improvisation, the touch of liberty given by jazz music. At the same time, the musical narration is always here to talk about a climate, a history, a country... Belugas is an invitation to a journey, geographic and temporal, to be discovered without delay !
Djabe & Steve Hackett: Life Is a Journey - The Sardinia Tapes. Esoteric Antenna (EANTCD21068). CD+DVD. 06-10-17. This new studio album is the result of an improvised session that took place in a church on the island of Sardinia between the musicians from one of Hungary's most acclaimed Jazz groups, Djabe and acclaimed guitarist Steve Hackett. It also includes a bonus DVD disc featuring a 5.1 Surround Sound mix of the album, along with bonus features "Sardo Moments", an informal video diary of the recording sessions shot by members of Djabe and five tracks recorded at Budapest Jazz Club in June 2017 including among others interpretations of the Genesisclassic "Fly on a Windshield" and the Hackett tour de force "Please Don't Touch".
Dzamble: Kazdy Marzy, Kazdy Sni. GAD Records. October 2017. Great rhythm section with additional keyboards and saxophones plus strong, powerful voice of Andrzej Zaucha. All recordings made by Dzamble in 1979 - some of them available before on singles and compilations, here in remastered form.
Epitaph: Live At Rockpalast. MIG (MIG90380) 3CD+2DVD. Street date: 11-08-17. This great package offers you the classic first two concerts from 1977 and 1979, as well as the amazing performance at the Kraut Rockpalast in 2004. As a special bonus have been added on DVD 2 two tracks from the famous German TV-Show Beat Club (1972!).
Flamen Dialis: Dokitoe - Las Vegan. Musea Parallele (MP 3327). The group from Britanny is reborn from its ashes, nearly fourty years after their first album from 1979! And even today, Flamen Dialis remains faithful to its reputation of anti-conformism: besides a play-on-word defending the animal cause, the new opus appears to be an eclectic and highly intriguing album. You may have never heard anything like this !
Special Providence: Will. Giant Electric Pea. Street date: 23-10-17. New album! Says the band: "it's gonna be the most progressive and heavy stuff we've ever done"
Musea releases!

---------------------------------------------------------------------------------------------
CANTERBURY TALES ... CANTERBURY TALES ... CANTERBURY TALES ... CANTER..
John Greaves: Songs. Dark Companion (DCRS001). State of the art and completely remastered from the original tapes at the legendary Elfo Studios, John Greaves' masterpiece is now available as papersleeve in a limited edition of hand numbered 900 copies. Originally released in 1994, the album is considered one of the cornerstones of the new music and the Canterbury scene. Greaves will also be remembered for his many collaborations, Soft Heap, Mike Oldfield, Robert Wyatt, Michael Nyman, and many others. On this album appear prominent special guests such as Robert Wyatt, Elton Dean, David Cunningham, Kristoffer Blegvad, Sofia Domanchich and other. A wonderful opportunity to catch this album if you haven't it yet, now in an edition with impeccable sound, enriched by new photos and new liner notes written by John himself, in addition to the original.
---------------------------------------------------------------------------------------------
ZEUHL NEWS ... ZEUHL NEWS ...ZEUHL NEWS ...ZEUHL NEWS ... ZEUHL NEWS ...
---------------------------------------------------------------------------------------------
WHAT HAPPENS TO THE EAST ... WHAT HAPPENS TO THE EAST ... WHAT HAPP...
Tohpati Ethnomission: Mata Hati. Moonjune Records (MJR082). Although six years is a lengthy gap between recordings, it is obvious that the players involved have been doing anything but resting. On the contrary, the proceedings are highlighted by a vibrant, cohesive group dynamic where powerful individual performances are subtlety interwoven into the exotic fabrics of its nine acute, ambitious and amazingly diverse musical tapestries. The power and authority of its improvisational content doesn't steal the show, but works as a perfect compliment to the ingenious underlying framework; this is truly a group effort, and a most potent delivery.
----------------------------------------------------------------------------------------------

JAZZ ....JAZZ ....JAZZ ....JAZZ ....JAZZ ....JAZZ ....JAZZ ....JAZZ ....JAZZ .... JAZZ ....
Dadada : Saison 3. Label Bleu (LBLC6725). 2017. Pianist Roberto Negro, saxophonist Émile Parisien and drummer/percussionist Michele Rabbia offer here a mysterious and adventurous night-shaded album, playing on timbers, emotions and subtle electronic effects.
Harold Danko: Triple Play. SteepleChase (SCCD 31839). Nov. 2017. Ever subtle and transcendent pianist/composer Danko and his usual partners in crime, Jay Anderson (bass) and Jeff Hirshfield (drums) are unfolding a unique universe of improvising in and on the recognizable repertoire to pleasant surprises.
Laurent De Wilde: New Monk Trio. Gazebo (GAZ133V). Oct. 2017. At the occasion of Monk's 100 years birthday, pianist Laurent de Wilde, bass player Jérôme Regard and drummer Donald Kontomanou deliver an homage album arranged for acoustic trio and modernly played, clearly showing that the pianist's modernity goes beyond the limits of time; De Wilde also presents a personal composition - Tune for T - played on piano solo. Available on digipak with a 16-page booklet but also on vinyl with printed inner sleeve
Bill Evans Trio: The Hilversum Concert. Resonance (HCD-2031). A rare, never-before-issued recording of the legendary Bill Evans trio featuring Eddie Gomez on bass and Jack DeJohnette on drums captured live at the NRU (Netherlands Radio Union) Studios in Hilversum on June 22, 1968. This is only the third known recording in existence of this particular trio, who only performed together as a trio for a 6-month period in 1968, and was originally recorded and broadcast on the radio program Jazz in Actie by Dutch producer Joop de Roo. This is possibly the best sounding live recording of Bill Evans found to date, captured with the then state of the art equipment of the NRU, and kept in pristine condition over the years. Includes a 36-Page booklet!
The Flock: Truth - The Columbia Recordings 1969-1970 (2CD Remastered Anthology). Esoteric Recordings (ECLEC22606). Street date: 29-09-17. This new 2CD anthology celebrating the fine American jazz-rock band comes remastered with six rare single tracks previously unissued on CD and six rare non-album session recordings from 1969 & 1970, including a re-recording of their early single "What Would You Do If the Sun Died". The anthology features an illustrated booklet that includes a new essay with an exclusive interview with Flock guitarist Fred Glickstein.
Gibson / Faustillo / Trilla: Chain. NoBusiness Records (NBCD 101). Sept. 2017. Yedo Gibson (baritone and soprano saxophone), Hernâni Faustino (double bass) and Vasco Trilla(drums and percussion) have united forces for this album, recorded on the 14th June, 2016 at Scratch Built Studio, Lisbon by John Klima.
Glowering Figs: S/T. Slam Productions (SLAMCD 2104). Oct. 2017. Quartet formed in 2015 and initiated by drummer Dave Fowler and guitarist Jerry Wigens, completed by Ivor Kallin (upright electric bass/vocal). Kallin and Wigens knew already each other from the London Improvisers Orchestra. The music in this recording is a selection of material from more than two hours of improvised live playing that took place on a one-day session in Autumn 2016.
Lucia Ianniello: Live at Acuto Jazz. Slam Productions (SLAMCD 585). Oct. 2017. Ianniello's 2nd album as a bandleader, a year and a half after her first one. This album is meant to close the circle of the music research around the figure of Horace Tapscott and the Pan Afrikan Peoples Arkestra (P.A.P.A.) which the trumpeter started tracing with her first CD "Maintenant" (SLAMCD 566). The new album is a live record made during the Acuto Jazz Festival (Fr), Italy, which took place in the fascinating setting of the Saint Sebastian's Church, built in 12th century and richly frescoed in 16th century. It is a tribute to the founders and main protagonists of that lively artistic movement of the African-American community in Los Angeles, which developed in the last forty years of the 20th century. On this CD, in addition to her original compositions, there are songs from the P.A.P.A.'s repertoire, especially those of Horace Tapscott and Jesse Sharps, Fuasi Abdul-Khaliq and Michael Session who Tapscott used to delegate to conduct the Arkestra in the '70s. There is also a song of pianist and singer, Linda Hill, one of the founders and a very active member of the movement of which the Arkestra was the musical and collective expression. The quintet gives an original interpretation of this repertoire. The arrangements are drumless while the voice (except for two songs with a text), is instrumental. There is a lot of space for collective improvisation and the research of music expression goes towards the timbre and melody, away from mere virtuosity.
Jano: The Place Between Things. Via Veneto Jazz (VVJ118). Street date: 02-11-17. This third album resumes the electrophonic, rarefictional and visionary sonorities of the previous two, but expands the musical proposal into enthralling and elegant melodies, entrusted mainly to the splendid voice of Alessia Martegiani. The arrangements clearly showcase the collective plot, they are innervated by soul, expanding in noir appeal, delighted in bushy, well-crafted textures, interact effectively with inserts of words recited. The nature of concept-album sets each track as a stage in the search for unexplored spaces between things, but escapes the risk of rigidly limiting the evocative capacity of the sounds. Emiliano D'Auria (piano, Rhodes, electronics) is the composer and arranger of all the songs.
Krzysztof Komeda: People Meet and Sweet Music Fills the Heart. GAD Records (GAD CD 060). Sept. 2017. Here's the colourful soundtrack from Henning Carlsen's erotic comedy for the first time in complete form on CD. Jazz meets latin music! Remaster with bonus tracks (incl. outtakes), booklet with english liner notes.
Laginha / Argüelles / Norbakken: Setembro. Edition Records. Street date: 06-10-17. Portuguese pianist Mário Laginha, English saxophonist Julian Argüelles & Norwegian percussionist Helge Andreas Norbakken have joined forces on this album made of propulsive grooves, complex but ever-lyrical melodies, and open-minded interaction. "Setembro" demonstrates the vitality and importance of what is great about contemporary jazz in Europe!
Andy LaVerne: Faith. SteepleChase (SCCD 31840). Nov. 2017. Trio with Mike Richmond (bass, cello) and Jason Tiemann (drums), plus this time an added voice in trumpet/flugelhorn by Alex Sipiagin. Recorded in December 2016.
Pete Levin: Möbius. November 2017. Keyboardist-arranger-composer Pete Levin's ninth solo release, Möbius, was recorded live in the studio in two days, capturing the "no boundaries" spirit of Gil Evans. The music explores textural grooves ranging from straight-ahead bop to funk, world-beat, and the experimental. The disc features 10 tracks including eight originals, "I Mean You" by Thelonious Monk & Coleman Hawkins, and "There Comes A Time" by Tony Williams. Anchored by two iconic musicians, Tony Levin (King Crimson, Peter Gabriel, Stick Men) and Lenny White (Return To Forever, Miles Davis, Freddy Hubbard) this high-energy band and the compositions have the spontaneity and dynamics of a 'live' performance. The album was recorded in December, 2016, mixed in April, 2017 and slated for the official release in November 2017, and features internationally-known musicians: Alex Foster (Saturday Night Live Band, Jaco Pastorius, Herbie Hancock), Chris Pasin, Jeff Ciampa, Nanny Assis and guest musicians Jerry Marotta, Erik Lawrence, Rob Paparozzi & Kal David.
John McLaughlin: Where Fortune Smiles. Esoteric Recordings (ECLEC2605). Street date: 29-09-17. Originally a John Surman album, market laws quickly attributed this album to the guitarist and it is now available on CD in a new edition, remastered from the original Dawn master tapes and featuring an illustrated booklet which restores the original album artwork and insert, plus an essay by aficionado Sid Smith. Alongside McLaughlin and Surman, the band also included Karl Berger, Stu Martin & Dave Holland.
Jerzy Milian: Pretekst. GAD Records. October 2017. Unreleased recordings from 1974-75. Funk, bossa nova, orient and instrumental versions of hits. Remastered from original tapes, available on CD and LP
Nicolas Meier: Infinity. Favored Nations Entertainment. New studio album by the UK based Swiss-born guitarist, in excellent company with two legendary LA studio veterans, bassist Jimmy Haslip and drummer Vinnie Colaiuta. The album features eleven songs showcasing Nicolas' chameleon-like adaptability (as a player and composer), as his pristine sonic exploits defy stylistic bounds! Whether he's the spy sprinting through a Middle Eastern bizarre, a chilled morning breeze winding through the Alps, or the 6-string acrobatic, dancing madly with abandon a couple hundred feet up, Meier provides compelling, convincing evidence that he's one of today's most accomplished and visionary guitarists.
Mark Nauseef: Personal Note. GAD Records. October 2017. Reissue of an album originally released in 1981 on the CMP label. Incredible cross of jazz and rock. Another level of fusion with great musicians like Joachim Kuhn, Jan Akkerman ...
Northbound: S/T. CAM Jazz (CAMJ 7917-5). Street date: 15-09-17. Recorded in Astoria, NY on September 7-8, 2016 at The Samurai Hotel Recording Studio, this album presents a new international band, from Finnish drummer Olavi Louhivuori and pianist Tuomo Uusitalo to US based saxophonist Seamus Blake or bass player Myles Sloniker. Always searching for introspective moods by maneuvering discords into a parallel harmony, they handle free interaction with an essential, effective, exact design, which arises from ongoing, fruitful balancing. Where the voicing or melodic theme of a track is simpler than others?, its rhythm will be amazingly fragmented, as in Song for Mr. Moorhead. A wide-ranging, almost overloaded, harmonic palette results in a soft, impalpable performance, as in Quietus that carries you into a different sonic world. Instruments swap roles, as if they are taking turns at driving during a journey whose destination is probably unknown or undetermined or not essential. It's the route, rather dreamy, that matters! Not surprisingly, at each listening session, Northbound discloses something new that you had missed before, no one knows why!
Dick Oatts: Use Your Imagination. SteepleChase (SCCD 31837). Oct. 2017. Feat. Ugonna Okegwo on bass. Dick Oatts' sensitive and cerebral approach to music enhanced by his "monster chops" are manifested here again on this 11th leader album on SteepleChase.
Fred Pallem & Le Sacre Du Tympan: Cartoons. Train Fantôme. Oct. 2017. This new album focusing on cartoons classics (Spiderman, Super Mario, Goldorak, The Simpsons ...) has been conceived as record and tour program, played either by a quintet or 11tet. It is also conceived as an initiating experience for kids, opening up to many musical universes, from real cartoons to video games or animation films, presented in a big band context!
Pietropaoli, Enzo: The Princess. Via Veneto Jazz (VVJ117). Street date: 12-10-17. Pietropaoli's deeply-felt love for the piano-trio is made evident by the creation of a solemn yet ethereal atmosphere, oscillating between ancient and young in a place beyond space and time, underscored by the choice of the song's title. Enzo Pietropaoli, at the double bass, is flanked by two extraordinary musicians: Julian Oliver Mazzariello on the piano and Alessandro Paternesi on drums, both of which contribute to an atmosphere which is simultaneously penetrating, delicate and lush.
Mark Soskin: Hearts And Minds. SteepleChase (SCCD 31834). Fall 2017. With Jay Anderson on bass and Anthony Pinciotti on drums
Sun Ra! The label Cosmic Myth will reissue Sun Ra's Saturn Records catalog under official license from Sun Ra LLC, comprised of the artist's heirs, using the best available audio sources and meticulous remastering techniques. Check them out!
Ton-Klami: Prophesy of Nue. NoBusiness Records (NBCD 102). Sept. 2017. Continues the series of unreleased concerts that took place in the 90's in Japan and was recorded by Chap-Chap Records. Here the trio consists of Midori Takada on marimba and percussion, Kang Tae Hwan on alto saxophone and Masahiko Satoh on piano. Recorded live on the 27th May, 1995 at Design Plaza Hofu, Yamaguchi, Japan by Takeo Suetomi.
V/A: 100 Years Of Jazz - A Celebration Through Ten Masterpieces. Doxy (OXY-21-30). Street date: 09-11-17. 2017 marks one of the greatest anniversaries in the history of music. 100 years from the first commercial Jazz recording. Jazz as a great metaphor for American Culture in the 20th Century! Jazz as one of the most influential art forms of today! This 10CD boxset presents ten milestones in the history of Western Music, created and produced by some of the greatest American composers and performers of all times. From the highly sophisticated music of Bill Evans, Chet Baker, and Dave Brubeck, through the great voices and personalities of Billie Holiday, Nina Simone and some heavyweights such as Duke Ellington, Miles Davis, John Coltrane, Eric Dolphy and Charles Mingus. Each CD includes a beautiful reproduction of the original and iconic album covers.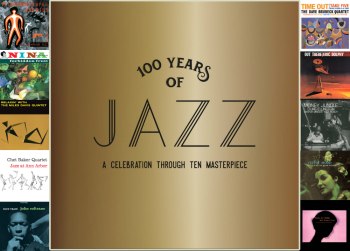 Eliot Zigmund: Time Was. SteepleChase Lookout. Fall 2017. With Chris Cheek (sax), Mike Eckroth (piano) and Morrie Louden (bass)

-------------------------------------------------------------------------------------------------------------





FRESHSOUND .... FRESHSOUND .... FRESHSOUND .... FRESHSOUND ....


Fresh Sound Records

None this time!

Fresh Sound New Talents

None this time!

---------------------------------------------------------------------------------------------------------------




Modern Silence is a new label focusing on the reissue of classics, revival of forgotten masterpieces and unreleased works in the field of contemporary, modern and avant-garde music ranging from several genres such as experimental electronic music up to free jazz. The releases are limited editions of 500 numbered copies on 180 gram hq virgin vinyl.
Roberto Cacciapaglia: Sei Note in Logica. Mirumir (MIR100703LP). 180 gram LP+CD. Street date: 26-10-17. An impossible to find album, reissued for the first time ever on vinyl. 1979's Sei Note in Logica is Italian experimental composer Roberto Cacciapaglia's second LP, a minimalist album that features one continual composition "for four voices, computer, and orchestral ensemble," in the same vein as Fred Rzewski, Steve Reich, and Terry Riley. Presented on 180-gram vinyl with a bonus CD containing an acoustic version of the entire album.



Sabrina Malheiros: Clareia. Far Out Recordings. Street release: 28-07-2017.
Hermeto Pascoal & Grupo Vice Versa: Viajando Com O Som. Far Out Recordings. October 2017. A lost recording from a '76 studio session by the maestro and cultural icon, this seems too good to be true, right? Then wait and read! The sessions featured Hermeto's go-to "Paulista" rhythm section of the day: Zé Eduardo Nazario (drums), Zeca Assumpção (bass) and Lelo Nazario (electric piano), as well as saxophonists Mauro Senise, Raul Mascarenhas and Nivaldo Ornelas, guitarist Toninho Horta and vocalist Aleuda Chaves. Just incredible! What happened? Almost everything recorded on the first take ended up staying in the final mix. After the mixdown, Lelo Nazario would ask sound engineer Renato Viola to make him a copy of all the material, from machine to machine. As far as we know, the master tape eventually got lost over time, but Lelo kept his copy in his studio's archives, where it stayed for over forty years. With the tape rescued and restored, this release fills a void in time. Recorded at an especially experimental period in Hermeto's career, it's a beautiful insight into the incredible efforts of this group, who under Hermeto's revolutionary vision, created a unique musical language which would have a profound influence on countless artists to come. Also released on vinyl and digital files!

DVDs ... DVDs ... DVDs ... DVDs ... DVDs ... DVDs ... DVDs ... DVDs ... DVDs ... DVDs ...


Nothing this time.

Anatma: S/T. Slam Productions (SLAMCD586). October 2017. The Sanskrit word Anatma means "non-self". This doctrine is the banner of this band, where each component brings his own expressive and musical contribution to the whole creative flow, without ever connotating himself in a soloist way. All begins in 2015 when Daniele Di Pentima (drums) goes to Kolkata fascinated by the Indian musical culture and the rhythmical intricacies of tabla playing, where he meets Rohan Dasgupta (sitar). Daniele leaves India with a huge baggage of new motivations and ideas, trying from now on to project a way to combine Indian classical music with jazz, without subordinating one to the other and vice-versa. The occasion to substantiate in the proper way these studies and works, comes in 2016 when Rohan goes in Europe. Quickly, Daniele decides to book a recording studio in Rome and include bass player Riccardo Di Fiandra and pianist Luigi Di Chiappari in this project. The great interplay and friendship of the jazz trio allow Rohan to fit comfortably in a totally new musical world, where he feels free an inspring freedom of expression. The starting idea of the recording was to play on a particular Hindustani raga named "Lalit". Raga Lalit is a quite common raga in Indian Classical music: its time of playing refers to the very late night. After recording Raga Lalit, Daniele proposes a tune set on the same raga dedicated to the ragmala painting "Lalita". From now on all the remaining recordings are totally improvised in the recording studio without even organize on which raga or scale play on. The results are "Kolkatay stomp" inspired by a bass riff, "Bengal" a sweet ballad dedicated to this enchanting Indian region, "Lacrimosa", a thought to Paul Bley, and "Raga Zila Kafi" the last, where the band decides to play on a Dorian scale, incorporating a Kaoss Pad to simulate the classical Indian Tampura.
Shiok! Records is a new label dedicated to the discovery of the extensive and rich music tradition of the various South East Asia's countries. Planned for release on January 17th, 2017 are the first two albums "Sounds from the archipelago: An Introduction To The Lush Indonesian Music Tradition Vol. 1 (SK001), focusing on traditional music from different areas of the Indonesian archipelago, featuring music from Sulawesi, The Moluccas Islands (Spice Islands) and Central Java. Vol. 2 (SK002) covers music from the vast island of Sumatra (West Indonesia), The Moluccas Islands and the island of Bali.
Talinka: S/T. Moonjune (MJR086). Led by vocalist Tali Atzmon, the group Talinka creates a new distinctive sound that explores the diverse musical journeys of four British musicians, each already distinguished in their fields. Tali Atzmon was a renowned actress and singer in Israel; Jenny Bliss is a baroque virtuoso artist who plays viola da gamba, baroque violin, flute and sings on the album; Yaron Stavi is one of the leading double bass players in Europe and Gilad Atzmon is an internationally acclaimed jazz saxophonist, performing here on bass clarinet, soprano saxophone and accordion. Talinka transcends boundaries creating a natural continuum between folk, jazz, tango and early music. The unusual choice of instruments and combination of personalities create an amalgam of past and present, East and West.


PSYCHEDELIA .... ROCK .... BLUES .... SOUL .... HARD .... ETC ....



Brain Damage / Harrison Stafford: Liberation Time. Jarring Effects. Street date: 20-10-17. French Dub pioneer Martin Nathan(Brain Damage) and multi leveled Roots crusader Harrison Stafford (Groundation, Professor Band)deliver here a Zionesque unification that shows no boundaries and absolutely elevates the spectrum of King's Music. Both artists are firmly committed in their vision of universal cry of liberation, equality and justice and a profound testament flows freely within the heights of this project. The ethereal sessions took place at JFX Studio (Lyon, France).




DVD ... DVD ... DVD ... DVD ... DVD ... DVD ... DVD ... DVD ... DVD ... DVD ... DVD ...

Nothing this time!


THE VINYL CORNER !

==============================================================



-------> Artist / Title / Label / Comments



Please note the following: all the entries below are marketed at some time and listed here at launch time; most of them are much sought after items and therefore will quickly be sold out! It is impossible for us to know WHEN this will happen and with time going, they may still appear here after being sold out or deleted; therefore take a good look at the street date we provide ( when we know it!) and don't be too surprised if you happen to discover an unavailable item here; you will probably have found it too late, years after it was written down!



3 Hür-El: Hür-El Arsivi. Guerssen (GUESS056). July 09. 2nd album that came out in 1976, still on the Diskötur label. It has a more Western feel than the previous; more drums, less percussions but still an astounding blend of psychedelic rock and Turkish tradition, plenty of distorted fuzz guitar and electric saz. Comes with an insert, with liner notes and photos.
3 Hür-El: S/T. Guerssen (GUESS057). July 09. One of the very few, if not the only one, Turkish groups not doing any covers but only self-penned compositions, here in their debut album from 1972. A brilliant set of Turkish ethno-influenced folk-rock tracks with a psychedelic feel, some great electric guitar and fantastic Eastern percussion. A very rare album now available again, with mastertape sound, insert, liner notes and photos.
A Piedi Nudi: Creazione (95). Mellow Records. Sent in May 08: last copies of this LP + EP by an Italian prog metal band which many have compared to Deus Ex Machina because of the numerous stop-and-go sections, the constant theme changes and the musical complexity. So don't wait too long! If you read this today, act today! €25
Abdul-Malik, Ahmed : Jazz Sahara. So Far Out (OUT5002LP) 180 Gr. vinyl. Feb. 2013. Decades before the advent of 'World Music', bassist-composer Ahmed Abdul-Malik introduced Arabic music into jazz, creating a distinct, unique sound that was far beyond its time. He was also the first to use the oud, a pear-shaped, traditional Middle Eastern stringed instrument similar to a lute, as a jazz instrument. Recorded in 1958, with tenor saxophonist Johnny Griffin (his bandmate in the Monk quartet), and originally out on the Riverside label, Abdul-Malik's debut solo album Jazz Sahara was a burning fusion of Middle East and West. €16
Abdul-Malik, Ahmed : Spellbound. Klimt (MJJ388). Street date: 28-11-16. A mindblowing mix of jazz and Middle Eastern influences and a rare 60's treasure from Thelonious Monk's former bassist! Ahmed Abdul-Malik blends together percussion, bass, and oud with some soulful solo work from Seldon Powell on tenor and flute, and Ray Nance on cornet, stretching out over long tracks with an exotic vibe.
Abdul-Malik, Ahmed : The Eastern Moods Of Ahmed Abdul-Malik. Doxy ACV (ACV2084). Street date: 19-01-17. The group on the set is a trio - Ahmed on bass and oud, Bilal Abdurrahman on alto, Korean reed flute and percussion, William Henry Allen on bass and percussion. With that kind of lineup, you can imagine the feel - lots of spare rhythms, with snaking reed work over the top, done in a very evocative way - and although there's less jazz than usual, the alto sax solos still give the record enough of a jazz component to set it apart from straight world music. Numbered limited edition of 500 copies.
Abiogenesi: Io Sono Il Vampiro. Black Widow 180 gram LP (also available on CD). BWR088LP / BWR088CD. 4th album by Tony D'Urso, this album is the soundtrack of the italian horror movie "I am a Vampire" in the usual Dark Prog style but also exploring a more psychedelic touches with the addition of great cover versions of Never Let go (Camel), Lady in Black (Uriah Heep) and Mary Clark (Black Widow) and with the help of Marco Cimino (keys) and Gigi Venegoni (guitars) from the 70's Italian band Arti e Mestieri. Beautiful artwork made by Anna Ferrari in gatefold cover. (LP €18 & CD €17)
Acqua Fragile: Mass-media Star. Sony (88875121271). 180 gr. LP reissue. Sept. 2015
Adderley, Cannonball with The Bossa Rio Sextet Of Brazil: Cannonball's Bossa Nova. Doxy ACV (ACV2029). Sept. 2014. The Brazilian band was no less than Sergio Mendes' Bossa Rio group. A numbered first press of 500 copies pressed on Audiophile Clear Vinyl (ACV).
Agorà: Live in Montreux. Vinyl Magic (VM 086LP). 13/07/12. Founded in Ancona, Agorà curiously debuted with a live album instead of a studio one; music, as specified in the album notes, is clearly inspired by Weather Report, but the influence of their country fellowmen Perigeo is evident too. The artwork, made by Cesare Monti, is very peculiar too, with a front standing-up edge-cut tree. This is a faithful reproduction, in black audiophile 180gr. black vinyl.
Aitken, Laurel: Rege Dege Ding. Dynamite (DNM14003). 180 gr. 2LP. May 2014. This collection of early singles culls together mento and ska tracks recorded between 1958 and 1962 by "The Godfather of Ska" for labels like Kalypso and Blue Beat.
Aitken, Laurel: The Fantastic Laurel Aitken. Radiation Reissues (RRS038LP). Dec. 2014. Remastered and expanded (4 bonus tracks) edition of this hyper-rare early '70s release from the "Godfather Of Ska".
Aitken, Laurel: The High Priest Of Reggae. Radiation Reissues (RRS039LP). Dec. 2014. Finally, after four decennies of waiting for its re-release, fans can finally obtain the LP, with the added incentive of 4 bonus tracks from those 69 sessions.
Jason Ajemian, Tony Malaby, Rob Mazurek, Chad Taylor: A Way A Land Of Life. NoBusiness Records (NBLP 74). 2014. Limited edition of 400 copies
Akiyoshi, Toshiko: Her Trio Her Quartet. Doxy ACV (ACV2079). Street date: 19-10-16. Recording session from July 1956. First edition of 500 numbered copies.
Aktuala: La Terra. Psych-Out Records (PO-33031). 2012. Originally released in 1974, the band's 2nd album saw a change in the line-up, featuring among other what must be one of the first - if not the very first - appearance of Indian percussionist Trilok Gurtu. Fantastic 180 gr. blue vinyl reissue with a strong textured cardboard cover. Expensive but every penny worth! Collectors, this is a true gem!
Aktuala: S/T. Psych-Out Records (PO-33030). 2012. Self-titled debut album, originally released in 1973 and here reissued as a red-coloured LP with a fantastic, beautiful textured gatefold cover! Pressed on 180 gr. vinyl. Expensive but every penny worth!
Aktuala: Tappeto Volante (BBXL 10009 LP). 06/06/14. This exclusive reissue of the band's third and last album is enriched by a booklet with rare and unreleased images, plus the bonustrack "Il Sussurro dell'Anima", taken from the solo works of Walter Maioli, the true spiritual guide of Aktuala
Albergo Intergalattico Spaziale : S/T. LDM (LDM1). Street date: 11/10/11. 180 Gr. vinyl reissue of an album from 1978, also including a 60 x 90 poster and insert. Curious, enigmatic, fractured and gorgeous, this albums features dense electronic soundscapes, including inspired analog synth excursions, classical music tendencies and off course massive "cerebral" avant gardist fantasies.
Alessandroni, Alessandro: Fischio Amore Mio. Dagored (RED311). With his whistling and the success of the film "a Fistful of Dollars", Alessandroni became the hallmark of the spaghetti western era. This first reissue ever is presented as a strictly limited edition of 300 copies on white vinyl.
Alessandroni, Alessandro: I Cantori Moderni di A. Alessandroni. Dagored (RED306). 07-04-16. Limited numbered edition of 500 copies on transparent vinyl. The only existing full-length recording of the legendary vocal group that lent their voices to the amazing soundtracks of Ennio Morricone, Piero Umiliani and many of the most important Italian composers of the 60's and 70's.
Allman Brothers Band, The: A&R Studios, FM Radio Broadcast, New York August 26th, 1971. 2LP Egg Raid (EGG-346). Street Date: 26-05-16. Broadcast by WPLJ-FM, this is the last ABB's live performance featuring Duane Allman and features their original line-up in top form. A must for all Allman fans out there!
Alluminogi, Gli: Scolopendra (VMLP121). New 180 Gr. vinyl reissue with the original artwork, label replicas and remastered sound. €17
Alog: Unemployed. Rune Grammofon (RLP 3116). 14/11/11. Individually numbered and strictly limited (300) 4LP edition boasting 77 extra minutes of brand new music not available elsewhere. Three of the records on white vinyl and one on black. Playful, adventurous, mysterious and exploring, this is an experimental, yet accessible, music of the very finest sort and comes highly recommended.
Alphataurus: S/T. AMSLP09. Exact replica of the triple gatefold original cover, with labels replicas and yellow vinyl. Alphataurus were one of the many unknown Italian bands who suddenly had a recording deal - with the newly born Magma label - made an album and disappeared into oblivion.
Alphataurus: Live in Bloom 2010. AMS 49LP-B. Clear Blue 180 gr. vinyl edition. 09/03/12. After being reformed, Alphataurus played a gig on November 6th 2010, part of the Bloom festival in Mezzago, near Milano. It was a memorable event for the lucky 700 people who attended it!
Alusa Fallax: Intorno Alla Mia Cattiva Educazione. Vinyl Magic VM103LP. May 2008. Reissue of a great little-known gem, in the best Italian prog tradition, originally released in 1974. The album is led by keyboards with classical influences.
Anak Bayan: S/T. GDRLP0704. Street date late August 08. Band from The Philippines, characteristic of an early 70's style called Pinoy rock. Limited to 400 copies only, coming in top quality exact replica covers of the original albums and great remastered sound. €16
Amon Düül: Meetings with Menmachines Inglorious Heroes of the Past... Klimt Records (MJJ351LP). Nov. 2012. In its ultra rare artwork original! This LP was originally released in 1983 on the small British label, Illuminated Records with an album sleeve of original artwork that was soon inexplicably replaced by a mediocre band photo on all subsequent reissues. It was the second of four all-new studio albums made by this UK-based incarnation of Amon Düül. The new Amon Düül featured John Weinzierl on guitar, ex-Hawkwind bassist Dave Anderson (both from Amon Duul II), ex-Van Der Graaf Generator Guy Evans on drums, and Julie Waring on vocals. For this LP the band moved away from the more free-form freakout of their earlier days towards a sound that was far more structured and derivative, with definite New Wave / post-punk leanings. €16
Amon Düül : Psychedelic Underground. Klimt (MJJ386). Street date: April 2016. Limited edition of 500 copies with gatefold cover
Amon Düül 2: Phallus Dei. Revisited Records. 2009. LP reissue with the original artwork. €19
Amon Düül 2: Yeti. Revisited Records. 2009. Reissue of the 2LP with original artwork. €24
Anderson Bruford Wakeman Howe: An Evening Of Yes Music Vol. 1. 2LP Deluxe vinyl version. Sept. 2014.
Andromeda: S/T. Black Widow Records (BWR 140). New special edition from 15/06/14. One of the hidden treasures of the English psych-progressive era of the late sixties, Andromeda was originally released by RCA in 1969. The new edition will be released on LP, with the addition of the single "Keep Out 'Cos I'm Dying / Go Your Way"; the cover will maintain the original artwork with special laminated cover. It also includes three sketches inserts by John Du Cann and two replicas of concert posters. Andromeda was a blend of psychedelic, progressive, jazz and hard rock power trio which lasted only enough to release one album. They were formed back in 68 by John Du Cann, later of Atomic Rooster.
Anekdoten: Until the Ghosts Are Gone. Virta (VIRTA006LP). LP + CD. 29/05/15.
Anekdoten: Until the Ghosts Are Gone. Picture Disc Edition, limited to 300 copies and planned for release on the Record Store Day (25-03-2016).
Anekdoten: Vemod. Virta (VIRTALP001). 2LP. Street date: 11/03/11. Anekdoten's debut album from 1993 has been remastered. With gatefold cover, 180g HQ vinyl including bonus 12"(Sad Rain) and a poster. Limited numbered edition of 400 copies.
Änglagard: Prog På Svenska - Live In Japan (ANG004LP). 2LP. Street date: 20/06/14. &AumlPicture Disc;nglagård has since the success of "Viljans Öga" put a lot of effort in a live album from Japan, where they've shared stage with Crimson ProjeKCt.
Änglagård: Viljans Öga. Street date: 31/07/12. After a long silence, here is the long awaited 3rd opus by the Swedish cult band! Available in a limited (1500 copies) double black vinyl edition or clear vinyl (500 copies) + 4 postcards! Don't wait too long!
Anima Morte: Face the Sea of Darkness. Horror Records (HOR026B). June 2011. 2nd very limited pressing of only 260 copies on bronze vinyl! Will not last forever ...
Anima Morte: Upon Darkened Stains. Transubstans (TRANSV25C). 23/12/14. 2LP limited edition on clear vinyl.
Annot Rhül: Leviathan. Black Widow Records (BWR 170). 15/10/14. LP White limited edition with poster and booklet
Antonius Rex: Hystero Demonopathy. Black Widow (BWR 153). Jan. 2013. The new album is a multisound-multistyles of concentrate fusion: gothic, classic, post-classic, dark, doom, metal, impressionist, progressive, post-progressive, after-rock.... with micro electronic inventions and perseverant events. €17
Antonius Rex: Magic Ritual. Black Widow 180 Gr. BWR 083. After Magic Ritual DVD success, cult band Antonius Rex is back with the Lp edition of Magic Ritual with the addition of a new 15 mins suite called "Fairy Vision" composed in 2001 in Vlad Tepes castle. Music composed by Antonio Bartoccetti, arranged by Doris Norton. €18
Antonius Rex: Ralefun (32th anniversary edition). Black Widow (BWR 128 LP). Jan. 2011. This cult album from 1979 includes the unreleased song "Proxima Luna", recorded in 1980 and is officially released for the first time on vinyl!
Antonius Rex: Zora (77). Black Widow (BWR118LP). 32nd Anniversary Edition. 2010.
Apoteosi: S/T. AMS100LP. May 2015. Gatefold LP reissue.
Aquila: S/T. Klimt Records (MJJ370). Street date 14/04/14. Aquila was formed in 1970 by Welsh guitarist/vocalist Ralph Denyer, who had recently left the group Blonde On Blonde. Aquila's self-titled debut - and only long player - from the same year is a delicious mix of progressive rock, psych-pop sensibility, a Traffic-like funkiness, and pastoral country-rock. Produced by Nirvana's Patrick Campbell-Lyons and powered by Denyer's rugged vocal delivery, Aquila unfairly faded into obscurity rather quickly but has been sought after by collectors for over 30 years.
Arabs In Aspic: Victim Of Father's Agony. Black Widow (BWR185). March 2016.
Arachnoid: S/T. Replica (RPC03). May 2014. This 1979 record is the sole album by the French band, architects of a dark progressive and psychedelic masterpiece, with a King Crimson flavor. "Arachnoid" is not only one of the best classic symphonic rock albums of the second half of the 70's, but also the most complicated and intriguing. LP reissue on 180 gr. vinyl and a limited edition of 500 copies
Archie Shepp-Bill Dixon Quartet, The: S/T. Jeanne Dielman (JD117). Street date: 05-12-16. The debut as a leader for both Archie Shepp and Bill Dixon, two formidable members of the free-jazz and avant-garde elite, The Archie Shepp - Bill Dixon Quartet was originally released in 1962. Rounding out the quartet are bassists Reggie Workman and Don Moore, drummers Paul Cohen and Howard McRae, each on various tracks. While the album undoubtedly swings, this piano-less quartet definitely prefigures the trailblazing free-jazz work the two leaders would be involved in for the remainder of the decade, and beyond.
Area: 1978 Gli Dei Se Ne Vanno Gli Arrabbiati Restano. Vinyl Magic (VM 142LP). 180 gr. vinyl reissue of this album from 1978. The music moves in a stronger free-jazz direction. It was the last album with Demetrio Stratos who died in 1979. Faithfully restored in the original gatefold sleeve cover! €20
Area: Are(A)zione. Akarma (AK 397 LP). 28/07/11. New 180 gr. vinyl reissue. €20
Area: Are(A)zione. Gatefold LP 180 gram Get Back GET5104. For their fourth album (originally released in 1975 on Cramps), Area's unique sound combined the punch of rock with the frightening chaos of experimental music. The "International POPular Group" was a fascinating band. This album contains one song from each of their previous records plus a 15-minute jam (the title song) and a free-jazz interpretation of "L'Internazionale". €16,50
Area: Arbeit Macht Frei. Akarma (AK 394 LP). 28/07/11. New 180 gr. vinyl reissue. €20
Area: Arbeit Macht Frei. Get Back (GET LP5101). 2007. Debut album by the massively influential Italian prog group, originally released in 1973 on the experimental Italian Cramps label. This ground-breaking album sailed Italian music into uncharted waters and right off the edge of the earth. Experimental politicized rock with overtures to prog and jazz all held together by Stratos' otherworldly vocals. Reissued with the original gatefold sleeve and the infamous "gun" insert, originally only included in the first 1,000 copies (because it was considered too incendiary and if they continued the album would have been banned). €16,50
Area: Caution Radiation Area. Akarma (AK 395LP). 28/07/11. New 180 gr. vinyl reissue. €20
Area: Caution Radiation Area. LP 180 gram. Get Back GET5102. Originally released in 1974, the band's second album added increasing levels of fringe experimentation to their already weird recipe. €16,50
Area: Crac. Sony reissue. Street date: 14-04-17. Terrific digital remaster, for the first time at 192 khz and 24 bit. From the original master tapes
Area: Crac. Akarma (AK 396LP). 28/07/11. New 180 gr. vinyl reissue. €20
Area: Crac. Gatefold LP 180 gram. Get Back GET5103. Area's third album is an eclectic furnace of jazz-rock, ethnic folk, experimentation and an ethically conscious manifesto for the arising of the masses, which made Area an icon of the Italian music scene of the 1970s. This is perhaps the best confirmation of the band's crazy fusion: furious, mind-bending rhythms and melodies balanced with humor and the avant-garde. €16,50
Area: Crac. Sony (88875135242) LP reissue. Sept. 2015
Area: Event 76. €12
Area: Maledetti. Akarma (AK 398LP). 28/07/11. New 180 gr. vinyl reissue. €20
Area: Tic & Tac. Vinyl Magic (VM 141LP). 180 gr. vinyl reissue of this album from 1980, the first released after the death of singer Demetrio Stratos. It also introduced two trumpetists and a saxophonist. €20
Areski & Fontaine, Brigitte: Je ne Connais Pas Cet Homme. Superior Viaduct (SV044). Shipping date: 28/05/15. Originally released in 1973, this is their first record billed under both names. Deeply rooted in North African and European folk traditions, the album features evocative vignettes with breezy vocals and minimal accompaniment of classical guitar, strings and woodwinds.
Ars Nova: Android Domina. Black Widow. Dark Prog by female japanese trio
Artemiev, Edward: Solaris by Andrey Tarkovsky - OST. Mirumir (MIR100705LP). 18/07/13. Originally only available on a ultra-rare Japanese bootleg, Mirurmir is incredibly pleased to announce the first official issue of the groundbreaking and mind blowing soundtrack to Tarkovsky's masterpiece, Solaris. It has been lovingly reissued in a gorgeous gatefold package including previously unseen photos from the Tarkovsky archives and a cover pulled from the Italian poster for the film. Remastered from the original film soundtrack and pressed on high quality 180 gram vinyl. €17
Artemiev, Edward: Solaris: Music From The Motion Picture By Andrey Tarkovsky. Mirumir (MIR100708LP). August 2013. 180 Gr. LP reissue. Recorded in Moscow in 1989-90, these are re-recordings of Artemiev's soundtracks to three classic 1970s Tarkovsky films. At the time of its release in 1990, there were no legitimately available versions of the original soundtracks and Artemiev chose to fill that void in the market with these re-recordings.
Artemiev, Edward: Stalker / The Mirror: Music From Andrey Tarkovsky's Motion Pictures. Mirumir (MIR100709LP). August 2013. 180 Gr. LP reissue.
Artemyev, Eduard / Bogdanov, Yuri / Martynov, Vladimir : Metamorphoses. Modern Silence (OI015). Street date: 14-09-16. Limited edition pressed on 180 gram vinyl. Russian LP of electronic interpretations of "classical" pieces by Claude Debussy and Monteverdi among others. Yuri Bogdanov is featured on every track.
Arti & Mestieri: Murales
Arvanitas, George: Soul Jazz. Vadim Music (VAD038LP). 180 gr. LP. 05/07/11. Any European jazz lover won't hesitate to tell you. Soul Jazz is one of the most rare French modern jazz records and a cult offering that collectors snap up for big bucks. A LP from youth, Soul Jazz has lost nothing of its spirit and shine, and serves as historical proof of French Jazz's originality. €17
Arzachel: S/T. Klimt (MJJ315CW). Street date: 04-08-16. Contains one bonus track from a lacquer of the same period. Limited edition of 500 copies on 180 gram white vinyl.
Ashby, Dorotyhy: Hip Harp On A Minor Groove. Doxy ACV 2LP (ACV4009). Street date: 19-05-17. This 2LP brings together for the first time, Hip Harp and In A Minor Groove, two albums recorded in 1958 by the legendary jazz harpist and polistrumentist Dorothy Ashby. Numbered first press of 500 copies.
Ashby, Dorotyhy: S/T. Doxy ACV (ACV2074). Street date: 25-07-16. Probably a much overseen album, featuring an as much overseen instrument in a jazz context: harp! Numbered first press of 500 copies.
Ashby, Dorothy: Soft Winds: The Swinging Harp Of... Doxy ACV (ACV2085). Street date: 23-02-17. Featuring drummer Jimmy Cobb, who shifts here between brushes and sticks without upsetting the equilibrium of an essentially quiet set.?
Ashby, Dorothy: The Jazz Harpist. Doxy (DOY698). Feb. 2014. Reissue of her debut album, featuring Frank Wess on flute, Ed Thigpen on drums and bass player Eddie Jones . €16
Asia: Armed to the Teeth. Acid Nightmare (ANM012). 05/02/15. The American band Asia only recorded two albums, one in 1978 and the present in 1980. This album predates the Epic Prog Metal genre with a few years, to be followed by bands like Warlord and Dark Quarterer. Influenced by monsters like Uriah Heep, Styx, Rush and Black Sabbath, Asia cemented their name on all the want lists of prog/pomp collectors as well as more traditional metal fans. This reissue offers remastered sound and faithful cover reproduction. Limited to 500 copies
Astra: The Black Chord. 2LP. The new 2012 album will be available on transparent orange AND splatter-coloured vinyl. Street date: 16/05/12
Atlas, Natacha: Ayeshteni. €16
Atoll: L'Araignée-Mal. Replica (RPC09). Shipping date: 30/04/15. 180 gr. vinyl reissue of the band's second album, released in 1975.
Musiciens - Magiciens. Debut album (74) by the French band, reissued in a deluxe gatefold jacket on 180 gram vinyl. Replica (RPC05). 30/10/14.
Atoll: Tertio. Replica (RPC020). 180 gr. vinyl re-issue. Street date: 14-04-2016. The 3rd Atoll album recorded in 1977, used to be considered their most mature album. Still influenced by YES and early Genesis, now a Zeuhl's flavor perfumes its symphonic progressive rock.
Atlantide: S/T. Replica (RPC14). Street date: 03/09/15. Largely regarded as one of musical producer and engineer Jean-Pierre Massiera's major 70's projects, rather than being highlighted as a short-lived ensemble. While their sole, self-titled album failed on the path towards popularity and promotion, it is instead significantly appreciated for the classic-sounding, obscure and rare French prog treat it mirrors.
Atomic Rooster: S/T. Sireena Records (SIREENA4010). LP. 01/04/11. This LP reissue of the debut album from 1980 comes in gatefold cover with all lyrics and 180 gr. heav-weight vinyl.
Audience: S/T. Lilith Records (LR332LP). 14/12/11. 180 gram LP version + bonus CD of the album. Featuring a new "positive image" cover photo. Both versions present 3 bonus tracks, including the theme from their soundtrack to the 1970 skinhead classic Bronco Bullfrog. €16
Audience: S/T. Akarma 180Gr. LP (AK357LP). 1969 self-titled debut album penned by a British band who probably were one of the most interesting groups in the British panorama of the late 60's / early 70's. Their sound was a manifestation of their desire to experiment with and masterfully blend different musical styles, such as rock, folk, jazz, and blues. If we must make comparisons, Jethro Tull immediately leaps to mind, particularly because of the band's use of flute. €16
Ayers, Kevin: Live at the BBC 1970 & 1972. B 13 (B189). 140 Gr. clear yellow vinyl in clear PVC sleeve (ltd. ed. 500 copies).
Baker, Chet: Sings and Plays with Bud Shank, Russ Freeman and Strings. Doxy (DOX866LP). 180gr. LP. street date: 14/06/12. This album from 1955 was recorded at Capitol Studios in L.A. over the course of two sessions.€16
Albert Ayler Quartet: The Hilversum Sessions. Modern Silence (OI021). Street date: 25-01-17. Limited edition on 180 gram vinyl. This album presents Albert Ayler in all his blowzy, testifying glory, fronting a quartet that includes trumpeter Don Cherry, bassist Gary Peacock and drummer Sunny Murray.
Ayler, Albert: My Name Is Albert Ayler. Jeanne Dielman (JD101). 17-03- 16. Reissued on a new label, "My Name Is Albert Ayler" is the debut album from legendary free-jazz saxophonist Albert Ayler. Recorded in Copenhagen with a Scandinavian rhythm section including Niels-Henning Ørsted Pedersen, this album sets the stage for the sheer brilliance that was to come.
Ayler, Albert: The First Recordings Vol. 1. Jeanne Dielman (JD107). 28-04-16. Recorded in Stockholm on October 25, 1962, this session is one of Ayler's earliest recordings, featuring a European backing group he assembled during his brief stay there, before returning to the States in 1963 and beginning his legendary run with ESP-Disk and Impulse!
Ayler, Albert: The First Recordings Vol. 2. Jeanne Dielman (JD110). 26-05-16. Same recording date.
Baker, Chet: It Could Happen To You. Dom-Ermitage (VNL12226LP). Street date: 19-05-16. LP reissue of an album presenting the two Baker, the trumpeter and the singer!
Baker, Chet & Paul Bley: Diane. SteepleChase (G1207). 180 gr. LP reissue. Street date: 10-03-17.
Balletto Di Bronzo: On the Road to Ys. AMS 42 LP. Feb. 2011. First time ever vinyl release (180 gr.) of two extraordinary documents, dated 1971! They form the demos recording made by the band in 1971 at Phonogram studios Milan, featuring the embryonic versions of two songs that would later be merged into YS (Introduzione and Secondo Incontro), with English vocals and arrangements that are quite different than the final ones. Taken from master tapes and remastered by Gianni Leone and Nicola di Gia in 2010. Also featuring a bonus track: an unreleased live version of "La Tua Casa Comoda".
Balletto Di Bronzo: Ys. Vinyl Magic (VM164LP). 28/03/14. This milestone of Italian Prog is now reissued in the usual LP-replica edited by Vinyl Magic, including the lyric insert which was present on the original from 1972. The first pressing comes on a lavish white vinyl. For the first time a vinyl reissue of "YS" has the correct, and original, song-split!
Bambibanda E Melodie: S/T. Vinyl Magic VMLP137. May 2009. Post-Garybaldi group, of course featuring Bambi Fossati on guitar; their only album has the usual leading role for Bambi's guitar, but the use of percussion gives a more latin-inspired feel that sometimes reminds of Santana. Exact repro of the 1974 original, labels replicas and 180g vinyl. €17
Banco: Canto di Primavera. Limited edition on 180 gram yellow vinyl. Vinyl Magic (VM LP 197). Street date: 27-02-17. Faithful reproduction of the original, including the inner sleeve with illustrations, photographs and lyrics.
Banco: Come in un'ultima Cena. Vinyl Magic (VM199LP). Street date: 09-10-17. Reissue on white vinyl, as usual in a faithful reproduction of the original 1976 edition.
Banco: ... di Terra. Limited edition on 180 gram red vinyl. Vinyl Magic (VM LP 196). Street date: 13-02-17. Faithful reproduction of the first LP edition, complete with illustrated inner sleeve.
Banco Del Mutuo Soccorso: Darwin. Sony (88875121241). 180 gr. LP reissue, Sept. 2015
Banco Del Mutuo Soccorso: Garofano Rosso. Vinyl Magic (VMLP200). Red vinyl edition. Street date: 05-05-17
Banco Del Mutuo Soccorso: Io Sono Nato Libero. Sony (88985323151). June 2016. Historic third album by Banco del Mutuo Soccorso finally reissued in vinyl with digital remastered sound.
Banco Del Mutuo Soccorso: S/T. Cherry Red Phonograph (CRP117LP). Deluxe gatefold LP with inside pocket. Oct. 2012. Reissue of the classic 1975 album that introduced Italian prog rock band Banco to the world! To help their new non-Italian fan base get up to speed however, Banco decided to re-record (with English lyrics) some of their best earlier material, alongside a few new tracks as well. €17
Banco Del Mutuo Soccorso: S/T. Sony (88697545051). June 09. Limited LP edition. The first album, simply called Banco del Mutuo Soccorso, housed in a large money box shaped cover, is still one of the most representative examples of the Italian prog, with classical influences based on the twin keyboards interplay and the original operatic voice of Francesco Di Giacomo. €35
Peter Banks: Two Sides Of Peter Banks. Lilith Records Dig-A-Log Series (LR344LP). 28/06/12. 180 gram LP + free bonus CD of the album. For this album from 1973, Peter Banks (the original guitarist of Yes), along with guitarist Jan Akkerman (of Focus), with whom Banks co-wrote most of the songs on the album, assembled a star-studded cast of characters that included Phil Collins and Steve Hackett (of Genesis), and John Wetton (of King Crimson). Given the talents found here, it is no wonder that band manages to conjure up some real down and dirty prog!
Berrocal, Jac: La Nuit est au Courant. Le Souffle Continu (ffl028). street date: July 2017. First ever vinyl edition of this classic recording from early 90's. Limited edition of 700 copies - Obi Strip - Reverse Printing - 4 page booklet. Featuring drummer Jacques Thollot.
Barry, John: From Russia With Love. Doxy (DOC112). 04/08/14. Limited LP edition of 500 copies.
Bass Communion: II. Deluxe 180 gram heavyweight double vinyl edition of the second Bass Communion album from 1999, with exclusive music on Side 4 and the stunning Carl Glover gatefold cover. The music collects the six tracks from the original 1999 CD release, plus exclusive bonus tracks Wide Open Killingfeld parts 2 and 3. This first edition of 500 numbered copies is pressed on white vinyl. €30
Battiato, Franco: Fetus. Superior Viaduct (SV131). Street date: 05-10-17. New reissue after those released by Sony, years ago and today sold out. Reproducing the original gatefold jacket, this reissue is part of an archival series that chronicles Franco Battiato's masterful body of work from 1971 to 1978.
Battiato, Franco: Pollution. Superior Viaduct (SV132). Street date: 05-10-17. See comments on the reissue of Fetus.
Battiato, Franco: Sulle Corde di Aries. Superior Viaduct (SV133). Street date: 05-10-17. See comments on the reissue of Fetus.
Battiato, Franco: Sulle Corde di Aries. Sony reissue. Street date: 14-04-17. Terrific digital remaster, for the first time at 192 khz and 24 bit. From the original master tapes
Bauhaus: Tiffany's, Glasgow, Scotland, June 27th 1983. East/West (WEST914J). Street date: 18/12/14. A numbered limited edition of 349 copies on white vinyl with black splatter.
Baxter, Les: African Jazz. 180 gram LP. So Far Out (OUT5017LP). 27/11/14. Composer, conductor, arranger and musician Les Baxter is fondly remembered as one of the forefathers of the 1950s Exotica sound, alongside other luminaries such as Lyman, Denny, and Esquivel. 1959's African Jazz is one of his most renowned and sought after titles, at times moody and dark, at others light and whimsical, sometimes within the same song.
Baxter, Les: Barbarians. 180 gram LP. So Far Out (OUT5018LP). 27/11/14. Soundtrack to the 1959 peplum/sword-and-sandal Italian film Goliath and the Barbarians
Beach Boys, The: Surfin' USA. Doxy (DOP8014). Street date: 27-10-16. Picture disc limited edition. Released in 1963, Surfin' USA was the 2nd studio album from The Beach Boys.
Beatles, The: 1962 The Audition Tapes. Cornbread (CRNBR16029). Street date: 16-02-17. 180 gr. vinyl + download card. Recorded on the 1st of January, 1962, in London, this is maybe the most famous audition tape in popular music history, an audition that altered the course of 20th century rock music. The Beatles, in their Lennon/McCartney/Harrison/Best incarnation, recorded these 12 rollicking covers for the Decca label in just under an hour. They were eventually rejected by the label and went on to sign with EMI subsidiary, Parlophone, and the rest, as they say, is history.
Beatles, The: A Taste Of Honey: Live At The Star Club, Hamburg, 1962. Wax Love (WLV82006). Street date: 05-10-17. The Beatles played five residencies in Hamburg between 1960 and 1962, the last of which is captured here in December of 1962, just a few months after Ringo Starr replaced Pete Best and finalized the lineup that would soon be known as The Fab Four.
Beatles, The: Thirty Weeks In 1963. Doxy Picture Disc Limited Edition (DOP8018). Street date: 01-06-17.
Beatles, The: Thirty Weeks In 1963. Doxy LP box set with 16 p. book (DOY013BOXLP). Jan. 2014. Deluxe LP featuring a 16 page booklet with rare photos documenting the first days of Beatlemania. Through 30 weeks, from February 11 to September 12, the best band of all-time is captured here in the days before flying high to reach the sky and shine like a bright star. Pressed on Audiophile Clear Vinyl. Limited Hand Numbered Edition of 2,000 copies. €30
Bernstein, Elmer: The Great Escape. 2LP Doxy Cinematic (DOC105). Complete edition/double LP pressed in a limited edition of 500 copies.
Biglietto per L'Inferno: Il Tempo Della Semina. AMS 48 LP. 25/05/12. This album - recorded in 1974 but only first released by Mellow Records in 1992 - has been since repressed several times and is now available again on AMS Records, in a gatefold format with a beautiful renewed artwork, including exclusive photos by Cesare Monti.
Biglietto per L'Inferno: Live 1974 (BG003LP). 08/06/12. This concert, which was released a couple of years ago as a papersleeve CD and included in a beautiful celebratory boxset, is now pressed as a 180gr. audiophile black vinyl: a due tribute for an immortal band!
Biglietto Per L'inferno.folk: Tra L'assurdo E La Ragione. AMS 43 LP (2010). Limited edition in white vinyl! Behind this retouched famous band name (you have noted the .folk added at the end?) is to be found a special project. Featuring original band members Pilly Cossa, Baffo Banfi, Mauro Gnecchi and blessed by the approval and contribution of singer/lyricist/flautist Claudio Canali, the band's classics have been re-recorded but also re-arranged, in collaboration with young talented north Italian folk musicians (therefore .folk!) and a great female singer.
Björk: Medulla. 2LP (€22)
Birgé Gorgé: Avant Toute. Souffle Continu (FFL014). 700 copies on black & white vinyl (350 gr. sleeve with reverse printing and Obi Strip). Insert with photos + liner notes by Jean-Jacques Birgé & Francis Gorgé
Black Widow: See's The Light Of The Day. Black Widow (BWR 145). 30/04/12. This 2LP + 10" set gathers the 1969 "demo" version of the album Sacrifice (already released by Black Widow Records under the title "Return to the Sabbat"), rare and unreleased tracks like the acoustic demo version of "Mary Clark" or "Daddy Babe", a long psychedelic track in Affinity style with Kay Garrett on vocals, and finally the first time release of a live concert at Teatro Lirico, Milan, Italy - May 10th, 1971.
Blakey, Art & The Jazz Messengers: Art Blakey!!!!!Jazz Messengers!!!!! (Alamode). Doxy (DOX865LP). 180 gr. LP. Street date: 14/06/12. Originally released in 1961, this album is one of the very few Blakey recorded for Impulse! €16
Blakey, Art & The Jazz Messengers: Like Someone In Love. Doxy ACV (ACV2082). Street date: 19-01-17. Taken from the same legendary sessions that resulted in A Night in Tunisia, this classic LP features the 1960 version of The Jazz Messengers starring trumpeter Lee Morgan, tenor saxophonist Wayne Shorter and pianist Bobby Timmons. Numbered limited edition of 500 copies.
Paul Bley - Ornette Coleman - Don Cherry - Charlie Haden - Billy Higgins: Live At The Hillcrest Club 1958. Doxy 2LP (ACV4001DLP). Jan. 2014. Limited edition of 500 copies pressed on Audiophile Clear Vinyl (ACV) (scroll and check definition at Doxy Audiophile). This record marks a turning point in jazz history. It may be the earliest recorded example of what Ornette Coleman later called "free jazz" and it represents the first rumblings of the revolutionary movement which eventually shifted jazz thinking away from bebop. €20
Blocco Mentale: ¶oa. Vinyl Magic VM 032 LP. 10/06/11. This very obscure and rare album from 1973 was maybe the first ecological conceptual album in the Italian prog history (singing about the evil of polluting the planet); it is today for the first time ever reissued in its gorgeous gimmick gatefold cover. Limited edition in five different colours: red, yellow, white, blue and green.
Blue Phantom: Distortions (1971). AMSLP05. July 08. First legit reissue with its original artwork for what is mostly considered the best instrumental psych record coming out of Italy. Entirely instrumental, Distortions was released in Italy in 1971, along with a single, and later released in other European countries, among which England, this time with a complete different artwork. Superb fuzzed-out and wah guitars, moog... there's really plenty of "Distortions" here!!! Powerful rhythm section and fantastic guitar work, great production. €18
Bob James Trio, The : Bold Conceptions. Doxy ACV (ACV2036). Oct. 2014. This is the original Bob James; his very first album, in fact, recorded at age 22 (and produced by Quincy Jones). First edition of 500 numbered copies.
Bobby Bradford / Frode Gjerstad Quartet: The Delaware River. NoBusiness Records (NBLP 87). Nov. 2015. Limited edition of 400 records. With Ingebrigt Håker Flaten on bass and Frank Rosaly on drums. Recorded on 29th of March 2014 at Philadelphia Art Alliance
Bobby Bradford / Hafez Modirzadeh / Ken Filiano / Royal Hartigan:?Live at the Magic Triange. NoBusiness Records (NBLP 108). 500 copies limited edition. Recorded live on 31st March, 2016 at Bezanson Recital Hall as part of the Magical Triangle Jazz Series
Bobby Bradford / Hafez Modirzadeh / Mark Dresser / Alex Cline : Live at the Open Gate. NoBusiness Records (NBLP 96). May 2016. Limited edition of 500 copies. Recorded live on March 3, 2013, at the Center for the Arts, Los Angeles, as part of the Open Gate Theatre Sunday evening concerts series.
Branca, Glenn: Lesson No. 1. 2 x 12" Superior Viaduct (SV039). March 2014. Glenn Branca made his first solo statement, Lesson No. 1, in 1980. The album unveiled his visionary guitar concepts with two monstrous, side-long compositions that helped forge NYC's downtown art-punk sound and acted as a massive influence on countless young groups, including Sonic Youth and Swans.
Braxton, Anthony / Roach, Max: Birth and Rebirth. Black Saint Dig-A-Log (BS520001). 180 gram LP + CD. Oct. 2012. This album documents the historic meeting, (dated 1979) between Max Roach and Anthony Braxton, or rather the encounter between the tradition and the avant-garde in modern jazz. A profound dialogue between two major figures, the father of modern drumming and the young lion of creative music. €17
Brown, James: Live at the Apollo. Rumble Records(RUM2011117LP). 11-02-16. Reissue.
Brown, James: Prisoner of Love. Cornbread (CRNBR16033). Street date: 16-03-17. Featuring his first big pop hit in the title track, Prison Of Love is another classic piece of early 60's R&B reissued by Cornbread on 180 gram vinyl with download card.
Brown, James: Tell Me What You're Gonna Do. Rumble (RUM2011099LP). Shipping date: 18/06/15. The 4th James Brown LP, originally released in 1961, is regarded among collectors as one of the finest pure R&B albums of its era. And it includes some of his best charting singles such as "Just You And Me Darling" and "Lost Someone".
Brown, James & His Famous Flames: Try Me. Rumble Records (RUM2011127LP). Street date: 26-05-16. Released in 1959, this album is the epitome of late 50's R&B and an essential addition to any collection.
Brubeck, Dave: Time Out. LP release date 31/01/08. €16
Bruford, Bill: Feels Good To Me. Winterfold BBWF003LP. 09/11/09. Limited edition (1000 copies) on 180 gr. vinyl of the debut album (78) by drummer Bill Bruford's band. Street date: 09/11/09
Bruford, Bill: Going Gradually Tornado. Winterfold BBWF005LP. 09/11/09. Limited edition (1000 copies) on 180 gr. vinyl of the 3rd album (80) by drummer Bill Bruford's band. Street date: 09/11/09
Bruford, Bill: One Of A Kind. Winterfold BBWF004LP. 09/11/09. Limited edition (1000 copies) on 180 gr. vinyl of the 2nd album (79) by drummer Bill Bruford's band. Street date: 09/11/09
Bruford, Bill: Rock Goes To College. Winterfold BBWF009LP. 09/11/09. Limited edition (1000 copies) on 180 gr. vinyl of the concert performance recorded as part of a live television programme aired in March 1979. First time on LP! Street date: 09/11/09
Buon Vecchio Charlie: Il Buon Vecchio Charlie. AMS112LP Green vinyl edition! Street date: 07-07-17
Burrell, Dave & Stewart, Bob: The Crave. Play the music of Jelly Roll Morton and Dave Burrell. NoBusiness Records (NBLP 100). Nov. 2016. 400 copies limited edition. Piano / Tuba duo, recorded live at the Kölner Stadtgarten, Cologne, Germany on June 13, 1994
Burrell, Kenny: Vol. 2. Doxy (DOX856LP). Jan. 2014. With the '56 cover art by Andy Warhol. On this album, the guitarist can be heard in many ways, from solo to a simple rhythm section setting; as part of a wailing quintet; and taking part in a night club jam session that involves two horns, rhythm and himself. Clearly, then, there is no danger at any time that monotony will set in. €16
Bushman´s Revenge: Bushman´s Fire. Rune Grammofon (RLP2186). Street date: 02-09-16. This, their second live album, captures the band at Oslo´s rock den Café Mono at their most cosmic and trippy, taking their progjazz explorations into outer space and beyond. With an extended line-up including sax giant Kjetil Møster and Hammond whizz David Wallumrød they stir up quite a storm, with "Total Fucking Marmalade" being a brand new track, "Yoga" being an extended workout of "Baklengs Inn I Fuglekassa" from the "Thou Shalt Boogie!" album and "As We Used To Sing", the Sonny Sharrock tune and a live favourite that´s been with them since the beginning!
Bushman's Revenge: A Little Bit of Big Bonanza. Rune Grammofon (RLP3123). 20/01/12. Vinyl edition in gatefold sleeve with free mp3 download of the whole album.
Bushman's Revenge: Never Mind The Botox. Rune Grammofon (RLP3125). 20/01/12. LP only release, the companion of the Bonanza album, recorded during the same sessions in Athletic Sound. Here they cover some of their personal favourites, fully showing the diversity of artists that is so typical for the listening habits of young Norwegian musicians not subscribing to specific genres. Meaning you will find Back Sabbath and Pixies side by side with Ornette Coleman and Sun Ra. And with "Bushman Rock" they also cover themselves! This song was left off the "Jitterbug" album but they recorded a vastly improved version for this new album. €15
Byrd, Charlie: Royal Flush. Doxy (DOX861LP). 180 gr. vinyl reissue. Street date: 17/05/12. Byrd's eighth album for Blue Note, originally released in 1961, this album is also known introducing a 21-year-old Herbie Hancock to the jazz world, in his first ever recorded session! The album also features Hancock's first recorded composition, "Requiem". €16
Byrd, Donald: Free Form. Doxy (DOX896LP). 22/08/13. Recorded in 1961 with a stellar line up (Shorter-Hancock-Higgins), this album is here reissued with a bonus track left off the original album (but from the same sessions), a lovely Herbie Hancock penned cut!
Cage, John: 25 Year Retrospective Concert, NYC 15th May 1958. Modern Silence (OI011). Street date: 14-07-16. Includes booklet with comments by Cage himself. Limited edition of 500 numbered copies, pressed on 180 gram vinyl.
Cage, John: The 25 Year Retrospective Concert. Doxy 180 gram 2LP (DOZ407DLP). Dec. 2013. Recorded live at Town Hall, NYC in May 1958, this historic concert (organized by Jasper Johns and Robert Rauschenberg) was a retrospective of Cage's work from 1934 to the present. €18
John Cage, David Tudor & Christian Wolff: San Francisco Museum Of Art, January 16th, 1965. Modern Silence (OI014). Street date: 29-08-16. Limited edition pressed on 180 gram vinyl. Recorded live by KPFA Radio in the halls of the sculpture court of the San Francisco Museum of Art on January 16, 1965, this historic concert with John Cage opens with a duet for Cymbal with contact microphones agitated by a wide gamut of objects and concludes with Variations IV in which loudspeakers outside the performance space interacted with speakers next to the audience. First release on vinyl for a very important piece in the history of minimalist music.
John Cage . Christian Wolff: S/T. Jeanne Dielman (JD118). Street date: 05-12-16. John Cage and Christian Wolff's self-titled 1962 LP was an early showcase of both 20th century composer's experimental chops, and is highly regarded as some of their finest work.
Califfi, I: Fiori di Metallo. Vinyl Magic 180 Gr. VM122LP. Very good prog album (72), based on organ and moog sounds, with two outstanding instrumental tracks. A megararity, finally reissued on LP. €18
Camel: Live At BBC In London, 1977. B 13 (B207). Street date: 14/11/13. These live BBC radio sessions from 1977 feature material from that breakthrough LP as well as the following classics, Moonmadness, and Rain Dances. Limited edition of 500 copies on orange vinyl. €17.
Camel: The Snow Goose. 180 gr. audiophile vinyl including full colour insert. Street date: 30/09/11.
Camisasca: La Finestra Dentro. GDR BBXL 10005. Jan. 2013. This album can be compared with Alan Sorrenti's first album in the use of voice as an instrument, with sparse musical accompaniment on some tracks. Produced by Franco Battiato - who also plays the VCS3 synth on it - it is here reissued in a faithful replica of the original 1974 edition
Camizole: S/T. Replica (RPC029). Street date: 15-10-17. In 1975, Camizole was an early French electronic duet that used to play many summer festivals. Thus, a recording was done at "Festival de Solymieux", then was sent to Klaus Schulze and Klaus D. Müller, who were interested in producing an album. Unfortunaly, the band didn't last long enough. 42 years later, this sought-after tape resurfaces on a limited vinyl edition for the first time ever.
Campo Di Marte: S/T. AMS - Vinyl Magic AMSLP01. This is a strictly limited reissue of 500 copies in 180gr vinyl, nice carton cover and a fully exact replica of the original (except that the new catalog number is on the labels), including the rare inner sleeve. Red vinyl pressing.
Can: A Double Promo Album by. B 13 (B181D). Nov. 2012. 140 gram 2LP on clear vinyl with multi-colored labels in PVC sleeve (ltd. 500 copies). The live show found on this double LP was recorded in Lyon in January 1976, now with Michael Karoli and Irmin Schmidt sharing vocal duties
Can: Burg Norvenich, Germany, July 25th, 1969. East / West (WEST920). Shipping date: 30/04/15. Splatter red vinyl with green and black speckles; packed in PVC deluxe sleeve with flap and hand numbered OBI strip!
Can: Future Days: Live In Cologne 1973. B13 (B167). Street date: 23/08/12. Format: 140 gram LP on clear purple vinyl with red label in PVC sleeve with black lettering (limited edition 500 copies). This album is made up of one long jam session recorded live in the studio at Inner Space in Cologne during the 1973 Future Days sessions. Future Days was also singer Damo Suzuki's final album with Can. €16
Can: Live in Hannover. B 13 (B184). 140 gram LP on clear vinyl in PVC sleeve (ltd. ed. 500 copies). Nov. 2012. High quality live FM radio broadcast from Hannover on 11 April 1976. €17
Can: Monster Movie: Live. B13 (B165). Street date: 23/08/12. Format: 140 gram LP on red vinyl with red label in PVC sleeve with black lettering (limited edition 500 copies). Those tracks, recorded live in Cologne in July 1969, were the first steps into the beyond, setting the tone for a whole new genre of German music that the world would soon be calling "krautrock". €16
Can: Tago Mago: Live. B13 (B166). Street date: 23/08/12. Format: 140 gram LP on clear red vinyl with red label in PVC sleeve with black lettering (limited edition 500 copies). Recorded in 1971 at Can's Inner Space Studio in Cologne during the Tago Mago sessions. These two long tracks represent a live-in-studio jam where Damo's vocals have really become an essential component in the band's sound. €16
Capitolo 6: Frutti per Kagua. Sony reissue. Street date: 14-04-17. Terrific digital remaster, for the first time at 192 khz and 24 bit. From the original master tapes
Caravan: If I Could Do It All Over Again, I'd Do It All Over You. 4 Men with Beards (4M239LP). 180 gr. LP reissue. Street date: 15/05/14.
Caravan: In The Land Of Grey And Pink (with bonus tracks). Klimt Records Gatefold 2LP (MJJ352DLP). Jan. 2013. The bonus tracks are the same outtakes as those found on the CD anniversary release!
Caravan: The Land Of Grey And Pink Live. B 13 (B200). 25/07/13. Captured live in the spring of 1971. Clear pink vinyl in a clear PVC sleeve with blue lettering pressed in a limited edition of 500 copies.€16
Juan Pablo Carletti, Tony Malaby, Christopher Hoffman: Ni¤o / Brujo. NoBusiness Records (NBLP79). Nov. 2014. Limited edition of 300 records. Recorded on April 30th, 2013 at Systems Two (Brooklyn) by Joe Marciano. Unusual trio format: Drums, glockenspiel, melodica / Tenor sax / Cello.
Carnascialia: S/T. Vinyl Magic (VM170LP). Dec. 2014. Ltd. Gold&Red mixed colour vinyl. Initiated by Pasquale Minieri and Giorgio Vivaldi from Canzoniere del Lazio, this album represents a unique work, combining world music, folk and jazz, sometimes introspective and meditative. A little gem that deserves recognition.
Casa, Daniela: Ricordi D'Infanzia. Dagored (RED308). 07-04-16. Limited numbered edition of 500 copies on blue vinyl. 11 tracks of soft, romantic, exotic pop with a sweet and childish atmosphere designed for use in radio, film, TV, documentaries and educational projects. Daniela Casa is a true legend of early experimental electronic music and has been recently rediscovered as a great inspiration by many contemporary artists as Madlib.
Casa, Daniela: Societa' Malata. Dagored (RED305). 07-04-16. Limited numbered edition of 500 copies on transparent vinyl. Società Malata (Sick Society) from 1975 is an extraordinary collection of experimental, ambient and electronic tracks from the Italian cult composer Daniela Casa which acts as an aural reaction to the wickedness of humanity and the decay of our world.
Casa das Máquinas : Lar De Maravilhas. Sagara (SAGA-183). Street date: 25-08-16. One of the better examples of Brazilian prog of the 70's, the band's 2nd album - originally released in 1975 - has been out of print on vinyl for more than 4 decennies since its initial release.
CCPP: S/T. Vadim VAD041LP. Dec. 2011. 180 gr. vinyl reissue of this recording from 75, a true gem from the 70's! Behind the mysterious acronym lies an impressive quartet made up of 4 of France's best musicians of that era: André Ceccarelli on drums, Marc Chantereau on keyboards and percussion, Christian Padovan on bass and Slim Pezin on guitar. Backed by a solid brass section, they move from note to note with incredible virtuosity and energy, delivering a mutant and hypnotising funk that cannot be resisted for long.
Celeste: S/T. AMS LP15. 2009. Also known as "Principe Di Un Giorno", this is the first album originally released on the small Grog label in 1976 (though the music had already been recorded in 1974). The music had a strong pastoral character with delicious mellos. Fantastic reissue with only the first copies in white vinyl. 180gr. and gatefold cover.
Central Unit: S/T. Vinyl Magic (VM156LP). 2013. Central Unit were a unique case in the Italian scene of the 80's. Coming from Bologna and active during the years of the so-called 'post-new wave', it was clear that they would not settle on the small Italian scene, given the international scope of their proposal: new wave, electronic, a pinch of jazz and improvisation, for an almost entirely instrumental music in which the rhythmic component dominates everything.
Centrozoon: Never Trust The Things They Do. This is a limited edition vinyl companion to the 2004's experimental electronic pop release "Never Trust the Way You Are". Featuring powerful contributions from King Crimson's innovative drummer, Pat Mastelotto, this record is a fascinating collision of haunting atmospherics and hard-hitting rhythms
Cervello: Melos. 06-12-13. Sony. 180 gr. vinyl, limited numbered edition, 500 copies. Finally available again on vinyl, one of the best works ever from the golden age of Italian progressive rock, originally released on Ricordi in 1973.
Charles, Ray: What'd I Say. ACV2016. May 2014. Numbered limited edition of 500 copies pressed on Audiophile Clear Vinyl (ACV). (scroll and check definition at Doxy Audiophile)
Charlie Haden / Paul Motian feat. Geri Allen: Etudes. Soul Note Dig-A-Log LP+CD (SN521005). Street date: 06/03/14. Reissue of a classic album in which the angular rhythm of the historic couple and Allen's highly sensitive playing sound fully integrated within an intense three way dialogue.
Cherry, Don: Complete Communion: Live in Stuttgart (Germany) At Liederhalle (Beethovensaal) May 12th 1966. Modern Silence (OI013). Street date: 29-08-16. Limited edition pressed on 180 gram vinyl. Taken from an excellent radio broadcast for the first time in a glorious vinyl release, this record features the legendary Don Cherry with his great 1966 quintet featuring Gato Barbieri (tenor sax), Karl Berger (piano), Bo Stief (bass) and Aldo Romano (drums).
Cherry, Don: Live in Paris, April 22, 1971. B 13 (B191). 140 gram LP on clear red vinyl in PVC sleeve (limited edition of 500 copies). April 2013. During the spring of 1971, Cherry travelled to Paris with his avant-garde jazz trio, made up of the great South African bassist Johnny Dyani and Turkish percussionist Okay Temiz, to perform live for an audience of French jazz fans.
Cherry, Don: Where Is Brooklyn? Klimt (MJJ383). Jan. 2015. With saxophonist Pharoah Sanders backing Cherry on the front line, this album is a quartet set, strongly influenced by the melodic approach of Ornette Coleman, but with a fierce abstraction of tone quite different from Coleman's playful lyricism. Moreover, the rhythm team of Ed Blackwell on drums and Henry Grimes on bass provides a scintillating underpinning for the music that is worth listening to all on its own.
Cherry, Don & Gato Barbieri: Togertherness. Klimt Records (MMJ387). Street date: 29-08-16. Limited edition of an explosive live Parisian recording, made with the French rhythm section of Jean-François Jenny-Clark on bass, Aldo Romano on drums + Karl Berger on vibes.
Cherry / Redman / Haden / Blackwell: Old And New Dreams. Black Saint Dig-A-Log (BS520002). 180 gram LP + CD. Oct. 2012. Album recorded in 1976. €17
Cherry Five: S/T. AMSLP14. Sept. 09. Deluxe LP reissue of an album recorded in 1974 and released in 1976. The band was the forerunner of Goblin and featured the singer of L'Uovo di Colombo as well as drummer Carlo Bordini, half of the duo Rustichelli & Bordini €18
* Chicaloyoh: La Boue Ralentit le Cercle. 213 Records (213v44). Street date: October 2017. Mostly improvised under a grey psychedelic sky in Austrasia's dark forests, this new album from The Priestess invites us on a new journey to her eerie dreams, where the only frontier is your imagination and the delicacy of sounds is the perfect mattress for the poetry of asleep expectations. For fans of Nico or Catherine Ribeiro
Chico Hamilton Quintet: S/T. So Far Out (OUT5015LP). Format: 180 Gr. LP. This first album from 1955 is a cool, swinging affair that introduced the world to Hamilton's particular brand of chamber bop. €16
Cincinnato: S/T. AMS 55LP. Sept. 2012. This sole album is very rare, also in its unique recent CD reissue (AMS, 2006) and is now available in a perfect vinyl replica of the original 1974 release (the band had already folded a year before).180 Gr. audiophile black vinyl edition.
Cipriani, Stelvio: Gli Orrori del Castello di Norimberga (Baron Blood). Dagored (RED210P). Picture Disc. Street date: 09-11-17. This soundtrack contains jazzy elements and classic sounds combined with great audio effects obtained by ?torturing? guitars, drums and the wind.
Circus 2000: An Escape From a Box (HALP04 LP). 03/02/12. LP reissue of their 2nd album from 1972. €19
Circus 2000: An Escape From a Box. Vinyl Magic VM015LP. 01-12-2015. Reissue of the 2nd album on either clear blue or clear purple vinyl.
Clark - Hutchinson: A=MH2. Akarma (180Gr.) AK293LP. Debut album of one of the most interesting and irreverent bands of the British underground rock scene of the late 60s.
Clark, Sonny: Blues In The Night. Doxy (DOX878LP) 180 Gr. vinyl LP. Nov. 2012. Recorded in December 1958 for Blue Note, this was a trio session featuring Sonny Clark on piano, Paul Chambers on bass, and Wes Landers on drums. €16
Cluster: Cluster II. Lilith Dig-A-Log LR335. 23/02/12. 180 gr. LP + free CD of the album. Originally released in 1972, this is the second album by legendary German ambient pioneers Dieter Moebius and Hans-Joachim Roedelius. Moebius and Roedelius essentially create ambient electronic soundscapes that ebb and flow, droning on in a suspended world of anti-gravity where machine has conquered man.€16
Cluster: Zuckerzeit. Lilith 3. 23/02/12. 180 gr. LP + free CD of the album. Originally released in 1974, Zuckerzeit marked a turning point for these seminal German space rockers. Recorded shortly after their move away from the metropolis of Berlin, it sees some of the abrasiveness of their earlier material slightly diffusing. With the addition of proto drum machines and the producing talents of Michael Rother, their sound here - while remaining firmly in anchored in experimental territory - has more pop sensibility.€16
Coffinet, Anne-Marie: Le Vampire. Souffle Continu (FFL017/EFU12). 7" EP. Planned for release for the Record Store Day on April 16, 2016. 500 copies in clear vinyl. 350g sleeve - Reverse Printing - Matt Finish. First time reissue of this groovy soul jazz EP, holy grail of the mythical Futura catalogue by french actress Anne-Marie Coffinet along with Siegfried Kessler, Pierre Culaz & Bernard Lubat. Remastered from the original tapes. Licenced by Gérard Terronès. No repress!
Cohelmec Ensemble: 5 Octobre 1974. Le Souffle Continu (FFL021). March 2017. Deluxe reissue with high definition remastered audio. 12-page booklet on 200gsm art paper including liner notes & rare pictures. First ever vinyl reissue since original release. Gatefold 2LP with Obi Strip. Limited edition of 500 copies. For their third, and what would turn out to be final, album the Cohelmec Ensemble chose to save for posterity their live performance work, on which their reputation was based. A concert recording was made, notable for the inclusion of trumpeter Jean-François Canape!
Cohelmec Ensemble: Next. Le Souffle Continu (FFL020). March 2017. Deluxe reissue with high definition remastered audio. 12-page booklet on 200gsm art paper including liner notes & rare pictures. First ever vinyl reissue since original release. Gatefold LP with Obi Strip. Limited edition of 700 copies. This 2nd album saw the original pianist leave, to be replaced by guitarist Joseph Dejean, who had already played with the Full Moon Ensemble, known for having accompanied Archie Shepp at the Antibes Jazz Festival in 1970.
Cohelmec Ensemble: Hippotigris Zebra Zebra. Le Souffle Continu (FFL019). March 2017. Deluxe reissue with high definition remastered audio. 12-page booklet on 200gsm art paper including liner notes & rare pictures. First ever vinyl reissue since original release. Gatefold LP with Obi Strip. Limited edition of 700 copies. A group without a designated leader, as can be read from their name, based on COH as in Jean Cohen (saxophones), EL as in Dominique Elbaz (piano) and MEC as in the brothers François and Jean-Louis Méchali. Musically, they celebrated above all the pleasure of collective music-making. They based their approach on reciprocal listening, but also on a dialogue between written and improvised material, in which all members have an equal responsibility whatever their instrument.
Coleman, Ornette: Change Of The Century. Doxy ACV (ACV2067). Street date: 25-07-16. Numbered first press of 500 copies.
Coleman, Ornette: Free Jazz. Dom-Ermitage (VNL12201LP). Street date: 19-05-16. LP reissue
Coleman, Ornette: Live At The Town Hall, NYC, December 21st, 1962. Mr. Suit (SUITABLE1348). Street date: 02-06-16. Reissued in a limited edition of 300 hand numbered copies on yellow vinyl with white splatter.
Coleman, Ornette: Something Else!!! The Music Of Ornette Coleman. Dom-Ermitage (VNL12223LP). Street date: 19-05-16. LP reissue. The debut album by Ornette Coleman (first published in 1958) shocked the environment of jazz, revolutionizing that close union between blues and jazz that was the very premise of Afro-American music. In fact it is a unique example: after, Coleman would not have a pianist with him and he would soon branch out into the inaccessible and unexplored territories of the free.
Coleman, Ornette: To Whom Who Keeps A Record. Superior Viaduct (SV086). 25-02-16. LP reissue. Originally released in Japan only, "To Whom Who Keeps A Record" collects outtakes from Coleman's legendary Atlantic period, sessions from "Change of the Century" and "This Is Our Music" that are as emotionally transfixing as intellectually rigorous.
Ornette Coleman Quartet, The: Tribes Of New York. Jeanne Dielman (JD114). Street date: 30-06-16. This LP compiles early 60's Quartet recordings that were not released on LP at the time. Fantastic collection by one of the greatest jazz quartets in history.
Collins, Judy: Golden Apples of the Sun. Wax Love (WLV82002). Street date: 05-10-17. Originally released in 1962, this album is her 2nd LP and is mostly made up of traditional material rearranged by Collins and her unique and iconic voice. A classic of the 60's folk revival, now back in print on LP.
Color Humano : Color Humano II. Sagara (SAGA-185). Street date: 25-08-16. Featuring the kind of funky drum work often found in South American hard-rock and a ripping frontman who wields a mean axe, this 2nd album by the Argentinian outfit is one of the absolutely highlights of Argentinian hard rock of the 70's, back in print on vinyl for the first time in 40+ years.
Coltrane, Alice: A Monastic Trio. Superior Viaduct (SV020). Street date: 27/05/14. This album showcased Alice's immense talent for fusing spiritual free jazz and new age with classical, Eastern, post-bop and gospel.
Coltrane, Alice: Universal Consciousness. Superior Viaduct (SV070). Shipping date: 18/06/15. This first-time vinyl reissue has been carefully remastered from the original master tapes.
Coltrane, John: Ballads. Doxy ACV LP (ACV2005LP). Jan. 2014. Limited edition of 500 copies pressed on Audiophile Clear Vinyl (ACV) (scroll and check definition at Doxy Audiophile). €16
Coltrane, John: Blue Train. Doxy (DOP8012). Street date: 27-10-16. New reissue, this time as picture disc in a limited edition
Coltrane, John: Coltrane. Doxy ACV LP (ACV2009). Feb. 2014. Limited edition of 500 copies pressed on Audiophile Clear Vinyl (ACV) (scroll and check definition at Doxy Audiophile). €16
Coltrane, John: Düsseldorf. March 28th 1960. Doxy ACV (ACV2061). Street date: 17-03-16. First edition of 500 numbered copies on Audiophile Clear Vinyl (ACV) (scroll and check definition at Doxy Audiophile)
Coltrane, John: Giant Steps. Doxy ACV LP (ACV2014). March 2014. Limited edition of 500 copies pressed on Audiophile Clear Vinyl (ACV) (scroll and check definition at Doxy Audiophile).
Coltrane, John: Impressions. Doxy (ACV2058). Shipping date: 13/07/15. Limited edition of 500 copies pressed on Audiophile Clear Vinyl (ACV) (scroll and check definition at Doxy Audiophile)
Coltrane, John: Jazz Way Out. Doxy ACV LP (ACV2003LP). Jan. 2014. Limited edition of 500 copies pressed on Audiophile Clear Vinyl (ACV) (scroll and check definition at Doxy Audiophile). This album was conceived and recorded in 1958 as an experimentation by some of the important "new" faces in modern jazz of those days, under the leadership of Wilbur Harden, with the young talented John Coltrane, the fresh voiced Curtis Fuller and pianist Tommy Flanagan that blend opinions and expression in an album of extended improvisational forms. €16
Coltrane, John: Live in Berlin November 2nd 1963. Doxy ACV LP (ACV2088). Street date: 20-03-17. See below.
Coltrane, John: Live in Stockholm October 22nd 1963. Doxy ACV LP (ACV2087). Street date: 20-03-17. Featuring Coltrane's classic quartet (McCoy Tyner, Jimmy Garrison, and Elvin Jones), these two live shows recorded in Stockholm and Berlin during the legendary 1963 European Tour, are a fairly typical example of the incredible strength of the group at the time.
Coltrane, John: My Favorite Things. Jeanne Dielman (JD119). Street date: 05-12-16. This 1961 album seems to fully mark Coltrane's transformation into modal jazz!
Coltrane, John: Stardust. Doxy ACV LP (ACV2001LP). Jan. 2014. Limited edition of 500 copies pressed on Audiophile Clear Vinyl (ACV) (scroll and check definition at Doxy Audiophile). €16
Coltrane, John: Tenor Conclave. Doxy ACV (ACV2010). March 2014. Limited edition of 500 copies pressed on Audiophile Clear Vinyl (ACV)(scroll and check definition at Doxy Audiophile
Coltrane, John: The Complete Nights of 1-2 November 1961. Doxy (DOY010TLP). 140 gram 3LP Box Set with 4-page booklet. Nov. 2012. Now available for the first time ever on vinyl, the complete recordings of John Coltrane's historic and hotly contested live performances at the Village Vanguard on the nights of 1-2 November 1961
Coltrane, John: The Believer. Doxy ACV LP (ACV2002LP). Jan. 2014. Limited edition of 500 copies pressed on Audiophile Clear Vinyl (ACV) ). €16
Coltrane, John: Within & Without Miles, Live 1960. Doxy ACV (ACV4006). Street date: 25-07-16. 2LP. This edition features the Quintet's complete April 8 1960 performance at Kongresshaus in Zurich Switzerland + Trane's first quartet recordings with McCoy Tyner, at the Jazz Gallery. Numbered first press of 500 copies.
Coltrane, John & Alice: Cosmic Music. Superior Viaduct (SV120). Street date: 01-06-17. Originally self-released by Alice Coltrane in 1968 and later issued by Impulse!, this album features two tracks - "Manifestation" and "Rev. King" - by John Coltrane's legendary final quintet that were recorded in San Francisco on February 2nd, 1966 and two more - "Lord Help Me To Be" and "The Sun" from Alice Coltrane's very first session as a bandleader, recorded six months after her husband's passing.
Coltrane, John & Don Cherry : The Avant Garde. Doxy ACV (ACV2042). Nov. 2014. Recorded during the summer of 1960 this legendary album is a milestone of Free Jazz history. Joining Coltrane and Cherry are essentially the rest of the members of the Ornette Coleman Quartet: Ed Blackwell (drums) and Charlie Haden (bass) on "Cherryco" and "The Blessing" as well as Percy Heath (bass) on the remaining three selections. Limited edition of 500 copies pressed on Audiophile Clear Vinyl (ACV) (scroll and check definition at Doxy Audiophile)
Coltrane, John & Johnny Hartman: S/T. Doxy (ACV2057). Shipping date: 13/07/15. Limited edition of 500 copies pressed on Audiophile Clear Vinyl (ACV) (scroll and check definition at Doxy Audiophile)
Coltrane, John & Wilbur Harden: Tanganyika Strut. Doxy (ACV2091). Street date: 29-05-17. The last of the three 1958 recordings made by jazz musicians John Coltrane and Wilbur Harden, Tanganyika Strut is Harden's last album as a leader. Numbered first press of 500 copies.
Comus: Out of the Coma. Rise Above Records (RISELP144). Limited edition on 180 gr. vinyl. Street date: 15/06/12. The feelings and convictions displayed within the grooves of "Out of the Coma" further display the undeniable uniqueness of Comus as an artistic collective as opposed to "just another band". Side 2 is made of one track, a recently discovered live 1972 recording. Also available on clear vinyl with green splatter
Copenhagen Art Ensemble: Reuterswärd. ILK (ILK223LP). 30/06/14. The Danish orchestra celebrates and re-interprets here iconic multi-artist Carl Fredrik Reuterswärd. This is also the first album document of Copenhagen Art Ensemble's collaboration with singer Qarin Wikström, who fronts an unconventional approach to music for 6 instruments plus vocal.
Cosmic Jokers, The: Galactic Supermarket. Victory (VKM58010). Street date: 26-06-17. Cosmic Jokers, The: S/T. Klimt (MJJ325CY). Street date: 04-08-16. This free-form freak out - consisting of two epic tracks, the 22 min 'Galactic Joke' and the 19 min 'Cosmic Joy' - was first of five albums by the group to be released in the coming months. A first rate slab of space rock up there with other classics of the genre. Limited edition of 500 copies on 180 gram yellow vinyl. Also available on November 7th, 2016 on blue vinyl pressing (MJJ325CB)
Coxhill, Lol: Ear of the Beholder. Radiation Reissues Deluxe Edition (RAD7008). Street date: 08-12-16. Originally released in 1971 on John Peel's Dandelion label Lol Coxhill's sprawling double album debut is an avant-garde jazz masterstroke that features Robert Wyatt and much of the Whole World group, Kevin Ayers' backing band at the time (of which Lol was a member). Ranging from straight up feedback to reworkings of standards, outdoor recordings to spoken word, improvisation to vaudeville, Ear Of Beholder covers more ground in 2 LPs than most artists do in a lifetime. Difficult, adventurous listening from one of British jazz's most brilliant innovators. Reissued on 180 gram vinyl with gatefold cover
Cream: Disraeli Gears at the BBC. B 13 (B199). 25/07/13. Clear purple vinyl in a clear PVC sleeve with blue lettering pressed in a limited edition of 500 copies. €16
Crosby, David & Nash, Graham: Bittersweet. Vinyl Lovers (VL901516). May 2015. The legendary early tape of Crosby & Nash's second album, featuring the first Crosby & Nash written collaborations on both "Naked in the Rain" and the brilliant "To the Last Whale" suite.
Cure, The: Three Imaginary Boys. Lilith LR130LPP. Picture LP 180 gram Non Shrink Wrapped. This is the faithful re-release of the original UK pressing. €17.50.
Curtis Fuller Jazztet, The : With Benny Golson. Doxy (DOX885LP) 180 Gr. vinyl. Feb. 2013. This LP, recorded at the Van Gelder studio, represents the original Fuller-Golson co-led Jazztet line-up, with Lee Morgan on trumpet, Wynton Kelly on piano and Paul Chambers on bass.€16
Curva di Lesmo: S/T. AMS (AMSLP99). Oct. 2015. For the album's explanation, see the CD section. The LP version is pressed on white vinyl
Dalton: Argitari. Vinyl Magic (VM098LP). Jan. 2014. Dalton released their second and last LP "Argitari" in 1975, in a three-spread gatefold format, faithfully reproduced in this Vinyl Magic reissue, the first ever in almost forty years.
Dalton: La Donna e il Bambino/Il Vuoto. Vinyl Magic (VM 45198). 7" pressed on clear blue vinyl and including a postcard. This is an exclusive RSD release for 2017.
Dave Brubeck Quartet, The : At Carnegie Hall. 2LP Doxy (ACV4008). Street date: 12-06-17. Recorded at the famed Carnegie Hall in New York City on Friday, February 22, 1963 this LP is simply one of the great live jazz albums of the 60's.
Dave Brubeck Quartet, The : Brubeck Time. Doxy (DOX895LP). 22/08/13. Reissue of an album recorded in 1954 and originally released on Columbia in 1955. €16
Dave Brubeck Quartet, The : Jazz Goes to College. Doxy (DOX889LP). 180 Gr. vinyl. 11/07/13. Recorded at various Mid-Western US universities and released originally in 1954
Dave Brubeck Quartet, The : Time Further Out. Doxy (DOX886LP). 180 Gr. vinyl + 1 bonus track. April 2013. Reissue of the follow up to the legendary "Time Out" album, originally released in 1961. €16
Davis, Miles: At Newport 1958. Doxy (DOX897LP). 22/08/13. Less than a year after this live recording, these same six men would make jazz history with the cool modal classic, Kind Of Blue, perhaps the best and most famous jazz album of all-time.
Davis, Miles: Birth of the Cool. Rumble Records (RUM2011122LP). LP reissue. 25-02-16.
Davis, Miles: Conception. Cornbread (CRNBR16027). Street date: 16-02-17. 180 gr. vinyl + download code. Previously released on several formats - 10" and 7" - and now gathered on one 12", those tracks were all recorded on the same day: October 5, 1951. Featuring a crack band that included Art Blakey, and Jackie McLean in his very first recording session, this is classic 50's Miles hard-bop of the highest order.
Davis, Miles: In Person, Friday Night At The Blackhawk. Doxy (DOX879DLP) 180 Gr. 2LP. Nov. 2012. Now for the first time ever on double LP, this double album represents a very short-lived and little-known version of the Miles Davis Quintet, recorded live at San Francisco's famed Blackhawk jazz club on 21 April 1961!
Davis, Miles: Kind of Blue. Rumble Records (RUM2011129LP). Street date: 26-05-16. Another LP reissue of this imoortal cult album, in a brand new high quality pressing
Davis, Miles: Live-Evil. Four Men with Beards (4M809DLP). 180 gr. 2LP reissue. 08/11/11.
Davis, Miles: Live at the Plugged Nickel, December 22, 1965 Part One. B 13 (B192). 140 gram LP on white vinyl in PVC sleeve (ltd. ed. 500 copies). April 2013. €16
Davis, Miles: Live at the Plugged Nickel, December 22, 1965 Part Two. B 13 (B193). 140 gram LP on yellow vinyl in PVC sleeve (ltd. ed. 500 copies). April 2013. €16
Davis, Miles: Live at the Plugged Nickel, 22-23 December 1965. Klimt Records (MJJ349CLP). Nov. 2012. This 5LP deluxe boxset with liner notes represents the most complete version available on vinyl of the Miles Davis Quintet's legendary Plugged Nickel performance! 20 tracks in all with almost 4 hours of music taken from the 7 sets Davis played during his two-night residency at Chicago's famous Plugged Nickel jazz club.
Davis, Miles: Live In Boston 1972 FM Broadcast. Rainbowed Records (RAIN782LP). Street date: 06-07-17. Numbered limited edition on splatter vinyl. This is the recording at Paul's Mall, Boston, September 1972, already released on CD on Hi Hat.
Davis, Miles: Quiet Nights. Doxy ACV (ACV2043). First edition of 500 numbered copies.
Davis, Miles & Coltrane, John: Copenhagen March 24th 1960. Doxy ACV (ACV2062). Street date: 17-03-16. First edition of 500 numbered copies on Audiophile Clear Vinyl (ACV) (scroll and check definition at Doxy Audiophile)
Davis, Miles & Coltrane, John: Den Haag - April 9th 1960. Doxy ACV (ACV2063). Street date: 20-06-16. What makes these live shows recordings so special is that you can hear Coltrane starting to break away musically, taking extended "sheets of sound" solos on Miles Davis Quintet standards. Whistles of admiration and encouragement go up from the audience during Coltrane's solos, and you get the sense from Miles' playing that he was being topped and wasn't quite sure how to respond musically. A piece of music history on ACV for the first time.
Davis, Miles & Coltrane, John: Deutsches Museum, Munchen - April 3rd 1960. Doxy ACV (ACV2064). Street date: 20-06-16.
Davis, Miles & Coltrane, John: Stockholm - March 22 1960. Doxy ACV (ACV2065). Street date: 20-06-16.
Davis, Miles And The Lighthouse All-Stars: At Last! Cornbread (CRNBR16028). Street date: 16-02-17. 180 gr. vinyl + download code. Recorded at the Lighthouse Café in Hermosa Beach, CA, on September 13, 1953, this is a historic recording for many reasons, and one of the earliest meetings of East and West Coast jazz artists. While Miles Davis and Chet Baker need no introduction, Harold Rumsey might. He was a West Coast jazz bassist who formed the Lighthouse All Stars in 1949, a long standing group that performed at the Hermosa Beach club every Sunday night for nearly decennies. Though he might not be a household name, his group featured such alumnus as Jimmy Giuffre, Shorty Rogers, Max Roach, Bud Shank, Sonny Criss, Hampton Hawes, Shelly Manne, and more.
De Andrè, Fabrizio: La Buona Novella. Dec. 09. Part of the LP reissue program of Sony Music, this album from 1970 by the Italian cult song writer is now available again for some time (probably short, beware!) in a 180gr. deluxe pressing and digitally remastered. €18
De Andrè, Fabrizio: Creuza de Ma (84). Sony. 28/07/11. Digitally remastered LP with gatefold cover, limited numbered edition (1200 copies). €23
De Andrè, Fabrizio: Le Nuvole (90). Sony. 28/07/11. Digitally remastered LP limited numbered edition (1200 copies). €23
De De Lind: Io non so da dove vengo... (1973). VM083LP. New reissue in 180 gr. vinyl LP for collectors of the unique De De Lind italian progressive album from 1973. Now available in limited edition LP with white vinyl. Only 200 copies available!
De Luca, Peppino: La Ragazza con la Pistola. Dagored (RED222P). Picture Disc. Street date: 09-11-17.
De Luca, Peppino: La Ragazza con la Pistola. Dagored (RED222C). Shipping date: 28/09/15. Limited edition of 1000 copies on pink & black vinyl, first ever reissue on vinyl. Incredible psych-groove soundtrack of a film that was nominated for the Academy Award for Best Foreign Language Film in 1969 and starring Monica Vitti.
Death SS: The Horned God Of The Witches. Black Widow BWR 079. 2LP. 13/03/12. Reissue on double vinyl of this release of early Death SS material; beautiful artwork with a gatefold cover and 3 different versions: 100 copies pressed in blue vinyl incl. poster, card and sticker, 150 copies in white vinyl, 150 copies in clear vinyl. Will be expensive!
Débile Menthol: Live 1982-84. Les Disques Rayés (009). 2013. LP reissue of live recordings previously released on cassette only (Édition Unbeirrt).
Dedalus: Materiale Per Tre Esecutori. AMS72LP. May 2014. This 2nd album, released in 1974, is much more avant-garde than their jazz-rock debut, with an increased use of electronics.
Delerue, Georges / Piccioni, Piero: Le Mépris / Il Disprezzo. Doxy Cinematic (DOC101). April 2014. Limited edition of a 2LP working on 45 rpm. For the first time together on a double LP, here are the two versions of Godard's masterpiece soundtrack: the solemn and powerful French version composed by Georges Delerue, the Mozart of French Cinema, and the exotic jazzy version of the great Piero Piccioni. Limited edition of 500 copies.
Delirium: III. Vinyl Magic VMLP126. June 08. Third album by Italian band with a great flutist, long time OOP and hard to find! Now available again, with the original gatefold cover and label replicas. Limited to 500 copies.
Delirium: Dolce Acqua. Vinyl Magic VMLP145. Feb. 2010. The debut album from 1971 is now available as Deluxe 180 Gr. vinyl in triple gatefold cover. €20
Delirium: Lo Scemo e Il Villaggio. Vinyl Magic VMLP144. Feb. 2010. 180 Gr. vinyl reissue of the 2nd album with gatefold cover. €20
D'Errico, Gianni: Antico Teatro Da Camera (1976). Sony 88697473361. This LP is usually considered as one of the best prog-inclined albums by Italian solo artists, and a hard to find one! A welcome reissue!
Devo: Mabuhay Gardens San Francisco, Ca, August 3rd, 1977. East/West (WEST913J). Street date: 18/12/14. A numbered limited edition of 349 copies on yellow vinyl with black splatter.
Dexter Gordon Quartet: Biting The Apple. SteepleChase (G1080). 180 gr. LP reissue. Street date: 10-03-17. Recorded in NYC in 1976, "Biting The Apple" was awarded the Grand Prix du Disque Diamant of 1978 by the Montreux Jazz Festival. The quartet included Barry Harris, Sam Jones and Al Foster.
Di Domenico, Giovanni / Jacquemyn, Peter / Corsano, Chris: A Little Off The Top. NoBusiness Records (NBLP 88). Nov. 2015. Limited edition of 300 records. Recorded on 31st of October 2013 at Studio Grez, Brussels
Diabolus: S/T. Akarma AK340LP 180 Gr. LP. Well-crafted blend of prog rock with psychedelic inflections, clever guitar and flute solos and sprinklings of jazz rock. Will undoubtedly appeal to afficionados of bands like Audience, Tonton Macoute and Jethro Tull. €16
Diablo Swing Orchestra: Sing Along Songs for the Damned & Delirious. 24/06/11. This is a deluxe package limited to 500 copies only worldwide. It features a gatefold sleeve printed to the finest standards available, a printed inner bag and a coloured vinyl. This is a MUST for any fan or collector!
John Dikeman, Luis Vicente, Hugo Antunes and Gabriel Ferrandini: Salão Brasil. NoBusiness Records (NBLP 98). Nov. 2016. Limited edition of 300 records. Recorded live on January 17th, 2016 at Salão Brazil, Coimbra
Discipline: Captives Of The Wine Dark. July 2017. New album
Djabe: Live in Blue. GR1993 (GR-116-1). Limited numbered edition of 500 copies worldwide, pressed on transparent blue vinyl.
Django Reinhardt & Stephane Grappelli : With The Quintet of the Hot Club of France. Doxy (DOX893LP) 180 Gr. vinyl. 27/06/13. This LP compiles Django's London recordings, spanning the years between 1938 and 1946 and showing the progression of the group from its early years towards its disbandment in 1948.
Django Reinhardt & Stephane Grappelli With the Quintet of The Hot Club of France: Parisian Swing. Doxy (DOX894LP) 180 Gr. vinyl. 27/06/13. Featuring classic 30's recordings from both Paris and London. Reissued with the original liner notes
DNA: A Taste of DNA. 12" Superior Viaduct (SV099). Street date: 17-11-16. Singer/guitarist Arto Lindsay and drummer Ikue Mori are joined by bassist and Pere Ubu founding-member Tim Wright. Across the EP's six anti-epic tracks, the band charges forward with jagged guitars and dislocated grooves, while Lindsay's guttural screams create a thoroughly personal semantics.
Dockstader, Tod: Organized Sound: Luna Park; Traveling Music; Apocalypse. Doxy limited edition LP (DOZ426). 500 copies. Street date: 14/04/14. €16
Dockstader, Tod: Organized Sound: Drone; Two Fragments From Apocalypse; Water Music. Doxy limited edition LP (DOZ426). 500 copies. Street date: 14/04/14. Dockstader was part of the first wave of electronic musicians, who, before the advent of synthesizers in the early 1960s, worked with whatever hardware they could find: reel-to-reel tape machines, sine wave generators and a wild array of homemade circuits and military surplus gear. In the process, they created a universe of electronic music that still sounds unique and prescient today. €16
Dolphy, Eric: Berlin Concerts. 2LP Doxy ACV (ACV4005). Sept. 2014. A numbered first press of 500 copies pressed on Audiophile Clear Vinyl (ACV).
Doors, The: Backdoor Man: Seattle 1970. BRR4033 (2LP). 09/12/15. Recorded in Seattle on the Doors' final tour, just over a year before front man Jim Morrison's untimely death, this concert is now available in remastered sound on double vinyl (and also as a digipak CD)
Doors, The: Live In Pittsburgh May 2, 1970 (Part One). B 13 (B212). Street date: 14/11/13. On tour in support of their 5th album, Morrison Hotel, and recorded just a little over a year before Jim Morrison's death, this 1970 concert is one of the most coherent and satisfying live dates of the band's career. Limited edition of 500 copies on transparent red vinyl. €16
Doors, The: Live In Pittsburgh - May 2, 1970 (Part Two). B 13 (B213). Street date: 14/11/13. Limited edition of 500 copies on clear vinyl.€16
Kenny Dorham & Jackie Mclean: Into Somethin'. Doxy (DOX888LP) 180 Gr. vinyl. 27/06/13. Originally released in 1962 on the Pacific Jazz label and recorded live at the Jazz Workshop in San Francisco in the winter of 1961. €16
Doxy Audiophile Clear Vinyl Series an explanation! Audiophile Clear Vinyl (ACV) is made using the highest quality co-polymer available and processed without any carbon additive in order to dramatically reduce the "electrical distortion" often found on records (by itself the co-polymer of vinyl is transparent. In order to color the record in black, the plant must use a carbon additive with trace metals that can become magnetized. This is what causes electrical distortion during playback). That is the reason why Doxy chose to offer their records in the following manner:
- Audiophile Clear Vinyl (ACV)
- 140 gr. vinyl
- 25 minutes maximum per side
Dream Theater: Live At Summerfest In Milwaukee June 29, 1993. DOL/DOR (DOR2092H). 180 gram 2LP. Street date: 27-10-16.
Dream Theater: Once In A Livetime. 180 gram audiophile 4LP edition with gatefold sleeve + insert, pressed on light blue vinyl. Limited edition of 2000 copies. Sept. 2016.
Dream Theater: Train Of Thought. 2LP on 180 Gr. vinyl + insert. Street date: 17/01/14. Originally only released on CD in 2003, this album found Dream Theater back on the heavier and straight forward side of Prog Metal.
Dresser, Mark: Modicana. NoBusiness Records (NBLP 109). Sept. 2017. 300 copies limited edition. Two tracks recorded live on 29th October, 2016 at Umea Jazz Festival, the other 5 compositions recorded on 17th February, 2017 at University of California, San Diego, Department of Music, Studio A
Dreyblatt, Arnold And The Orchestra Of Excited Strings: Propellers in Love. Superior Viaduct (SV117). Street date: 23-03-17. This, the Orchestra's second album - originally released in 1986 on the Stasch imprint, in conjunction with the contemporary art space Künstlerhaus Bethanien - develops Dreyblatt's rhythmically exacting exploration of the glittering resonances and overtones generated by an ensemble of uniquely-altered stringed instruments and drums.
Dubuffet, Jean: Expériences Musicales 1961. Jeanne Dielman (JD112). 2LP. Street date: 26-05-16. Recorded in Venice in 1961 by the French sculptor, painter, and iconoclast Jean Dubuffet, these recordings were originally released in a hyper-limited 10" box set that is all but impossible to acquire. An early progenitor of the avant-garde and musique concrete, Dubuffet's recordings nearly defy category and still sound innovative some 50+ years later. Essential and unequivocal recordings from the founder of the Art Brut movement.
Duello Madre: S/T. Vinyl Magic VMLP128. Street date: 20/01/2010. First ever 180 gr. vinyl reissue with gatefold cover of the sole album (a jazz oriented one) made in 1973 by this Italian prog band from Genova, featuring musicians coming from outfits like Circus 2000 or Osage Tribe. €20
Duning, George & Washington, Ned: The Naked City. Doxy Cinematic (DOC123). Shipping date: 28/09/15. Limited first press of 500 copies. Naked City is a police drama series which aired from 1958 to 1963 on the ABC television network. It was inspired by the 1948 motion picture The Naked City and mimics its dramatic "semi-documentary" format and filmed on location in New York City.
Dylan, Bob: Debut Album. Wax Love (WLV82001). Street date: 05-10-17. Released in March of 1962, this debut is a crucial piece of folk music history and a stunning example of his early song-craft. Back in print with a beautifully redesigned cover
Echolyn: I Heard You Listening. 07/08/15. 180g double vinyl version of the new album, mastered at Sterling Sound in NYC from 24-bit, 96 kHz audio files.
Edwards, Jackie: The Most Of... Dynamite (DNM14004). 180 Gr. LP. Street date: 22/05/14. Wilfred "Jackie" Edwards is a legend of Jamaican ska and R&B who worked extensively for Chris Blackwell in London as a songwriter and general assistant. Perhaps best known for writing two massive hits for The Spencer Davis Group, "Keep On Running" and "Somebody Help Me", Edwards was an excellent vocalist and performer in his own right, as is in evidence here on his 1963 debut LP. Twelve killer slabs of Jamaican R&B and ska to keep you in the dancing mood.
Eisenstadt, Harris: Whatever Will Happen That Will Also Be. NoBusiness Records (NBLP 107). Sept. 2017. 300 copies limited edition. Recorded on 6th September, 2015 by Marc Urselli at EastSide Sound, NYC
El Doom & The Born Electric: S/T. Rune Grammofon (RLP3122). 2LP. 06/01/12. 2LP edition in lavish gatefold sleeve with free mp3 download of the whole album (see description in the CD section). €17
El Reloj: II. Acid Nightmare (ANM013). Sept. 2015. This 2nd album from 1976 sees the band add to their trademark sound some Symphonic Rock elements, but maintaining all the heaviness without going soft. In fact, you can compare some of these songs to the heavier side of Uriah Heep stuff and to the German Proto Prog-Metal band Night Sun. El Reloj are a Progressive Rock institution to this day in Argentina, still playing live and recording occasionally operating in the Prog Metal area. Limited to 500 copies, this release has its original gatefold cover and sound transferred to digital from the master tapes.
Elder: Dead Roots Stirring. Headspin (HSLP321). 10/10/11. Limited edition of 200 copies on transparent green vinyl. Luxurious 2LP edition! Elder is equal parts hypnotic rhythm, uncompromising heaviness, and soaring melody. Continuously moving backward towards their roots in heavy rock, while also moving forward into more progressive and psychedelic territory.
Electric Frankenstein: What Me Worry. Akarma (AK 399 LP). 16/09/11. New limited 180 gr. vinyl reissue of the famous album from 1975, a guitar extravaganza with long spacey guitar solos by Area's guitarist Paolo Tofani who plays all the instruments himself
Electric Prunes, The: Stockholm '67. Sutro Park (SP1010LP) 180 Gr. LP. Nov. 2012.
Electric Swan: Swirl In Gravity. Black Widow (BWR 146). 23/04/12. Electric Swan is the solo project of Wicked Minds' guitarist and founding member, Lucio Calegari. After a first album in 2008 and an intende touring activity the following year, bringing them at the Burg Herzberg Festival (Germany) and Crescendo Festival (France), they started the new album with some changes in the line up and Clive Jones (flute and Sax of legendary Black Widow) as guest. The music is still inspired by the many legendary names populating the heavy genre (Led Zep, Sabbath, Purple, etc...)
Elephant9: Live at the BBC. Rune Grammofon (RLP2118). 09/11/11. Vinyl only release in a numbered, limited edition of only 500 copies on white vinyl. Widely considered to be one of Norway´s best live bands, this album shows the high degree of musicianship in this trio, all tracks being first takes and without any editing whatsoever. Elephant9 is as always Ståle Storløkken (Supersilent, Humcrush) on Hammond organ and Fender Rhodes, Nikolai Eilertsen on bass and Torstein Lofthus (Shining) on drums.
Elephant9 with Reine Fiske: Atlantis. Rune Grammofon (RLP 3134). Street date: 07/09/12. Limited white vinyl 2LP edition in stylish gatefold sleeve including mp3 (320 kbps) download of the whole album. Only 200 copies pressed. Also available on normal black vinyl.
Elephant9 with Reine Fiske: Silver Mountain. Rune Grammofon (RLP3174). 21-08-15. Here is an epic double album containing five tracks between 10 and 22 minutes, four tracks being originals in addition to the most spaced out version of "You Are The Sunshine Of My Life" you're likely to encounter. Needless to say, this comes highly recommended!
Ellesmere: Les Châteaux de la Loire. AMS119LP. Sept. 2015. 180 gr. vinyl version
Ellington, Duke: Anatomy Of A Murder. Doxy (DOY666LP). 180 gr. LP. Street date: 31/05/12. Duke Ellington's original soundtrack to Otto Preminger's 1959 classic courtroom drama. €16
Ellington, Duke: Ellington At Newport. Doxy (DOX904DLP). 2LP. Street date: 21/11/13. Recorded at the 3rd annual Newport Jazz Festival, on July 7, 1956. €20
Ellington, Duke and Coltrane, John: S/T. Doxy (ACV2056). Shipping date: 13/07/15. From the Audiophile Clear Vinyl Series (140g clear vinyl). Numbered first press of 500 copies.
Emerson, Lake & Palmer: Live In Switzerland 1997 2LP. March 2016. Performance from Montreux on July 7, 1997. Deluxe vinyl edition
Emerson, Lake & Palmer: Re-Works -Hq Vinyl- 3 LP €25,00
Keith Emerson: Inferno. AMS34 LP. Street date: 28/03/11. This record was released for the legendary Cinevox label in 1980 as a soundtrack for Dario Argento's Inferno movie. First time ever 180 gr. audiophile deluxe vinyl reissue, the first 500 copies come with a poster that thoroughly analyzes both soundtrack and movie.
Keith Emerson: Inferno. AMS34 LP. Street date: 27-05-16. Re-released again, this time in red vinyl. It features an inedit poster. Limited edition to 300 copies.
Emerson, Keith : Keith Emerson Band feat. Marc Bonilla. 2LP EDEL (0192328 ERE). 2008. The king of the Hammond is back! A brand new album in a real symphonic prog vein. Together with Marc Bonilla (guitars and Vocals) and Gregg Bissonette (David Lee Roth), Keith Emerson rediscovers his roots and delivers a fantastic suite lasting most of the album.
Emerson, Keith / Goblin : La Chiesa. AMS92LP. May 2015. This is the soundtrack for a 1989 film directed by Michele Soavi. The songs selected for this release are those composed by Keith Emerson and Goblin, the latter being a pseudonym of the only Fabio Pignatelli. The result is a stylistically homogeneous soundtrack, in which classical, rock and electronic sounds are skillfully blended. Emerson, in particular, makes extensive use of a church organ! First-ever vinyl reissue!
Eneide: Uomini Umili Popoli Liberi. AMS (AMSLP59). Street date: 12-12-16. Already reissued by AMS Records in 2010 as a papersleeve CD, "Uomini Umili Popoli Liberi" is now presented as a gatefold LP, faithfully reproducing the previous vinyl edition. Another important step in the discovery of the wonderful world of Italian progressive rock!
Eno, Brian: Textures. Zaq (zaq123). 01/12/14. Extremely rare and unreleased album of ambient cues and themes from Brian Eno, pressed as a promo-only CD for The Standard Music Library. Eleven of the tracks are unreleased, while the 10 others are variations of recordings that were released on Music For Films III, The Shutov Assembly and Neoli. Composers Roger Eno and Daniel Lanois are also on board.
Epitaph: Fire From the Soul. Limited edition of 500 copies on red vinyl + bonus CD comprising the album + 2 bonus tracks (one radio edit and a "Hendrix" cover tune, recorded live in Hannover in 1969). Street date: 26-08-16.
Equipe 84: Id. Sony (889853057610). May 2016. Reissue of their fourth album
Equipe 84: Sacrificio. Sony (88691989031) LP reissue of an album from 1974. Street date: 13/04/12. This album would be their most determined (and only real) effort at joining the prog scene; despite a good songwriting, great melodies and vocals, lots of typical Italian progressive rock instrumentation like organ, piano, flute, and strings, all very tastefully arranged, the band wouldn't gain enough recognition as a prog band!
Ergo Sum: Mexico. Replica (RPC01). May 2014. Cult album of psychedelic prog, reissued now with gatefold cover and on 180 gram vinyl. Limited to 500 copies.
Errata Corrige: Siegfried il Drago... e altre storie. Black Widow (BWR173LP). April 2015. First time official reissue on Lp coming with a 12 pages book with rare archive photo footage.
Esposito, Toni: La Banda Del Sole. Radicimusic Records (RMR-401LP). 03/12/15. Pressed on audiophile clear vinyl, this is a hand numbered limited edition reissue (300 copies) of an album that dates back to 1978. This was the percussionist's 4th album, part of his first productions devoted to pure musical research, before taking a more commercial stance in the following years.
Etron Fou Leloublan: Batelages. Replica (RPC02). May 2014. The debut album by this French RIO band was released in 1976 and is now reissued on 180 gram vinyl. Limited to 500 copies.
Etron Fou Leloublan: En public aux tats-Unis d'Amérique. 180 gram LP reissue of the '79 album by original RIO French band. Replica (RPC08). 30/10/14.
Etron Fou Leloublan: Les Trois Fou's Perdegagnent. Replica (RPC04). May 2014. 2nd album, now reissued on 180 gram vinyl. Limited to 500 copies.
Etron Fou Leloublan: Live at R.I.O. Replica Records (RPC12). Street date: 03/09/15. One of the five original Rock in Opposition (RIO) bands that performed at the first RIO festival in London in March 1978. Replica is proud to present, for the first time ever, the sonic testimony of the unbelievable performance.
Bill Dixon Orchestra, The : Intents and Purposes. Superior Viaduct (SV119). Street date: 26-01-17. This is not only Dixon's defining statement as a composer, but also one of the most luminous moments in the history of avant-garde jazz. Combining orchestral timbres with free jazz intensity, Dixon leads a ten-piece ensemble including such heavyweights as Byard Lancaster, Robin Kenyatta, Jimmy Garrison and Reggie Workman. Closing each side of the album, ?Nightfall Pieces I? and ?Nightfall Pieces II? are evocative duets featuring Dixon's flugelhorn accompanied by flautist George Marge.
Bill Evans Trio: Live At Lulu's White In Boston, October 30, 1979 WGBH-FM. DOL/DOR (DOR2085H). Street date: 27-10-16. 180 gr. LP.
Bill Evans Trio: Waltz For Debby. Doxy Audiophile Clear Vinyl (ACV2049). Jan. 2015. Numbered first pressing limited to 500 copies.
Evans, Bill: Interplay. Doxy (DOX891LP) 180 gr. vinyl. 11/07/13. Originally released in 1962 on the Riverside label, Interplay features piano giant Bill Evans at his gently swinging best. The band is beyond stellar; Percy Heath and Philly Joe Jones complete the rhythm section, while Jim Hall's guitar and Freddie Hubbard's trumpet round out the sessions.
Evans, Bill: The Blues And The Abstract Truth. Doxy ACV2059. Street date: 18-01-16. Limited edition of 500 copies pressed on Audiophile Clear Vinyl (ACV) (scroll and check definition at Doxy Audiophile). Note that this is the same record as the one previously released under the name of arranger Oliver Nelson .... a classical marketing trick, not always showing good taste! €16
Evans, Bill / Manne, Shelly / Budwig, Monty: Empathy. Doxy (ACV2086). Street date: 05-05-17. This album came about through a fortuitous convergence of circumstances. Shelly Manne & His Men were appearing at New York?s Village Vanguard, sharing the bill with the Bill Evans Trio. Creed Taylor set up a session at Rudy Van Gelder's studio with Evans and Manne sharing top billing. Manne's bass player, Monty Budwig, made up the trio. Numbered first press of 500 copies.
Evans, Bill & Hall, Jim: Undercurrent. Doxy ACV gatefold LP + 2 bonus tracks! (ACV2008). Feb. 2014. Limited edition of 500 copies pressed on Audiophile Clear Vinyl (ACV) (scroll and check definition at Doxy Audiophile). €16
Bill Evans Trio: at Shelly's Manne-Hole. Doxy (ACV2054). 18/05/15. Audiophile Clear Vinyl (ACV) on 140gr vinyl. Limited first press of 500 numbered copies.(scroll and check definition at Doxy Audiophile).
E.X.P.: Pachamama. Heavy Psych Sounds (HPS014). Street date: 13/02/14. This album was originally released by Beard of Stars on CD in 2002. Pachamama is a precious gem in the history of Heavy Italian Psychedelia, an incredible album that unfortunately came out during a period when the scene was not so healthy and alert like the one we are living in now. To correct this, Heavy Psych Sounds is reissuing this classic on limited edition vinyl in 3 different colors (150 red, 150 transparent blue, and 200 green with white splatter).
Fail Better!: OWT. NoBusiness Records (NBLP 94). May 2016. 300 copies limited edition.
Faust: 71 Minutes. Recommended (RERVF1DLP). Street date: 07-04-16. Reissue on 180 gram vinyl of this posthumous 2LP with unreleased stuff from the early time! Faust is a cult group who defined the Krautrock genre; this release should appeal to all fans.
Fedrigotti, Michele / Lorenzini, Danilo: I Fiori del Sole. Song Cycle (CY990). 180 gram LP. Street date: 08-06-17. Originally released in 1979 under the experimental label Cramps, "I Fiori del Sole" is a composition for organ and piano by the Italian duo Michele Fedrigotti and Danilo Lorenzini. The encounter between minimalist aesthetic and evocative religious atmospheres make this album one of the most interesting and obscure treasures of the Italian Minimalism. The album was produced by the legendary Franco Battiato!
Fela Ransome-Kuti And His Koola Lobitos: S/T. Klimt (MJJ303LP). Street date: 19-10-17. In early 1965, just as the West African High-life scene was starting to get boring, the revolutionary sound of Fela Ransome Kuti & His Koola Lobitos burst upon us. A strikingly original musician, Fela Kuti was trained at the Trinity College of Music in London. From the very first, he was influenced by those "greats" of the jazz world - Thad Jones and Miles Davis. He gained much practical experience gigging in his spare time with London-based jazz men. A very talented musician - Fela's primary instrument is the trumpet, but he is also a swinging pianist and rave vocalist, as well as a composer and arranger. A musicians' musician. To maintain his reputation as West Africa's leading musician, Fela continuously experimented with varying forms of High-life and other exotic rythmic patterns. The results of these experiments are evident on all the numbers on this LP. Even the old familiar tunes have that new and original High-life tempo that Fela has made his own!
Fela Ransome-Kuti & The Koola Lobitos: Live at the Afro Spot. B 13 (B187). 140 Gr. white vinyl in clear PVC sleeve (limited edition of 500 copies). Jan. 2013. Extremely rare early recording of Fela Kuti recorded live at the "Afro Spot" in Lagos in 1966! €17
Feldman, Morton & Brow, Earle: Morton Feldman & Earle Brown. Doxy 180 Gr. LP (DOZ421LP). Dec. 2013. Finally back in print, this rare Morton Feldman/Earle Brown split LP was originally released in 1962 on the small NY-based Time Records and features Feldman's "Durations I-IV" on side A and Brown's "Hodograph I", "Music for Violin, Cello and Piano" and "Music for Cello and Piano" on side B. David Tudor is featured on piano throughout. €15
Fidenco, Nico: Black Emmanuelle. Dagored (RED204P). Picture Disc. Street date: 12-10-17. The score for Black Emanuelle is by turns sultry and serious, fun and funky. The sound is sophisticated, groovy and melodically memorable; mixing latin rhythms - in a continuous sexual tension with the exotic images of the beautiful Laura Gemser - and electronic textures that show the influence of early techno masters such as Giorgio Moroder and Kraftwerk.
Fleetwood Mac: Live at Record Plant in Los Angeles, 19th September 1974. B 13 (B216). Sea blue vinyl, limited edition of 500 copies. July 2014.
Flynt, Henry: Graduation. Superior Viaduct (SV 014). Jan. 2013. 2LP + digital download card. Graduation, recorded between 1975 and 1979, was meant to be the debut of Flynt's avant-garde hillbilly music.
Flynt, Henry: You Are My Everlovin'. Superior Viaduct (SV 144). Street date: 23-11-17. Flynt's first published musical work, finds the composer in peak form at a lower Manhattan loft in late spring 1981. Featuring solo electric violin and pre-recorded tambura, this sinuous performance elegantly brings together disparate vernaculars - Southern blues, modal jazz, Appalachian fiddle, North Indian raga? into a new and bracing whole.
Fontaine, Brigitte: Brigitte Fontaine Est... Folle. Superior Viaduct (SV041). Street date: 12/12/13. Debut album from 1968 by the French poet and chameleonic vocalist, an essential link in French pop music, exuberantly pushing the genre into more conceptual and experimental sounds. Fontaine takes flight over conductor Jean Claude Vannier's brilliant arrangements. Vannier, best known for his work on Serge Gainsbourg's Histoire De Melody Nelson, is in fine form, using what would become his trademark stylings: lush strings, taut rhythms culled from across the globe and a healthy dose of whimsy.
Fontaine, Brigitte: Comme à la Radio. Superior Viaduct (SV042). Street date: 12/12/13. This album is certainly remembered by most because of the presence of the Art Ensemble of Chicago, the perfect setting for Fontaine's exploration of free-verse poetry. Often arrhythmic and spoken, her vocals command the same spontaneity and grace that her collaborators applied to their instruments.
Fontaine, Brigitte: S/T. Superior Viaduct (SV043). 07/08/14.
Forest: Concert. Klint Records (MJJ340LP). Street date: 31/05/12. Recorded in May and October 1972 for BBC Radio 1 by DJ Bob Harris, these sessions may be all that remain of this seminal acid folk band's elusive third album!€15
Formula 3: Dies Irae. Sony reissue. Street date: 14-04-17. Terrific digital remaster, for the first time at 192 khz and 24 bit. From the original master tapes
Fossati, Ivan: Il Grande Mare Che Avremmo Attraversato. Vinyl Magic (VM141LP). March 2013. 180 Gr. vinyl reissue of the debut album (1973) by the singer, after he left his band Delirium. The album has still a few *old prog* moments but mostly relies on a songwriting style mixed with orchestral and latin/ethnic elements. €20
Franklin, Aretha: Aretha Now. 4 Men With Beards 4m131 180 Gr. LP. At the peak of her form in early period. Original artwork. €17,5
Franklin, Aretha: Lady Soul. 4 Men With Beards 4m130 180 Gr. LP. This album from 1968 became Aretha's second Gold LP. €17,5
Franklin, Aretha: Laughing On The Outside. Doxy (ACV2089). Street date: 05-05-17. Fifth studio album by American singer Aretha Franklin, released on August 12, 1963 and now with two bonus tracks. Numbered first press of 500 copies.
Franklin, Aretha: The First 12 Sides. Wax Love (WLV82003). Street date: 05-10-17. Beginning as a gospel singer, Franklin spent the early 60's recording in a variety of styles to varying success. While her other releases were overproduced and poppy, these very early recordings with the Ray Bryant group are beautiful jazz vocal stylings in the manner of Sarah Vaughan or Ella Fitzgerald. Beautifully recorded with no overdubs this is fantastic early 60's jazz and her voice is as perfect a fit for this material as it is for the soul she's famous for.
Franklin, Aretha: The Gospel Soul Of. Rumble Records (RUM2011125LP). Street date: 26-05-16. Recorded at the age of 14, in 1956, under the direction of her father, Reverend C.L. Franklin, these gospel recordings of a teenaged Aretha Franklin are not just a sign of the brilliance to come, they are a force unto themselves. Like so many of the soul and R&B stars of the 50's and 60's, Aretha started out in the church and it was there that she made some of her most powerful and transcendental music.
Fred Katz with Paul Horn and the Chico Hamilton Quartet: Zen: The Music Of Fred Katz. So Far Out (OUT5016LP) 180 Gr. LP. 30/04/14. Featuring Paul Horn on flute and clarinet, this cult album is an extraordinary journey: the Orient filtered through a cool jazz foundation with stunning performances all around.
Free Jazz Workshop: Inter-Fréquences. Le Souffle Continu Records (ffl031 LP). Sept. 2017. Forerunner of what became known as Workshop de Lyon, the Free Jazz Workshop came into being in 1967 but their first album, Inter Fréquences, only appeared in 1973. Right from this first album it is clear that the group would function as a collective with no designated leader. The legacy and influence of American free jazz can be heard throughout: Albert and Don Ayler, or Ornette Coleman and Don Cherry for the horns of Maurice Merle and Jean Mereu; Cecil Taylor for the pianist Patrick Vollat, absent from the group after the second album La Chasse de Shirah Sharibad; Gary Peacock and Barre Phillips for the bass; Sunny Murray or Milford Graves for the rhythmic agitation; but also the Art Ensemble of Chicago for the collective aspect. First ever vinyl reissue of this classic recording, limited to 700 copies with Obi strip, reverse printing, 12 page booklet
Frizzi, Fabio: Manhattan Baby. Sub OST (SUBOST001 / SUBOST001X). Street date: 26-05-16. For the first time on vinyl is the complete original soundtrack to Lucio Fulci's "Manhattan Baby", written in 1982 by Fabio Frizzi. Available in limited 12" 180g vinyl or limited edition color vinyl LP, it comes with deluxe cover with printed inner sleeve including original artwork.
Fuchsia: S/T. Klimt Records (MJJ355CP). August 2016. Limited edition of 500 copies on 180 gram pink vinyl LP with 3 bonus tracks.
Fuchsia: S/T. Klimt Records (MJJ355LP). Feb. 2013. LP reissue with printed inner sleeve and 3 bonus tracks. Fuchsia's 1971 LP is a lost gem of experimental British progressive rock (in the vein of Henry Cow and Comus); the band was short lived and soon dissolved, but not before recording a few tracks intended for release on a second album (represented in the 3 bonus tracks found here) that unfortunately never materialized. €16
Funkadelic: America Eats Its Young. 4 Men with Beards (4M1792DLP). 2LP. Street date: 30-06-16. The 4th album from George Clinton's funk/psych/rock outfit, originally released in 1972, is a double LP of epic proportions, now reissued on one red and one green vinyl in a deluxe tip-on gatefold jacket.
Funkadelic: Cosmic Slop. 4 Men With Beards (4M1731LP). Street date: 03-03-2016. Another *limited* edition on the same label, this time on blue and yellow vinyl with a deluxe gatefold jacket! Ahhh .... the rules of marketing!!
Funkadelic: Free Your Mind... And Your Ass Will Follow. 4 Men With Beards (4M172LP). Street date: 03-03-2016. Another *limited* edition on the same label, this time on clear vinyl with a deluxe gatefold jacket. 1000 copies. Ahhh .... the rules of marketing!!
Funkadelic: Let's Take It To The Stage. 4 Men With Beards (4M2072LP). Street date: 24-11-2016. Another *limited* edition on the same label, this time 500 copies on blue vinyl in a gatefold sleeve! Ahhh .... the rules of marketing!!
Funkadelic: Let's Take It To The Stage. 4 Men With Beards (4M2071LP). Street date: 03-03-2016. Another *limited* edition on the same label, this time 500 copies on gold vinyl in a gatefold sleeve! Ahhh .... the rules of marketing!!
Funkadelic: Maggot Brain. 4 Men with Beards (4M1611LP). Street date: 28/11/13. Limited edition of 1,000 translucent orange vinyl in a deluxe classic style gatefold sleeve. 1971's Maggot Brain is Funkadelic's all-out masterpiece!€20
Funkadelic: Maggot Brain. 4 Men With Beards (4M1612LP). Street date: 03-03-2016. Another *limited* edition on the same label, this time 1000 copies on purple vinyl in a deluxe classic style gatefold sleeve! Ahhh .... the rules of marketing!!
Funkadelic: S/T. 4 Men With Beards (4M1603LP). Street date: 08-09-16. Another reissue, this time a limited edition on clear and red starburst vinyl
Funkadelic: S/T. 4 Men With Beards (4M1601LP). April 2014. The 1970 debut album from Detroit's nastiest, most shredding progenitors of funk-rock is now reissued on two colours vinyl - yellow and red opaque - in a limited edition of 1000 copies.
Funkadelic: S/T. 4 Men With Beards (4M1602LP). Street date: 03-03-2016. Another *limited* edition on the same label, this time 500 copies on red & blue vinyl in a deluxe classic style jacket! Ahhh .... the rules of marketing!!
Funkadelic: Standing On The Verge Of Getting It On. 4 Men With Beards (4M1602LP). Street date: 03-03-2016. Another *limited* edition on the same label, this time on red & blue vinyl in a deluxe gatefold tip-on jacket. 500 copies! Ahhh .... the rules of marketing!!
Funkadelic: Tales Of Kidd Funkadelic. 4 Men With Beards (4M2081LP). Street date: 03-03-2016. Another *limited* edition on the same label, this time 500 copies on blue & green vinyl in a gatefold sleeve! Ahhh .... the rules of marketing!!
Funkadelic: The Electric Spanking Of War Babies. Get Back. GET98023 LP. €13,5
Futuro Antico: Dal Primitive All'elettronica (BS009 LP). Jan. 2014. Short-live project featuring Walter Maioli, from Aktuala. Originally released in 1980, with a completly analog and warm sound, this reissue, limited to 300 copies maintain the first tape artwork + info and photos in the inner folder. The music terribly brings to mind the astonishing live Köln jam of Terry Riley and Don Cherry
Gainsbourg, Serge: Du Jazz Dans Le Ravin. Doxy ACV LP(ACV2004). Feb. 2014. Limited edition of 500 copies pressed on Audiophile Clear Vinyl (ACV) (scroll and check definition at Doxy Audiophile). Very different from his celebrated later works, the music captured on this limited edition vinyl edition finds Gainsbourg mixing traditional chanson and big-band jazz rather than the avant garde pop that went on to define his career outside of France. €16
Gale, Eddie: Eddie Gale's Ghetto Music. 4 Men With Beards. Gatefold LP (180 g vinyl). Also CD
Gale, Eddie: Black Rhythm Happening. 4 Men With Beards. Gatefold LP (180 g vinyl).
This second Blue Note album includes jazz heavy weight Elvin Jones on drums and sax man Jimmy Lyons. Again the mix is a blend of soul jazz, free form freak outs, and a gospel influenced street choir. Eddie Gale helped ring in jazz's controversial new thing during the 1960s and 1970s on a series of influential releases. His inspired trumpet playing graced Cecil Taylor's Unit Structures, Larry Young's Of Peace And Love and a series of recordings and performances with Sun Ra's Arkestra.
Red Garland Quintet: Dig It! ACV2011. May 2014. Numbered limited edition of 500 copies pressed on Audiophile Clear Vinyl (ACV). (scroll and check definition at Doxy Audiophile)
Garybaldi: Live in Bloom - Progvention Nov. 6 2010. AMS 51LP. 12/12/11. Finally available, as a vinyl only release, the first recording of the legendary 2010 progvention! Garybaldi's gig is an amazing travel along their greatest tracks, with the incredibile live vibe that has always been their trademark from the beginning. As Garybaldi's records have always featured special covers realized by famous painters, after Crepax and Guarnaccia it's now time for World famous Pietro Spica, who made a truly amazing artwork! 180gr. black vinyl containing a litography.
Garybaldi: Live in Bloom - Progvention Nov. 6 2010. AMS 51LP. 12/12/11. 180 gr. black vinyl + a litography. See description in the CD section!
Garybaldi: Storia di un'Altra Città. AMS (AMS125 LP). Street date: 10-06-16. Pressed on clear orange vinyl
Gaslini, Giorgio: La Notte. Doxy Cinematic (DOC131). Street date: 09-05-16. Soundtrack from Michelangelo Antonioni´s 1961 masterpiece.
Gauthier, Patrick: Bébé Godzilla. Souffle Continu (FFL016). Planned for release for the Record Store Day, April 16, 2016. 1000 copies in transparent blue vinyl, 350 gr. sleeve with Obi Strip, Matt Printing
Gaye, Marvin: On Stage. Rumble (RUM2011098LP). Shipping date: 18/06/15. Recorded during the Motortown Revue's show at Chicago's Regal Theater, 1963's Marvin Gaye Recorded Live On Stage is the first live album from the legendary Motown star
Gaye, Marvin: That Stubborn Kinda' Fellow. Rumble Records (RUM2011060LP). Street date: 20/03/2014. Marvin Gaye's second LP was a who's who of the Motor City, featuring background vocals from The Supremes, The Temptations, and The Vandellas, songwriting help from Norman Whitfield and Barrett Strong, and the undeniable musicianship of The Funk Brothers. A classic piece of Detroit R&B history reissued here on LP. €15
Genesis: From Genesis to Revelation. LP reissue on clear vinyl. 02/05/04.
Gentle Giant: In A Glass House. Alucard (ALUGGV04). April 10. For the very first time in over 35 years, the hugely successful album is again available in its original format, this time on high quality 180 gr. vinyl, direct metal remastered from the original 1/4" tapes. €20
Gentle Giant: The Power And The Glory. Alucard (ALUGGV05). April 10. For the very first time in over 35 years, the hugely successful album is again available in its original format, this time on high quality 180 gr. vinyl, direct metal remastered from the original 1/4" tapes and including a bonus 7" (Power and the Glory + Proclamation live 77). €20
Gerry Mulligan and The Concert Jazz Band On Tour / Jazz Soloist: Zoot Sims : S/T. Doxy (DOX887LP). 180 Gr. vinyl + 2 bonus tracks. April 2013. Reissue of Mulligan's long out-of-print 1962 Verve album. The two featured bonus tracks are "As Catch Can" and "Young Blood", not found on the original LP.€16
Gerry Mulligan Quartet, The: Featuring Chet Baker. Dom-Ermitage (VNL12230LP). Street Date: 19-05-16. LP reissue. With Chico Hamilton and Larry Bunker on drums, Bob Whitlock and Carlson Smith on bass in a 1955 recording.
Getz, Stan: Plays with Jimmy Raney, Duke Jordan, Frank Isola, Bill Crow. Doxy (DOK217LP). 180 gr. vinyl LP with 4 bonus tracks + free CD of the album. Street date: 17/05/12. NYC session recorded between December 12 and 29, 1952, presenting a young Stan Getz (25 years old at that time). The first four tracks on the B side are taken from the Dec 19 session and are the bonus tracks. €17
Getz, Stan: with guest artist Laurindo Almeida. Doxy ACV (ACV2026). 08/08/14. The rhythm section is an authentically swinging mixture of American sidemen (including Steve Kuhn on piano and George Duvivier on bass) and Brazilian percussionists. A numbered limited edition of 500 copies pressed on Audiophile Clear Vinyl (ACV).
Stan Getz Quartet: Live at Montmartre. SteepleChase 180 gr. audiophile double vinyl (G1073/74). Back in stock in sept. 2014!
Gibson, Jon: Two Solo Pieces. Superior Viaduct (SV069). Street date: 23-03-17. As its unadorned title suggests, Two Solo Pieces consists of a pair of side-long tracks featuring the composer alone. While "Cycles", an iridescent improvisation on organ, achieves a downright eerie sense of expansiveness, Gibson's captivating alto flute on "Untitled" draws the listener inside the instrument itself. Originally released in 1977 on Philip Glass? Chatham Square imprint, this first-time vinyl reissue is recommended for fans of Anthony Moore, Roberto Cacciapaglia and Terry Riley.
Gibson, Jon: Visitations. Superior Viaduct (SV068). Street date: 23/04/15. Originally appeared on the Chatham Square imprint in 1973. Inspired by the books of Carlos Castaneda, Gibson departs from the structured repetition of his minimalist peers and takes the listener on an aural journey spanning organic field recordings, ambient flutes and synthesizers, and free-flowing textures. This first-time vinyl reissue is recommended for fans of Cluster, Harold Budd and Phill Niblock.
Gigi Gryce - Donald Byrd Jazz Laboratory, The & The Cecil Taylor Quartet : At Newport. Doxy ACV (ACV2028). Sept. 2014. Taken from the afternoon concerts at the '57 Newport Jazz Festival. A numbered first press of 500 copies pressed on Audiophile Clear Vinyl (ACV).
Gil Evans Orchestra, The: Out of the Cool. Doxy-Goldenote (DOG901LP). 180 gram DMM gatefold LP with inside pocket. 15/06/12. Originally released in 1960, this album is widely considered to be Evans' masterpiece, on par with Duke Ellington in terms of orchestration, and essential listening for any jazz fan. This is also Evans' first post-Miles recording (as humoristically implied in the title). €16
Gil Evans Orchestra, The: Out of the Cool. Doxy Audiophile Clear Vinyl Series (ACV2048). Jan. 2015. 45 RPM audiophile version in a numbered first pressing limited to 500 copies.
Gilberto, João: Chega De Saudade. Doxy Audiophile Clear Vinyl Series (ACV2024). July 2014. Numbered limited edition of 500 copies
Giles, Giles, & Fripp : The Cheerful Insanity of ... Cherry Red Phonograph (CRP203). 09/09/13. Originally released in 1968, this album was the precursor of what would become one year later King Crimson
Gillespie, Dizzy: Dizzy on the French Riviera. Wax Love (WLV82005). Street date: 05-10-17. Recorded July 24, 1962 at the 3rd International Jazz Festival D'Antibes Juan-Les-Pins, this is classic 1960's Dizzy. It?s smooth and swinging without losing any of his patented power. Produced by Quincy Jones, and featuring piano and arrangements from Argentinian master Lalo Schifrin, Gillespie shines here alongside underrated reed man Leo Wright. A great early 60's Dizzy group, absolutely slaying live to a receptive audience.
Gilson / Ponty / Chautemps: Oeil Vision. Modern Silence (OI012). Street date: 14-07-16. One the best albums by legendary french pianist Jef Gilson, recorded in 1963 & 1964 with Jean-Luc Ponty on violin, Daniel Humair on drums, Jean-Louis Chautemps & Pierre Caron on tenor sax, Guy Pedersen & Henri Texier on bass. A Superb line up for this beautiful album including 2 splendid versions of "Chant-Inca" (an hidden cover of Pharoah Sanders "Creator has a Masterplan"). Essential French spiritual/avant jazz! Gilson was the brilliant mind behind a number of incredible, yet over-looked recordings during the late sixties and early seventies. His music spanned from big band and large led ensemble work to his later explorations with African influenced spiritual jazz. Limited edition of 500 numbered copies, pressed on 180 gram vinyl.
Gilson, Jeff: Enfin! Modern Silence (OI020). Street date: 26-08-16. Limited edition pressed on 180 gram vinyl. Enfin! is a French modal jazz classic of the 60's featuring some of the best musicians at the time : Portal, Ponty, Tholot, J.C. Petit, F. Jeanneau, Vitet, Texier, Chautemps. A must have!
Ginsberg, Alain: Ginsberg's Thing. GET422 (Get Back Avant Garde Series). Spoken word album recorded at the Festival Of The Two Worlds in Spoleto, Italy on July 8, 1967.
Ginsberg, Allen: Howl And Other Poems. Modern Silence (OI024). Limited edition on transparent red vinyl. Styreet date: 18-04-17. This is arguably the best-known recording to feature any beat-era poet originally issued in 1959.
Gizzi, Claudio: Andy Warhol's Blood For Dracula. Dagored (RED213). Street date: 23/03/15. Hand numbered limited edition (1000 copies) on red coloured vinyl
Gizzi, Claudio: Andy Warhol's Flesh For Frankenstein. Dagored (RED212). Street date: 02/03/15. 1st time double LP gatefold release, in a limited and numbered edition of 1000 copies on mixed coloured vinyl (cream/red)
Gleemen: Oltre... Lontano, Lontano. Black Widow (BWR 164). May 2014. Available in two versions: black vinyl with insert and gatefold sleeve or orange vinyl with insert, record photo and cover panel, a limited edition of 100 copies only! See the CD section for details
Gleemen: S/T (VMLP132LP). Jan. 09. First time ever vinyl reissue of this monstruously rare Italian album from 1970 and a very important re-release, here in 180g vinyl, exact label replicas and gorgeous gatefold cover. Gleemen were no other than the mighty Garybaldi before a name change. €18
Gli Alluminogi: Scolopendra (VMLP121). New vinyl reissue with the original artwork, label replicas and remastered sound. This trio from Turin, formed in 1970 by keyboard player Alluminio (hence the name of the band) and drummer Ostorero with various guitarists, only lasted for a couple of years and their only album, Scolopendra, was issued when they had already split. Their sole album is very well made, mainly based on Hammond organ and other keyboards, with good instrumental parts and an outstanding B side. A must-have for lovers of Italian prog!
Gnidrolog: Lady Lake. 4 Men With Beards 180 gr. vinyl (4M822LP). Nov. 2014. Lady Lake - the band's 2nd album - was originally released in 1972 while the group was often compared to Gentle Giant and Van der Graaf Generator with a folk influenced jazz sound.
Goad: Masquerade. Black Widow BWR 122 2LP. March 2011. With this new work, Goad returns to break up the ground native to rock.
Goblin: Amo Non Amo. AMS (AMS69LP). Jan. 2014. This edition sees the "Amo Non Amo" OST published in its entirety on vinyl. Among the "new" pieces, in addition to the film version of the main issues, we have a short but wonderful "Amo Non Amo (alternate tensive film version)" and "Amo Non Amo ("Notte" alternate mix)": the latter is an entirely instrumental and remixed version of "Notte", which was originally inserted in "Il Fantastico Viaggio del Bagarozzo Mark". It also comes with a new cover artwork.
Goblin: Buio Omega. AMS 40 LP. 180 Gr. vinyl. Also released on clear vinyl as a special edition. Jan. 2013. Pressed on vinyl for the first time ever, this is a release awaited for years by Goblin fans; the LP is housed in a beautiful gatefold cover showing inside recording sessions photos and promotional flyers/postcards. The tracklist is that of the first 1997 CD edition.
Goblin: Contamination. AMS 39 LP. 180 Gr. reissue. 03/02/12. "Contamination" was released in 1980 as a soundtrack for the eponymous horror/science fiction film; Unkonwn by most listeners, it's a release that deserves more attention, since it shows a wide range of music styles (Jazz, funk, rock, electronic) and once again Goblin's ability in writing film scores.
Goblin: Il Fantastico Viaggio Del Bagarozzo Mark. AMS 12 LP. Nov. 09. Never reissued on vinyl before, great sounding 180g high quality vinyl! The only album (78) entirely sung in Italian, this is also the most progressive and symphonic of their discography! Gatefold cover. €20
Goblin: Il Fantastico Viaggio Del Bagarozzo Mark. AMS12LP-B Blue vinyl. Nov. 2014
Goblin: In Lounge. 7" Il Giaguaro (GRC006). July 2013. Two previously unreleased cuts from psych-prog legends Goblin, respectively dated 1975 and 1977, released on 45 rpm and originally only sold along with "Il Giaguaro" magazine, are finally available again after years of hiatus!
Goblin: Live 1978. AMSLP126. Street date: 11-11-16. Recorded on May 25th 1978, the show presented here was the real penultimate one for Goblin in one of their most classic line-ups: Massimo Morante (guitar, vocals), Claudio Simonetti (keyboards), Fabio Pignatelli (bass guitar), Agostino Marangolo (drums), with guest musician Antonio Marangolo on saxophone. Goblin were invited to participate to the MIMS (Mercato Internazionale Musica e Spettacolo - International Music and Entertainment Market) in Sanremo, a 7-day happening especially made for musicians and music businessmen. The band's show consists of the "Profondo Rosso / Deep Red" main theme, two tracks from "Roller" ("Aquaman" and "Snip Snap") and five from "Il Fantastico Viaggio dei Bagarozzo Mark", an Italian-sung LP (very uncommon for a band well known for their instrumental soundtrack efforts) that had just been released at the time.
Goblin: Non Ho Sonno. AMS33LP. Street date: 05/05/11. After a lengthy silence, Goblin reunited in 2000, again for a soundtrack for their long-time friend Dario Argento.. To increase the value of this very first release on vinyl, buyers will also get a brand new fantastic artwork by the famous Advent Productions studios, a thick and glossy Nonhosonno 90 x 60 cm megaposter, with movie artwork, reviews, discographies and much more. On the first pressing, 100 copies will be available in each of the following colours: red, blue, crystal, yellow and white. Don't wait too long!
Goblin: Notturno (AMS 90LP). Soundtrack. Limited edition on clear acid green vinyl + poster. This is an exclusive 2017 RSD release.
Goblin: Patrick. AMS 37 LP. 180 Gr. reissue. 03/02/12. Patrick is an Australian thriller/horror movie made in 1978; Goblin were asked by the Italian distributor of the film, De Laurentis, to write a new soundtrack - originally composed by an Australian musician called... Brian May! - for the Italian movie market. The result is a mix of old songs chosen and added by the Cinevox Record label and new selections, strongly influenced by Alan Parsons Project.
Goblin: Phenomena. AMS (AMS76LP). Sept. 2014. The LP comes in gatefold format, attached with a 30x60cm poster! A fragmentary score - the original score was a mix of songs also including other artists - that in this reissue makes sense now, as it focuses solely on the production signed by the two original Goblin members, Fabio Pignatelli and Claudio Simonetti, with alternate versions included.
Goblin: Profondo Rosso 35th Anniversary Edition (2010). AMS10LP. This reissue is a faithful reproduction of the very first pressing of 1975 and has 2 incredible extras: the vinyl is coloured with bloodsquirts and includes a fantastic oversized poster (66 cm x 66 cm) written by one of the biggest Goblin collectors. This poster contains the complete history of Profondo Rosso, some very rare newspaper articles of the seventies and for the first time ever the complete and detailed roster with all releases Profondo Rosso had in the last 35 years, including all images (over one hundred!!). A unique product for this truly legendary masterpiece! 666 copies limited edition! €25
Goblin: Profondo Rosso. AMS10LP-B Purple Vinyl. Nov. 2014
Goblin: Profondo Rosso. AMS10LP-B Yellow Vinyl. Dec. 2014
Goblin: Roller. AMS 17 LPPD. Picture disc limited edition on 180gr. vinyl. Street date: 27/06/11. One of the very few Goblin records not intended to be a soundtrack!
Goblin: Roller. AMS 17 LP. Nov. 09. Never reissued on vinyl before, great sounding 180g high quality vinyl! Roller was the second record for Goblin, originally released in 1976, just after the successful score of Profondo Rosso, and is one of the very few Goblin records that was not intended to be a soundtrack.
Goblin: Suspiria. AMSLP11. Special gimmick edition. 05/02/10. Made of the usual AMS heavy 180 Gr. high quality audiophile vinyl, this reissue features nearly the same pop-up system that was to be found on the original LP, where when removed from the outer sleeve, the inner sleeve unfolded to reveal a pop-up of Dario Argento's initials, decorated with the demonic Goblin logo and the dead ballerina poster art from Suspiria. On the reissue, this is the outer sleeve that will reveal its astounding secret as it was intended in the original project! €25
Goblin: Tenebre. AMS 32 LP. 28/09/12. This reissue of the "Tenebre" OST vinyl follows the AMS Records tradition where a poster is attached to the LP replica, gathering informations for collectors about all the known exixting versions of the release, images of the discography and movie flyers and an essay presenting the filmand the soundtrack in detail. Not to be missed by any horror movie and soundtracks fans!
Goblin: Volo. AMS LP91. Street date: 22-09-17. Like a few others in their discography, "Volo" is not a soundtrack, although its title track had been used as "Discoring" TV program opening theme. The band was led at that time by bassist Fabio Pignatelli and keyboardist Maurizio Guarini, together with Marco Rinalduzzi (guitar), Derek Wilson (drummer) and Mauro Lusini (vocals). This record is essentially a pop music album, wisely arranged and produced, featuring among others Antonio Marangolo on saxophone and Walter Martino on drums, who's mostly known to Goblin fans for having played on "Profondo Rosso" and "Perchè si uccidono" by Reale Impero Britannico. This AMS release, faithful to the original one, is the first ever LP reissue in exactly 35 years!
Goblin Rebirth: Alive. 2LP. Black Widow (BWR182LP). Street date: 06-02-16. Two members who played on various Goblin related albums as far back as the mid Seventies, Fabio Pignatelli (bass) and Agostino Marangolo (drums), are joined by guitarist Giacomo Anselmi and keyboard players Aidan Zammit and Danilo Cherni, and this all new band carries on in the fine tradition of Goblin past and present. The 2015 self-titled debut album "Goblin Rebirth" delivers the constant presence of ghostly organ, eerie piano and hard guitars, incorporating plenty of the gothic atmosphere the group is known for, as well as some exciting new and previously unexplored directions. (from ProgArchives.com). This is the entire recording of the 2011 concert in Roma including all famous and classic hits of Goblin plus some songs never played live before. There is a limited edition (100 copies) of the double LP in colored vinyl with textured cover + booklet + mousepad + poster with Goblin Family Tree
Gong: Gong Est Mort, Vive Gong. Tiger Bay (TB6034). 2LP limited edition (1000 copies) on 140 gram white vinyl
Gordon, Dexter: Our Man in Paris. Doxy ACV (ACV2070). Street date: 25-07-16. Numbered first press of 500 copies.
Gösta Berlings Saga: Detta Har Hänt. Released by the band, this album is now presented on on white heavy 180 Gr. vinyl. Limited to 150 hand numbered copies. Comes with a set of 3 photo prints from the 2008 recording sessions. Extensive retrospective liner notes. Street date: 15/10/12. This one will run fast, don't wait too long! It will also be released on black heavy 180 Gr. vinyl. Limited to 350 copies.
Grateful Dead, The: Live At The Centrum, Worcester, MA, April 9, 1988. BRR (BRR4036). Picture Disc. Street date: 01-06-17.
Grimes Trio, Henry: Call. High Quality Vinyl. €12
Gruppo D'alternativa: Ipotesi. AMS (AMS58 LP). Street date: 10-06-16. Rediscovered a few years ago and reissued in a now-deleted papersleeve CD version by AMS Records, "Ipotesi" is now released on LP, faithful as usual to the one originally published in 1972. Standing between a rock opera and a concept album, based on the death of a band's friend in a car accident, it is in fact an album with strong jazz-rock imprint which, in some circumstances, takes clear inspiration from the Miles Davis' fusion era of the late 60's and 70's.
Gruppo Di Improvvisazione Nuova Consonanza: Gli Occhi Freddi Della Paura. Dagored (RED203). June 2014. The legendary avant garde and improvisational combo of which Morricone was a founding member was unconventionally used this time for the purpose of a film soundtrack from 1971. Limited edition of 500 copies.
Gruppo Di Improvvisazione Nuova Consonanza: Musica Su Schemi. Superior Viaduct (SV 015). Jan. 2013. LP + digital download card. Founded in the early 70's, this was a collective of Italian composers that included Ennio Morricone on trumpet!! Gruppo aspired to revolutionize composition through group improvisation and like their peer Karlheinz Stockhausen, musique concrète, aleatory (controlled chance) techniques and early electronic music.
Guérin, Jean: Tacet. Souffle Continu Records (FFL009). August 2015. Highly surreal and wonderfully futuristic, "Tacet", one of the best kept secrets of the Futura catalogue is the soundtrack work of Jean Guérin for Claude Faraldo's anarchic film "BOF, anatomie d'un livreur". This avant-garde psychedelic jazz masterpiece is a blend of abstract vocals, unusual electronics, twisted sound envelopes and nervous brass instruments. Limited edition of 500 copies on black and 200 on solid grey vinyl. 350 gr. gatefold sleeve with Obi strip - Reverse Printing-.
Guru Guru: Live In Bremen, 12 September 1971. Lilith Dig-A-Log (LR331LP). 180 gr. LP + free CD of the album plus one bonus track. 16/02/12. This album, recorded live at Radio Bremen in 1971 features the 23 minutes long Der LSD Marsch from their debut album, UFO. Here Neumeier's superlative drumming is given center stage and one can hear why Mani has consistently earned such high praise. The remaining two songs come from their second album (1971's Hinten): the 22-minute extended prog tribute to "Bo Diddley" and the aptly titled "Space Ship", an extensive sonic trip of 15+ minutes(!), only found on the bonus CD
Guru Guru: Live in Wiesbaden 1972. B13 (B163). Street date: 23/08/12. Format:140 gram LP on red vinyl with yellow label in PVC sleeve with black lettering (limited edition 500 copies). By the time this album was recorded, bassist Uli Trepte had left the band to play with Neu! and Faust and was replaced with Bruno Schaab of Night Sun (the stellar German prog metal band). This early live album, recorded in front of a crowd of dedicated fans, is essential listening, featuring two extended tracks, the 28-minute "Oxymoron" and the 23-minute Guru Guru classic "Baby Cake Walk". €16
Guru Guru: Live in Wiesbaden 1972 / 1973. B13 (B164). Street date: 23/08/12. Format:140 gram LP on clear red vinyl with white label in PVC sleeve with black lettering (limited edition 500 copies). With the 37-minutes long freakout "Ooga Booga" and new bass player Hans Hartmann (arguably Guru Guru's best in a long line of bass players) in the '73 concert, this live recording in Wiesbaden is a nice addition or complement to the previous Wiesbaden release (B163). €16
Guru Guru: Tango Fango. Revisited Records LP reissue. 2009. €18
Guy, Barry: Five Fizzles For Samuel Beckett. NoBusiness Records (NBEP 2). Nov. 2014. Limited edition of 300 records. Bass solo album recorded on January 11th, 2009 in Vilnius
Hackett, Steve: The Charisma Years: 1975 - 1983. A 9LP Box gathering of his 6 first albums + material previously unreleased on vinyl.
Haizea: S/T. Sagara (SAGA-186). Street date: 25-08-16. A progressive folk-rock outfit from the Basque region of Spain, this is their self-titled debut from 1977. A five-piece group heavily influenced by the classic British folk-rock of the late 60's / early 70's, Haizea also takes melodic influence from their native country, creating a truly unique sound that is largely unmatched before or since.
Hancock, Herbie: Inventions And Dimensions. Doxy ACV (ACV2066). Street date: 25-07-16. Numbered first press of 500 copies.
Hancock, Herbie: Thrust. LP. €12
Hancock, Herbie: The Joni Letters. New 2007 album released as a limited 2LP edition. Features singer Norah Jones among others.
Hansson & Karlsson: Man at the Moon. Universal (060252794541). Street date: 16/04/12. LP reissue of the third and last album of the Swedish duo.
Hansson & Karlsson: Monument. Universal (060252794540). Street date: 16/04/12. LP re-issue of the debut album from 1967 by the Swedish duo
Harmonia: Deluxe. Lilith Dig-A-Log LP+CD (LR356LP). Feb. 2013. 180 Gr. vinyl gatefold LP with bonus CD on one package! Formed in the early seventies by Hans-Joachim Roedelius & Dieter Moebius of Cluster with Michael Rother of Neu!. Although this Kraut rock supergroup produced only two albums, their minimalist sound laid the groundwork for ambient and motorik rock for decades to come. Leaning slightly more towards Cluster's sound for their second and last release, 1975's De luxe featured more structured songs, along with a sparse spattering of vocals, and the guest appearance of Mani Neumeier of Guru Guru on a few tracks. €17
Harmonia: Musik Von Harmonia. Lilith Dig-A-Log LP+CD (LR355LP). Feb. 2013. 180 Gr. vinyl gatefold LP with bonus CD on one package! €17
Harriott, Joe / Amancio d'Silva Quartet: Hum Dono. Zaq (zaq124). 01/12/14. A collaboration of British Joe Harriott with the Goa, India-born Amancio d'Silva. This came after the recordings with John Mayer wherein Harriott would move into world music - long before that genre was coined - and develop his own brand of East-West fusion, using Western as well as Eastern instruments. Here the fusion continues in perhaps a slightly more subtle fashion. D'Silva draws upon the jazz guitar tradition of Django Reinhardt, Charlie Christian and Wes Montgomery.
Hawkins, Coleman: Desafinado. (scroll and check definition at Doxy Audiophile)2013. May 2014. Numbered limited edition of 500 copies pressed on Audiophile Clear Vinyl (ACV).
Hawkins, Coleman: The Hawk Swings. Doxy (DOX882LP) 180 Gr. vinyl. Feb. 2013. Recorded in NYC in 1960 with Thad Jones (trumpet), George Duvivier (bass), Eddie Costa (piano and vibes), and Osie Johnson (drums). €16
Hawkwind: Live At The Astoria. 2LP Mirumir(MIR100743). Sept. 2015. On this reissue, you can listen to the legendary psychedelic rockers performing live at London's Astoria on the 19th December of 2007 at their annual London Christmas gig. Features founder Dave Brock and the return of keyboardist Tim Blake.
Hawkwind: Xenon Codex. Deluxe limited edition on red vinyl of the fifteenth studio album by the English space rock band, released in 1988. 2LP. Feb. 14.
Hayasaka Fumio: Seven Samurai. OST. Doxy Cinematic (DOC127). Street date: 18-01-16. Limited edition first press of 500 copies on white vinyl. Seven Samurai (1954) was Hayasaka's last complete score for film director Kurosawa
Hedayat, Dashiell: Obsolete. Replica (RPC023CD). Street date: 22-09-16. In 1971, poet and counter-culture activist Dashiell Hedayat teamed up with Gong to bring their artistic visions to reality. Psychedelic guitars, hypnotic bass lines and freaked-out sounds made this record a must-have for the «Continental Circus» and «Camembert Electrique» fans.
Hedvig Mollestad Trio: Evil In Oslo. Rune Grammofon 2LP (RLP2184). Street date: 03-06-16. Recorded at Oslo clubs John Dee and Buckley´s, "Evil In Oslo" is simply a kick ass live album with a very high level of musicianship and a perfect balance between freedom and discipline. While the nine live performances presented here all come from the trio's first three studio albums, most are lenghty workouts, again showing Hedvig as a very confident and accomplished solo guitarist.
Heldon: Allez-Téia. Superior Viaduct (SV028). 2014. 2nd album by French guitarist Richard Pinhas under the Heldon moniker, Allez-Téia was originally released in 1975 on the artist's own Disjuncta imprint. Far from the band's prog-tinged trio lineup, Allez-Téia features a menagerie of guitars, Mellotron and analog synthesizers.
Heldon: Interface. Superior Viaduct (SV029). 2014. LP reissue of the band's 6th album. Interface is loud, dark and unrelenting with a maximal approach to minimalism that would go on to inform the cold wave scene in the late 70's.
Hemphill, Julius: Raw Materials And Residuals. Black Saint Dig-A-Log LP+CD (BS520004). Street date: 03/03/14. Recorded in New York in 1977, this album explodes like a face off between Hemphill's unique reeds, Abdul Wadud's deep pizzicato and Don Moye's frantic drive
Henry, Pierre: Le Voyage. Doxy 180 Gr. LP (DOZ424LP). Dec. 2013. Available again, after being out of print for decades! €15
Henry Cow: Concerts. Recommended Records (RERVHC5DLP). 180 gram 2LP double gatefold + printed inner with liner notes / photos. Oct. 2012. An essential piece in European progressive rock of the seventies, this live album by Henry Cow is finally reissued on double vinyl with updated content and rare and unseen photos!
Henry Cow: In Praise of Learning. Recommended Records (RERVHC3LP). Oct. 2011. 180 gr. LP reissue of this timeless classic originally released on Virgin in 1975. €16
Henry Cow: Leg End. Recommended Records (RERVHC1LP). Street date: 07-04-16. Reissue, now returned to its original audio mix. Reissued on 180 gram vinyl.
Henry Cow: Unrest. Recommended Records (RERVHC2LP). Street date: 07-04-16. 180 gram vinyl reissue of the 2nd *sock* album, the one preferred by the amateurs and Fred Frith himself!
Henry Cow: Western Culture. Recommended Records (RERVHC4LP). Street date: 23-06-16. Reissued on 180 gram vinyl.
Heyden, Cathy: Badlands. 213 Records (213v42). October 2017. Free improvisation. This is the first solo album by saxophonist Cathy Heyden. Each side of the record reveals a different facet of the (devil's) instrument and of the (accomplished) instrumentist. 'Coyotes' pulls out of studio recording the tour de force of a radical evocation of the wild and nocturnal immensity of the desert; while 'Soda Lake' meticulously explores unexpected patterns and matters.
Holiday, Billie: Billie's Blues. DOXY Audiophile Clear Vinyl Series (scroll and check definition at Doxy Audiophile) (ACV2006). Street date: 16/06/14. The present album offers a potent reminder, drawn from three sources, of the Lady during those magic years, the 1940s and early 1950s, just before her life style took its toll irrevocably. The live tracks were taped at a concert during the European tour, Billie's first (and, as it turned out, only) tour of the Continent.
Holiday, Billie: Lady Love. Cornbread (CRNBR16016). 180 gram LP + download code. Street date: 15-12-16. A stunning document of one of America's greatest treasures on her first ever tour of Europe in 1954, here with 5 bomus tracks
Holiday, Billie: Lady Sings The Blues. Doxy ACV (ACV2037). Oct. 2014. First edition of 500 numbered copies.
Holiday, Billie: Live At The Monterey Jazz Festival October 5th 1958. Suitable 1338. Street date: 12/03/15. A classic live recording from one of the most iconic voices of all-time, in a limited edition of 300 numbered copies on red vinyl with white splatter.
Holiday, Billie: The Blues Are Brewin'. Doxy (ACV2090). Street date: 29-05-17. A stunning collection of traditionals and blues pieces, masterfully interpreted by the great Billie Holiday. Numbered first press of 500 copies.
Holiday, Billie: The Commodore Days. Doxy (DOX846). Street date: 20/02/14. The 'Strange Fruit session' for Commodore, was one of those historic moments and part of Billie Holiday's legend hinges on the tremendous courage it took for her go ahead and record this song, knowing that it might well mean the end of her career. Three other songs, found here, were also recorded at that session, while due to contractual issues, the remaining Commodore sides were not recorded until five years later in 1944.
Hopo: Dietro La Finestra (1991). CAM 001. May 2008 reissue of the 2nd album by a classical Italian prog band with references to New Trolls and even Genesis. €17,50
Horde Catalytique Pour La Fin: S/T. Souffle Continu. Jan. 2016. 500 copies in black vinyl (FFL013/SON03), 200 copies in red vinyl (FFL013/SON03C), 350g carton cover, with OBI.
Hostsonaten: Symphony N.1 - Cupid & Psyche. AMS124LP. April 2016. LP version of the new album, pressed on clear purple vinyl.
Hostsonaten: Winterthrough is now available on picture disc LP with one bonus track not available on the CD version. This is a limited (500) hand numbered edition! Gatefold sleeve. Not to be reprinted!
Hoyle, Linda: The Fetch. Pancromantic Records (PLP 2025). Street date: 27-01-17. This 2LP is the follower of the singer's debut album in 1971, 44 years after! It comes in a limited edition of 200 sets on solid blue, black & white vinyl and includes a non-CD bonus track. 'The Fetch' displays beautiful production, first class musicianship and outstanding vocals from Linda on a great collection of songs spanning a number of musical genres with lyrics that are autobiographical, witty and dark. In addition, the iconic artist Roger Dean has painted the original artwork for the album.
Hunka Munka: Dedicato a Giovanna G. AMS 52 LP. 25/05/12. Reissue on 180 gr. vinyl of the sole album made in 1972 by keyboardist Roberto Carlotto from Varese, whose nickname was Hunka Munka
Hunka Munka: Dedicato a Giovanna. AMS52LP-B Orange vinyl. Nov. 2014
I Giganti: Terra in Bocca - Poesia per un Delitto. VMLP013. 26-10-15. "Terra in bocca" is a sort of rock-opera concept album, basically consisting of two long suites, each occupying an entire side of the LP. Already published in CD format by Vinyl Magic in the 90's, this beautiful album is now presented in a faithful LP replica of the original version, complete with a reproduction of the attached poster, presed on clear red vinyl.
I Raminghi: Il Lungo Cammino dei Raminghi. Vinyl Magic VM102LP. Nov. 2015. Reissue of the band's sole album from 1971. Already reissued by Vinyl Magic in a CD papersleeve version, which is now out of print, "Il lungo cammino..." is now proposed in a faithful reproduction of the original release, with a 30x30cm mini-poster and a completely unheard song, "Non Farlo"!
Ibis: S/T. Vinyl Magic Yellow Vinyl (VM169 LP). July 2014. Never reissued on LP in almost four decades, "Ibis" is now re-released in a faithful reproduction of the original edition. First 500 copies come on deluxe yellow vinyl.
I.E.M.: 1996-1999. Double vinyl edition on ToneFloat of the I.E.M. anthology collecting all the music recorded between 1996-99 by Steven Wilson's experimental Krautrock influenced project. Limited run of 500 copies on 180 gram black and white vinyl, in a deluxe spot-varnished gatefold sleeve. Remastered collection including the whole of the first album, the Escalator to Christmas 12 inch single, and bonus material.
I.P. Son Group: S/T. Black Sweat (BS025). Oct. 2016. Appeared in 1975 on the legendary Ultima Spiaggia label during the mature stage of the Italian underground scene, the only album of the milanese band led by guitarist Marco Rossi looks like an experiment rather atypical of that period. The typical jazz sound of bands such Perigeo or Napoli Centrale, leave here considerable field for improvisation and suggestions of non-european ethnic flavor, enhanced by the masterful rhythm section (without drums) curated by the African percussionists Nick Eyok and Mohammed El Targhi. The result was a complex work full of nuances, in which the spirit of the free-jam is an excellent synthesis of influences and visions. Refined guitar riffs reveal strong blues roots that can blend with the elements and moods of the most markedly spiritual and exotic free-jazz (Pharoah Sanders, Alice Coltrane or Shepp), while the winds are perfumed of a Middle East flow as distant echoes, with ideas of tribal rhythms that seem to draw both from the Northern Sahara as from more Afro-beat rituals of Yoruba ancestry. In the background persists a poetic intercultural exchange that brings the I.P. Son Group to parallel projects such as those made by Aktuala, Arica or John Berberian. Comes with a large format booklet!
Ibis: Canti Di Innocenza, Canti D'Esperienza (1973). Vinyl Magic VMLP094. March 09. Now made available again in exact repro of the cover and labels! and in 180 gram vinyl. Also includes the amazing original insert. Ibis was born from the split of the band New Trolls and therefore features similarities with them, an astounding blend of hard rock and classical influences.
Ibis: Sun Supreme. Vinyl Magic VMLP081. 06/02/15. 180gr. gold & black mixed coloured vinyl. Originally released in 1974, this was the 2nd album by the New Trolls offshoot band, never reissued on vinyl ...until now!
Il Buon Vecchio Charlie: S/T. AMS112LP. Street date: August 2017. Reissue on green vinyl, with a cover artwork that reflects the CD's one, including the liner notes written by guitarist and singer Luigi Calabrò.
Il Cerchio D'oro: Il Fuoco Sotto La Cenere. Black Widow (BWR204-2). Il Compleanno Di Mary: Hollywood Songs (MARK201). July 2014. Limited numbered edition of 500 copies with gatelfold cover, pressed on 180 grams vinyl. This group is made up by Mino Di Martino (I Giganti, Telaio Magnetico e L'albergo Intergalattico Spaziale), Maddalena Bianchi with her clear voice, Angelo Avogadri on flute and Torunn Brigitte Sortvich on violin. Special guests: Ares Tavolazzi (from Area) and Alessandro Papes. Classify as psych/prog
Il Mucchio: S/T. Vinyl Magic (VMLP 186). Street date: 06-06-16. This edition, curated by Vinyl Magic and true to the original one of 1970, gives new life to another hidden gem of Italian prog, impossible to be found in his rare first edition! Clear orange LP limited edition.
Il Segno Del Comando: Il Volto Verde. Black Widow BWR 161. 2014. See the CD section for the description of the content
Il Sistema: Early Tapes. GDR LP1701 LP+CD. Pressed on blue vinyl and limited to 300 copies. Street date: 05-05-17. All tracks here included have never been released before, including "Il tempio per una verde spirale", finally recovered in its full version. These songs won't probably leave you indifferent, in particular the long jazz-rock-tinged "Impro-non" and "Free system"; There's also a small 'pop' attempt in "La Balena" and a couple of short complex and unpredictable songs ("Gladiatoria", "Effe").
Il Tempio Delle Clessidre: Il-ludere. Black Widow (BWR200LP) white vinyl edition. June 2017
Il Volo: S/T. Sony reissue. Feb. 2017. Digital remaster, for the first time at 192 khz and 24 bit. From the original master tapes!
IQ: The Seventh House 2LP coloured vintl. Street date: 02-06-17. For the first time on vinyl, limited double 12" heavyweight vinyl in deluxe gatefold sleeve with black poly-lined inner sleeves.
Jackson, Milt With John Lewis, Percy Heath, Kenny Clarke, Lou Donaldson and The Thelonious Monk Quintet: S/T. Jeanne Dielman (JD120). Street date: 05-12-16. Compiling recordings from 1948-1952 that Milt Jackson made with the Modern Jazz Quartet (+ Lou Donaldson on sax), and The Thelonious Monk Quintet, this release highlights the bebop brilliance of vibraphonist master Jackson.
Jacula: In Cauda Semper Stat Venenum. Black Widow BWR 051 LP. Available from April 9th 2010. The first pressing was only 300 copies! This cult album has been now restored and cleaned up, made available again!
Jacula: Pre Viam. Black Widow (BWR 135 LP). June 2011. Not to be mistaken for "Per Viam" (another album and both anagrams for vampire!), here's a great new epic, focused on the sadness, the melancholy and the suicidal tendency of the protagonist portrayed through seven fantastic musical paintings.
Jazz Abroad: Featuring Roy Haynes And Quincy Jones. Doxy ACV (ACV2027). 11/09/14. A numbered first press of 500 copies pressed on Audiophile Clear Vinyl (ACV).
Jobim, Antonio Carlos: Desafinado. 2015. May 2014. Numbered limited edition of 500 copies pressed on Audiophile Clear Vinyl (ACV). (scroll and check definition at Doxy Audiophile)
Jobim, Antonio Carlos & Di Moraes, Vinicius: Bras¡lia - Sinfonia Da Alvorada. Doxy Cinematic (DOC122). 26/05/15. Studio recording from 1960, with Jobim conducting the orchestra. First press of 500 copies.
Jodorowsky, Alejandro: Dance Of Reality. Disordered (DISO0010). Street date: 16-03-17. Limited edition of 500 copies housed in silkscreened felt sleeves (made by the Italian Fashion Designer Fabio Quaranta)
Jodorowsky, Alejandro: El Topo. Disordered (DISO008). Street date: 16-03-17. Limited edition of 500 copies housed in silkscreened felt sleeves (made by the Italian Fashion Designer Fabio Quaranta)
Jodorowsky, Alejandro: The Holy Mountain. Disordered (DISO009). Street date: 16-03-17. Limited edition of 500 copies housed in silkscreened felt sleeves (made by the Italian Fashion Designer Fabio Quaranta)
Joe Harriott Quartet, The: Abstract. Doxy ACV (ACV2040). 17/11/14. Numbered limited edition of 500 copies pressed on Audiophile Clear Vinyl (ACV). (scroll and check definition at Doxy Audiophile)
John Cale & Friends (Lou Reed, Patti Smith, David Byrne, Allen Lanier, Mick Ronson, and Chris Spedding): Live at the Ocean Club in New York, July 21, 1976. B 13 (B195). 140 gram LP on clear yellow vinyl in PVC sleeve (ltd. ed. 500 copies). April 2013. €16
John Coltrane Quartet, The: Live At The Pennsylvania State University, 1963. Mr. Suit (SUITABLE1347). Street date: 02-06-16. Reissued in a limited edition of 300 hand numbered copies on white vinyl with red splatter.
Jones, Quincy: Big Band Bossa Nova. Doxy ACV (ACV2032). Sept. 2014. A numbered first press of 500 copies pressed on Audiophile Clear Vinyl (ACV).
Jono El Grande: Melody Of A Muddled Mason. Rune Grammofon (RLP3175). 02-10-15. For the description, see the CD section!
Jono El Grande: The Choko King. Rune Grammofon (RALP 307). 25/11/11. This is Jono´s third album since 2009, but the recordings are from the period between 1995 and 2008, some of which predates his first album by four years. "The Choko King" offers an open door into Jono´s surrealistic musical universe and is a rare gift to his increasing number of fans and anyone interested in the workings of a truly eccentric and artistic mind. The album has been meticulously assembled from home recordings, demos, rehearsal tapes, live and studio recordings and made into a completely new work by Jono himself. The sleeve paintings are by acknowledged Norwegian artist Christer Karlstad. This is a limited, numbered vinyl edition of only 300 copies with inner sleeve containing "insanely nerdy details" on each track by Jono himself.
Duke Jordan Trio: Flight to Denmark. SteepleChase 180 gr. vinyl audiophile edition (G1011). Nov. 2014.
Joseph Jarman - Don Moye feat. Johnny Dyani: Black Paladins. Black Saint Dig-A-Log LP+CD (BS520005). Jan. 2014. In December 1979, two Art Ensemble of Chicago members - Joseph Jarman and Don Moye along with the great South African bassist Johnny Dyani gathered together under the name of Black Paladins. Inspired by the words of the great black poet Henry Dumas, the music traces a deep, dense sound path; from ancient Africa through the rural American south to the modern urban contrast.
Joy Division: Ajanta Cinema, April 18th, 1980. East / West (WEST918). Shipping date: 30/04/15. Splatter light green vinyl with pink and yellow speckles. Hand numbered edition of 349 copies only!
Joy Division: Futurama, Leeds, September 8th 1979. East / West (WEST911-2). 17/07/14. Limited edition of 349 hand-numbered copies on green splatter 180gr vinyl with yellow and black speckles; packed in transparent sleeve with obi strip.
Joy Division: Live at the Paradiso Club, Amsterdam 1980. B 13 (B183). Nov. 2012. 140 gram LP on clear vinyl in PVC sleeve with blue lettering (ltd. 500 copies). On 11 January 1980 at Amsterdam's Paradiso Club, Joy Division played a mind-blowing 70-minute-long set to a mere handful of dedicated fans. €17
Joy Division: Live At Town Hall, High Wycomb February 20, 1980. B 13 (B204). 25/07/13. Clear green vinyl in a clear PVC sleeve pressed in a limited edition of 500 copies.€17.
Joy Division: London February 1980. B 13 (B203). 25/07/13. A classic live date from Ian Curtis & Co. recorded at the University of London Union. Yellow vinyl in a clear PVC sleeve with blue lettering pressed in a limited edition of 500 copies.€16
Joy Division: Love Will Tear Us Apart. Vinyl Lovers (901288). Nov. 2016. Reissued now as Picture Disc LP
Joy Division: Love Will Tear Us Apart. Vinyl Lovers (901288). 05/01/12. LP version on clear vinyl in PVC sleeve with double-sided printed clear plastic insert. This special edition LP features all three versions of the song that transformed Joy Division from mere band into legend. In addition to the original single version, we have two versions remixed by American producers Don Gehman of John Mellencamp fame (the "radio version") and Arthur Baker (who also produced a hit single for Africa Bambaataa around this same time). The remaining tracks include "These Days" (which appeared on the original "Love Will Tear Us Apart" single), along with "Transmission" (their debut single released in 1979) and "Atmosphere" (originally released as a France-only single) in 1980. €16
Joy Division: Preston, 28 February 1980. Picture disc LP (180 Gr.). Get Back GET 069P. Punk
Jumbo: S/T. Vinyl Magic (VM167LP). Dec. 2014. Ltd. Silver&Black mixed colour vinyl
Kaipa: Solo. Limited edition of 500 copies, pressed on 180 gram green vinyl + bonus CD. Remastered edition, original artwork and protection cover.
Kaleidon: Free Love. Vinyl Magic (VM157LP). Jan. 2014. Reissue of the only LP ever released by Kaleidon, one of the many 'forgotten ones' from the Italian progressive rock era. This reissue is faithful to the 1973 original release
Keith Jarrett Trio: Live At Gran Studio 104 In Paris June 9th 1972. DOL (DOR2140H). 180 gr. 2LP. Street date: 03-08-17. Ken Boothe Meets Tasty Grooves: A Change Must Come b/w Better Than Nothing. 7" on the label Liquidator (LQ050). July 2014. This 45 features two Rocksteady/Reggae stompers. On the A side we can find the great Ken Booth singing a superb Tasty Grooves tune which remind us of some of this Jamaican artist best interpretations from the early 70's, with powerful social lyrics. On the flip side there is a new Tasty Grooves track called "Better Than Nothing", absolutely great, interpretated by Marc Ibarz, lead singer and guitar player from this soulful reggae band from Madrid.
Kenny Wheeler Quintet: Flutter By, Butterfly. Soul Note Dig-A-Log LP+CD (SN521004). Street date: 06/03/14. Reissue of an album recorded in 1987 and featuring bass player Dave Holland alongside the reeds of Stan Sulzman and the impressionistic piano playing of John Taylor
King Crimson: In the Wake of Poseidon. DGM / Panegyric. Limited edition. 10/10/11. Manufactured on 200 gram super-heavyweight vinyl & housed in a reprint of the original stunning gatefold sleeve this edition also contains bonus MP3 codes giving access to a download of a transfer of an original 1970 pressing
Kirchin, Basil: Worlds Within Worlds. Superior Viaduct (SV126). Street date: 23-11-17. Originally released on Island Records in 1974, Worlds Within Worlds juxtaposes Kirchin's various tape manipulations?amplified insects, animals, engines, glossolalia of children?with traditional musical instruments to form an organic totality that has the overall effect of otherworldly, ambient soundscapes. It remains a lost classic in sonic abstraction. This first-time reissue is recommended for fans of Broadcast, Aphex Twin and Nurse With Wound.
Kirk, Roland: Third Dimension. Doxy ACV (ACV2039). 17/11/14. First edition of 500 numbered copies.(scroll and check definition at Doxy Audiophile
Kitajima, Osamu: Benzaiten. Victory (VAN7016). Street date: 31-03-16. Due to the underground success of recent Acid Mothers Temple remake, the sought after psych masterpiece Benzaiten is being re-issued. A sort of holy grail for many worldwide record collectors, the album illustrates a truly creative period for Japanese music. Issued by major label Island Records for the Japanese market back in 1976, the record is a freakish take on progressive rock, with tons of captivating melodic breaks and ethno-folkish turns. This is the less academic and more twisted take on British progressive, a truly massive experience.
Komeda, Krzysztof : Knife In The Water. Doxy Cinematic (DOC107). June 2014. This is the first collaboration by the tandem team Komeda/Polanski; the album also offers the music of the film Two Men and a Wardrobe. Limited edition of 500 copies.
Kompendium: Beneath the Waves. 7Stones Records. Street date: 22/10/12. A limited edition on double 180 gr. sea-blue vinyl. Gatefold sleeve with full colour inner sleeves. See the CD section for description of the album
Koray, Erkin: Tutkusu (GDRLP0707). This is the 4th album from 1977. Another brilliant psych-rock album obviously adorned again with some Turkish traditional music elements, though not as strongly as with "Elektronik Türküler". Here he even sings some tracks in English, giving the whole album a more occidental appeal
Koray, Erkin: Tutkusu. Sagara (SAGA-180). Sept. 2015. New vinyl repress
Alexis Korner: R&B from the Marquee. Doxy (DOK215LP) 180 gr. LP + free bonus CD of the album. Street date: 28/06/12. This album - actually recorded in London's Decca studio despites its title - is often cited as being the very first British blues album. €17
Kotebel: Omphalos. PAT Records (PAT-002 LP). 2008. 2LP release of this album from 2006 (the 4th in Kotebel's discography). €22
Kraftwerk: Gondel Kino, Bremen, Germany June 25th, 1971. East / West (WEST921). Shipping date: 30/04/15. Splatter yellow vinyl with grey and black speckles. Rare and early Kraftwerk, recorded in Bremen in 1971. Packed in PVC sleeve with flap and OBI strip. Limited to 349 copies, all hand numbered
Kraftwerk: Live. B13 (B168). Street date: 23/08/12. Format: 140 gram LP grey vinyl with blue label in PVC sleeve with red lettering (limited edition 500 copies). "Kometenmelodie 1 & 2" were recorded live in Paris during the Autobahn tour in 1976 and featured the classic Schneider / Hütter / Bartos / Flür line-up. Side B was recorded live in Utrecht in 1981 shortly after the release of their prophetic "Computer World" album. €16
Kraftwerk: Live 1971. B13 (B186D). 140 gram 2LP on clear vinyl in PVC sleeve and multicolored labels (ltd. ed. 500 copies). Nov. 2012. Recorded live at the Gondel Kino (Gondola Cinema) in Bremen, Germany on 25 June 1971 (except for "Interzone" recorded on the TV program Beat-Club on 22 May 1971), with a rare trio line-up of Florian Schneider, Michael Rother and Klaus Dinger (soon to be of Neu!). This LP represents one of the very few recordings in existence of that brief period in Kraftwerk history after Ralf Hutter had temporarily left the band and before Michael Rother and Klaus Dinger went on to form Neu!€28
Kraftwerk: Live At Ebbet Field In Denver, May 20, 1975 / Live At Koeln Sartory Saal, March 22, 1975. B 13 (B196). 25/07/13. Clear white vinyl in a clear PVC sleeve with blue lettering pressed in a limited edition of 500 copies.€16
Kraftwerk: Live at Tribal Gathering, Luton, England on 24th May 1997. B 13 (B215). Brown vinyl, black lettering, limited edition of 500 copies. July 2014.
Krokofant: Krokofant II. Rune Grammofon (RLP3177). 13-11-15. For the description, see the CD section!
Küchen, Martin / Tokar, Mark / Gotesmanas, Arkadijus: Live at Vilnius Jazz Festival. NoBusiness Records (NBLP101). Nov. 2016. Limited edition of 300 records. Recorded live on the 17th of October 2016 at Vilnius Jazz Festival.
Küchen, Martin / Strøm, Jon Rune / Østvang, Tollef: Melted Snow. NoBusiness Records (NBLP 89). Nov. 2015. Limited edition of 300 records. Saxophone / Bass / Drums trio recorded on 9th April 2014 at Skansen Lydstudio, Trondheim, Norway.
Kultivator: Barndomens Stigar. Transubstans Records (TRANSV33B). Street date: 30-05-2016. This is the first vinyl re-issue since 1981 of this sought after disc, with 3 bonus tracks, 1 studio + 2 live. Liner notes by Johan Svard (Drums). This luxurious limited edition (300 copies printed) also includes the four 4 eminent studio recordings from 2008, originally released on the EP "Waiting Paths"! Gatefold sleeve. Available on black or bronze vinyl.
Lacy, Steve: Plays Monk. 180 Gr. LP. €12
Lacy, Steve with Don Cherry: Evidence. Modern Silence (OI010). Street date: 17-06-16. Limited numbered edition of 500 on 180g virgin vinyl.
La Leggenda New Trolls: Concerto Grosso n.3. 2LP ARS/IMM 1015 LP. April 2013. Limited numbered edition of 999 copies. See the CD section for a detailed description
Ladd, Mike: Negrophilia. Thirsty Ears THI 156-2. Unusual for the label, here's a LP version of an album from 2003 by a rapper in good company: keyboardist Vijay Iyer, drummer Guillermo E. Brown, trumpetist Roy Campbell and more yet!
Lamb / Smith / Gotesmanas: The Sea of Modicum. NoBusiness Records (NBLP 106). Sept. 2017. 300 copies limited edition. Recorded live on the 15th October 2016 at Vilnius Jazz Festival
Laraaji & Sun Araw: Professional Sunflow. W.25TH (W25-01). Street date: 16-06-16. First-time collaboration between Laraaji and Sun Araw, two colossal forces in contemporary electronic music. The live performances on this double LP recorded in Germany and Switzerland combine prewritten elements and improvisation. Laraaji's soulful vocals and signature instrument, zither, blend beautifully with the free-floating rhythms of Sun Araw's Cameron Stallones (guitar / keyboards) and Alex Gray (computer synthesis) to shape Professional Sunflow's unique sound: dreamy layers of percussion, ambient textures and vibrant melodies. Released by a new sub-label of Superior Viaduct, focusing on inventive sounds from current artists.
Lasha/Simmons/Jordan/Cherry: It Is Revealed. Doxy ACV (ACV2038). 17/11/14. Recorded in New York City on May, 1963, this improvised session is a rare album! First edition of 500 numbered copies in a deluxe gold laminated jacket.scroll and check definition at Doxy Audiophile
Laswell, Bill: Baselines. Tiger Bay (TB6010). Limited edition running on 45 RPM, pressed on 180 gram LP. Street date: 15-06-17
Latte E Miele: Papillon. Vinyl Magic Red Vinyl (VM168 LP). July 2014. Reissued in a faithful replica of the original edition, including the central 4-page insert which was initially featured inside the LP gatefold cover. First 500 copies come in a lavish red vinyl.
Latte E Miele: Passio Secundum Mattheum (the complete work). Black Widow (BWRCD 165). Street date: 26-03-14. Available in two versions: black vinyl with insert and a 100 copies limited edition on golden vinyl, with insert and memory card. See the CD section for details
Latte E Miele: Passio secundum Mattheum. Vinyl Magic clear orange vinyl (VM165 LP). Nov. 2014.
Le Orme: Ad Gloriam (68). AMS29LP. Street date: 28/07/10. Reissue on 180 Gr. vinyl of the debut album by one of the top Italian prog bands
Le Orme: Collage. Vinyl Magic VM LP173. Release date: 07/07/15. Limited edition on clear vinyl with gatefold sleeve replica.
Le Orme:Contrappunti. Universal LP reissue (2786151). 06/12/11. 180 gr. vinyl & gatefold cover
Le Orme: Felona e Sorona. This new edition, realized 38 years after the original album's release, features the remastered original album and for the first time, the English version, output only for the UK market for the label Charisma . The "Felona e Sorona" 2LP features the original lyrics written specifically at the time by Peter Hammill. It comes packaged in a stylish LP cover which contains a booklet with rare photos and the known discography in Italian and English by journalists and Giammetti Mario Ernesto De Pascale. A rarity to grab quickly!
Le Orme: Felona e Sorona. Vinyl Magic (VM175LP). Oct. 2015. This new reissue is the Italian edition, in a faithful replica of the original edition on transparent green vinyl.
Le Orme: Felona e Sorona. Vinyl Magic (VM178LP). Street date: 11-09-15. Remastered reissue and limited edition of the UK version, pressed on 180 gr. transparent blue vinyl
Le Orme: Florian. Vinyl Magic (VMLP194). Yellow vinyl edition. Street date: 05-05-17
Le Orme: In Concerto. Vinyl Magic (VM LP176). Street date: 28-09-15. Replica of the original '74 release / red & black mixed coloured vinyl edition.
Le Orme: L'Aurora delle Orme (70). AMS30LP. Street date: 28/07/10. Originally released on the old label Car Juke Box, this 2nd effort was a compilation of their singles tracks. 180 Gr. vinyl reissue
Le Orme: Live in Pennsylvania (SBM 0001 LP). 2009. In 2008 Le Orme released a fantastic DVD+2CD of their performance in Bethlehem for the 2005 Nearfest. Now they reprint in a limited edition the triple vinyl of that concert. The 3 tracks making side 6 have never been released before!
Le Orme: Live Orme. Black Widow BWRCD115 (1975-77). 2LP + 10". Nov. 09. Originally released in Japan by Nexus/King Records label over 20 years ago, this new reissue contains various wonderful live performances of one of the most known Italian progressive bands and contains five bonus tracks not included in the original Japanese pressing, gathered here on the 10" LP
Le Orme: Piccola Rapsodia dell'ape. Vinyl Magic (VM195LP). Street date: 11-09-17. Reissue on coloured vinyl, faithful to the original 1980 edition, with gatefold cover and inner envelope with song lyrics.
Le Orme: Smogmagica. Vinyl Magic (VM LP177). Street date: 28-09-15. Replica of the original '74 release / yellow & white mixed coloured vinyl edition.
Le Orme: Storia o Leggenda. Limited edition on clear green vinyl. Vinyl Magic (VM LP193). Street date: 27-02-17.
Le Orme: Uomo di Pezza. Vinyl Magic VM LP174. Release date: 28/07/15. Limited edition on solid blue vinyl with gatefold replica.
Le Orme: Verità Nascoste. Limited edition on turquoise vinyl. Vinyl Magic (VM LP192). Street date: 06-02-17.
Le Stelle Di Mario Schifano: Dedicato a ... Akarma (AK 1008 LP). 28/07/11. New limited 180 gr. vinyl edition of the sole album made by this band from Rome in 1967. The album contains a side-long improvised track on side 1, closer to avantgarde or contemporary music performances than to rock. Side 2 is more conventional, with five short tracks with psych influences.
Led Zeppelin: Live At Fillmore West In San Francisco, January 9th, 1969. B13 (B211). Street date: 14/11/13. Limited edition of 500 copies on white vinyl. €16
Lee, Byron & The Dragonaires: Come Fly With Lee. Dynamite! (DNM14009). 180 gr. vinyl. Street date: 18/12/14. A classic piece of Jamaican ska that's been unavailable on vinyl for ages, by one of the most legendary as well as controversial figures in Jamaican music history.
Lee, Byron & The Dragonaires: The Sounds Of Jamaica. Dynamite! (DNM14010). 180 gr. vinyl. Street date: 18/12/14. 2nd album originally released in 1963
Legrand, Michel: Eva. Doxy Cinematic (DOC 134). Street date: 19-10-16. Limited first press of 500 copies. One of those European 60's soundtracks that simply shouldn't be missed!
Libra: Shock. AMSLP97. Nov. 2015. this LP is the soundtrack of Mario Bava's eponymous film, released in 1977, while the Italian horror cinema was at its peak. "Shock" was released on LP only in 1977 in Italy and Japan, therefore this new AMS Records edition is the first official reissue after nearly 40 years! A small yet important event, celebrated with a colored vinyl encased in a beautiful triple gatefold cover with a marvellous new artwork! The track list also includes four bonus tracks which have been released only on CD until today.
Gaetano Liguori: Collective Orchestra. Black Sweat (BS030LP). Oct. 2016. The Collective Orchestra was a visionary, short-living creative music collective led by Gaetano Liguori, who was one of the main protagonists of Italian free jazz since the early 70s. It was an important attempt to put together young musicians from the two main towns in Italy, and its respective leading figures: Giorgio Gaslini in Milan and Mario Schiano in Rome. The near-telepathic interplay of the core set of Liguori on piano, Roberto Bellatalla on double bass, Filippo Monico on drums, Guido Mazzon on trumpet, and young musicians Edoardo Ricci, Giancarlo Maurino and Massimo Urbani on soprano and alto saxophones, is given a richly expanded sound palette by the addition of Danilo Terenzi on trombone, Roberto Del Piano on Fender bass and Sandro Cesaroni on flute. The sound is strong and freely exploratory, at a level that is completely fresh and very striking, and handled here with a wonderful balance between playful arrangements and fierce improvisations.
Lincoln, Abbey: Abbey Is Blue. 180 gr. LP + download code. Cornbread (CRNBR16015). Street date: 17-11-16.
Lindberg, John & Eraslan, Anil: Juggling Kubla. NoBusiness Records (NBLP 86). Nov. 2015. Limited edition of 300 records. Bass / Cello duo recorded in May 2011 at Downtown Studio in Strasbourg, France.
Locanda Delle Fate: Forse Le Lucciole Non Si Amano Più. Vinyl Magic (VM166LP). Feb. 2014. The reissue of this cult album, faithful in every detail to the original of '77, finally fills a gap that many progressive Italian fans anxiously waited since too long!
Locanda Delle Fate: Homo Homini Lupus. AMS (AMS81 LP). Oct. 2014. Reissue.
Locanda Delle Fate: Live in Bloom. AMS 46 LP (clear orange vinyl). Street date: 30/03/12. This release, only available in LP format, is the last one in the series of official recordings from a magnificent and unforgettable night, the Progvention Festival in Mezzago (Milan, Italy) on November 6th 2010. Of course a limited edition that will run out very quickly!
Locanda Delle Fate: The Missing Fireflies. AltrOck Fading Records (ALTFAD001LP). April 2013. Gatefold sleeve LP. See the CD section for the description of the album
Lou Reed / John Cale / Nico: Le Bataclan '72 Vol.1 Pict. Disc LP (180 Gr.) Get Back GET 122-1P
Lou Reed / John Cale / Nico: Le Bataclan '72 Vol.2 Pict. Disc LP (180 Gr.) Get Back GET 122-2P
Madden & Harris: Fool's Paradise. Akarma 180 Gr. LP AK315LP. This Australian duo is responsible for an exceptional fusion of progressive rock and folk, as the grooves of this album, originally released in a limited edition of 500 copies, prove. Published by Jasmine Records in 1975, Fool's Paradise manages to raise from its folkish background to a fuller rock experience, with the addition of mellotron and vintage keyboards. Dave Madden and Peter Harris are here backed up by a great rhythm section composed by Paul Baker (bass) and Doug Gallagher (drums) for an amazing session that reaches its apex in the suite that gives the name to the album. Impeccable. €16
Magma: K.A. Jazz Village 2LP (JV 33570049.50). 17/10/14. 180gr. vinyl + digital download Wav files (CD Master quality). Free download card included.
Magma: Köhntarkösz. Jazz Village (JV 33570057). 17/10/14. 180gr. vinyl + digital download Wav files (CD Master quality). Free download card included.
Magma: Rïah Sahïltaahk. Jazz Village (JV 33570045). 17/10/14. 180gr. vinyl + digital download Wav files (CD Master quality). Free download card included.
Magma: Slag Tanz. Jazz Village (JV 33570051). Jan. 2015. 180 gr. vinyl edition of the album
Mahjun: Mahjun (1973). Le Souffle Continu (FFL022). Street date: October 2016. 500 copies on black and 200 copies on solid orange vinyl. 350 gr. Gatefold sleeve with Obi Strip and matt printing. Mahjun, one of the most innovative French prog underground bands, made their eponymous classic debut album on the very productive Saravah label in 1973.
Mahjun: Mahjun (1974). Le Souffle Continu (FFL023). Street date: October 2016. 500 copies on black and 200 copies on solid blue vinyl. 350 gr. Gatefold sleeve with Obi Strip and matt printing. On their second eponymous album released by Saravah in 1974, percussionist Nana Vasconcelos joined Mahjun's line up on the 13:40 minutes long track « La Ville Pue » & « Fin Janvier ». Their politico folk prog sound then moved towards an ethnic flavoured psychedelic fusion. First time reissue of this classic and influential album licenced by Saravah.
Mancini, Henry: Breakfast At Tiffany's. Doxy (DOP8007). Street date: 27-10-16. New reissue, this time as picture disc limited edition of 500 copies.!
Mancini, Henry: Breakfast At Tiffany's. Doxy (DOC110). 04/08/14. Limited edition of 500 copies.
Marinetti, F. T.: Futurism On The Gramophone. Sensational Records for Moden Silence (OI-026). Street date: 14-09-17. This 2LP pressed on 180 gram vinyl comes in a special "flap" deluxe gatefold sleeve, an Italian futurist newspaper replica. There wouldn't be probably either John Cage or Musique concrète without the disruptive sound experimentations of the Italian Futurists at the beginning of the 20th century. This album offers a collection of pieces executed by some of the pivotal figures of the "art of noises".
? Marley, Bob: Rasta Revolution. Radiation Reissues Deluxe Series (RAD7010). Street date: 25-08-2016. 180 gram LP reissue. Originally released on Trojan in 1974, it was essentially a re-release of the "Soul Rebels" LP from 1970, with a few extra tracks. This historic release marked Bob Marley & the Wailers first collaboration with Lee Perry and the true beginning of their musical and spiritual commitment to Rastafari. This is Bob Marley and the original Wailers (Peter Tosh & Bunny Wailer) long before they became international reggae superstars with Island.
Marley, Bob: The Jamaican Singles. 10" on the label Dynamite (DNM14005). Street date: 24-03-2016. The very first recording session by Bob Marley, long before he became the international icon of pop culture we all love and remember, took place at Federal Studios in Kingston, Jamaica for local music producer Leslie Kong in February 1962. Two singles were released from that session both on the Beverley's label, the first credited to Robert Marley and the second to Bobby Martell. Both are collected here on this limited edition vinyl 10".
Marley, Bob & The Wailers: Soul Revolution Part II. Doxy Picture Disc (DOP8015). Street date: 01-06-17. This picture disc edition includes two bonus tracks!
Marley, Bob & The Wailers: Soul Revolution Pt. 2. Radiation (RAD7004). Nov. 2015. Released in Jamaica in 1971 and produced by Lee "Scratch" Perry, Soul Revolution Part II is a sequel of sorts to Bob Marley And The Wailers' debut LP, 1970's "Soul Rebel".
Maschera Di Cera: Le Porte Del Domani. AMS 62LP. Jan. 2013. See the CD section for the description!
Maschera Di Cera: S/T (MRL1002LP). Sept. 2015. The fantastic debut album by this band, led by Fabio Zuffanti, is now rehoused in a wonderful gatefold 180 gr. LP version. The band blends powerful vocals, piano, mellotron, organ, moog, 'clavicembalo'-VCS 3 synths, flute, bass/acoustic guitar, drums and create some of the best sounds you have heard out of Italy for a long time.
Massacre: Killing Time. Spittle / ReR (SPITTLE67DLP). 2LP. Street date: 05-01-17. In addition to the original album, first released on Celluloid in 1981, this deluxe 3 sided 2LP includes 8 bonus tracks recorded live between 80 and 81 at The Stone in San Francisco, or Inroads and CBGB's in NYC. Avant-jazz-post-punk-noise of the highest order from several legends and one of the most important projects Frith and Laswell were ever involved in!
Matching Mole: BBC 1972. B 13 (B202). 25/07/13. This LP combines material from three 1972 appearances on the BBC, including two for the legendary John Peel (all previously released in their entirety on CD by Hux Records). White vinyl in a clear PVC sleeve with blue lettering pressed in a limited edition of 500 copies. €16
Matching Mole: S/T. Esoteric (ECLECLP2311). 25/08/14. This Esoteric Recordings limited LP edition on 180 gram vinyl is a facsimile of the original 1972 vinyl release and has been re-mastered from the original CBS master tapes and includes an inner bag with an essay by Sid Smith.
Maxophone: S/T. (75). AMSLP23. 01/02/10. High quality, heavy 180 Gr. vinyl! €20
Maytals, The: Never Grow Old. 180 gram LP on the label Dynamite (DNM14013). Street date: 19/02/15. Real authentic ska from the source, with the legendary Skatalitesbacking!
MC5: I Can Only Give You Everything b/w One Of The Guys. Radiation Reissues (RADRSD005). Picture disc 7", hand numbered limited edition, 2017 Record Store Day Exclusive.
McDonald and Giles: S/T. Klimt Records (MJJ353CC). Street date: 04-08-16. Limited edition of 500 copies on 180 gram clear vinyl with a gatefold sleeve.
McDonald and Giles: S/T. Klimt Records (MJJ353LP). Gatefold LP with inside pocket. Jan. 2013. This much appreciated album also featured Michael Giles' brother Peter (from their days with Giles, Giles & Fripp) and guest musician Steve Winwood, whose keyboard playing can be heard on "Turnham Green". €16
John McLaughlin & the 4th Dimension: Now Here This. Abstract Logix. October 2012. New studio album available on a 180 gr. double vinyl Limited Collectors Edition + Download + free CD. This collector's pack includes an original signed photograph of John McLaughlin, a 4 page center fold photo, handwritten score of one tune and commentary from John McLaughlin on every piece from this album!
Mendes, Sergio & Bossa Rio: Você Ainda Não Ouviu Nada! Doxy ACV (ACV2025). 08/08/14. A numbered limited edition of 500 copies pressed on Audiophile Clear Vinyl (ACV).
Messaggio 73: Una Ragione Per Vivere. AMS132LP. Street date: 14-07-17. Originally released on Rusty Records label in 1976, Messaggio 73's album has already been reissued on CD by AMS Records in 2012, and it's finally made available for the very first time ever on LP format in a faithful reproduction of the original version.
Misha Mengelberg / Steve Lacy / George Lewis / Arjen Gorter /Han Bennink: Change Of Season (Music of Herbie Nichols). Soul Note (SN521003). 180 gram LP + bonus CD of the album. Jan. 2013. Recorded in 1984.
Messaggio 73: Una Ragione per Vivere. AMS132LP. Street date: August 2017. Originally released on the Rusty Records label in 1976, Messaggio 73's album has already been reissued on CD by AMS Records in 2012, and it's finally made available for the very first time ever on LP format in a faithful reproduction of the original version. An important reissue for a minor but nonetheless fundamental piece in the vast world of Italian progressive rock.
Metabolisme: Tempus Fugit. Replica (RPC025). Street date: 23-02-17. Pressed on 18o gr. vinyl. Released in 1977, Tempus Fugit - the unique album from the French progressive rock band Metabolisme - is a treasure for those who love lush organs in the style of YES, sophisticated guitars à la Uriah Heep and French vocals à la Mona Lisa
Metamorfosi: ... E Fu Il Sesto Giorno. Vinyl Magic VMLP003. Deluxe edition of the debut album by this band from Rome, originally released in 1972 on the Vedette label. It has already most of the elements of "Inferno", with the peculiar voice of Jimmy Spitaleri, the strong rhythm section and the classical influenced keys, but you can also note some slight late 60's influences here. Very rare in original format, this is the first vinyl reissue ever and comes with great remastered sound, replica of the original gatefold cover and label, limited to 500 copies!
Metamorfosi: Inferno. New deluxe LP reissue for the band's unique Italian prog-rock opera and concept album from 1973! Superb gatefold cover LP edition with 180 gr. vinyl, all lyrics in the inner sleeve and original LP labels.
Mike Westbrook Concert Band, The : Celebration. Klimt Records (MJJ368LP). Street date: 21/11/13. Originally released on Deram in 1967, Celebration is one of the most important albums of the 1960s British progressive and avant-garde Jazz scene. The Mike Westbrook Concert Band included some of the UK's most important jazz figures of the time, including John Surman, Mike Osborne, and Harry Miller. Available once again on LP for the first time in over 40 years. €16
Miles Davis Sextet, The: Jazz At The Plaza. Doxy (DOX898LP). 22/08/13. Another fine live recording from 1958, recorded at the Edwardian Room of the Plaza Hotel for a bunch of record biz execs celebrating the success of Columbia Records jazz division. €16
Miles Davis Quintet, The: Workin'. Rumble Records (RUM2011134LP). Street date: 02-03-17.
Miles Davis Quintet Together With Gil Evans Orchestra: At Carnegie Hall. Doxy ACV 2LP (ACV4003). Street date: 16/06/14 (scroll and check definition at Doxy Audiophile).
Mingus / Roach / Dolphy / Eldrige / Jones: Newport Rebels. Cornbread (CRNBR16030). 180 gr. vinyl + download code. Street date: 26-01-17. Recorded over only two sessions at New York's Nola Penthouse Studios, this Newport Rebels group put together a fine piece of post-bop that, despite its rather bitter beginnings, deserves to be more well known.
Mingus, Charles: Jazz Composers Workshop. Doxy (DOX883LP) 180 Gr. vinyl. Feb. 2013. €16
Mingus, Charles: Jazz Composers Workshop #2. Doxy (DOX884LP) 180 Gr. vinyl. Feb. 2013. €16
Mingus, Charles: Mingus Mingus Mingus Mingus Mingus. Jeanne Dielman (JD102). 17-03-16. Reissue on a new label of this legendary experiment in a large group setting. Featuring an 11 piece group with new arrangements on some of his most well known compositions, this album is one of Mingus' most timeless and influential releases.
Mingus, Charles: Mingus Plays Piano. Superior Viaduct (SV066). April 2015. This long out-of-print vinyl release has been carefully remastered from the original master tapes.
Mingus, Charles: Reincarnation of a Love Bird. Doxy (ACV2055). May 2015. Limited first press of 500 numbered copies. (scroll and check definition at Doxy Audiophile).
Mingus, Charles: Right Now. Doxy ACV (ACV2071). Street date: 25-07-16. With Clifford Jordan on tenor, John Handy on alto, Jane Getz on piano, and Dannie Richmond on drums, Charles Mingus went into San Francisco and whipped up a storm. This LP contains two compositions over 23-minutes each: "New Fables" and "Meditation (For A Pair Of Wire Cutters)". Numbered first press of 500 copies.
Mingus, Charles: Shadows. Doxy Cinematic (DOC 125). Nov. 2015. For the first time on vinyl the great score composed by Charles Mingus for the legendary 1959 directorial debut of John Cassavetes "Shadows". Limited edition of 500 on shady transparent vinyl.
Mingus, Charles: The Black Saint and The Sinner Lady. Superior Viaduct (SV065). April 2015. This long out-of-print vinyl release has been carefully remastered from the original master tapes.
Mingus, Charles: The Eldridge Session. Doxy ACV (ACV2068). Street date: 21-11-16. Taped during the apex of Mingus' creativity, this incredible session showcase such stars as Eric Dolphy, Roy Eldridge, and Tommy Flanagan. Limited first edition of 500 numbered copies
The Charles Mingus Quintet + Max Roach: S/T. Doxy (DOX863LP). Street date: 17/05/12. 180 gr. vinyl reissue. Recorded at Greenwich Village's Café Bohemia on December 23rd, 1955, this brilliant live performance is an example of Mingus' well-known Jazz Workshop period, with Mal Waldron on piano, while George Barrow and Eddie Bert play tenor sax and trombone, respectively.€16
The Charlie Mingus Quintet: Chazz! ACV2012. May 2014. A numbered limited edition of 500 copies pressed on Audiophile Clear Vinyl (ACV). (scroll and check definition at Doxy Audiophile). Performed before a live audience at New York's Club Bohemia on December 23, 1955 and featuring Mal Waldron on piano.
Mo.Do.: La Scimmia sulla Schiena del Re. AMS (AMS 116LP). Street date: 27-05-16. The album, almost entirely instrumental - probably only known to the Italian progressive rock 'aficionados' for Walter Locatelli's presence on drums, a former Dalton member - consists of eight tracks for about 35 minutes, mainly divided among acoustic sensations, slow atmospheric moments and more sustained and complex ones, mostly recalling of PFM and Gentle Giant. Originally released in 1980, the LP is not affected at all by the 'synthetic' influences, which were very popular at the time; indeed it recovers a progressive 'classical tradition' that was practically lost in those years, a choice that unfortunately will soon lead the group to be ignored and to consequently split up.
Mockunas, Liudas: Hydro. NoBusiness Records (NBLP 110). Sept. 2017. Limited edition of 300 copies. Partly recorded at the Latvian National Radio Studio in November 2015 and at Mama studios in December 2016
Modern Jazz Quartet, The: At Music Inn - Guest Artist: Jimmy Giuffre. Doxy ACV2060. Street date: 18-01-16. A numbered limited edition of 500 copies pressed on Audiophile Clear Vinyl (ACV). (scroll and check definition at Doxy Audiophile).
Moggi aka Piero Umiliani: Omaggio ad Einstein. Dagored (RED303C). Shipping date: 03/06/15. Deluxe limited edition (500 copies) on yellow vinyl, with a special "big hole" custom jacket. In this homage to the German physicist, Umiliani subverts the rules of space and time in music and creates an album with 23 compositions, all of them less than 2 minutes long, instead of following the traditional 7-10 tracks usually present in an LP. This is an original and experimental album, with a peculiar and epic catchiness, tied to Piero Umiliani's masterful use of synthesizers and great experience in the field of soundtracks. Also available on a simple black vinyl edition (RED303)
Monk, Thelonious: In Italy. Doxy ACV (ACV2044). 26/01/15. Recorded Live in Milan April 21, 1961. First edition of 500 numbered copies. (scroll and check definition at Doxy Audiophile)
Monk, Thelonious: Monk in France. Doxy (DOX901LP). 26/09/13. Thelonious Monk and his quartet spent a good chunk of 1961 touring Europe including this date, recorded at Olympia in Paris on April 18th.
Monk, Thelonious: Monk's Music. Doxy ACV (ACV2081). Street date: 19-10-16. Album from 1958. First edition of 500 numbered copies.
Monk, Thelonious: The Unique Thelonious. Jeanne Dielman (JD109). Street date: 26-05-16. Released in 1956, this album was the legendary pianist's second LP for the Riverside label, a piano trio LP made up of standards
Monk, Thelonious: The Unique Thelonious. Cornbread (CRNBR16031). Street date: 16-03-17. New reissue, this time on 180 gram vinyl + download card
Thelonious Monk & John Coltrane: At Carnegie Hall. ACV2017. May 2014. Numbered limited edition of 500 copies pressed on Audiophile Clear Vinyl (ACV). (scroll and check definition at Doxy Audiophile)
The Thelonious Monk Quartet with Johnny Griffin: Thelonious In Action. Dom-Ermitage (VNL12229LP). Street date: 26-05-16. Originally released in 1958, Thelonious In Action is a stunning live bop set from the legendary jazz club, The Five Spot Café. With Ahmed Abdul-Malik on bass and drumming hero, Roy Haynes.
Thelonious Monk With Sonny Rollins & Frank Foster : Monk. Doxy (DOX853LP). Jan. 2014. Features a cover artwork by Andy Warhol, 1954. This album also had Art Blakey on drums and features Julius Watkins on French horn, as well as trumpetist Ray Copeland. €16
Thelonious Monk / Gerry Mulligan: Mulligan Meets Monk. Doxy ACV (ACV2076). Street date: 19-10-16. First edition of 500 numbered copies.
Monkey Plot: Here I Sit, Knowing All of This. Hubro (HUBROLP3583). Street date: 26-08-16. On their third album the guitar, bass and drum trio Monkey Plot are going electric again after having cultivated a purely acoustic sound for several years. Their music still evokes an impression of intimacy, although the band's roots in rocking improvisational music now come more clearly to the fore.
Moon Relay: Full Stop Etc. Hubro (HUBROLP3579). Street date: 26-08-16. The rock quartet Moon Relay plays instrumental music that evokes hallucinations, dancing and thought forays into a fairy-tale world. The band's members draw inspiration from a variety of genres, including the psychedelia of the 60's, krautrock, techno, no wave, surf rock, free jazz, electroacoustic music and the studio experiments of Joe Meek.
Moongarden: Voyeur. Ma.Ra.Cash Records (MRCLP005). LP version of the album, presented in a spectacular gatefold with illustations made by Ed Unitsky.
Morgan, Derrick: Forward March. Dynamite (DNM14002). 180 Gr. LP. Street date: 22-05-14. Originally released in 1962, "Forward March!" is the first long player from one of Jamaica's biggest stars of the early 1960s, who at one point occupied the first seven spaces on the JA pop chart! Included here is his biggest hit of all, rounded out with the title track - a huge influence on the 2-Tone movement - and 9 more classic sides of early ska.
Morricone, Ennio: A Fistful of Dollars / Per un Pogno di Dollari. 10" EP GDM (GDMEP6502). Oct. 2014. Limited edition of 500 copies on Deluxe purple vinyl. Plays on 45 rpm! Also included is a 26x26cm mini poster. Gatefold cover.
Morricone, Ennio: Amanti d'Oltretomba. Overdrive Records (ODR034LP). Street date: 16-06-16. First time on vinyl ever, released on 180g coloured vinyl. Taken from the 1965 horror-goth movie directed by Mario Caiano as Allan Grunewald, a very sparse and dark soundtrack with luscious orchestration.
Morricone, Ennio: Città Violenta. Dagored (RED223C). Nov. 2015. Complete edition for first time ever on vinyl, limited edition of 1000 copies on funky green vinyl.
Morricone, Ennio: Death Rides A Horse (Da Uomo a Uomo). Dagored (RED244). Street date: 24-10-17. First time complete edition on double vinyl limited edition of 500 copies on colored vinyl! It contains an insert with tracklist and original movie photos
Morricone, Ennio: Eat It (Mangiala) O.S.T. Cinedelic (CNST704). Street date: 01-12-16. Limited edition LP + highly rigid hand-glued Cinedelic cover with a folder insert of 4 facades with photos from the movie. Soundtrack of a film from 1969
Morricone, Ennio: Escalation. Dagored (RED214). 02/03/15. Limited edition of 500 copies on transparent yellow vinyl!
Morricone, Ennio: Female. Black Cat (BCR0111). Nov. 2014. A Musical Journey into the World of Women, achieved by selecting songs from film music by the great Ennio Morricone
Morricone, Ennio: Gi' la Testa. AMSLP96. Oct. 2015. This title closes the series of AMS Records / Vinyl Magic reissues dedicated to the Leone / Morricone collaboration, with the usual new graphic layout, a 60x30cm poster with flyers and lobby cards and an orange/gold colored vinyl.
Morricone, Ennio: Gli Intoccabili. AMS LP84. 12/06/15. One of many hidden gems by Morricone, here presented in a gatefold LP cover with a completely renewed artwork and a 30x30cm poster with vintage flyers and lobby cards.
Morricone, Ennio: I Pugni in Tasca. Dagored (RED221C). Shipping date: 28/09/15. Ennio Morricone, for Marco Bellocchio's masterpiece debut film I Pugni in Tasca, composed some mysterious and obsessive music for soprano voice, harp, harpsichord, strings, alternated to lounge music of the period, swing and jazz, creating a great contrast with the dark mood of the movie. This complete edition is first time ever on vinyl, pressed on blue vinyl and limited to 1000 copies
Morricone, Ennio: Il Diavolo nel Cervello. AMS85LP. 26/06/15. Soundtrack of a film directed in 1971 by Sergio Sollima. Solid red & purple mixed vinyl edition.
Morricone, Ennio: Il Mio Nome è Nessuno. AMS LP66. Release date: 24/07/15. Following the success gained by the first press of this item, especially released for the Record Store Day 2015, "Il mio nome è Nessuno" (My name is Nobody) is now reissued with a new artwork and on black vinyl, still including a 60x30cm poster with flyers and lobby cards.
Morricone, Ennio: Il Prefetto Di Ferro. Dagored (RED208P). Picture Disc. Street date: 09-11-17.
Morricone, Ennio: Indagine su un Cittadino al di Sopra di Ogni Sospetto. AMSLP94. Sept. 2015. Despite the prizes earned by the film - including the Academy Award for best foreign film - Cinevox only released a 45rpm with the main theme of the film at the time, and a first "full-version" of the soundtrack was only published in the 80's. This new edition fills some other gaps, by including a specially selected tracklist, a never seen before artwork, a gatefold cover with extensive notes and a 30x30cm poster with a vast reproduction of lobby cards and posters of the film. Pressed on 180gr. gold & black mixed coloured vinyl.
Morricone, Ennio: L'alibi. Dagored (RED242). Street date: 24-08-17. For the first time, here's the complete score on vinyl in a strictly limited edition of 500 units pressed on green vinyl! The score brims with 60's coolness, lots of cheerful tunes, some pop arrangements, some lounge jazz, some dazzling vocals, all of them featuring that unmistakable Morricone air. It?s light music, highly entertaining, listenable throughout and full of delightful little touches.
Morricone, Ennio: La Califfa. Vinyl Magic (VMLP189). Street date: 23-09-16. Limited edition on 180 gr. pink vinyl. For this reissue and except for the front cover image, the artwork has been completely renewed; the inner sleeve contains in fact many reproductions of posters and lobby cards of the film. Various tracks, never released on LP until today, have also been added to the final tracklist.
Morricone, Ennio: La Classe Operaia Va in Paradiso. Goodfellas (GFOST001LP). Street date: 02-11-16. One of the most sought-after soundtracks of Morricone's experimental side, as you might know by the original tribute set by John Zorn for "Big Gundown" in 1986.
Morricone, Ennio: La Cugina. Overdrive Records (ODR036LP). Street date: 16-06-16. First time on vinyl ever, released on 180g coloured vinyl "La Cugina" is the soundtrack of one of the most sought after Italian Sexy Comedies. Music composed, orchestrated and conducted by Morricone. Jazzy and lush textures featuring Choir I Cantori Moderni di Alessandroni, Oscar Valdambrini on flugelhorn, and Edda Dell'Orso on vocals.
Morricone, Ennio: La Proprietà Non è Più un Furto. Goodfellas (GFOST003LP). Street date: 02-03-17. Another fantastic Morricone soundtrack back in print on vinyl for the first time since its original release in 1973.
Morricone, Ennio: La Resa dei Conti. Contempo (CO2004-2LP). Dec. 2014. Ennio Morricone delivered more dramatic conflict on his score for the 1968 Western La Resa Dei Conti, this time mixing in a bit of atmospheric formlessness among his more romantic and orchestral sounds. There are some vampiric-sounding organs as well as one of those ascending, judgement day tunes that's expected from a Western: the strings come into play and the choir gets heavy with the tension. Comes in two separate LPs sold together in a deluxe pvc sleeve. The first one is the exact reissue of the original album. The second contains 11 bonus tracks here released on vinyl for the first time.
Morricone, Ennio: La Trappola Scatta A Beirut. EP 10" (GDM EP6707). Street date: 14-09-15.
Morricone, Ennio: La Vita a Volte... Vero Provvidenza? (GDM LP6706). Coloured 180 gr. vinyl edition. Street date: 14-09-15.
Morricone, Ennio: Le Due Stagioni della Vita. Vinyl Magic (VMLP190). Sept. 2016. This reissue is the first ever on LP since the original one published in 1972. Limited edition on 180 gr. white vinyl.
Morricone, Ennio: Le Foto Proibite Di Una Signora Per Bene. Dagored (RED202P). Picture Disc. Street date: 12-10-17.
Morricone, Ennio: Le Foto Proibite Di Una Signora Per Bene. Dagored (RED202). June 2014. Soundtrack to an obscure Italian thriller from the 70's. Limited edition of 500 copies
Morricone, Ennio: Le Pistole Non Discutono. GDM LP6704. Release date: 23/06/15. Western from 1964, whose soundtrack has been remastered from the original mono tapes
Morricone, Ennio: L'istruttoria È Chiusa. Dimentichi. Contempo (CO2005LP). Dec. 2014. Original soundtrack from the film directed by Damiano Damiani; this is one of the best experimental scores composed by the Maestro, with an avantgarde style that reminds his works with Gruppo di Improvvisazione Nuova Consonanza. Here are the complete recordings, including two bonus tracks, remastered from the original analog tapes. Master and sound restoring done by Roberto Zamori at Film Music Art Studio. Beautiful gatefold sleeve cover artwork done with the original movie poster.
Morricone, Ennio: L'uccello dalle Piume di Cristallo. AMS36LP. Red vinyl. May 2014. For this soundtrack of a Dario Argento movie, the maestro adopted a particular style that draws heavily on contemporary music and on the studies of his Gruppo di Improvvisazione Nuova Consonanza. First 500 copies are in red vinyl with a special 30x30cm insert resuming the best international flyers and lobby cards of the movie.
Morricone, Ennio: Maddalena. GDM LP6703. Release date: 23/06/15. Soundtrack of an Italo-Yugoslavian production from 1971, directed by Jerzy Kawalerowicz. Remastered from the original stereo analog tapes, reprinted in a new design layout and including as bonus a track originally issued as single.
Morricone, Ennio: Metti, una Sera a Cena. AMS95LP. Sept. 2015. This edition offers the original soundtrack released in 1969 on Cinevox Record in a new artwork, gatefold cover and colored vinyl. A bonus track is also included, the song "Hurry to me" sung by The Sandpipers, a folk/pop trio who became famous at the time for their version of the popular "Guantanamera".
Morricone, Ennio: Nuovo Cinema Paradiso. AMS LP88. Release date: 13/07/15. Limited edition on solid purple & clear transparent mixed vinyl, in a gatefold cover with new artwork, also including a 30x30cm poster with flyers and promotional lobby cards. A must for any self-respecting movie maniac, presented in a LP format after more than 15 years!
Morricone, Ennio: Nuovo Cinema Paradiso. AMS LP088. March 2016. After the coloured vinyl version last year comes now the 180 gr. black vinyl edition with gatefold cover
Morricone, Ennio: Once Upon a Time in the West / C'era una Volta il West. GDM (GDMLP6503). Oct. 2014. Limited edition on Deluxe orange Mixed vinyl. This reissue comes in a splendid gatefold package, with a 30x30cm inlay poster.
Morricone, Ennio: Queimada. AMS LP87. Release date: 13/07/15. Limited edition on clear & orange mixed vinyl with many bonus tracks, enclosed in a cover gatefold with a completely renewed artwork and a 30x30cm poster with film flyers and lobby cards reproductions.
Morricone, Ennio: Questa Specie d'Amore. Vinyl Magic (VMLP185). 29-01-16. Clear blue vinyl edition. This reissue is the very first ever on vinyl, and presents a renewed artwork and includes all the sixteen cuts of the complete edition of the soundtrack.
Morricone, Ennio: Revolver. Dagored (RED220C). Shipping date: 31/07/15. New edition with extra tracks, limited to 500 copies, pressed on white and red splatter vinyl. Revolver is one the finest Ennio Morricone thriller scores, composed in 1973.
Morricone, Ennio Feat. Joan Baez: Sacco e Vanzetti. Goodfellas (GFOST002LP). Street date: 02-11-16. Featuring the track "Here's To You" made famous by Joan Baez, this is one of the most classical oriented scores composed by the Maestro, with large strings arrangements and classical guitar parts.
Morricone, Ennio: Spasmo. This great score for Umberto Lenzi's 1974 cult thriller will be a Store Day Release from the label Dagored, presented in two limited editions and artwork (500 copies): The Mouth Edition, on RSD electric blue vinyl (RED216X) and the Hand Edition, on RSD clear blue vinyl (RED216Y). Street date: 23/03/15
Morricone, Ennio: Teorema. Vinyl Magic (VMLP188). Sept. 2016. This reissue faithfully reproduces the original 1968 version, and is printed in a limited edition on 180 gr. transparent lime coloured vinyl.
Morricone, Ennio: Tepepa. Vinyl Magic (VMLP184). 29-01-16. Clear orange vinyl edition of this soundtrack of a spaghetti western dominated by strings and, curiously, by the acoustic guitar!
Morricone, Ennio: The Big Gundown (La Resa Dei Conti). Dagored (RED211). 15/01/15. Limited numbered edition of 500 copies on splatter vinyl (black with sand Speckles). Free poster inside. Complete remastered edition.
Morricone, Ennio: Vergogna Schifosi. Vinyl Magic (VMLP187). Sept. 2016. This Vinyl Magic reissue faithfully reproduces the original 1969 version, and is printed in a limited edition on 180 gr. solid gold coloured vinyl.
Morricone, Ennio: Veruschka. Dagored (RED201P). Picture Disc. Street date: 09-11-17.
Morricone, Ennio: Veruschka. Dagored (RED201G). Street date: 02-11-16. Another reissue, this time in a new 2LP limited deluxe gatefold edition, pressed on pink and white vinyl.
Morricone, Ennio: Veruschka. Dagored (RED201). June 2014. Ennio Morricone's famous soundtrack composed for the 1971 Franco Rubartelli documentary Veruschka, Poesia di una Donna, about the legendary Veruschka, the world's first supermodel, a real 60's/70's icon, who appeared in several cult movies; limited edition of 500 copies
A. Mossolov / J. Cage / E. Varese / H. Cowell / O. Luening / H. El-Dabh / V. Ussachevsky / H. Jacobs : Sounds Of New Music. Modern Silence (OI023). Limited edition on 180 gram vinyl. Street date: 18-04-17. Sounds of New Music is a legendary collection of 18 compositions from the 20's to the mid-50's, representing attempts at a "new means of musical expression".
Mothers Of Invention, The : FZ at Artisan. B13 (B152). 07/12/11. 140 gram LP Clear vinyl in transparent PVC sleeve with blue lettering; limited edition 500 copies. Recorded live between October 1968 and May 1969, these tracks were chosen, produced and mastered by Frank Zappa himself at Artisan Sound in Hollywood, CA in mid-1969. The album includes rare live versions of tracks recorded during The Mothers' first European tour (Autumn 1968) and at various locations around the USA (mostly in 1969). €16
Paul Motian Trio: One Time Out. Soul Note (SN521001). 180 gram LP + bonus CD of the album. Jan. 2013. A truly unique trio in the history of modern jazz, the legendary Paul Motian (drums), along with the magnificent Bill Frisell (guitar) and Joe Lovano (tenor sax), represent the perfect balance between tradition and innovation.
Moving Gelatine Plates: S/T. Replica (RPC11). Street date: 03/09/15. Reissue of the debut album by this French progressive band
Moving Gelatine Plates: The World Of Genius Hans. Replica (RPC017). 180 gr. vinyl re-issue. Street date: 14-04-2016.
Moving Sidewalks, The: Flash. Klimt (MJJ301CP). Street date: 04-08-16. Limited edition of 500 copies on 180 gram pink vinyl LP. This 1968 release of Flash is the only famous album by this Texas trio, featuring a young Billy Gibbons, later of ZZ Top fame, and it includes 5 bonus tracks from the CD reissue.
Gerry Mulligan & Paul Desmond : Quartet. Doxy (DOX867LP) 180gr. LP. 28/06/12. Recorded in August 1957, this was Mulligan and Desmond's first collaborative effort. A blend of standards and original compositions like Desmond's "Blues In Time", and Mulligan's hit song "Line For Lyons", Quartet is an absolute classic of Cool. €16
Murple: Il Viaggio. 180 gram vinyl & gatefold cover. AMS (AMS80LP). Oct. 2014.
Murple: Io Sono Murple. AMS 44 LP. Vinyl reissue with the same gatefold cover and insert as the original from 1974. The first 300 copies are pressed in green vinyl.
Murray, David: Ming. Black Saint Dig-A-Log (BS520003). 180 gram LP + CD. Oct. 2012. A key work in Murray's discography and his debut as leader of this historic octet. €17.
Musci, Roberto: The Loa of Music (The Complete Sessions). Soave 2LP (SV03-04). Street date: 15-06-17. Recorded in 1983, the project originally had 80 minutes of music but only half was released on the original LP. Soave has pressed for the first time the Complete Recording Session from original tapes of this phenomenally ambitious masterpiece that entirely refuses the well trod path - distilling a remarkable range of sonic reference and reality. A work of field recording, musique concrète, electronics, synthesis, and instrumentation, pulling from countless musics from across the globe, the result is nothing short of brilliant and stunningly beautiful. Ambiences ripple, sounds and voices converse in a vision of unity that may only exist within sonic realms. Unquestionably seminal, and one of the most important works to emerge from Italy in the last 50 years.
Museo Rosenbach: Zarathustra (73). Sony/Bmg 88697428191. 30/01/09. One of the masterpieces of Italian progressive rock finally reprinted on 180 gr. vinyl with digital remastered sound! Gatefold sleeve. €21
Mushroom: Early One Morning. 180 gram LP. AK328LP. Originated in Dublin in 1972, Mushroom were one of the top folk prog Irish bands of the period. A collector's item, Early One Morning is now reissued with four bonus tracks that were originally released as singles. €16
Mystery: Delusion Rain. 2LP. Street date: 22-09-17. Limited edition of 150 copies on 180 gram green vinyl
Møster!: When You Cut Into The Present. Hubro (HUBROLP3565). 11-09-15. For the description, see the CD section!
Napoli Centrale: S/T. Sony reissue. Feb. 2017. Digital remaster, for the first time at 192 khz and 24 bit. From the original master tapes!
Nazoranai: Beginning To Fall In Line Before Me, So Decorously, The Nature Of All That Must Be Transformed. W.25TH (W25-02). Street date: 05-10-17. Nazoranai is the supergroup of Keiji Haino, Oren Ambarchi and Stephen O'Malley. On the trio's third album, Nazoranai explore two side-long tracks of superb abstraction. Ambarchi and O'Malley provide the perfect brute-rock rhythm section to Haino's recklessly pure expression through instrument and voice. Blurred noise, dark hurdy-gurdy and thunderous harmonics build an accretive mantra of jagged electricity.
Necromonkey: A Glimpse Of Possible Endings. Pancromantic (PLP 2019). Nov. 2015. Newly mastered edition, limited to 200 copies on solid orange and gold coloured vinyl and released in a gatefold sleeve.
Nektar: Down to Earth. Sireena Records (SIREENA4015). 12/03/12. 1974's "Down To Earth" with Hawkwind friend Robert Calvert acting as ringmaster for the progressive circus is a tremendous listen. This edition also includes the reproduction of a classic live Nektar Poster
Nektar: Remember The Future. Sireena Records (SIREENA4011). Street date: 15/06/11. This edition comes in 180 gram heavy-weight vinyl and includes a reproduced Promo 7" Single with two radio versions. For the very first time! "Remember The Future" was originally released in 1973 and for many fans it always has been the masterpiece by the anglo-German band
Nero, Leo: Vero. AMSLP22. Street date: 20/01/2010. Behind this name is in fact keyboardist Gianni Leone, here in 1977 starting a solo career after the disbanding of his band Il Balletto di Bronzo . The album was recorded in New York in 1976 and is reissued for the very first time on a great sounding 180g high quality vinyl! (it had shortly previously seen a limited vinyl reissue in Japan). The album is totally played and sung by Leo himself; the sound is mainly keyboard based but Leone played drums, minimoog bass lines and even guitar on some tracks. €20
New Trolls: Concerto Grosso. Deluxe LP Vinyl Magic VMLP129. May 2008. Here's a limited, wonderful reissue of the original album from 1971, with its gatefold cover and original label replicas. €17,50
New Trolls: S/T. Vinyl Magic 180 Gr. LP VM133LP. Sept. 08. The songs of this 2nd album from 1970 are still a pleasure to listen today; they are real beat and psych inspired killers, highlighted by great vocal harmonies and an Hendrix-inspired guitar playing. Not yet prog but catchy and well crafted! €18
New Trolls: Searching For A Land. Vinyl Magic 2LP (VMLP139). May 2009. Brilliant reissue of the 1972 double album by Italian prog hitmakers, mostly sung in English. One of the 4 sides is a live recording. This wonderful reissue is an exact replica of the original, with the gatefold cover with top flap. A very nice collectable. 180g vinyl.
New Trolls: Senza Orario, Senza Bandiera. Vinyl Magic 180 Gr. LP VM130LP. Sept. 08. Finally on LP again the legendary New Trolls debut album from 1969! The lyrics where written for them by singer songwriter Fabrizio De André, while music arrangements were due to a man that would become the producer of Le Orme! €18
New York Contemporary Five, The: Consequences. Modern Silence (OI025). Street date: 15-06-17. The stellar frontline of Don Cherry, Archie Shepp, and John Tchicai all being relative newcomers at the time. Cherry had recently left Ornette Coleman and was only starting to stretch into world music. Shepp was fresh off a stint with Cecil Taylor and had just found his voice as a composer and performer. And Tchicai was virtually unknown, period.
Nico: Heroine: Manchester Library Theatre 1980. Tiger Bay (TB6041). Street date: 14-09-17. Pressed on 180 gram vinyl, here is a 14 track-acoustic album, an incredible collection of some of Nico's most haunting songs! Includes the bonus track "Reich Der Traume", released for the first time on vinyl.
Nico: Live In Tokyo 1986. Radiation Reissues (RRSCV002). Featuring a backing band that includes synthesizer, conga drums, and more, this dark, smoky concert feels like proto-cold-wave and though 30+ years old could easily fit into the indie zeitgeist of today. With a set list that spans the whole of her career going all the way back to her beginnings in the Warhol Factory, this live set show that Nico, though unfortunately near the twilight of her life, was nowhere near the twilight of her talent. An amazing live set on hand numbered limited edition splatter vinyl LP for Record Store Day 2017.
Nicolosi, Roberto: Black Sabbath (I Tre Volti della Paura). Dagored (RED236). Deluxe limited edition of 500, pressed on transparent vinyl, with plastic insert. Street date: 02-03-17. Complete stereo version including extra tracks, present for the first time on vinyl. This is the soundtrack composed for the super cult horror film Black Sabbath. A lyrical pathos alternates with unexpected asymmetrical musical strings and some funeral organ chords mixed to more psychedelic musical moments and glorious chamber music orchestrations.
Nilovic, Janko: Funky Tramway. Vadim Music (VAD036LP). 180gr. LP. 05/07/11. Doted with a great reputation and very stable value in the often fluctuating rare groove market, Funky Tramway is often considered to be one of the rarest and most well developed of Janko Nilovic's records, easily rivalling his famous cult album Rythmes Contemporains. €17
No-Man: Returning Jesus. Reissued on the Tonefloat label in a lavish triple vinyl format, No-Man's acclaimed 2001 album has never looked or sounded better. The first two LPs comprise a re-mastered version of the existing album as well as all the EP tracks officially released during the period. The third LP contains previously unreleased alternate versions and demos made during the five year period Returning Jesus was being recorded. The initial limited edition of 500 copies is available on 180 gram marbled multi-coloured vinyl housed in a deluxe gatefold sleeve.
No-Man: Schoolyard Ghosts. May 2008. A special limited edition of only 1.000 copies worldwide is pressed on coloured 180 grams double vinyl, and housed in a numbered cardboard slipcase, that also contains a full-colour 16page 12x12inch picture booklet, plus a 7inch with three exclusive schoolyard ghosts demos, written and recorded by Tim Bowness.
No-Man: Speak. Burning Shed. Deluxe 180 gram heavyweight vinyl edition in a lavish gatefold sleeve. The first 500 copies are pressed on marbled multi-coloured vinyl, and include an additional one-sided bonus 12" featuring the CD bonus track The Hidden Art Of Man Ray. Considered by Steven and Tim to be one of their finest works, the tracks date from the very earliest years of the band (1988-89), but were subject to re-recording and re-mixing in 1999.
No-Man: Together We're Stranger. This new 180g white vinyl version of the album comes in a deluxe gatefold sleeve and contains a previously unreleased 'drum' mix of "The Break-up For Real" and the album outtake "bluecoda".
Norman Haines Band, The: Den Of Iniquity. Acid Nightmare Records (ANM011). 03/07/14. Limited LP edition. One of the most sought after releases of the Progressive Rock era, Den of Iniquity was the only album recorded by the band and was a dark and heavy affair with superb compositions that included a reworked version of Mr. Armageddon (previously recorded by Locomotive), the excellent title track and the epic thirteen minute long Rabbits . Issued on the Parlophone imprint in 1971, the album was available for a few short months before being deleted. This high quality vinyl reissue on the Acid Nightmare label fills that gap in any respectable Prog Rock vinyl collection. This is strictly limited to 400 copies, with fully restored and remastered sound!
Nu Band, The: The Final Concert. NoBusiness Records (NBLP 99). Nov. 2016. Recorded on the 17th of March 2012 at Jazz im Sägewerk, Bad Hofgastein, Austria. Roy Campbell, Jr. (trumpet, flugelhorn, pocket trumpet, flute), Mark Whitecage (alto saxophone, clarinet), Joe Fonda (bass) and Lou Grassi (drums and percussion)
Nuova Idea: In the Beginning. Sony (88875121281) 180 gr. vinyl reissue. Sept. 2015.
Nuova Raccomandata Con Ricevuta Di Ritorno, La : Il Pittore Volante. AMSLP25. 16/02/10. 300 copies in black vinyl. After more than 30 years, Raccomandata Ricevuta di Ritorno is back and hits the streets with an astounding record with even more astounding guests, including Claudio Simonetti (Goblin), Lino Vairetti (Osanna) and even Carl Verheyen (Supertramp. €20
Officina Meccanica: La Follia del Mimo di Fuoco. AMS98LP. Sept. 2015. Already released on papersleeve CD format in 2007 (now sold-out), this rare and exclusive material (the band only managed to release some 45rpm's before splitting up at the end of the decade) is now reissued on 180 gr. vinyl in a beautiful gatefold sleeve.
Omega: 10.000 Paces. Moiras Records (CALP010). 15/12/11. This compilation available only on vinyl grabs the forgotten tracks of the early era between 68 and 70, including rare English versions, unreleased demo recordings and even a bonus track on a theme unusual for late 60s beat. €20
Opus Avantra: Lord Cromwell. Artis (AR003LP). 16/09/11. Reissue of the 2nd album, which didn't feature singer Donella Del Monaco. €18
Ortolani, Riz: Day of Anger. Dagored (RED241). Street date: 24-08-17. This edition offers the original mono score, including 11 stereo mixes for the first time on vinyl. Limited edition of 500 copies pressed on orange vinyl. With some incredible groovy touches including jazzy horns and loud electric guitars, Ortolani brings a new jazz verve into the spaghetti western sound!
Ortolani, Riz: Non Si Sevizia Un Paperino (AMS LP 123). March 2016. This is the soundtrack of a '72 film by one of Italian film composers to be ranked alongside Morricone and Umiliani. He delivers here a mostly classical/symphonic musical accompaniment, never epic or overwhelming, but rather slow, gloomy and, given the content of the film, dramatic and tense. Clear lime coloured vinyl edition, with a sparkling gatefold cover, new artwork and a 30x30cm poster insert with lobby cards and flyers of the film.
Os Mutantes: A Divina Comédia Ou Ando Meio Desligado. Vinyl Lovers (900389). 180 gram LP. Street date: 28-09-17. Reissue of the band's third album
Os Mutantes: S/T. Lilith Dig-A-Log LR336LP. 23/02/12. 180 gr. LP + free CD of the album. With the release of their debut LP in 1968, Os Mutantes cracked the already red hot Tropicalia scene wide open. Fusing traditional Brazilian music, psychedelia, rock and a good dose of pure experimentalism, they quickly became giants both in Brazil and in the outer fringes of pop music, where they have managed to reign supreme for the past four decades.€16
Osage Tribe: Arrow Head. Vinyl Magic VM50LP. 23/03/12. Still considered a must-have for any Italian Prog listener, "Arrow Head" is now reissued as an audiophile 180 gr. black vinyl, enclosed in a gatefold cover faithful to the beautiful original edition from 1972. The band was founded by Franco Battiato.
Osage Tribe: Hypnosis. AMSLP68-B Orange vinyl. Nov. 2014
Osanna: Milano Calibro 9. Vinyl Magic VMLP092. Osanna's 2nd album, originally released in 1972 on Fonit and used as film soundtrack under this title (the original title being "Preludio, Tema, Variazioni, Canzona"). Now available again, with the original gatefold cover and label replicas. Limited to 500 copies.
Osanna: Palepoli. Vinyl Magic VMLP127. Deluxe LP. Now available again with the original gatefold cover, label replicas and the printed inner sleeve including the lyrics. Limited to 500 copies. Palepoli - Osanna's third album - was originally released in 1973 and contains three long tracks only, the first of them an amazing mixture of progressive rock with local Napoli folk. The whole album has excellent guitar and powerful rhythm section, and the production of the record is fantastic.
Osanna: Pape Satàn Aleppe. Ma.Ra.Cash (MRCLP014). 2LP. Street date: 02-05-17. After the success of the CD edition here's the vinyl!
Osanna: Rosso Rock (LPRG2212). Sept. 2012. See the CD section for details.
Osanna & David Jackson: Prog Family. AMS 16LP. Sept. 09. After the CD release, here comes a gatefold double LP with over 70 minutes of music (see details on the CD section under Italy)
Out Of Focus: Four Letter Monday Afternoon. Missing Vinyl Records (MV006). June 2009. From a vinyl-only label who specializes in music the world has been missing out on for decades, here's a fully authorized, limited deluxe exact double LP reissue on 180g vinyl of the third album from 1972 by one of the finest German Krautrock groups, almost entirely instrumental and with a strong brassy touch.. Expertly remastered from the mastertapes. Contains one bonus track (When I'm Sleeping).
Out Of Focus: S/T. Missing Vinyl Records (MV005). 2009. From the same label, this heavy progressive Krautrock from the very early 70's, with lots of organ/guitar/flute riffing; this is their jazzier 2nd album, from 1971, which includes the seventeen-minute long "Fly Bird Fly Television Program" (a great song, a great song title); extended instrumentals and abundant solos. Fully authorized. Limited, deluxe exact reissue on 180g vinyl, expertly remastered from the mastertapes.
Out Of Focus: Wake Up. Missing Vinyl Records (MV004). 2009. This is the first album (1970) of heavy progressive Krautrock by one of the finest Krautrock groups with organ, flute, and guitar riffing to satisfy even the greatest requirements; fully authorized. Limited, deluxe exact reissue on 180g vinyl, expertly remastered from the mastertapes.
Ozric Tentacles: At The Pongmasters Ball. 2LP. Madfish Records. Street date: July 2016. Reissue of the 2002 live album, available on vinyl for the first time! Pressed on 180 gr. vinyl and with gatefold cover!
Paatos: Sensors. Mellotronen. 2007. A live LP recorded in Germany, Holland and France. The 180 gram LP is housed in a thick gatefold sleeve. Release strictly limited to 500 copies.
Paatos: Silence Of Another Kind. Mellotronen. 2006. Very nicely done with foldout cover, printed innersleeve. Comes in black vinyl (800 copies) and in white vinyl (200 copies). Great album!
Paatos: Timeloss. Mellotronen. 2003. An emotional and very melodic album with dark passages. Housed in a nice gatefold sleeve with a different booklet than on the CD. The first 300 copies in coloured vinyl.
Paese dei Balocchi, Il : S/T. Vinyl Magic VMLP125. Reissue on 180gr. vinyl of the sole album made in 1972 by this Italian prog band from Rome, formed in 1971. Here is a typical Italian symphonic prog album with strong classical influences and keyboards as lead instrument; it contains two long suites divided into small movements. €20
Pagani, Mauro: S/T. Vinyl Magic (VM115LP). March 2013. 180 Gr. vinyl reissue. The vinyl transfer has been made for the first time with the DMM technology (Direct Metal Mastering), with the aim of offering an even better sound quality. €20
Jimmy Page, Sonny Boy Williamson & Brian Auger: Jam Session. Charly Records (180 Gr.). Recorded in April 1964, this album is the third jam session Sonny Boy Williamson recorded during his stay in London.
Pangea: Invasori. AMS-Vinyl Magic (AMSLP02). Deluxe LP. This is a conceptual album with 10 tracks put together into 2 long suites, some long instrumental and much elaborated parts, Italian lyrics. It's spacey progressive music with some pop hints too. It was out on Philips in 1976 but only in promotional form and without a cover! It comes today in gatefold cover, obviously new artwork, great sound and is limited to 500 copies that will sell-out very fast! €17,50.
Panna Fredda: Uno. Vinyl Magic (VM118LP). 27/01/12. With the first 300 copies pressed on clear transparent vinyl, here's a reissue of the sole album made by this band from Rome in 1971. Some English prog influences can be heard and classical influences are evident, especially in the keyboard parts.
Panzerpappa: Astromalist. Rune Grammofon (RLP3135). Street date: 12/10/12. New album by the Norwegian Canterburians!
Parker, Charlie: On Dial Vol. 1. Doxy (DOX900LP). 26/09/13. Featuring material recorded during several sessions between February and July of 1946 for the Dial label
Parker, Charlie & Dizzy Gillespie: Bird And Diz. Doxy ACV (ACV2083). Street date: 26-01-17. Partch, Harry: Plectra And Percussion Dances-Satyr-Play Music For Dance Theater. Jeanne Dielman (JD116). Street date: 30-06-16. These recordings were some of the first made after Partch settled in Sausalito and founded his legendary Gate 5 studio. Debuted in 1953 on KPFA radio, these compositions still sound otherworldly and cutting edge today.
Emmanuelle Parrenin: Maison Rose. Souffle Continu Records (ffl024). 2017 RSD release (22-04-17). Deluxe reissue with high definition remastered audio from the original master tapes. 4-page booklet on 200gsm art paper including liner notes by Archie Patterson & Maxime Delcourt. Gatefold LP with Obi Strip, limited edition of 700 copies on pink vinyl
Emmanuelle Parrenin: Pérélandra. Souffle Continu Records (ffl025). 2017 RSD release (22-04-17). Unreleased recordings from the "Maison Rose" era. 4-page booklet on 200gsm art paper including liner notes by Emmanuelle Parrenin & Archie Patterson. LP with Obi Strip, limited edition of 700 copies on green vinyl
Pascal, Gigi & La Pop Compagnia Meccanica : S/T. June 2011. Limited numbered edition of 500 copies! Great and very rare album (probably pressed in just a few hundreds copies in 1973) with the Hammond organ and drums as main instruments; the music has some nice classical influences, long tracks and very good, complex arrangements !
Patterson, Ben: A Fluxus Elegy. Limited edition (17 VOCSON). Avant garde. The new Ben Patterson piece, issued as a one-sided LP on Alga Marghen's VocSon series, is based on the basic principles of the polyphonic music of the Bantu tribes of West and Central Africa.
Pat Metheny Group: Missouri, June 1979. B13 (B210). Street date: 14/11/13. Culled from the touring behind their breakout hit LP, American Garage, this LP features some of their finest live recordings of that year, in the guitarist's home state of Missouri. Absolutely essential jam jazz from the master of the genre, in a limited edition of 500 copies on clear vinyl. €16
Pauvros, Jean-François & Gaby Bizien: No Man's Land. Souffle Continu Records (ffl026). Street date: July 2017. Limited edition of 500 copies - Obi Strip - Reverse Printing. Produced by the audacious Jef Gilson, the appropriately named No Man's Land had virtually no equivalent in France (nor worldwide) when it came out in 1976. Radical, free, primitive, timeless: in the image of the musicians, it is not for nothing that it appears in the famous Nurse With Wound list of major influences concocted in 1979. No label can be placed on this vertiginous sensory adventure: an explosive flow of shrapnel and tearing intensity, full of mystery and life.
Pauvros, Jean-François & Gaby Bizien: Pays Noir. Souffle Continu Records (ffl027). Street date: July 2017. Limited edition of 500 copies - Etching on B-side - Obi Strip - Reverse Printing. Previously unreleased, the three tracks on Pays Noir come from recording sessions held at the same time as those for the cult "No Man's Land" album produced by Jef Gilson in 1976. It also features saxophonist Evan Parker!
Pazop: Psychillis Of A Lunatic Genius. Replica (RPC021). 180 gr. vinyl re-issue. Street date: 14-04-2016. Influenced by Zappa and the Canterbury scene, recorded at the famous Hérouville's castle, here is this mythical album, recorded in 1972 but aborted by the label because of its title, arisen on the ashes of famous Belgian bands such as Wallace Collection, Waterloo and Arkham). Now for the first time on vinyl!
Pazop: S/T. Replica (RPC022). 180 gr. vinyl re-issue. Street date: 14-04-2016. After the recording of their aborted first album, the Belgian band recorded new songs in the summer of 1973 at Start Studios. Widely influenced by King Crimson or Weather Report, the amazing products of these recordings are now available for the first time on vinyl!
Pelletier, Jean-Claude: Streaking. Vadim Music (VAD037LP). 180gr. LP. 05/07/11. Finally, one of European rare groove's holy grails is rereleased, "a dance record like no other" as the presentation on the back of its cult sleeve with the naked runner proudly announces. €17
Pepper, Art: Intensity. Doxy ACV (ACV2069). Street date: 25-07-16. Numbered first press of 500 copies.
Perigeo: Abbiamo Tutti un Blues da Piangere. LP+CD Schema / BTF (SCEB927). 26/06/15. Reissue of the 2nd album
Perigeo: Genealogia. LP+CD Schema / BTF (SCEB926). 26/06/15. Reissue of the 3rd album
PFM: A.D.2010 La Buona Novella Opera Apocrifa. Edel / Aerostella 0204902AER-CD(2010). 2LP edition. See details above (News page or Progressive page -> Italy).
PFM: Live@rsi. NAR International (NAR127152 LP). 19-02-16. After the CD+DVD release of this concert, recorded for the Italian Switzerland Radio on November 25, 1980, here comes now the LP edition!
PFM: Storia di un Minuto. Sony reissue. Feb. 2017. Digital remaster, for the first time at 192 khz and 24 bit. From the original master tapes!
PFM: Storia di un Minuto. Sony 888750118615. Oct. 2014. The historic first album is now reissued and digitally remastered by Sony Records with gatefold cover.
PFM: The World Became The World. Cherry Red Phonograph (CRP114LP). LP reissue with the original die-cut cover and printed innersleeve. Street date: 23/02/12. This edition of PFM's second album for Manticore (74) has been remastered from the analog tapes. €16
Pholas Dactylus: Concerto Delle Menti. Black Widow (BWR 107). Reissue of the famous and sole album, originally released on De Scalzi's label Magma. This new version also contains a 10 pages booklet full of vintage photos of the group, and a 4-pages insert that includes all the lyrics of the album.
Picchio Dal Pozzo: Abbiamo Tutti i Suoi Problemi. Recommended Records (RERPDPV). Street date: 23-06-16. Reissue on 180 gr. vinyl.
Picchio Dal Pozzo: S/T. Goodfellas (GFPDP1LP) 180 gr. vinyl. Street date: 07-04-16. Reissue. Picchio Dal Pozzo can be considered as the definitive Canterbury inspired band, coming from Italy's 1970 progressive rock scene. Their 1976 debut album shows an incredibly rich sound tapestry, made out of some peculiar ingredients. Oblique tunes and liquid harmonies, airy flutes, crispy horns, loads of electric piano and fuzz bass, drops of jazz, pop romanticism, waves of minimalism and deep pataaphysical vocals and lyrics.
Piero Piccioni: Cadaveri Eccellenti. Dagored (RED243). Street date: 24-08-17. Jazz and funky tunes are mixed here with a big orchestra-style peculiar of the best composition by the maestro Piero Piccioni; this album is an enjoyable journey into dark and light atmospheres. First time complete version on vinyl, limited edition of 500 copies.
Pieranunzi / Johnson / Baron: Deep Down. Soul Note (SN521002). 180 gram LP + bonus CD of the album. Jan. 2013. Album recorded in 1986.
Pierrot Lunaire: Gudrun. Sony reissue. Street date: 14-04-17. Terrific digital remaster, for the first time at 192 khz and 24 bit. From the original master tapes
Pinhas, Richard & Livengood, John: Cyborg Sally. Souffle Continu (FFL18). Planned for release for the Record Store Day on April 16, 2016. 1000 copies in solid red vinyl - 350g Gatefold Sleeve - Matt Finish. Cyborg Sally marked the return of French pioneering electronic guru Richard Pinhas (Heldon) at the forefront of the French underground scene in 1994. This impressive work, the result of a two year collaboration with John Livengood (Red Noise / Spacecraft), achieves new summits of sophistication and maturity in the fields of electronic music. First time vinyl edition under licence from Richard Pinhas. No repress!
Pio, Giusto: Motore Immobile. Soave (SV01). Street date: 02-03-17. One of the most striking documents of Italy's minimalist movement, produced by Franco Battiato in 1979, at the outset of a long and fruitful period of collaboration between the two composers, and originally released on the legendary Cramps Records, "Motore Immobile" now sits within a reappraisal of a large neglected body of efforts made by the Italian avant-garde during the second half of the 70's and early 80's. It is singular, but not alone. It resonates within a collective world of shimmering sound, one familiar to fans of Battiato, Lino Capra Vaccina, Luciano Cilio, Roberto Cacciapaglia, Francesco Messina and Raul Lovisoni.
Pooh, I: Alexandra. Vinyl Magic (VM160LP). LP reissue in a faithful replica of the original, on splatter colored vinyl.
Pooh, I: Contrasto (VMRS358). Strictly limited reissue of 500 copies with original (and great) artwork and improved sound quality. This is their 2nd album from 1968. Rare and nearly gone by March 2008. €30
Pooh, I: Opera Prima. Vinyl Magic (VMLP158). 21/03/14. Reissue of the band's fourth LP - released in 1971 - in a faithful replica of the original gatefold pressing. "Splatter effect" coloured vinyl.
Pooh, I: Parsifal. Vinyl Magic Orange vinyl (VMLP161). Nov. 2014
Pooh, I: Per Quelli Come Noi (VRM36033). Strictly limited reissue of 500 copies with original (and great) artwork and improved sound quality. This is their debut album from 1966. Rare and nearly gone by March 2008. €30
Pooh, I: Per Quelli Come Noi (VRM36033). Feb. 2014. Special limited edition (200 copies) reissued on red vinyl!
Pooh, I: Memorie. VPA 8083 LP. Sept. 2012. This album from 1969 was the last released by Vedette Records, before the band moved on to CBS. Enclosed in a beautiful gatefold cover, a replica of its original version, the LP is here enhanced by the attached 7" single "Nel buio / Cose di questo mondo" (1967), in its rarest alternate cover version. €28
Pooh, I: Opera Prima. Vinyl Magic (VM158LP). Feb. 2014. Vinyl Magic reissue of the band's fourth album from 1971, faithful to the original gatefold pressing. 'Splatter effect' coloured vinyl. €20
Popol Vuh: Einsjäger Und Siebenjäger. Spalax. With Daniel Fischescher
Porcupine Tree: Deadwing. August 2005: A small number of copies are remaining of this deluxe 2LP blue vinyl edition in thick gatefold sleeve with poster. Side 4 also includes the tracks from the Lazarus CD single "So Called Friend" and "Half-light".
Porcupine Tree: Fear Of A Blank Planet. Finally for all vinyl fanatics comes the double LP edition of Fear of a Blank Planet, issued by vinyl specialists ToneFloat. The double vinyl edition includes the album as well all 4 tracks from the the Nil Recurring mini album, all on 180 gram vinyl, packed in a state of the art heavy gatefold picture sleeve with innerbags, designed by Carl Glover.
Porcupine Tree: Moonloop. Vinyl preorder can be sent in March 2006. Issued originally on CD in 2001 for the fan club in an edition of 500 copies, this is a limited vinyl edition of the most sought after Porcupine Tree release. A long spacey, psychedelic improvisation of over forty minutes in length, moonloop is regarded as the holy grail for fans of Porcupine Tree's space rock era. Available in a limited run on white vinyl and housed in a twelve inch dark blue PVC, screen printed bag this will no doubt become as sought after as the original CD edition.
Porcupine Tree: On The Sunday of Life. 2LP. This continues Headspin's reissuing of the whole PT Delerium years catalogue. Deluxe remastered black vinyl double LP in a gatefold sleeve. Porcupine Tree's 1992 debut is an album that stands up a modern day psychedelic classic. With acid warped lyrics, quirky melodies, effected vocals and trippy backwards guitar work, the album also hints at the direction the band would take later
Porcupine Tree: Stupid Dream. Porcupine Tree's 1999 studio album released on black vinyl as a deluxe double LP set on US label Gates of Dawn. The remaster of the original album is on sides 1-3, and side 4 contains bonus tracks Ambulance Chasing and Even Less (full length 14 minute version). Comes in a lavish thick gatefold sleeve using the new artwork created by Lasse Hoile, and designed by Carl Glover. Previously available pressed on grey vinyl.
Porcupine Tree: The Incident. This most ambitious statement of intent to date is available in both regular and special double vinyl editions. The special edition is limited to 2000 copies worldwide, and features the two discs in separate picture sleeves together with a superb 48-page 12" book housed in a custom printed pvc slipcase.
Porcupine Tree: Up The Downstair. 2LP Burning Shed. Porcupine Tree have released a new double vinyl version in beautiful gatefold cover and inner sleeves. Content is the same as the new 2004 2 CD remaster, except that record two, Staircase Infinities, also includes a bonus track from the same era, Phantoms (this track can also be found on the Stars Die CD anthology).
Porcupine Tree: We Lost The Skyline. On the 4th october 2007 Porcupine Tree showed up for an in-store performance and signing session at park avenue cds in Orlando, Florida, with 200 fans also in attendance. Although it was originally planned that the full band would play, lack of space dictated that it was only the two guitarists/singers Steven Wilson & John Wesley who delivered an impromptu performance, including many songs rarely (if ever) played by the band, making for a very special and intimate show. Fortunately this one-off event was captured by a remote recording facility and the complete 8 song, 33 minute performance is now being released by Tonefloat in a 180 Gr. vinyl edition with a gatefold picture sleeve created by photographer Lasse Hoile and designer Carl Glover.
Pregadio, Roberto & Romano Mussolini: Kriminal. Dagored (RED239P). Picture Disc. Street date: 12-10-17. A great blend of 60's mood and Italian jazz composed for the 1965 movie based on the mega cult Italian comic hero Kriminal.
Pregadio, Roberto & Romano Mussolini: Satanik. Dagored (RED238P). Picture Disc. Street date: 12-10-17. Stunning jazz soundtrack for the 1967 movie based on the Italian cult comic series Satanik.
Prince: Flesh For Fantasy: Live At The Carrier Dome, Syracuse, 30 March 1985 - FM Broadcast. 2LP Egg Raid (EGG-355). Street date: 02-02-17. Covering songs spanning a wide swath of his career with a focus on The Revolution era, along with some great early cuts and irresistible b-sides, "Flesh For Fantasy" is an essential document of Prince's amazing live prowess in the mid 80's.
Prince Buster: I Feel The Spirit. Dynamite (DNM14001). 180 Gr. vinyl. Street date: 22/05/14. One of the most important figures in the development of ska's and, ultimately, reggae's music. Not just an innovator, he's also one of the more distinct and distinguished voices in the history of Jamaican popular music. I Feel The Spirit is his very first long player and was a hit both at home in Kingston, and in the West Indian clubs of London, where it would help to inspire the late 70s/early 80s 2-Tone movement. This album is one of the most important LP documents of early Jamaican ska!
Prince Buster: The Blue Beat Singles 1961-1962. Dynamite! (DNM14011). 180 gr. vinyl. Street date: 18/12/14. Starting in the early 60',s the UK's Blue Beat label began releasing the early ska singles of the legendary Prince Buster, introducing the British Isles to the new sounds of Jamaica, and its biggest star. Collected here are 16 of these classic cuts, some of the finest ska songs ever released and the blueprint for a sound that would take the UK by storm
Prince Lasha Quintet Feat. Sonny Simmons: The Cry! Doxy ACV (ACV2078). Street date: 19-01-17. This 1962 recording is one of the prize items of the free-jazz movement as it flowered in California. It teams flutist Prince Lasha and alto saxophonist Sonny Simmons, who cowrote all the songs and play with a duo spirit that reflects their long-term partnership. Numbered limited edition of 500 copies.
Procession: Fiaba. Vinyl Magic VMLP123. Deluxe LP. With this second and last album from 1974, Fiaba moved away from hard rock. With a new line-up (only keeping guitarist and vocalist from their original line-up), Procession made it different, and still much better. Fiaba is an astounding piece of progressive rock with a slight symphonic feel, with guitar, bass, drums, flute and sax, and occasional keys, now reissued in its gatefold cover and also label's replica.
Ptôse: Ignobles Limaces. 180 gram LP Replica (RPC06). 30/10/14. French Ptôse possess an early electro-wave-experimental sound with lots of primitive electronics, drum machines, and funny voices. This album was originally released in 1984.
Quella Vecchia Locanda: Il Tempo della Gioia. Sony (88875121291) 180 gr. vinyl reissue. Sept. 2015.
Raccomandata Con Ricevuta Di Ritorno: Per... Un Mondo Di Cristallo. Deluxe LP Vinyl Magic VMLP117. May 2008 reissue of their sole album, released in 1972 on Cetra-Fonit. The original LP came out in a gorgeous gatefold cover with a very nice drawing in the inner gatefold and it's a particularly hard to find item. Typical Italian progressive sound with acoustic guitar, flutes and lots of keyboards, along with some jazz influences. A good representative album from the Italian progressive golden years. €17,50
Radius, Alberto: Radius. Oct. 08. Very limited reissue by BMG/Sony of this solo album from 1972 by the guitarist of Formula 3. This album has several members of Area guesting on a few tracks + other guests as well!
Raksin, David: Too Late Blues. Doxy Cinematic (DOC 135). Street date: 16-11-16. Limited first press of 500 copies of the soundtrack of a film from 1962. Raksin wrote all original music for the film, even for the source cues.
Ramones, The: Whiskey A Go-Go, Los Angeles, Ca, November 24th, 1977. East/West (WEST915J). Street date: 18/12/14. A numbered limited edition of 349 copies on red vinyl with blue splatter.
Reale Accademia di Musica: S/T. Sony reissue. Feb. 2017. Digital remaster, for the first time at 192 khz and 24 bit. From the original master tapes!
Reale Impero Britannico, Il: Perché Si Uccidono. AMS LP13. Sept. 09. Released in a very small batch of copies in January 1976 as the soundtrack of an obscure movie, this recording is a gem for collectors because it features the members of Goblin at a time where they still called themselves Cherry Five. An essential and rare record for Goblin lovers, that will suit both all psychedelic and progressive minds! €18
Red Garland Trio: It's A Blue World. Doxy ACV (ACV2030). Sept, 2014. Paul Chambers' bowing is truly special on this very special recording. A numbered first press of 500 copies pressed on Audiophile Clear Vinyl (ACV).
Red Sun: Triosophy. Spin On Black (SPIN002). Street date: 03-11-16. Reissue of the debut album by a young Italian band formed in 2014, remastered and released on 180 gram vinyl with updated gatefold cover art, in a limited edition of 250 numbered copies. With guitar, bass, drums & synth, they offer a mix of psychedelia, space-rock and heavy stoner instrumental rock.
Steve Reich & Ensemble Modern & Synergy Vocals: Music for 18 Musicians: Tokyo Opera City, Tokyo, Japan, May 21st, 2008. Victory (V14510). Street date: 06-07-17. Live version featuring the composer as guest performer. LP with printed insert and deluxe die cut jacket
Reich, Steve: Berkeley University Museum - November 7, 1970. Modern Silence (OI001T). Street date: 31-10-17. Now available as limited edition of 500 copies on transparent vinyl.
Reich, Steve: Berkeley University Museum - November 7, 1970. Modern Silence (OI001). 31-03-16. A live performance of four early works by Steve Reich: "Four Organs", "My Name Is", "Piano Phase", and "Phase Patterns". Limited edition of 500 copies on HQ 180gr. vinyl
Reich, Steve: Information, Transmission, Modulation And Noise. Modern Silence (OI017). Street date: 29-08-16. Limited edition pressed on 180 gram vinyl. Side A presents Reich's masterpiece "Four Organs", live in NYC November 1969 (performed by Steve Reich, Steve Chambers, Art Murphy, Philip Glass on electric organs and Jon Gibson on maracas) + Drumming (performed by percussionists from Ghana, recorded by Steve Reich)
Terry Riley / Don Cherry / Karl Berger: Live In Koln February 23, 1975. Modern Silence (OI006). Street date: 10-06-16. Limited numbered edition of 500 on 180g virgin vinyl. A legendary recording that pairs Don Cherry's heavenly trumpet stylings, Terry Riley's psychedelic/minimalist organ work and the vibes of Karl Berger in a great live concert recorded in Koln in 1975. A great document of a key moment in the history of minimalism music and a beautiful combination of great artists.
Residents, The: Residue Of The Residents. Superior Viaduct (SV073). Format: 2LP. Street date: 27/03/14. Originally released on Ralph Records in 1983 and spanning The Residents' career up to that point, this first-time vinyl reissue has been expanded to a double LP and contains 26 songs, a collection of outtakes, rare tracks and other experiments from this legendary San Francisco collective.
Residents, The: Santa Dog. 2 x 7" from Superior Viaduct (SV072). Street date: 27/03/14. First-time vinyl reissue of their debut release, first appeared in 1972 on the equally enigmatic Ralph Records / Cryptic Corporation, complete with Christmas-themed fold-out sleeve. The package is an essential artifact for devout fans and beginners!
Rhesus O: S/T. Replica (RPC026). Pressed on 180 gr. vinyl. Street date: 23-02-17. Formed in 1971 by future Magma keyboardist Jean-Pol Asseline with musicians from the jazz and jazz-rock fields, this unique LP will probably find a place between Soft Machine albums in your record collection!
Rhùn: Fanfare du Chaos. Soleil Zeuhl 52. May 2016. Limited edition of 300 numbered copies pressed on white vinyl.
Richard, Ferdinand: En Forme. Replica (RPC018). 180 gr. vinyl re-issue. Street date: 14-04-2016. Originally released on Celluloïd in 1981, the debut solo album by Etron Fou Leloublan member Ferdinand Richard offered a unique blend of dadaist jazz, art rock and new wave
Riddle, Nelson: The Untouchables. Doxy Cinematic (DOC124). Shipping date: 28/09/15. Robert Stack was winner of an Emmy Award for his fine portrayal of Eliot Ness the Chicago gangbuster and prohibition agent in "The Untouchables", the legendary American crime TV drama that ran from 1959 to 1963 on the ABC Television Network. Limited first press of 500 copies.
Riff Raff: Original Man. Klimt (MJJ385). Street date: 25-02-2016. Limited edition of 500 copies. The second album released by Britain's Riff Raff was a further study in the textures of jazz-rock as they had been articulated not only on the band's issued debut, but also with Tommy Eyre and Pete Kirkley's stint with Mark Almond. Here are seven rather extended forays into keyboard-drenched pop/rock that carried a jazz sensibility in its beak and dropped it thoroughly onto blues-based progressive rock.
Roach, Max: We Insist! Cornbread (CRNBR16024). 180 gram LP + download code. Street date: 15-12-16. New reissue on another label!
Roach, Max: We Insist! Freedom Now Suite. So Far Out (OUT5001LP) 180 Gr. vinyl. Feb. 2013. LP reissue of a classic gem! Recorded in August 1960, was the first of several jazz-as-protest albums explicitly to voice the growing demand for equal rights. Conceived as a suite by Roach, its composer and arranger, the album features a shifting cast of players, with only Roach and singer Abbey Lincoln heard throughout. €16
Rocchi, Claudio: Il Miele dei Pianeti, le Isole, le Api (1974). Sony (88691988991) LP reissue. Street date: 13/04/12. A transitional album that would begin to pull the mystical, improvisational drone-folk back from the edges of space and reassert a more deliberate song structure here and there. Rocchi was helped here by musicians from Aktuala and this introduces a different flavor, compared to his previous few albums.
Rocky's Filj: Storie Di Uomini E Non (1973). Sony 88697512641. May 2009. Definitely a band that deserved more consideration, Rocky's Filj broke up soon after the album was recorded. The album is jazz-rock oriented, but all the tracks have vocals, and Rocky's voice is very original.
Roedelius, Hans-Joachim: Piano Piano. Song Cycle (CY993). Street date: 13-10-16. 180 gram gatefold 45 rpm 2LP audiophile edition, containing the bonus track "In Der Dämmerung" on side D. A stunning collection of quiet and soft piano pieces by the legendary German keyboardist Hans-Joachim Roedelius co-founder of seminal krautrock bands as Cluster and Harmonia. Inspired by the monumental work of Eric Satie, the album was originally released in 1991 and is recommended for fans of Max Richter, Goldmund and Sylvain Chauveau.
Roil: Raft of the Meadows. NoBusiness Records (NBLP 80). Nov. 2014. Limited edition of 300 copies. This is the trio of Chris Abrahams (piano), Mike Majkowski (bass) and James Waples (drums), recorded in Sydney in 2013 & 2014
Rollins, Sonny: Freedom suite. Doxy Dig-A-Log (DOK213LP). 180 gr. LP + 2 extra tracks and bonus CD of the album! 15/03/12. Recorded in 1958, this historic album cemented Rollins' status as one of the greatest innovators in jazz. Experimenting for the first time with the "extended format" in a sax-led trio, Rollins and his all-star rhythm section (Oscar Pettiford on bass and Max Roach on drums) get down to business with the groundbreaking 19-minute "Freedom Suite", which Rollins uses to draw a parallel between freedom in music and freedom for African Americans in the 1950s. Featuring two bonus tracks, including the Roach / Pettiford original, "There Will Never Be Another You".
Rollins, Sonny: Sonny Boy. Doxy ACV (ACV2075). Street date: 19-10-16. This album contains a combination of two different recording dates from 1956, shortly after the devastating car accident that took Clifford Brown and Richie Powell. First edition of 500 numbered copies.
Rota, Nino: 8 e Mezzo. Doxy Cinematic (DOC103). Limited edition of 500 copies. May 2014.
Rota, Nino: Il Gattopardo (The Leopard). Doxy Cinematic (DOC104). Limited edition of 500 copies. May 2014. Soundtrack for Visconti's masterpiece!
Rota, Nino: La Dolce Vita. Doxy Cinematic (DOC102). Limited edition of 500 copies. May 2014. Legendary score from the legendary Fellini's movie. The music by Nino Rota is sometimes quasi-liturgical, sometimes jazz, sometimes rock; lurking beneath is the irreverence of tuba and accordions, and snatches of pop songs.
Roversi, Cristiano: AntiQua. Ma.Ra.Cash Records (MRC LP 02). 19/11/12. Solo project from Moongarden's keybardist! Says Roversi: "AntiQua is a strange land where time flows at a more natural pace, I don't really know if it's on our planet, or even if it exists in the past, present or future, near or far'AntiQua manifests when we need it, every time we give in to dreams and forget about the daily grind. It is a goblet of wine in a candlelit tavern."
Rovescio della Medaglia, Il: Contamination. Sony (88875121301). 180 gr. vinyl reissue. Sept. 2015.
Russell, George Feat. Bill Evans: Jazz in the Space Age. Doxy ACV (ACV2077). Street date: 19-01-17. Numbered limited edition of 500 copies.
George Russell Sextet: Ezz-thetics. Doxy ACV (ACV2093). Street date: 08-08-17. Numbered limited edition of 300 units + 1 bonus track
Saint Just: La Casa del Lago. Vinyl Magic (VMLP 183). street date: 23-06-16. Faithful reprint of the original '74 edition, pressed on blue vinyl.
Saint Just: S/T. Vinyl Magic (VM182LP). Street date: 10-02-16. Clear green vinyl reissue.
Salis: Dopo il Buio la Luce. AMS (AMS 115LP). Street date: 27-05-16. This third Salis album is indeed beautiful and paradoxically their most 'progressive' and original ever, almost entirely instrumental; nevertheless, like several other releases in the same field, it went forgotten for nearly two decades. It is finally reissued by AMS Records on vinyl after almost 40 years, in a faithful reproduction of the original edition.
Samadhi: S/T (VMLP124). New vinyl reissue with the original artwork, label replicas and remastered sound. €17
Sanchez, Antonio : Three Times Three. CAM Jazz (CAMJ 7891-1). Street date: 13-11-15. This special limited edition double LP contains three bonus tracks that are not included in the previously released CD: three drum solos by Antonio Sanchez, recorded in New York in December 2014 at Avatar Studios.
Santana: New Year's Eve In California. BRR Picture Disc (BRR4037). Street date: 01-06-17. This 1977 show is one of their most historic, a ripping set the blends the Latin-rock of Santana's early years with the spiritually tinged jazz-fusion Carlos became knowing for in the mid-70s.
Sato, Masahiko & Dauner, Wolfgang: Pianology. Victory (VP9030). Street date: 07-04-16. Masahiko Satoh's fourth album is a duet with German pianist and composer Wolfgang Dauner. The five compositions on this album were recorded in Tokyo in March 1971, a collection of free form classical and jazz piano duo improvs, spiced with ring modulator sounds. With printed inner sleeve!
Sato, Masaru: The Throne Of Blood. OST. Doxy Cinematic (DOC128). Street date: 18-01-16. Limited edition first press of 500 copies on white vinyl. This is the chilling score for the Akira Kurosawa's masterpiece, heavily based on traditional Japanese music and especially influenced by Noh dramas.
Savages, The: Live In The Studios Of Columbia University's WKCR On March 21, 1974. B13 (B209). Street date: 14/11/13. An absolutely electric performance from Sonny & Linda Sharrock, with their group, The Savages, recorded for NYC radio station WKCR. Sonny's guitar playing on this set is a revelation and Linda's wordless vocals complement it perfectly. Groove based experimental jazz at its absolute finest. Limited edition of 500 copies on transparent yellow vinyl.
SBB: Hofors 1975. Vinyl reissue and limited edition. GAD Records. July 2016.
Schaeffer, Pierre & Henry, Pierre: Symphonie Pour un Homme Seul - Concerto des Ambigüités. Modern Silence (OI005). Street date: 31-03-16. Limited edition of 500 copies on HQ 180gr. vinyl. Pierre Henry, a classically trained musician, was one of Schaeffer's disciples and together they co-wrote the revolutionary Symphonie pour un Homme Seul, recorded in 1950. Despite its title, it is not a symphony in the classical sense, but a kind of suite divided into 12 movements. It is a musical collage featuring vocal fragments that are at times recorded backwards, accelerated or repeated, and other sounds like whistles, footsteps, doors slamming, metallic sounds, and a prepared piano. The Concerto side reveals Henry's personal approach to dissonance, with a strong impact of illogical sequences in the piano duel: the two instruments seem to collide in a furious rejection of the traditional idea of music, generating a clash of noises that reproduce the sonic pollution of the modern times.
Schipa Jr., Tito: Orfeo 9. Vinyl Magic (VM134LP). 2LP. Oct. 2013. This double album was one of the first examples of pop operas in Italy. Influenced by classical music, Schipa released a beautiful work that can be hardly described as a proper rock album, but surely falls into the progressive music field. It featured for example Brainticket's leader Joel Vandroogenbroeck and drummer Tullio De Piscopo. Faithful reproduction of the original edition, including the additional lyrics booklet.
Schulze, Klaus: Midi Klassik. Vinyl Lovers (901301). 180 gr. 2LP. 31/05/12. Released briefly on CD in 1994 and never before released on vinyl, electronic music pioneer Klaus Schulze gives here a new reading of well-known compositions by Smetana, Schubert, Brahms, Beethoven, among others. €20
Schulze, Klaus: Mirage. Revisited Records (B0023P7ZW6). 2009 LP reissue. Will include a 16 page booklet in "original design". €19
Schulze, Klaus: X. Revisited Records. 26-06-2009 2LP reissue of the album from 78. Will include an impressive booklet in the "original design". €24
Scorch Trio with Mars Williams: Made in Norway. Rune Grammofon (RLP 2119). 09/11/11. Vinyl only release in a numbered, limited edition of only 500. White vinyl. Classic double live album from this free spirited international trio, this time expanded with Chicago sax player Mars Williams. Recorded at Oslo´s Café Mono and at the Nattjazz festival in Bergen, both in May 2011, this fully shows how new drummer Frank Rosaly now is a perfect partner to founders Raoul Björkenheim (guitar) and bass player Ingebrigt Håker Flaten, not to mention Williams who fits in perfectly with only a minimum of rehearsals before these concerts. The interplay is simply stunning and the sound is of studio quality. Sporting a beautiful gatefold sleeve this is simply a great package all around.
Semiramis: Dedicato a Frazz (1973). TRI 1004 LP. New reissue in 180 gr. vinyl LP for collectors of the unique Semiramis Italian progresive album from 1973. Now available in limited edition LP with green vinyl. Only 200 copies available!
Senogul: S/T. PAT Records (PAT-001 LP). 2008. 2LP release of the debut album by a Spanish instrumental band hailing from Asturias. Mediterranean flavored prog rock crossed with jazz-rock. €22
Sensation's Fix: Fragments of light. Ltd. Edition. Superior Viaduct (SV027 LP). Dec. 2013. Reissue of this stellar proggy krautrock debut album, originally released on Polydor in 1974. Fluid, meditative guitar leads and innovative use of synthesizers, combined with a noted lack of percussion (and vocals) on all but a few songs, have drawn comparisons to Kosmische legends Tangerine Dream and Popol Vuh.
Seven That Spells: Black Om Rising. Svart Records (SVR292). Street date: 28/11/14. More heavy stoner-psych from the highly regarded Croatian unit! Edition on black vinyl, limited to 300 copies. Also availavle on red vinyl
Shabaka, Jamaiel: The Land Of The Rising Sun. 2LP on new reggae label Roots Vibrations. Street date: 24-10-17. Heavy roots reggae album from 1988 by avant-jazz horn player Jamaiel Shabaka. A much sought-after album now remastered from the original tapes and presented as a double LP gatefold sleeve in an edition of 500. Shabaka delivers healing vibes and meditations playing on the flute, the horn and the kete drum, bringing an African, jazz, sound into the Caribbean groove and creating a truly unique reggae sound topped with conscious and positive lyrics.
Shepp, Archie & Lars Gullin Quintet: The House I Live In. Modern Silence (OI027). Street date: 03/08/17. Limited edition of 500 copies on 180 gr. vinyl. First LP reissue ever! An incredible live album featuring saxophonists Archie Shepp and Lars Gullin recorded at the Jazzhus Montmartre in Copenhagen, Denmark on November 21, 1963.
Sheridan, Tony: My Bonnie. Cornbread (CRNBR16026), Street date: 16-02-17. 180 gr. vinyl + download card and five bonus tracks. Featuring several tracks backed by The Beatles, My Bonnie is classic early 60's European beat and rock and roll. Essential for any Beatles collector and any fan of early 60's Euro-beat.
Sherwood, Adrian + RINF: Der Westen Ist Am Ende: The Complete Sessions. Spittle (SPITTLE72LP). Street date: Sept. 2017. In the summer of 1986, Adrian Sherwood (On-U Sound) went to Florence, Italy for a different kind of vacation: to make a record with noise-funk band Rinf. The sweaty sessions stretched for weeks, resuming in London, to whip these loose tracks into shape. Lacerba released the final mixes on two 12" EPs that have been out of print for thirty years. For the first time, this album compiles the fully remastered complete sessions in a new package that cheekily references the testosterone-driven porn-obsessed lyrics, a beautiful three-color silkscreen + custom die-cut jacket. Play loud!
Shylock: Gialorgues. Replica(RPC024). Street date: 05-11-16. Reissue of this self-produced debut album from 1976, a rough diamond of French instrumental progressive rock, showcasing Frippian guitars and symphonic moods reminiscent of Goblin.
Siena Root: Different Realities. Headspin Records (HSLP314). 17/10/09. Limited 180 gram vinyl issue of the 4th album from this Swedish quartet, housed in a deluxe gatefold 'embossed' sleeve! We get here 2 long tracks, divided into 10 pieces, whereof the first section is a classic Siena Root sounding experience, recalling bands like Led Zeppelin and Deep Purple, but with a more psychedelic edge. The 2nd part is an Indian inspired piece filled with stoned moments, sitars, tablas and of course electric instruments.
Shub Niggurath: Les Morts Vont Vite. Replica (RPC13). Street date: 03/09/15. Having been sold out on CD for quite some time now, it's great to see this legendary debut album from '86 reissued on vinyl!
Silver, Horace: Horace Silver And The Jazz Messengers. Dom-Ermitage (VNL12227LP). Street date: 19-05-16. LP reissue. A true classic, a perfect combination of the pianist Horace Silver and drummer Art Blakey
Simmons, Sonny: Music From The Spheres. €12 Simone, Nina: At Carnegie Hall. Doxy ACV 2LP(ACV4002). Feb. 2014. Limited edition of 500 copies pressed on Audiophile Clear Vinyl (ACV) (scroll and check definition at Doxy Audiophile). This concert held on May 12th 1963 was her first at the famous venue. Side 3 & 4 consist in exceptional bonus tracks!! €16
Simone, Nina: Nina At Town Hall. 4 Men With Beards 4m129 180 Gr. LP. One of Nina Simone's finest recordings, this 1959 Colpix LP features the unique singer/pianist performing classic versions of "Black Is the Color of My True Love's Hair," "The Other Woman," and "Wild Is the Wind." with supportive work from bassist Jimmy Bond and drummer Al "Tootie" Heath. €17,5
Simone, Nina: The Amazing Nina Simone. 4 Men With Beards 4m126 180 Gr. Nina's second LP, originally released in 1959.€17,5
Sinigaglia, Riccardo: Riflessi. Soave (SV05). Street date: 15-06-17. Built from field recording, collaged samples, synthesis, and instrumentation - shifting from hypnotic rhythm to radical and displacing structures, this album establishes a remarkable link between ancient and non-western musics and efforts emerging from studios like Groupe de Recherches Musicales. A work of staggering rhythm, texture, beauty, Riflessi builds a world with almost no parallel - imbuing electronic music with touch, tactility, and humanity, while sacrificing none its challenges and intellectual heights. Rattling sonorous wonder, emerging for the first time on any format since its original pressing, before us is a historic moment - a lost piece of the puzzle of the wondrous Italian avant-garde.
Slits, The: Cut. 4 Men With Beards 180 gram LP (4M506). Originally released in 1979, the debut from British all-girl post-punk band The Slits is available on 180 gram vinyl for the first time. Mixing a punk attitude and D.I.Y style with reggae rhythms and dub recording techniques, The Slits made some of the most avant pop of the period, which still sounds fresh and innovative today. €18
Snow, Michael: Music For Piano, Whistling, Microphone And Tape Recorder. Song Cycle (CY999). Street date: 13-10-16. 180 gram gatefold 2LP. Musician, visual artist, composer, writer, sculptor, Michael Snow is also one of the world's most highly acclaimed experimental filmmakers. In 1975 he released this album under the record company Chatham Square.
Soft Machine: Live at Het Turfschip, Netherlands, 31 January 1970. Vinyl Lovers 180 gr. 2LP (901240). 12/01/12. Especially interesting if only because this double LP represents the only existing recording of a very rare and short-lived quintet version of the band. Sax/ flute player Lyn Dobson was the fifth member here, left over from the band's days as a septet. Just three months later Dobson would move on, leaving the classic Ratledge-Dean-Hopper-Wyatt line-up in place. €20
Soft Machine: Live at Royal Albert Hall in London on 13th August 1970. B 13 (B218). Green vinyl, red lettering, limited edition of 500 copies. July 2014.
Soft Machine: The Earliest Recordings. B13 (B159). Format: 140 gram LP on clear vinyl in PVC sleeve with blue lettering & red label (limited edition 500 copies). This is actually a selection of tracks taken from OOP Voiceprint releases: Canterburied Sounds Vol. 1 & 3 + Daevid Allen Trio live in 1963 (at London's Marquee club). €16
Solal, Martial: Breathless (À Bout de Souffle) - Original Soundtrack. Doxy DOY665LP. Gatefold 180 gr. 45 rpm LP with inside pocket. 31/05/12. Don't miss this deluxe vinyl edition of the original soundtrack to Jean Luc Godard's 1960 masterpiece À Bout de Souffle. For the soundtrack, Godard enlisted the talents of Martial Solal, a member of the Parisian jazz scene whose low key approach gave the film exactly the ambience it needed to exude "young, cool and sexy" from every pore ... which it still does with surprising efficacy, more than 50 years later. €16
Solal, Martial: A Bout De Souffle. Doxy (DOC 111). Sept. 2014. New reissue
Som Ambiente: S/T. Whatmusic. April 2004. A cool and funky covers album showcasing the anonymous talents of later brazilian supergroup Azymuth!
Som Imaginario: S/T. Street date: 15/11/08. Sweet Dandelion (SWDDL713). Limited edition (500 copies), with remastered sound and preserving the original artwork. This debut album from 1970 is full of psychedelic effects and pounding beats, all blended with traditional Brazilian styles like Samba and Bossanova, and with that special magic that music out of this country has. Finally reissued in vinyl, this is the key to completing your Brazilian psych collection. €18
Sonic Youth: Live At Liberty Lunch, Austin, TX, November 26, 1988. Radio Silence (RSL13009). Shipping date: 02/07/15. This live performance would turn out to be one of the most highly regarded live dates in the group's history and captures the touring SY at their noisiest and gnarliest, proving once and for all that they were the best and most important indie-rock group of the 80's (and beyond).
Sorrenti, Alan: Aria. Vinyl Magic (VMLP180). Street date: 10-02-16. Clear green vinyl reissue
Sorrenti, Alan: Come un Vecchio Incensiere all'alba di un Villaggio Deserto. Vinyl Magic (VMLP 181). Street date: 23-06-16. Inexplicably and wrongly considered a minor second chapter, by some also a first step towards Sorrenti's 'commercial decline', this album is now reissued in a solid gold coloured vinyl edition.
Sorrenti, Jenny: Com'è Grande Enfermidade (PS 054). 180 gr. LP. Street date: 18/05/12. New album by ex Saint Just vocalist. Her voice is better than ever and if you are into Celtic folk like Enya or Clannad, this LP is for you! Sung in italian and in other languages and dialects. Limited signed copy!
Spalding, Esperanza: Junjo. Ayva Music (AYVALP 036). 18/05/11. Limited Edition vinyl pressing (Audiophile Grade 180 Gram Vinyl). Esperanza Spalding's debut recording project, the nine-track Junjo includes original works by Esperanza, pianist Aruán Ortiz and drummer Francisco Mela in addition to handpicked classics by Brazilian composer Egberto Gismonti , pianist Jimmy Rowles (The Peacocks) and Chick Corea (Humpty Dumpty).
Sparks: S/T. On the label 1972 (IF29). Street date: 17-11-16. Reissue of Sparks' eponymous 1971 debut, presenting the singular compositional, lyrical and singing voices of Ron and Russell Mael already fully formed. It's also a landmark of Todd Rungren's early production career!
Special Providence: Soul Alert (HRLP 1303). 2013. LP release of the Hungarian band's third album (2012 as CD).
Spectrum: Forever Alien. Gatefold 2LP on the label 1972 (IF28). Street date: 17-11-16. Evolved from the split of Spacemen 3 and later the solo experiment Sonic Boom, this album from 1997 by mastermind Peter Kember fused cosmische abstraction and the pulsation of minimalist composition with more traditional psych elements epitomized by early Pink Floyd, calling for theremin, vocoder, and an array of modular analog synthesizers ...
Spencer Davis Group, The: Autumn '66. Klimt (MJJ339CC). Street date: 04-08-16. Limited edition of 500 copies on 180 gram clear vinyl. Bonus tracks include their number one smash hit 'I'm A Man', plus 'Stevie's Groove', 1967's 'Waltz For Lumumba', and 'I Can't Get Enough Of It'.
Spencer Davis Group, The: The Second Album. Klimt (MJJ338CC). Street date: 04-08-16. Featuring 5 bonus tracks, including their 1966 hit single, 'Gimme Some Lovin' b/w 'Blues In F', 'Back Into My Life Again', the Hammond-heavy 'Trampoline', and their version of Roy Orbison's classic 'Oh! Pretty Woman'. Limited edition of 500 copies on 180 gram clear vinyl.
Spencer Davis Group, The: Their First LP. Klimt (MJJ337CC). Street date: 04-08-16. Featuring 5 bonus tracks, including Otis Redding's 'She Put The Hurt On Me', Etta James' 'I'll Drown In My Own Tears', 'I'm Getting Better' and 'Goodbye Stevie', all from their 1965 EP, plus 'Stevie's Blues', the B side to their 1966 single 'Somebody Help Me'. Limited edition of 500 copies on 180 gram clear vinyl.
Spettri: 2973 La Nemica dei Ricordi. Black Widow (BWR174LP). 30/04/15. New album by the Fiorentine band. Epic guitars and Hammond still lead the scene while addition of sax perfectly complements the colors of the music spectrum. The powerful rhythm section speeds the heart beat on evocative vocals. The new LP has is the first one available after many years fully AAA! Recorded trough Neve 1976 desk on a 2" 24 track tape recorder, mixed and mastered on ¼" original 70's recorders.
Spirits Burning: Alien Injection. Black Widow BWR103. 2LP. A free-will multi-participant association founded by American musician, composer and producer Don Falcone.
Splashgirl: Hibernation. Hubro (HUBROLP3559). 06-11-15. For the description, see the CD section. This edition is a deluxe 2LP edition (500 copies, gatefold cover, 180g vinyl, 45 rpm)
Spock's Beard: The Kindness Of Strangers 2LP+CD. Street date: 08-01-16. Deluxe 2LP with gatefold cover, pressed on 180 gram black vinyl. As bonus the CD of the album is included
Stalteri, Arturo: Andrè sulla Luna. Sony (88691989001) LP reissue of the debut solo album (79) by the mastermind behind the cult band Pierrot Lunaire. Street date: 13/04/12.
Stàlteri, Arturo: ...e il Pavone Parlò alla Luna. Soave (SV06). Street date: 31-08-17. Reissue of a privately issued LP in 1987. A radical and democratic vision in sound, blending elements of New Age, the avant-garde, prog, with Western and Indian Classical musics. A complex and ambitious hybrid album by Pierrot Lunaire's mastermind
Stevens, Leith: The War Of The Worlds. Doxy Cinematic (DOC106). June 2014. Limited edition LP with a deluxe 3-panel poster cover. The score is presented here in a unedited version remastered by Roberto Zamori.
Stockhausen, Karlheinz : Beton-Studie / Zeitmass für fünf Holzbläser / Klavierstuck XI. Modern Silence (OI009). Street date: 12-05-16. Limited numbered edition of 500 copies on HQ 180 gram vinyl. A collection of some of Karlheinz Stockhausen's earliest work, including his earliest piece of musique concrete "Beton-Studie" (aka "Étude") written by Stockhausen in 1952-53 at Pierre Schaeffer's studio at the ORTF in Paris.
Stockhausen, Karlheinz : Kontakte. Modern Silence (OI007). Street date: 12-05-16. Limited numbered edition of 500 copies on HQ 180 gram vinyl. "Kontakte" (1959-60), Stockhausen's first piece to use both electronics and traditional instruments together, marks a turning point in his career, when his music was beginning to show the influences of American avant-garde jazz and composers like John Cage. In "Kontakte" live musicians play alongside a tape recording of percussion sounds that have been altered by different electronic devices (i.e. a ring modulator or a reverberator). Stockhausen wanted the musicians to improvise over the prepared tape, but the musicians were at such a loss that Stockhausen eventually had to score the instrumental parts as well.
Stockhausen, Karlheinz : Studie I & II, Gesang Der Jünglinge, Zyklus Für Zwei Schlagzeugern. Modern Silence (OI008). Street date: 12-05-16. Limited numbered edition of 500 copies on HQ 180 gram vinyl. A collection of Stockhausen's most important works from the 50's.
Stork: Bells of Sunday. ILK White Label (ILK219LP). 10/06/14. Limited edition of 100 copies. Toldam's compositions and arrangements consist of carefully tailored sketches which are a perfect ground for urgent collective and individual improvisations. The jazz tradition is regarded as a question instead of an answer, where love for simple and meaningful rituals unfolds itself through edgy contrast between solemn motifs, avant-garde retrieves and hip beats.
Stormy Six: Un Biglietto Del Tram. Vinyl Magic VM 096 LP. 27/04/12. This classic album from 75 is finally back, here officially reissued for the very first time as a 180 gr. audiophile black vinyl, with a faithful reproduction of the original release artwork.
Stratos, Demetrio: Cantare la Voce. Sony LP reissue (88875135322). Sept. 2015.
Stratos, Demetrio: Metrodora. Sony reissue. Street date: 14-04-17. Terrific digital remaster, for the first time at 192 khz and 24 bit. From the original master tapes
Stratos, Demetrio: Metrodora. Sony LP reissue (88875135312). Sept. 2015.
Strings & Timpani: Hyphen. Hubro (HUBROLP3540). Street date: 27-05-16. The drums/guitar duo Strings & Timpani use improvisation as a tool to create catchy and rythmic music mixing influences from world music, jazz and lo-fi pop. They employ various preparations of their instruments and explore new ideas within the classical duo format. Hyphen will be made available digitally and in a white label LP version with sticker, download codes and printed inserts in an edition limited to 300 copies.
Sun Ra: Blue York. Jeanne Dielman (JD115). Street date: 30-06-16. A collection featuring unreleased tracks from Sun Ra's Arkestra from 1963, focuses heavily on the masterful tenor saxophone of John Gilmore. Sun Ra: Early Singles 1955-1962. Black Rooster (ROO68006). 2LP. Street date: 16-03-17. This collection compiles Saturn singles and rare hard to find early Sun Ra in different forms/group settings including the Cosmic Rays, the Qualities, Sun Ra and his Myth-Science Arkestra, and more from 1955-1962. A must have for all true Sun Ra collectors, this is a comprehensive retrospective on the early days of this legendary music guru packed into a monstrous double LP.
Sun Ra: Heliocentric Worlds Of Sun Ra vol.1 + Vol. 2. Picture Discs LP 180 gram Get Back (GET 1004P & 1005P). 65. Considered to be one of Sun Ra's finest mid '60s recordings - moreover his quintessential - The Heliocentric Worlds saw Sun Ra conducting group improvisations of a music that is extraordinary, unique and without precedent. €16
Sun Ra: Jazz By Sun Ra Vol. 1. Cornbread (CRNBR16040). Street date: 10-08-17. From swinging to subdued, Jazz By Sun Ra Vol. 1 - originally released in 1957 - is a unique mid-50's work like only Ra could do it. Reissued on 180 gram vinyl with download card.
Sun Ra: Jazz In Silhouette. Rumble Records (RUM2011115LP). 11-02-16. Reissue.
Sun Ra: Nothing Is. Get Back Picture Disc LP 180 Gr. (GET 1007P). This ESP-Disk' release was recorded during a tour of New York State colleges at the peak of the free-jazz revolution in 1966. €16
Sun Ra: Nubians Of Plutonia. Cornbread (CRNBR16009). 180 gram LP + download code. Street date: 13-10-16. An essential classic recording from the 50's!
Sun Ra: Space Is The Place. Sutro Park 2LP(SP10043DLP). 25-05-17. After the clear vinyl edition last year, here's a new one, pressed this time on red and yellow vinyl! Sun Ra: Space Is The Place. Sutro Park 2LP(SP10041DLP). Jan. 2016. Limited edition of 500 on clear vinyl. This is the soundtrack to the legendary Sun Ra film, Space Is The Place. Featuring some of Sun Ra's most adventurous and uncompromising compositions ever, the soundtrack incorporates vocal chants, harsh synthesizer and organ blasts along with film dialogue, heavy percussion and just all around weirdness. Featuring cover art by members of the legendary Ant Farm art collective. On September 8, 2016, this will also be available as a 2LP limited edition on purple and gold vinyl (SP10042DLP)
Sun Ra: The Saturn Singles Vol. 1: 1954-1958. Jeanne Dielman (JD103). 17-03-16. Though the genres showcased here are more pop than the world has come to expect from Sun Ra, the vibe and feel is purely cosmic, producing some of the wildest, strangest R&B ever created on this side of the sun!
Sun Ra: The Saturn Singles Vol. 2: 1954-1958. Jeanne Dielman (JD106). 28-04-16. Volume 2 of the Sun Ra singles focuses on Yochanan (aka The Space Age Vocalist) - a wild and wildly original street performer from Chicago that Sun Ra befriended - along with some other amazing Sun Ra sides.
Sun Ra & His Arkestra: Bad And Beautiful. Cornbread (CRNBR16041). 180 gram LP + download code. Street date: 10-08-17. Recorded in 1961 at the Choreographers' Workshop, New York, this album is a testimony of the truly collaborative and communal nature of the group. Gilmore and Patrick's performances result in beautiful, flowing pieces that perfectly complement the playing of Ra and the group, showing us that there never has and never will be another jazz group quite like the Sun Ra Arkestra.
Sun Ra & His Arkestra: Featuring Pharoah Sanders And Black Harold. Superior Viaduct (SV128). Street date: 16-11-17. Reissue. The October Revolution in Jazz, organized by Bill Dixon in the West Village in 1964, presented a vivid cross section of approaches to the new music, including a sextet led by Ra. For the October Revolution's continuation, titled Four Days in December, held at nearby Judson Hall on the last days of 1964, the Arkestra performance presented Pharoah Sanders as well as a flautist (who was and remained obscure thereafter) named Harold Murray, nicknamed Black Harold.
Sun Ra & His Arkestra: Super-sonic Jazz. Cornbread (CRNBR16008). 180 gram LP + download code. Street date: 13-10-16.
Sun Ra & His Myth Science Arkestra: Angels And Demons At Play. Cornbread (CRNBR16039). Street date: 10-08-17. Reissue on 180 gram vinyl + download. Even if this album collects recordings made 4 years apart (1956 and 1960), it still sounds like a perfect, cohesive album.
Sun Ra & The Blues Project: Batman & Robin. Doxy (DOP8011). Street date: 27-10-16. New reissue, this time as picture disc in a limited edition
Sun Ra Arkestra: Chicago '88: FM Broadcast. 2LP. Egg Raid (EGG-354). Street date: 03-11-16. Recorded live at the Chicago Free Jazz Festival in 1988 and originally broadcast by National Public Radio
Sun Ra Quartet: The Mystery Of Being: Voice Studio Rome 2, 7, 8, 13 January, 1978. Klimt Records 3LP Boxset (MJJ316TLP). Dec. 2013. Sun Ra's legendary 1978 Italian studio sessions, now available together for the first time ever on vinyl! Long sought-after by collectors, these extremely rare studio sessions were originally released in 1978 as two double LPs (New Steps and Other Voices, Other Blues) on the mysterious Italian jazz label, Horo Records. They have never been reissued on vinyl (and only partially reissued on CD) until now!
Supertramp: Breakfast In America. €15
Surman, John & Warren, John: Tales Of The Algonquin. Klimt Records (MJJ374). Street date: 14/04/14. Long sought after by jazz collectors across the globe, this album, originally released in 1971, is one of the finest artifacts of the British modal and free jazz scene of the 1960s/1970s. Johns Surman and Warren, like their contemporary Mike Westbrook, take the big band form and flip it on its head by incorporating elements of modal, free, and progressive jazz. The results are powerful and this album is perhaps the greatest example of that quintessentially British jazz style.
Swans: The Burning World (IF02). May 2014. LP reissue.
Szabo, Gabor: In Budapest. Moiras Records (MOIRAS007LP). Street date: 30/12/08. The Hungarian-born jazz guitar legend was at the peak of his career in 1974, when he first visited his abandoned homeland after 18 years of absence. He was invited by the Hungarian Television to record a few tracks with session musicians of his choice.
Tangerine Dream: Alpha Centauri. Tiger Bay (TB6065). Street date: June 2017. Deluxe 2LP Edition: Original LP on 180gr virgin vinyl plus bonus track from the first single / Exclusive Picture Disc with bonus tracks taken from the same recording sessions / Audiophile Edition running on 45RPM
Tangerine Dream: The Deep Run To Vegas. Lilith Picture Disc (LR329). Oct. 2014. These rare recordings trace the band in their initial experimental period, from Ultima Thule & Asteroid Agenda in 1972 to Run To Vegas in 1978.
Taylor, Cecil: Jazz Advance. Doxy ACV audiophile Series (ACV2035). 30/10/14. This was the debut album by pianist Cecil Taylor, recorded for the Transition label on September 14, 1956. The album features performances by Taylor with bass player Buell Neidlinger, drummer Denis Charles and saxophonist Steve Lacy. First edition of 500 numbered copies.
Taylor, Cecil: Live At The Café Montmartre. Doxy ACV audiophile Series (ACV4004). Sept. 2014. Recorded in Copenhagen, November 23, 1962. A numbered first press of 500 copies pressed on Audiophile Clear Vinyl (ACV).
Taylor, Cecil: Looking Ahead. Doxy ACV audiophile Series (ACV2034). 30/10/14. One of Taylor's earliest recordings! First edition of 500 numbered copies.
Television: Adventure. 4 Men With Beards 180 gram LP (4M507). Adventure portrays the dreamier side of this groundbreaking 1970s band. €18
Television: Live at the Old Waldorf, June 29, 1978. B 13 (B190). 140 Gr. clear vinyl in clear PVC sleeve (ltd. ed. 500 copies). Jan. 2013. A professionally recorded live performance, just two months after the release of their second LP, Adventure.€16
Tennors & Friends: Reggae Girl. Grover (GRSPLP001) 180 gr. LP + bonus CD. Nov. 2014. Long awaited, legit re-issue of one of the most collectible albums in reggae history, originally on the Big Shot label from 1968. Don't sleep on this or it will be gone!
Teoremi, I: I Teoremi. AMS 45 LP. 07/10/11. Originally released in 1972 on the small Polaris label, this debut album with a sound strongly influenced by hard rock is now reissued as a perfect replica of the original, with a textured gatefold cover and a flap on the right side. The first 300 copies are printed on white vinyl. €25
Terço: S/T. Sagara (SAGA-184). Street date: 25-08-16. A classic piece of funky Brazilian progressive rock that's been out of print for far too long.
Clark Terry Quintet: Serenade To A Bus Seat. Doxy ACV (ACV2094). Street date: 08-08-17. Numbered limited edition of 500 units
Tetragon: Nature. Replica (RPC028). Street date: 15-10-17. They were was a short-lived German band with ecological concerns. In 1971, they recorded this (mainly) instrumental album enlighted by the sound of Hammond organ and wha-wha guitar, melting krautrock with classical music and jazz influences.
The Trio: S/T. Klimt Records (MJJ367DLP). 2LP. Street date: 21/11/13. This is a monster of avant-garde and free jazz, originally released on the Dawn label in 1970. It lined up Barre Phillips on bass, Stu Martin on drums and English saxophonist John Surman! €20
Three Monks: Neogothic Progressive Toccatas. Black Widow (BWR 132 LP). June 2011. A fantastic mix of 19th century classical romanticism and heavy prog, all centered around magnificent church organs!
Thieves Kitchen: The Clockwork Universe. Plane Groovy (GRV038). Limited edition of 250 copies. Includes an insert sheet with printed lyrics, first copies are signed!
Time Travellers: Chapters III & IV. Presence Records (PRELP-030). This is the 2nd opus released by this Finnish outfit mixing prog, space rock with the energy of a power rock trio
Tito Puente and His Orchestra : Dance Mania. So Far Out 180 Gr. LP (OUT5010LP). 08/08/13. Originally released in 1958, Dance Mania is amongst a handful of late 50's Latin LPs that took the sounds of mambo, cha cha, and guaguanco, out of Spanish Harlem and Puerto Rico and into the mainstream of America. Featuring conga master Ray Barretto
Tomorrow's Gift: S/T. Long Hair (LHC0000164). Street date: 08-06-16. Tomorrows Gift first album is a true German Krautrock classic. Powerful long tracks with plenty of guitar, organ, flute and drum solos and of course with Ellen Meyers strong vocals, often compared to Inga Rumpf from Frumpy or Janis Joplin. For this reissue the recordings were newly remastered and you also get a 4-sided insert featuring a comprehensive band history by founder Manfred Rürop, generously spiced with unseen photos.
Toussaint, Allen: Life, Love and Faith. 4menwithbeards (4M213LP). 180 gr. LP. 29/03/12. 1972's Life, Love And Faith was Toussaint's first album for Reprise. While a soul record through and through, this effort from the multi-talented New Orleans native shares some of the singer/songwriter vibe of his contemporary labelmates, such as Randy Newman, Joni Mitchell, Lowell George and Little Feat. €17
Toussaint, Allen: Southern Nights. 4menwithbeards (4M214LP). 180 gr. LP. 29/03/12. This was Allen Toussaint's 1975 "swing for the fences" attempt at an all out masterpiece. Somewhat of a concept album, with reoccurring instrumental themes usually based on the title track popping up between songs, this album spawned at least two hits for other artists. €17
Travelling: Voici La Nuit Tombée. Souffle Continu. 500 copies in black vinyl (FFL012/RED06), 200 copies in transparent yellow vinyl (FFL012/RED06C), 350g carton cover, with OBI.
Trees: Live! Klint (MJJ341LP). Street date: 31/05/12. Extremely rare live in studio recordings of one of England's most superlative female-fronted acid folk bands, recorded in 1971 and 1972 with DJ Bob Harris for BBC Radio 1. Formed in London in 1969, Trees have been likened to a more psychedelic Fairport Convention. These are mostly tracks that never appeared on either one of their studio albums (The Garden Of Jane Delawney and On The Shore both released on CBS in 1970), making it an especially significant addition for collectors. €15
Trettiåriga Kriget: Efter Efter. Mellotronen. 15/08/11. This album concludes the trilogy that began with "The Fire of Years" in 2004, Trettioåriga Kriget's amazingly strong comeback after twenty years. Vinyl edition (MELLOLP10) or multicoloured limited vinyl edition (MELLOLP10COL)
Tribo Massahi: Estrelando Embaixador. Zaq (zaq125). Nov. 2014. This album is built on some candomblé-inspired psychedelic party music, taking the Afro-Brazilian sound into some wild territory. It's a heady mix of tropicalismo, chimed guitar, conversational chatter, studio fuckery, and heavy percussion with a female chorus.
Triode: On n'a pas fini d'avoir tout vu. Souffle Continu. 500 copies in black vinyl (FFL011/RED03), 200 copies in orange vinyl (FFL011/RED03C), 350g carton cover with OBI.
Trip: Caronte. Sony (88985323161). June 2016. Finally reissued in vinyl with remastered sound.
Trip: Caronte. Sony reissue. Feb. 2017. Digital remaster, for the first time at 192 khz and 24 bit. From the original master tapes!
Trovaioli, Armando: Brutti, Sporchi e Cattivi. Goodfellas (GFOST004LP). Street date: 02-03-17. Originally released in 1976 the soundtrack composed by Armando Trovaioli (famous for standard jazz records such as "Trovajoli Jazz Piano" and soundtracks including "Sesso Matto", "C'Eravamo Tanto Amati", and "The Beat Generation" to name but a few) highlights the composer's skills in this amazing dark humor comedy directed by Ettore Scola. The movie was awarded the Prix de la Mise en scène at Cannes Film Festival in 1976. Available on vinyl again for the first time since its original release.
Truffaut, François : Bandes Originales 1959-1962. Jeanne Dielman (JD105). Street date: 28-04-16. Featuring the work of acclaimed composers Georges Delerue and Jean Constantin from three Truffaut classics, "Les 400 Coups" (The 400 Blows), "Tirez Sur Le Pianiste" (Shoot The Piano Player), "Jules Et Jim", this collection seeks to introduce the listener to the sonic landscapes of some of the most important films of the French New Wave.
Tugs: Europa Minor. AMS 221 LP. 180gr. vinyl LP edition including a maxi 8-page 30x30cm booklet. See under CD for the detailed description of the album
Turner, Ike & Tina: Dynamite! Rumble Records (RUM2011060LP). Street date: 20/03/2014. The second Ike & Tina Turner LP was comprised of 1961-1962 recordings made in the midst of their rigorous touring schedule along the fabled "chitlin' circuit" and in between club residencies in their home base of St. Louis. €15
Turner, Tina: Live At Park West Chicago August 17, 1984. Egg Raid (EGG-348). Street date: 15-06-16. This amazing set features the badass Tina Turner live on tour in support of her 5 times platinum 1984 LP "Private Dancer".
Tusco aka Piero Umiliani: Suspence Elettronica. Dagored (RED307). 07-04-16. First reissue ever! Limited edition 500 copies on white vinyl. A very rare experimental/ambient electronic album from the early 80's with a great use of synthesizers.
Tyner, McCoy: Inception. Doxy (DOX890LP) 180 gr. vinyl. 11/07/13. This album was the pianist's debut and is essentially the John Coltrane Quartet minus Coltrane as it features Art Davis on bass and Elvin Jones on drums. €16
Tyner, McCoy: Live at Newport. Doxy Audiophile Clear Vinyl Series (ACV2022). July 2014. Numbered limited edition of 500 copies
Tyner, McCoy: Nights Of Ballads & Blues. Doxy ACV (ACV2072). Street date: 25-07-16. Far removed from the intensity of work with then-boss John Coltrane, Tyner stretches out here on a fine mix of standards and bebop classics, backed by the topnotch rhythm tandem of bassist Steve Davis and drummer Lex Humphries. Numbered first press of 500 copies.
Tyner, McCoy: Today And Tomorrow. Doxy (ACV2092). Street date: 12-06-17. Three pieces made by an intriguing sextet all-stars (with John Gilmore, Thad Jones, Frank Strozier, Butch Warren and Elvin Jones), and the remaining six songs played with the ?conventional? pianist trio (with Jimmy Garrison and Albert Heath). The album is here presented for the first time with three bonus tracks. Numbered first press of 500 copies.
Tømrerclaus: Jaguar. 2LP. Karma Music (KMLP 40). 2016. New album, with gatefold cover
Umiliani, Pieri: La Legge Dei Gangsters (Gangster's Law). Dagored (RED228C). Limited numbered edition of 1000 copies on coloured 2LP, planned for release as a 2016 Record Store Day Exclusive.
Umiliani, Pieri: L'Uomo Nello Spazio. Dagored (RED301). Shipping date: 23/04/15. Limited edition of 500 copies on transparent clear blue vinyl. First ever reissue.
Umiliani, Pieri: La Morte Bussa Due Volte. AMS LP 101. Release date: 18/01/2016. Limited edition on solid silver vinyl. On this album, originally released on LP in 1969 by Cinevox Record, Umiliani writes a soundtrack that mixes soul, jazz, bossa nova and lounge, which recalls the works of Henry Mancini and Quincy Jones, with a vague lighthearted and easygoing flavour, part of Umiliani's typical trademark.
Umiliani, Pieri: Le Isole dell'Amore. AMS102LP. Dec. 2015. This faithful reproduction of the original 1970 edition is the first reissue ever of this album, pressed on transparent blue vinyl.
Umiliani, Pieri / Baker, Chet: Smog. 2LP Doxy Cinematic (DOC106). June 2014. The long forgotten soundtrack to a hip early 1960s Italian cult movie, with music by Piero Umiliani and the legendary Chet Baker. Helen Merrill's vocal theme is just outstanding, rarely bettered, the jazz is playful, mysterious and charming. Limited edition of 500 copies.
Underground Set: War in the Night Before. Cinedelic (CNPL804). Feb. 2017. Reprint of one of the most important and rare Italian rock album of the 70's, all thanks to Cinedelic Records. The Underground Set are in fact the Nuova Idea under a different name for contractual reasons. Originally produced in 1971, this second album is definitely heavier than the first, with fuzz guitar, organ / mellotron and drums in evidence. Some riffs in a Black Sabbath style anticipate what decades later will be defined as stoner rock. Psychedelia, Beat, Rhythm & Blues, and Progressive rock are all mixed on these instrumental tracks with some polyphonic choirs typical of Genovese prog (such as the New Trolls more than other). Reissued in a hard cover with laminated front and matte back. Includes download with full album plus 6 rare songs taken from singles (1970/1).
Uno: S/T (VMLP 109). When Osanna disbanded, two of their members went to form the new group UNO, this was in 1974. That same year, they released their only album, musically quite similar to the late Osanna prog-folk sound. New reissue with the original gatefold cover, replica of the labels and 180 grams vinyl.
L'Uovo Di Colombo: S/T. Vinyl Magic (VMLP179). Street date: 10-02-16. Clear green vinyl reissue
L'Uovo Di Colombo: S/T. AMSLP18. street date: 20/10/2010. Never reissued on vinyl before, here's a great sounding 180g high quality vinyl of the sole album released in 1973 by this Italian super group, with the very good voice of Toni Gionta , later singer in Cherry Five. He is backed by a keyboard/bass/drums trio in perfect Le Orme style, with occasional use of acoustic and electric guitar. €20
Ut New Trolls: Do Ut Des. AMS/IMM 1012LP. 2013. See the CD section for the description
V/A: Musique Concrete. Modern Silence (OI019). Street date: 26-08-16. Limited edition pressed on 180 gram vinyl. Le Groupe de Recherches Musicales (GRM) of the O.R.T.F. (Office of the French Radio-Television) is known in the world principally as the promoter of an original technique of realization as well as reflection : Musique concrète. For more than fifteen years, it has thus founded its experience, its methods of research and particular techniques upon a confrontation between the musical act, reflection upon its elements, experimentation on sound sources, and the electroacoustical means. Grouped around Pierre Schaeffer and François Bayle, composers and researchers try to give new direction to musical activity through the conjugated action of a program of Fundamental Research on the languages of music (concrete, electronic, but also instrumental and oriental) and a program of Expression, resulting in original compositions as well as essays for the ballet, theater, cinema, or television (...) In this LP you can find some great examples of the incredible production of many of the most celebrated composers of the movement: Boulez, Stockhausen, Ferrari, Parmegiani among others.
V/A: Musiques Electroniques En France 1974-1984 Vol. 1. Replica (RPC15). Street date: 03/09/15. This compilation in 2 volumes aims at introducing the pioneers of electronic music, who are generally little known or completely anonymous, to the public. It is often not really acknowledged but, early in the 70's, and thanks to the commercialization of the first financially accessible synthesizers, some adventurous French musicians decided to adopt this instrument and add it to their musical palette. Some of the analog synthesizers that have since become legends, such as the VCS3, the Synthi AKS by EMS, the Mini-Moog, the ARP 2600 or the Odyssey, were even chosen to be used as their basic and principal means of creation. All of them created a remarkable and truly original music. Vol. 1 includes tracks by Heldon, Patrick Comelade, Patrick Vian and more ...
V/A: Musiques Electroniques En France 1974-1984 Vol. 2. Replica (RPC16). Street date: 03/09/15. Vol. 2 includes tracks by Lard Free, Richard Pinhas, Video Aventures and more ...
V/A: Orfeu Negro. Doxy Cinematic (DOC117). 26/05/15. This movie and its soundtrack had a major role in leveraging Bossa Nova popularity outside of Brazil. First press of 500 copies.
V/A: Revolutions Per Minute (The Art Record). Song Cycle (CY996). 180 gram gatefold 2LP. This is a two-record album of twenty-one original sound works by artists represented at that time by the Ronald Feldman Fine Arts, Inc. (NY). Each gallery artist was asked to record or provide a 3-5 minute segment for Jeff Gordon's Greene Street Recording Studio. No further directions were given, and the soundworks are an amazing mix.
V/A: Slop 'N' Mash Vol. 1: Early Jamaican Classics 1958-62. (SLOP63001). July 2014. Pressed on 140-gram black vinyl, this is the first volume in a great rocksteady/ska/reggae compilation series.
V/A: Slop 'N' Mash Vol. 2: Early Jamaican Classics 1958-62. (SLOP63002). July 2014. Pressed on 140-gram black vinyl, this is the second volume in a great rocksteady/ska/reggae compilation series.
V/A: Slop 'N' Mash Vol. 2: Early Jamaican Classics 1958-62. (SLOP63003). July 2014. Pressed on 140-gram black vinyl, this is the third volume in a great rocksteady/ska/reggae compilation series.
Van Der Graaf Generator: H To He, Who Am The Only One. Four Men with Beards (4M217LP). Dec. 2011. 180 gram gatefold LP reissue. Originally released on Charisma in 1970, this is the 3rd album from Peter Hammill's legendary British prog group. €17
Van Der Graaf Generator: Pawn Hearts. Four Men with Beards (4M218LP). Dec. 2011. 180 gram gatefold LP reissue. Released in 1971 and 4th album from the band, Pawn Hearts is an absolute classic of British progressive and cosmic space rock. €17
Van Der Graaf Generator: The Least We Can Do Is Wave To Each Other. Four Men with Beards (4M216LP). Dec. 2011. 180 gram gatefold LP reissue. Released in 1970, it is technically the 2nd Van Der Graaf Generator album, but is the first with the full band. Recorded in late 1969 at the cutting edge Trident Studios. €17
Van Der Graaf Generator : Aerosol Grey Machine. LP. €15,00
Varèse, Edgar: Complete Works. Modern Silence (OI004). Street date: 31-03-16. Limited edition of 500 copies on HQ 180gr. vinyl. Track list: Side A: 1. Integrales 2. Octandre. Side B: 1. Density 21.5 2. Ionisation 3. Interpolation I 4. Interpolation II 5. Interpolation III
Varèse, Edgar: Music of Edgar Varèse Vol. 1. Modern Silence (OI002). Street date: 31-03-16. Also planned is Vol. 2 (OI003). Street date:07-04-16. Both limited editions of 500 copies on HQ 180gr. vinyl. Track list for Vol. 1: Side A: 1. Ionisation 2. Density 21.5 3. Intégrales. Side B: 1. Octandre 2. Hyperprism 3. Poème Électronique. Vol. 2 includes Deserts (Side A) and on side B "Offrandes - Chanson de Là-haut 2. Offrandes - La Croix du Sud 3. Arcana.
Veloso, Caetano: Caetano Veloso. Lilith Dig-A-Log LR337. 23/02/12. 180 gr. LP + free CD of the album. Originally released in 1968, Caetano Veloso's debut album did for Brazilian music what the Beatles: Sgt. Peppers did for rock & roll, giving birth to the soon-to-be Tropicalia movement, which fused Brazilian music with pop, psychedelia and social awareness. €16
Velvet Underground: Live in Dallas, TX: 28 October 1969. B13 (B158). 03/05/12. 140 gr. clear purple vinyl in transparent PVC sleeve with yellow lettering; limited edition of 500 copies. Some of the material included here was once released on the Velvet Underground Live album, but with a bad audio quality, due to Mercury's use of third or fourth generation tapes. However, the first generation tapes have since resurfaced and the difference in sound quality (heard here) is a welcome one! €16
Velvet Underground & Nico: S/T. Picture Disc LP. Vinyl Lovers (999051LPP). Nov. 2016. The Velvets legendary debut album with the Warhol's Banana cover art printed on vinyl. 180 gram picture disc LP in deluxe sleeve, with 2 bonus tracks.
Venetian Power: The Arid Land. Vinyl Magic (VMLP159). 21/03/14. First reissue ever by Vinyl Magic, a faithful reproduction of the 1971 original LP: an item which is practically impossible to find in any way!!! This 15-piece group from Venezia can hardly be described as a prog band and was in fact a theatre group formed by composer Claudio Ambrosini to represent his "The Arid Land" play in Northern Italy.
Victor Peraino's Kingdom Come: Journey in Time. Black Widow (BWR 157). Street date: 09-04-14. See the CD section for description of the content.
Vitet, Bernard: La Guêpe. Souffle Continu Records (FFL010). August 2015. Limited Edition of 500 copies on black and 200 on white vinyl. 350 Gr. sleeve with Obi strip, reverse printing. Bernard Vitet was a key figure in the French free jazz / improv scene of the early 70's. This mythical avant jazz LP is the result of a truly magical session he put together in December '71. Not just free jazz from the 70's it has some 20th Century elements that recall some of the most memorable albums on the Italian Cramps label.
Vostell, Wolf: Dé-coll/age Musik. Soave (SV02). Street date: 02-03-17. Limited edition gatefold LP. First released in 1982, "Dé-coll/age Musik" draws from material dating between the late 50's and early 80's - the results of Vostell's application of décollage, the near perfect inversion of collage. Rather than gathered and assembled sounds - as with Musique Concrète - these are the result of subtractions from a former whole - the death of one, giving life to the next. A singular body with no loyalty, producing shocking results!
Waits, Tom: Live At Ivanhoe Theater, Chicago, IL - November 21st, 1976. B 13 (B206). Street date: 14/11/13. This Chicago live date is one of the finest sessions (both in terms of performance and recording quality) from the 76-77 world tour. Featuring his classic backing group of the time, The Nocturnal Emissions, this is Waits' at his drunken, pessimistic best. Limited edition of 500 copies on clear vinyl.
Walrus: S/T. The Electricity Recording Company (ELPS-201). LP release! Not to be confused with the British band from the 70's, this one comes from Sweden. While early German Electronic Kraut Rock seems to be in the band's collective DNA, that's just a small part of it. The roots of their music may be firmly planted in age old Psychedelic and Progressive Rock, but their branches reach well into the future to a new kind of Post-Rock perhaps. And theirs is a sound that changes constantly. Going from pastoral and emotional to jugular aggression in mere seconds, the band ebbs and flows, back and forth, creating spectacular atmospheres and moods. Building tension and tearing it down, telling stories and painting pictures. There is nothing quite like it.
Waterloo: First Battle. Guerssen (GUESS 061). Street date: 02/09/09. Originally released in 1970, this is the sole output by the Belgian band, blending progressive rock and heavy prog, with an obvious Jethro Tull influence. This first ever official vinyl reissue offers high quality standards including an insert with extensive liners and photos.
Web: I Spider. Klimt Records (MJJ354LP). Gatefold LP with inside pocket. Jan. 2013. Third and last album from 1970 before the name changed to Samurai. €16
Weidorje: S/T. Replica (RPC10). Shipping date: 30/04/15. 180 gr. vinyl reissue.
Weston, Randy: Uhuru Afrika. Cornbread (CRNBR16032). Street date: 16-03-17. Banned from apartheid South Africa, this is Randy Weston's magnum opus, reissued on 180 gram vinyl with download card.
Wheeler, Kenny & Taylor, John: On The Way To Two. CAM Jazz. July 2016. Reissue of this last great collaboration work on 180 gram vinyl!
White Willow: Storm Season. Remastered and with new artwork, here's a limited edition of 200 copies on blue vinyl. December 2015.
Wicked Minds: Visioni, Deliri e Illusioni. Black Widow BWR 136 LP. June 2011. See description for the CD edition at the top of this page!
Wilen, Barney: Un Témoin Dans la Ville. Doxy Cinematic (DOC 126). 02/12/15. Having already played on a film soundtrack with Miles Davis on Luis Malle's "Ascenseur pour l'échafaud", Barney Wilen -- still barely in his 20s - got the opportunity to compose the score for another French film that used jazz as a background, "Un Témoin Dans La Ville". Judging by the present album the result is most convincing; one couldn't hope for a better marriage, so perfect is the way the music suits the image and vice versa. The soundtrack is coupled on the B side with the more freely jazzy studio album "Jazz Sur Seine", which teams Wilen with three-fourths of the original Modern Jazz Quartet (with Milt Jackson on piano only, of all things, Percy Heath on bass, and Clarke), plus the Latin percussion of Gana M'Bow. Wilen gets more of a chance to stretch out and reveal his swinging, warm tenor tone; Jackson is quite competent as a comping accompanist and in fairly fluent, right-handed bop flurries.
Williams, Arthur: Forgiveness Suite. NoBusiness Records (NBLP 97). May 2016. Featuring: Peter Kuhn, Toshinori Kondo, Arthur Williams, William Parker and Denis Charles. Never earlier released composition from 1979. 400 copies limited edition.
Williamson, Harry / Smyth, Gilli / Allen, Daevid: Stroking The Tail Of The Bird. Vinyl Lovers (901462). 180 Gr. vinyl + 7" Bonus! 25/07/13. Previously released under the Mother Gong moniker, this album compiled recordings that span from the 70's to the 90's. Glissando guitars and meditative synths combine to make timeless and ethereal psychedelia on par with Allen's best work in Gong. €16
Wilson, Steven: Catalogue / Preserve / Amass. May 2012. Strictly limited to 2000 copies, here's an album of live recordings made during Wilson's solo tour in October 2011. Side two of the album is filled by one track, the 23 minutes long "Raider II"
Wilson, Steven: Unreleased Electronic Music. Burning Shed. Second black vinyl edition of this deluxe 2 LP reissue of the long out of print CDR, including one 9 minute bonus track. Comes in a full-colour gatefold sleeve designed by Lasse Hoile, featuring an SW self-portrait photograph on the front. A collection of music recorded by SW between 1990-2003 in an electronic vein that did not find a home in any of his other projects.
Wisdoom, The: Hypothalamus. Heavy Psych Sounds (HPS015). Street date: 13/02/14. The Wisdoom is a doom/sludge/heavy psych band based in Rome (Italy) and formed at the end of 2010. This is their first full length album, with 4 brand new songs for 45 minutes of pure ecstatic violence through a desperate and lysergic trip over sleep phases. Hypothalamus will be released in a limited edition of 600 copies (200 with white cover and white marbled vinyl, 200 copies with black cover and pink vinyl, 200 copies with black cover and clear vinyl).
Wobbler: Afterglow. Pancromatic Records (PLP 20032). Street date: 25-01-17. Here's a revised, remixed and remastered version of the band's 2009 album, in a limited edition of 400 copies pressed on clear vinyl.
Wobbler: From Silence To Somewhere. Limited edition on orange vinyl with black marbles.
Wonder, Stevie: Live At The Regal Theater, Chicago, June 1962. Mr. Suit (SUITABLE1331). 15/01/15. Included here is the hit performance along with the rest of Wonder's show that evening, a night during which he and the backing Motortown band were absolutely ON FIRE. Limited numbered edition of 300 copies on yellow vinyl with red splatter.
Wonderworld: II. Black Widow (BWR 192). 26-08-16. 2nd album by this Italo-Norwegian power trio, with Roberto Tiranti, singer in the power metal band Labyrinth since 1997
Nate Wooley, Hugo Antunes, Jorge Queiro, Mário Costa, Chris Corsano: NoBusiness Records (NBLP 95). May 2016. Limited edition of 300 copies!
Nate Wooley, Hugo Antunes, Chris Corsano: Malus. NoBusiness Records (NBLP 73). 2014. Limited edition of 300 copies!
Workshop de Lyon: La Chasse de Shirah Sharibad. Le Souffle Continu Records (ffl032 LP). Sept. 2017. Still a source of joy, this lyrically feverish second album maintains a narrative dimension with subtle textures developed through the contrasting collective improvisations. With their ever-inventive melodicism, the Workshop de Lyon invent an imaginary folklore on this album which is unlike any other. It is a knowing mix of the avant-garde and the traditional, collective playing vying, with panache and complexity, with the inspired urgency of the soloists (among them the newly arrived Louis Sclavis). Even without filmed images the theatricality and humour of the group's live performances, essential components of their identity, can be felt during the long thematic suites which are both expressive and full of joy. First ever vinyl reissue of this classic recording on a 700 copies limited edition with Obi strip, reverse printing and a 12 page booklet
Workshop de Lyon: Tiens! Les Bourgeons Eclatent... Le Souffle Continu Records (ffl033 LP). Sept. 2017. Third album from 1978, after the creation of the ARFI (Association Searching for an Imaginary Folklore) in 1977. who would later self-produce all upcoming albums from the Workshop. First ever vinyl reissue of this classic recording on a 500 copies limited edition with Obi strip, reverse printing and a 12 page booklet
Wyatt, Robert: The End of an Ear. Cherry Red Phonograph (CRP201). 09/09/13. Featuring significant contributions from his Soft Machine bandmate Elton Dean, amongst others, The End Of An Ear is the first solo and one of the more adventurous titles in Robert Wyatt's catalog. It's an album much more in line with the electronic jazz experimentation of Miles Davis and the avant-garde than the singer-songwriter material Wyatt would later be known for.
Yardbirds, The: London 1963: The First Recordings! Tiger Bay (TB6089). Street date: 14-09-17. The first live album by one of the most important bands of all time, pressed on 180 gram vinyl.
Yes: 90125. Limited picture disc edition of 5000, released for Record Store Day 2017.
Yes: Drama. Friday Music Records LP reissue (Y4LPFM0284). Street date: 22-04-16. This limited edition album is mastered from the original Atlantic tapes by Joe Reagoso and also includes the limited edition gatefold cover, as you remember it. Pressed on 180 gram audiophile vinyl
Yes: Fragile. Friday Music Records LP reissue. Street date: 06-05-16. Limited edition pressed on 180 gram audiophile vinyl
Yes: Heaven & Earth. Soulfood (PRELP 086C-2). 17/10/14. 2LP limited edition (500 copies) on 180gr. white vinyl, with plastic cover
Yes: Time And A Word. MOV (MOVLP988). 180 Gr. vinyl. Release date: 17/01/14. LP reissue of the 2nd album, with insert
Yes: Union. Music On Vinyl (MOVLP1669). Street date: 11-07-16. 180 gram audiophile vinyl including insert with original artwork, liner notes and production info.
Yes: Union. 3LP Hard Cover limited sleeve edition! Oct. 2014
Young, Lester with the Oscar Peterson Trio: Collates. Doxy ACV (ACV2080). Street date: 19-01-17. Numbered limited edition of 500 copies.
Zao: Z = 7L. 180 gram gatefold LP reissue on the label Replica (RPC07). 30/10/14. Debut album (73) by the French band founded by ex-Magma members "Jeff" Seffer (saxophone, clarinet) and François "Faton" Cahen (pianos).
Zappa, Frank: Muffin Man, Vol. 1 (2LP). 02-10-15. Double LP on 180-gram blue vinyl. A recording of Zappa's 1975 show in Providence, with a line-up including Captain Beefheart. This is the first installment of two from that ground breaking performance.
Zappa, Frank & The Mothers of Invention: Live At BBC. BRR4000LP. Nov. 2015. Single-sided splatter vinyl LP with remastered sound. Taped in the BBC studios in 1968, Frank Zappa starts off this legendary broadcast by thanking the BBC for featuring creative music, most of which could never be heard on American radio. Very Frank style! The improvisations take on a similar turn including the reference to "King Kong" with a fabulous performance. What makes this recording unique is the excellent performance of "In The Sky". Sung in a high-pitched voice by Roy Estrada, it's a fantastic doo-wop performance in complete contrast to the complex jazz-rock in the rest of the telecast.
Zem: S/T. PAT Records (PAT-004 LP). 2008. Newer Spanish prog outfit, offering here a music with a strong jazz-rock flavour, sustained by a very efficient rhythm section; the originality comes from the choice of vibraphone as main solo instrument, battling with sax and flute or guitars (including synth guitar), performed by the band's leader. €18
ZNR: Barricade 3. Superior Viaduct (SV071). 28/07/15. This long out-of-print vinyl reissue reproduces the original gatefold design including illustration by Don Van Vliet.
Zorn, John & Chadbourne, Eugene: 1977-1981. Song Cycle (CY986). Street date: 28-09-17. A collection of rare free-jazz pieces performed by John Zorn and selected by the American guitarist and music critic Eugene Chadbourne. Originally released in 1998 to accompany the book release "Sonora: John Zorn" (Materiali Sonori), the album is presented here for the first time in an exclusive release in limited edition on vinyl. It also includes the original book that features exclusive interviews, essays and photos about the artist's entire oeuvre up to 1988.
Zu: Carboniferous. Subsound Records (SSR047). Street date: 02-03-17. LP reissue. Zu's experimental amalgam of metal, math, no-wave, noise and electronics, led acclaimed composer John Zorn to describe their sound as "a powerful and expressive music that totally blows away what most bands do these days". Carboniferous is their masterpiece, originally released on Ipecac in 2009, it includes collaborations with Mike Patton, King Buzzo, Giulio Ragno Favero.
Zushi, Naoki : III. Klimt Records (MJJ371LP). 28/11/13. Japanese guitarist Naoki Zushi was a founding member of 80s noise rock legends Hijokaidan, and has played on many albums with psychedelic folk group Nagisa Ni Te, as well as recording under his own name since the late 80s. His third solo album, appropriately titled III, was originally released only on CD in 2005. A beautiful piece of meditative and progressive folk-rock that harkens back to the best albums of the 70's, III is issued here on LP for the first time. €15
Zzebra: S/T. Sireena Records (SIR4017). Street date: 20/08/12. 180 gr. LP reissue of this album from 1974, between jazz-rock and art rock, added a decent shot of Nigerian folk music; with ex members of brassy band If!
Øresund Space Collective: Different Places. Nov. 2015. Limited edition of 300 coloured /gatefold / hand numbered copies. This marks the 20th Øresund Space Collective release. The music presented on the deluxe 3LP gatefold (or double CD) was recorded by a very special group of musicians from Sweden and Norway (plus Dr Space-Denmark) at the Black Tornado studio in Copenhagen.
Øresund Space Collective: Entering into the Space Country. Kommun 216. 15/06/11. This is the 3rd vinyl and 10th proper release by the Øresund Space Collective, the first to feature guitarist Claus Bøhling (Hurdy Gurdy, Secret Oyster, Elektrum) who joined them in the studio. A huge jam party with 4 to 5 guitarists present plus other instruments too. There are a lot of guitar interactions and great melodic lines and solos by all.
Øresund Space Collective: Live at Roadburn 2010. Space Rock Productions (SRP03). 2LP. This is the 9th release by the space rock band from the Øresund region in Scandinavia, featuring members of Copenhagen and Malmö. Opening the Roadburn Festival on April 15th 2010, they delivered a totally improvised music for a packed audience of fans and enthusiastic lovers of psychedelic rock.
Øresund Space Collective: West, Space And Love. Street date: 03/08/12. LP limited edition (500 copies) of an album recorded on October 10-11th, 2009 at the Space Station Studio CPH, Copenhagen.
Ågren, Morgan: Batterie Deluxe. Transubstans Records (TRANSV31). Street date: 02-10-15. Vinyl edition of the drummer's solo album


This page was last updated: