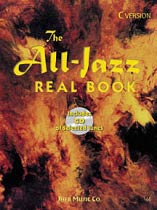 • AEBERSOLD • DRUMS/PERCUSSION • BASS • PIANO/KEYBOARDS • GUITAR • VOCAL BOOKS • WIND/BLOW INSTRUMENTS • STRING INSTRUMENTS • THEORY / EARTRAINING / IMPROVISATION / ARRANGING • TRANSCRIPTIONS & PLAY-ALONGS • REAL BOOKS & FAKE BOOKS • LATIN JAZZ / SALSA & BRAZILIAN MUSIC • MUSIC GUIDES • BIOGRAPHIES & ESSAYS - JAZZ • MOVIES • PERFORMANCE & CONCERT VIDEOS/DVDs •


New Real Books, songbooks, all about theory or improvisation for the practicing musician, music charts, transcribed solos, biographies, essays, technical books and a lot more … The list is too long to name them all but we get them for you.

Music By Mail works with all renowned publishers in the world like Aebersold, Sher, Advance Music, Hal Leonard, Music Sales, etc…

Ask us and we'll tell you which one is best for your needs.

Click the "New" button and you'll read about the brand new and upcoming releases.




Here is an overview of the most recent or still noteworthy releases within educationals and related items. If you want to regularly receive the updates we send, just send us a mail asking for it and we'll get them sent to you.
NB! Prices are given to informative purpose but can be subject to changes at any time. Check with us first before ordering! They are here quoted first in danish crowns (incl. VAT) then in euros (for foreign customers excl. VAT). They are exclusive sending costs from Denmark to your location.
Play-Alongs (also known as Minus One). Aebersold has today over 100 volumes available for students who'd like to rehearse at home with a professional rhythm section backing them up. In most cases, the channel separation allow you to cut off from your amp either piano or bass so you can overtake their function if needed.
Price for volumes with 1 CD: 185/20
+ Aebersold Vol.98 "A.C. Jobim". Bossa Novas with Dave Stryker on nylon string acoustic guitar + bass/dms & percussion
+ Aebersold Vol. 99 Tadd Dameron "Soultrane". One of the first great arrangers and composers in the bebop era.
+ Aebersold Vol. 101 Secret Of The Andes - Andy LaVerne Tunes. Andy LaVerne has quickly emerged on the scene as a leading jazz pianist and composer. His chord substitution style has been widely admired and carefully studied.
+ Aebersold Vol. 102 Jerry Bergonzi "Sound Advice". From the saxophonist once considered by Michael Brecker as the world's best. Since his days with Dave Brubeck in the 1980's, Jerry's influence as a modern jazz tenor man has been undeniable. Less well-known are his tasty compositions, presented here.
+ Aebersold Vol. 103 David Sanborn Jazz. A smooth fusion blend of songs written and recorded by himself or his sideman Marcus Miller. State-of-the-art studio production techniques and authentic arrangments...
+ Aebersold Vol. 104 Kenny Werner "Freeplay". Think play-a-longs and Free jazz don't mix? Think again!
+ Aebersold Vol. 106 Lee Morgan "Sidewinder". Lee Morgan is best remembered for his sassy, super-hip trumpet style, but he is also remembered for his compositional style that greatly influenced the sound of jazz in the late 50s and 60s.

Remember that Aebersold also supplies on some volumes special "thinned" versions like piano voicings, bass lines ….


DRUMS & PERCUSSION


Drumset Essentials by Peter Erskine. Book + CD. Takes you step by step from the very beginning with the most fundamental concepts discussed and illustrated in detail.
Volume 1 concentrates on essential hand and feet techniques and the most elementary beats with variations. The available CD contains examples of many of the written exercises for listening and play-along use.
Volume 2 covers advanced coordination of the hands and feet, more highly developed beats and rhythmic comping styles, and the challenges associated with playing slow and fast tempos. Fills and solos are examined and discussed in detail, as well as brush playing techniques and styles. Large ensemble (big band) and small group playing is examined, with in-depth instruction regarding the reading and interpretation of drum charts.
Volume 3: Covers further brush-playing beats, tips and studies, Brazilian and Afro-Caribbean music, metric combinations/possibilities in 4/4 and odd-time meters, plus general drumming philosophy and work tips. Each volume at 260/28

Steve Jordan: The Groove Is Here. This is the first instructional program by drummer's drummer and Grammy Award winner Steve Jordan, who offers a fascinating look into how and why he plays. Long awaited by drummers around the world, this DVD includes live performances by Bob Cranshaw, Danny Kootch Kortchmar, and Bernie Dr. Woo Worrell. 65 minutes. 325/35

Extreme Drumming by Marco Minnemann. DVD! For the first time in 5.1 Surround Sound, you will experience a stroke of genius first hand! With the help of mind-blowing detailed camera angles, get up up close, listen, and watch Marco play over ten incredible tracks and five live band performances from his best selling CDs. The band features stellar musicians Steve Hamilton (piano), and legendary bassist Wolfgang Schmid. 400/43
Poncho Sanchez Conga Cookbook by P. Sanchez & Chuck Silverman. This book of riffs was produced for beginning conga players or percussionists who want to incorporate Latin or conga techniques into their playing style. This unique book/CD pack covers all the essential styles you'll need, including many of the grooves that have made Poncho one of the world's most in-demand congueros. The tracks on the accompanying CD are performed by a world-class band - members of the Poncho Sanchez Latin Jazz Band - with and without conga parts, so after you learn the material in the book, you'll be able to practice by playing along. Plus - there is a tasty bonus. 225/24.25
Mallet Control For Xylophone by George Stone. Many exercises, simple to complex, designed to develop control of mallets for xylophone, vibraphone, and vibraharp. 56 packed pages.... 115/12.5

"Jazz Mallets in Session" by Arthur Lipner. A method for vibes and marimba for the beginning/intermediate player. Includes 16 play-a-long tunes with rhythm section and 150 page spiral bound book pached with solos, exercises, tunes, and technical information. 250/27
"Modern School for Xylophone, Marimba, Vibraphone" by Morris Goldenberg. "The Goldenberg book" has been used for generations for orchestral malletplayers to develop their skills. As well as studies and etudes, this book includes excerpts of major orchestral repertoire for keyboard percussion instruments. This edition, edited by Tony Cirone, includes phrasings that were inherent in the music but not specifically written out. Stickings were also addressed; the original stickings are in upper case letters, and the added stickings are in lower case. This book is the primary source for keyboard percussion players to learn technique and orchestral repertoire. 130/14
"The Vibes Real Book" by Arthur Lipner. A large, 235 page book that features seven standards arranged 8 times each. The first arrangement is very simple and they progressively get more complex until the eighth step where you are playing a beautiful four mallet arrangement. Bag's Groove, Don't Get Around Much Anymore, St. Thomas, Waltz For Debbie, My Little Suede Shoes, Moonlight In Vermont, and Solar. Prepares the player for performing any lead sheet on vibes with two or four mallets. 350/37,75
"An Introduction to South Indian Music by Charlie Mariano". Charlie Mariano has been involved with South Indian music since 1967 and goes to India regularly to study Carnatic music first-hand. This book gives some basic information about the 72 scales (melakartas) that are the parent scales from which all ragas are formed, the Tala: a highly developed rhythmic system, exercises the author was given by his teachers, tunes, and a list of suggested recordings. This book opens a new boor for your creativity, reguardless which style of music you are playing. 200/21,5

"Buddy Rich's Modern Snare Rudiment Interpretation" by Rich and Adler. 100 page book that interprets basic rudiments for the modern drummer. 150/16,25

"Ultimate Drum Play-Along Drum Trax": by Billy Cobham. 390/41.75
This play along package features classic selections from Cobham, where the individual instrument tracks are re-mixed so that the musician can play along, filling in for any member of the London Jazz Orchestra.

"The Drum Perspective" by Peter Erskine. Book & CD. 260/27.75
Structured like a series of private lessons for drummers, but can be enjoyed by other musicians as well. This book encapsulates years of playing into an interesting methodology on playing in many styles.

Instructional videos (PAL) from Rittor Music
så kan de skaffes igen i Europa !
Cyndy Blackman: Multiplicity (Drum World). From jazz to Rock to Funk. 6 songs performed. 325/34.75
Pat Torpey: Big Drums. Alle niveauer. Mest omkring hard rock stil. 275/29.5
Mike Portnoy: Progressive Drum Concepts. For viderekomne og opad. 325/34.75
Mat Sorum: Drum Licks & Tricks From the Rock + Roll Jungle. 325/34.75
Clyde Stubblefield & John "Jab'o" Starks: Soul Of The Funky Drummers. Opvisning, forklaringer, interviews med tidl. James Brown musikker, guest appearances (Scofield, Medeski …) 325/34.75
Gary Husband: Interplay And Improvisation On The Drums. Fokus på dialog med andre spillere. Her bl.a. med Allan Holdsworth, Jack Bruce, Gary Moore. 275/29.5

Kig også under Latin Jazz / Salsa & Brasiliansk for andre titler !
Look also under Latin Jazz / Salsa & Brasilian for other titles!


BASS


The Evolving Bassist by Rufus Reid. DVD version of one of the best selling bass books of all time, "The Evolving Bassist." See Rufus demonstrate the concepts and techniques all bassists must master and apply them to standards. Includes printable lead sheets and special features. Includes info on grooving on slow and fast songs, line construction, latin playing, rhythms changes, ballad playing, and much more! 390/42

Electric Bass: Essential Sight Reading Studies by David Mott. This 3 volume book/cd set will help you to deal with eighth note rythms, sixteenth note patterns, triplet feels, mixed meters and more. Starts very simply and works up to common, but tricky rhythms. Each volume includes its own book/cd and every example is played on the CDs. 585/63 for the set
Crawl Before You Walk by Tom Warrington. Very basic! Students and teachers alike will find this an easy pathway to creating powerful walking bass lines from chord charts. Recording artist and educator Tom Warrington takes a fun approach that avoids the intimidating topics of music theory and sight-reading. Yet it is tremendously helpful for any bass student sitting in his first jazz or stage band. A handy play-along CD is included which demonstrates every example. 220/23.75
Walking In the Footsteps of Sam Jones. 24 transcribed bass lines, transcribed by Rob Gourlay, from Standards, Blues, Rhythm, Bossa Nova, and more, carefully selected from his best work with artists such as Cannonball Adderley, Bill Evans, Grant Green, Oscar Peterson, and other legends.

"Walking in the Footsteps of Paul Chambers". 24 Transcribed bass lines from standards, blues, rhythm changes and more ... 140/15
"Bass Day 97 New York Highlights". VHS video. 325/34.75
Bass Day Highlights contains performances, instructional material, and post-clinic comments from all 6 Bass Day clinicians, as well as a behind-the-scenes look at 10 incredible hours.
Slap Bass Workout by Jim Stinnett. Book/2CDs. 260/27.75
A practical guide with 57 play a long tracks on 2 CD's. Excellent Practice Guide and Resource!!...
"Jazz Scales For Bass" by Corey Christiansen and Jay Farmer. Book/CD. 260/27.75
Gives insights into many of the scales used in jazz. Scales are presented in tablature, standard notation, and fingering patterns....
"101 Bass Tips Stuff All The Pros Know and Use" by Gary Willis. Book only. 195/20.75
Helpful tips in all aspects of playing and maintaining your bass....
"Bass Builders Bass Improvisation" by Ed Friedland. Book/CD. 235/25
A Complete Guide to Soloing and a comprehensive source for mastering the art of improvisation. CD includes over 50 tracks for demponstration and play-along
"The Jazz Bass Book--Technique and Tradition" by John Goldsby. Book/CD. 325/34.75
Explores the life and work of more than 70 important bassists, including Ray Brown, Eddie Gomez, Charlie Haden, Charles Mingus, Jimmy Blanton, Milt Hinton, Scott LaFaro, Dave Holland, and Oscar Pettiford.
"Jaco Pastorius" Signature Licks. Book/CD. 260/27.75
A step-by-step breakdown of his style and technique. Learn his trademark grooves and solos via structural, theoritical and harmonic analysis. Includes a CD of his performances....


Kig også under "transcriptions" / Look also under "Transcriptions"



PIANO / KEYBOARDS


Free Improvisation: A Pianist's Guide"by Marilyn Crispell. Intermediate. DVD! Sit down at the piano and play whatever comes into your head, making up your own music as you go along. That's free improvisation. Marilyn Crispell digs into her long experience with the music of Cecil Taylor, Anthony Braxton, Gary Peacock and other jazz improvisers, breaking down the finer points of creating music on the spot. 80 mins. 300/32.25
Jazz Chord Hanon by Peter Deneff. 70 important two-hand exercises for the beginning to professional pianist designed to develop fluidity in comping, chromatic and diatonic exercises, altered chords, cycle of fifths and much more. Voicings get progressively more complex. 170/18.25

"Bill Evans: Signature Licks". An in-depth exploration of the playing style od one of the most influential pianists in jazz. This book/CD pack uses excerps from a dozen of Evanns' best songs to demonstrate his various trademark styles. The CD includes full performance samples, as well as some slowed-down piano solo parts. 225/24,25
"Rock N Roll Piano" by Bill Worrall. Book/CD. The reality of the gigging pianist is that there are times when "Misty" jsut won't cut it. This 64 page book and CD will allow you to quickly learn the techniques so that you will have it when you need it. 160/17,25
"Solo Jazz Piano: The Linear Approach" by Neil Olmstead. Book/CD. From Berklee Press. Learn to improvise using the techniques pioneered by piano greats Lenny Tristano and Dave McKenna. It begins with a review of chord symbol interpretation, walks through bass line development, and ends with how to play several melodic lines simultaneously in stimulating musical conversation. Twenty one lessons present techniques, practice exercises, and tunes based on jazz standards. Notated transcriptions of sample improvisations illustrate each lesson's technique, and the accompaning CD lets you hear a master improviser put these ideas to work. 600/64,50
"Duke Ellington Piano Solos". Piano Arrangements. 17 timeless classics arranged for piano by Lee Evans, including Blue skies, Do Nuthin Till You Hear From Me, I'm Beginning to See the Light, In A Sentimental Mood, Mood Indigo, Satin Doll, Solitude, and Sophisticated Lady.... 150/16,25
"Quartal Jazz Piano Voicings" by Paul Rinzler. Book only. 170/18
This book is a complete guide to the captivating and complex chord voicings prevelant in modern jazz... new updated edition.
"Accompanying the Jazz/Pop Vocalist" by Gene Rizzo. Book/CD. 195/20.75
A practical guide for pianists. Includes chapter on Song Forms, Intros, Endings, Rubato, and Transposition. A very informative book!!!...
"Amazing Phrasing -- Keyboard" . Book/CD. 225/24
50 Ways to Improve your Improvisational Skills. The exercises in this book teach the techniques behind phrasing and are designed to help you make the leap from playing notes to playing music!
"Essential Jazz Lines in the style of Bill Evans" by Corey Christiansen and Per Danielsson. Book/CD. 235/25
This text presents numerous musical lines in the style of Bill Evans. Includes a play a long CD....
The Harmony Of Bill Evans by Jack Reilly. Book only. 250/26.75
One of the best analysis books about Bill's compositions has finally been reprinted!
"The Jazz Pianist". Book only. 260/27.75
Left Hand Voicings & Chord Theory. A book that solves the mystery surrounding the proper way to voice chords in the left hand. Begins with Triads and proceeds through thirteenth chords.
"The Jazz Piano Book" by Mark Levine. Sher Music. Book only. 325/34.75
Definitely one of the best pedagogical books about jazz piano and a best seller as well. Fantastic for teachers.


Kig også under Transcriptions + Latin Jazz / Salsa & Brasiliansk for andre titler !
Look also under Transcriptions + Latin Jazz / Salsa & Brasilian for other titles



GUITAR

Rhythmic Concept for Funk/Fusion Guitar by Peter O'Mara. Goes a lot further than just Funk/Fusion "licks." The 16 challenging compositions by Peter O'Mara cover a variety of tempos and grooves and are presented using a real rhythm section for maximum authenticity. Rhythm-guitar riffs are integrated into the overall grooves and there is plenty of room for improvisation as well. The play-along tracks are presented in an order of increasing complexity. CD 1 contains complete recordings of all instruments. CD 2 omits all guitar parts so that you can play along with the rhythm section. Midi files of all compositions are also included on CD 2. 250/25
Talk Jazz Guitar by Roni Ben-Hur. Book + CD. A comprehensive collection of bebop studies for the aspiring and professional guitarist. Contains over 250 pages of detailed studies, noted in all 12 keys with guitar fingerings as well as fingerboard diagrams. 350/37.75.
"Getting Into Latin Guitar" by John Zaradin. A guide to some of the techniques needed for "getting into latin jazz guitar." There are 5 independent sections: References and definition of terms; exercises and/or pieces which demonstrate various guitar techniques; examples of common Rasgueado patterns; the "Riverboat Suite," studies for developing rhythmic ability and appreciation; and pieces in a variety of different Latin styles. The CD, used in conjunction with the written notation, tablature and chord symbols, gives a clear idea of what is required for players and teachers of all levels. All the techniques are playable on the fingerstyle guitar, and the pieces themselves are selected and arranged with performance in mind. 180/19,5
"Guitar Axis: Octaves Master Class" by Don Mock. Book + CD. Don Mock teaches the licks, patterns and techniques of octave style guitar soloing as first pioneered by Wes Montgomery. All music examples are written in notation and tab and everything is demonstrated on the included CD.... 130/14
"Guitar Axis: Turnarounds Master Class" by Don Mock. Book + CD. Don Mock teaches you classic "turnarounds" used by the jazz greats. These will help you add polish to your playing and understand the many variations that the pros use on the gig. Includes a CD. 130/14
"Joe Pass: The Complete". This book is a collage of many of Joe's thoughts about the guitar as an accompanying and solo instrument. Also, many of Joe's transcribed solos, as well as transcriptions of the famous Joe Pass and Herb Ellis duos, are presented here in standard notation only with chord symbols. The music and life of Joe Pass will continue to inspire and guide musicians through this work. Standard notation. 216 pages. 300/32,25
"Guitar Signature Licks: The Best of Pat Martino". Pat Martino, a living legend, emerged as a powerful musical force in the '60s, playing pro at age 15. With this book/CD pack, you can learn the trademark riffs, solos and compositions of this remarkable modern jazz guitar virtuoso. Features in-depth note-for note transcriptions of 14 works. 230/24,75
"Soul Jazz Guitar" by Randy Johnson. Book/CD (Mel Bay). A collection of tunes and solos specifically designed for the intermediate student. Rather than merely transcribing solos from his CDs, he plays material at a reasonable tempo specifically with the student in mind. There are tunes ("Downtime," "The Philadelphians," and "Rolling at the Summit") that appear on his commercial CDs, but included here are versions that are new and totally unique to this project. There are also some improvisations on some familiar "standard" progressions to help the student deal with these changes when he or she encounters them at jam sessions etc. Standard and TAB notation. 200/21,5

"Ultimate Play Along Series: Just Classic Jazz Guitar" by Jimmy Haslip and Barry Coates. Book only. They demonstrate how to play classic trio jazz using the most important great jazz standards.
- Vol. 1(JCJG1) includes Includes: Body and Soul, The Days of Wine and Roses, Stardust, Invitation, Over the Rainbow, 'Round Midnight, Laura, ;When I Fall in Love, In a Sentimental Mood;
- Vol. 2 (JCJG2) includes Some Other Time, Alone Together, April in Paris, Just Friends,Love is Here to Stay, Manha de Carnival, Misty, My Foolish Heart,Autumn in New York;
- Vol.3 (JCJG3) includes My Funny Valentine, Night and Day, How High the Moon,Emily, Gentle Rain, Green Dolphin St., Secret Love, Softly as in a Morning Sunrise, Summertime. Each volume: 180/19,5

"Pentatonic Khancepts". Book + CD. 265/28.50. Following his "Contemporary Chord Khancepts", guitarist Steve Khan is back with a second opus focusing on a creative and different use of pentatonic scales.

"Jazzing it Up" by Fred Sokolow. Book only. 225/24
Includes chapters on all main chord types with substitution ideas and musical examples in well known tunes...
"The Best of Charlie Christian" by Wolf Marshall. Book only. 300/32
A step-by-step breakdown of the styles and techniques of the father of the modern jazz guitar Includes Stardust, Honeysuckle Rose, Air Mail Special, and Benny's Bugle...
"Amazing Phrasing -- Guitar". (See description under Piano/Keyboards)
"Jazz Scales For Guitar" by Corey Christiansen. Book/CD. 260/27.75
This book gives guitarists insight into many of the scales used in jazz.
"Larry Coryell's Power Jazz Guitar". Book/CD. 260/27.75
Extending your Creative Reach. A compilation of life experiences designed to enhance the knowledge of guitar players of every style....
"Jazz Guitar Standards" - A Complete Approach to Playing Tunes. Book/CD. 260/27.75
Includes Lead Sheets, Chord Melody Solos, Comping Backups, Single Line Improvisations, and more....
"Essential Jazz Lines in the style of Bill Evans" by Corey Christiansen and Per Danielsson
(See description under Piano/Keyboard)
"The Guitar"- A Unique and Intimate Language Vol.1. VHS. 260/27.75
An inspiring 2-hour video dealing with all the fundamental details all duitarists must master; including scales, modes, guide tones, chords, harmonies, bass lines, and much more. ...
"Essential Jazz Lines - Wes Montgomery". Book/CD. 235/25
Presents his soloing technique as well as many of the melodic ideas he used while soloing over jazz standards. Learn Wes' styleand make it a part of your own style. Includes a play along CD to help.
"Six Essential Fingerings For the Jazz Guitarist" by Jimmy Bruno. Book only. 130/13.75
A main obstacle facing all guitarists is the overwhelming number of fingering possibilities. In this book, Jimmy presents the six fingerings for the major scales from where all other scales may be derived.

Instructional videos (PAL) from Rittor Music:
+ Electric Guitar Day One: Marty Friedman. Rock Styles for begyndere. 250/26.75
+ Funk Rhythm Guitar: Al Mc Kay. 25 licks and samples. 250/26.75

Kig også under Transcriptions + Latin Jazz / Salsa & Brasiliansk for andre titler !
Look also under Transcriptions + Latin Jazz / Salsa & Brasilian for other titles



VOCAL BOOKS


Norah Jones: Come Away With Me. Piano/Vocal/Guitar Artist Songbook and matching folio to the blockbuster debut from soulful singer Norah Jones. 195/21. Also available as book + CD. The CD features complete sound-alike instrumental backing tracks, as well as tracks minus the piano part so you can take the lead on keys and play with the band. 260/28
Best Of Diana Krall. The first songbook ever featuring Diana Krall's music! It includes Piano/Vocal/Guitar arrangements of 25 beloved standards: All or Nothing at All • Body and Soul • Cry Me a River • Let's Get Lost • Peel Me a Grape • Straighten Up and Fly Right • This Can't Be Love • and more! 233.25/25
Billie Holiday: The Life And artistry of Lady Day. This DVD is a must-have documentary for any Billie Holiday fan! Arguably the best female vocalist in jazz history, a legendary performer of international reputation, Billie Holiday (1915-1959) was known by the emotional intensity she put into the lyrics of her songs. Includes rare and historic performance clips, a biography, discography, lyrics, a list of her own compositions and a bibliography. B & W.

"Jazz Ballads for Singers". Women's or Men's Editions. 15 essential standards have been given new arrangements taylor-made for singers, with alternative jazz chords changes, compete verses, introductions and singer-flattering endings. This book is in a tradational jazz format designed for inprovising accompaniments, with melody line, lyrics, chords, in a handwritten music engraving style. The CD features a professional jazz trio of piano, bass, and drums. 170/18,25
"Jazz Tracks For Singers". Women's or Men's Editions. 15 Great Standards in custom arrangements in singers keys with a tasty trio accompaniment. Womens edition includes Come Rain Or Come Shine, Good Morning Heartache, Honeysuckle Rose, My Funny Valentine, Round Midnight, Route 66, Skylark, etc.... Mens edition includes Body and Soul, Fly Me To The Moon, Nature Boy, Route 66, I've Got You Under My Skin, Fly Me To The Moon, etc... 170/18,25
"Singer's Book of Jazz Standards". Men's Edition & Women's Edition arranged by Steve Rawlins. Book. 50 Great Songs in Custom Vocal Arrangements and Singer-Friendly Keys. 180/19,5
"Vocal Warm Up". CD/Book By Ellen Johnson. Men's & Women's Edition. A series of exercises for warming up your voice along with a basic ear training section. Great for keeping your voice in good shape and preparing you for productive practice and peak performance. 200/21,5
"Ella Fitzgerald - Sing Along". Book/CD. 325/34.75
Sing along with eight Ella classics! CD includes both full accompaniment tracks (without vocalist) and demonstration tracks with a professional vocalist
"The Complete Guide to Teaching Vocal Jazz". 390/41.75
Including pop and other show styles by Dr. Stephen Zegree. A comprehensive text on vocal styles and instruction with demonstration CD.
"Jazz Vocal Practice Series" Vol. 1 & 2. By Jay Clayton. CDs only. 195/20.75
- Vol .1 - Warm ups. CD includes 2 workout exercises. Both have been designed for warming up, improving breath control, widening your range, and improving accuracy and intonation.
- Vol. 2- Vamps and Blues. Since the harmony in a vamp doesn't change much, you have time to hear ideas and develop a solo as well as find new ways to articulate and build your personal vocabulary.
"Sing Your Story: A Practical guide for Learning and Teaching The Art of Jazz Singing". 70p. book/CD. 250/26.75
By the same author, Jay Clayton.
"Vocal Improvisation" by Michele Weir. 230p. book/CD. 350/37.25
For individual jazz singers/classroom students & teachers of all levels of experience. Vocal examples with rhythm section backing on the accompanying CD. Also a section including interview of today's leading jazz singers.



WIND/BLOW INSTRUMENTS


Flexus: Trumpet Calesthenics for the Modern Improvisor. The first book to deal with the unique demands of improvising on the trumpet! As every trumpet player knows, playing an extended solo often results in playing the trumpet less correctly as the solo goes on. FLEXUS addresses this problem with new and progressively challenging routines and ten specially written etudes. Includes a demonstration CD. 350/37.75
Trombone Technique by Ed Neumeister. Book/CD. 260/27.75
For the intermediate/advanced trombonist, this book contains 24 etudes designed to promote range, good sound, musicality, and fluidity. The author plays each etude and some improvisations on the CD. ...
The American Trombone by Sam Burtis. Book only. 600/64
This book written by a man with 25 years of playing experience is a thorough trombone method covering a lot of aspects like: embouchure, tonguing and slide techniques. The aim is to give the student a multi styles total trombone technique.

"Amazing Phrasing -- Tenor Saxophone" (See description under Piano/Keyboards)
"Amazing Phrasing – Trumpet"
"Practice like the Pros" by Sue Terry. Book only. 225/24
Discover the favorite practice routines of today's finest sax players....
"Play With A Pro" by Bugs Bower. Book/CD. 195/20.75
Practice 1st or 2nd Trumpet with a group of New York's finest musicians!...

STRING INSTRUMENTS


Jazz Fiddle Wizzard: Martin Norgaard. Book/CD. Plenty of infos for string players. 300/32
The Contemporary Violin: Extended Performance Technique. Patricia & Allen Strange. 337s. Book only. 300/32
It is not too often that we find well documented litterature for such instruments, here with seldom discussed topics such as overtones, MIDI, sound reinforcement, percussion technique, etc… From University of California Press.
Det er ikke tit, at man finder en så vel dokumenteret bog til den instrument. Here er en med sjældent diskuteret emner som: overtoner, MIDI, lyd forstærkning, percussion teknik m.m. Fra University of California Press.

THEORY / EARTRAINING / IMPROVISATION / ARRANGING


Training The Ear Vol. 2 by Armen Donelian. Book + 4 CDs. Continues the development started in the first book and specifically targets the harmonic needs of the student of intermediate level harmony with his/her advanced development mind. It is intended to provide a practical aural and theoretical foundation that enables the improviser to hear changes and harmony easily and confidently, and thereby to contribute to raising the standard of music pedagogy. 600/60
Talk Jazz by Roni Ben-Hur. A comprehensive collection of bebop studies for all instrumentalists and vocalists to help develop technique, expand your vocabulary, and broaden your understanding of harmony. 175/18.25

Gil Evans & Miles Davis: Historic Collaborations by Steve Lajoie. Compositions vs. Recompositions vs. Arrangement. Examines the 1957 to 1962 Evans-Davis collaborations in historical context and explores the importance to jazz ensemble literature. Detailed analysis and transcribed full scores of Blues for Pablo, New Rhumba, Will O' The Wisp, Bess, You Is My Woman Now.Included recommendations for further study + bibliography and issued recordings of this era, and more. 432 pages. 500/53.75
Jazz Improvisation -- A Pocket Guide by Dan Haerle. After 25 years of teaching, Dan has made available this wonderful "pocket sized" resource detailing the materials and techniques needed to play jazz. Includes chapters on chords & chord symbols, voicings, blues, functions, ii/V/Is, guide tones, and more! Over 90 pages. 80/8.5
Clear Solutions for Jazz Improvisers by Jerry Coker. Based on easy to understand instruction and concise musical examples, Jerry first defines the concept, explains it's purpose and then presents it's traditional usage. Concepts include guide tones, tri-tones, the jazz language, turnarounds, polychords, slash chords, ii/V7/Is, vehicle types, keeping your place, and much more. This book will greatly increase your understanding of the most essential jazz concepts all improvisers need to master. 168.25/18

Forward Motion by Hal Galper. A Corrective Approach to Jazz Phrasing, Hal has been teaching the subject of "forward motion" for many years to students worldwide. "Right" notes will only get you so far. Forward Motion, the concept of beat/note placement, will give your phrases a sense of logical flow and natural resolution. This is a concept understood for hundreds of years by some of the greatest classical composers and, more recently, by jazz legends. Like the concept itself, Hal's writing style is forward moving and logical, making a potentially difficult concept easy to grasp and understand. A new idea in Jazz publishing, this book will perpetually grow and expand because all the exercises and play along tracks (about 300 right now) are web-based, so the author will be continually editing and adding. Nearly 200 sprial bound pages. 300/32,25

Intermediate Jazz Improvisation - Expanded Version. A Study Guide for Developing Soloists - Book/2 CD's By George Bouchard. All aspiring jazz players find themselves at a point in their development where they are ready to go from playing "right notes" to actually playing meaningful solos. Making this transition can be as frustrating as it is essential. INTERMEDIATE JAZZ IMPROVISATION is for everyone wishing to bridge the gap between playing scales, chords and licks to playing realistic, flowing jazz lines! It's specifically designed to build upon the knowledge you already have and to improve your understanding and skills as a soloist. The 2 Play-A-Long CD's include selected tracks from Aebersold Play-A-Longs coordinated with exercises and solo examples played on a separate channel and notated in the book. All parts in the book are transposed for all instruments. Useful for both private and classroom settings. Expanded version includes over 150 pages of additional transcribed solos from the CD's. 350/37,75

Reharmonization Techniques by Randy Felts. Book. When you reharmonize a tune, you give the melody a new color by changing the underlying harmonies. Whether you direct a band or choir, play piano or guitar, or compose for any genre, you will fine simple and innovative techniques to update songs and develop new arrangements by studying the hundreds of copyrighted examples throughout this book. Techniques covered include simple substitution, diatonic approach, adding dominant and sub-dominant chords, harmonic displacement, modal interchange, and others. 300/32,25

Improvisation: Developing A Personal Approach by Joe Lovano. DVD. Develop your own voice with Joe's practice techniques. In this Master Class from Berklee College of Music, Lovano shows you how to play any instrument with greater spontaneity and feeling. He'll teach you how to interpret the melodic, rhythmic and harmonic essence of a tune. You can then create your own improvisational ideas from within these musical elements.His lessons will help you make the most of your solo practice time, and interact more creatively with other musicians. Relax, hear the music, feel the mood and let your ideas flow. 200/21,50
Dave Liebman: On Education, The Saxophone & Related Jazz Topics. Here is a masterful collection of articles and papers written over the years summarizing thoughts on various topics related to jazz and education. Each article is a worthy testament unto itself, but as a collection, they form an enlightening and insightful tool for every music educator and player in search of new ideas and fresh perspectives on teaching for the next century. 130/14
"Jazz Theory Resources" Volume 1& 2 by Bert Ligon. Book only. Vol.1: 520/55.5 Vol.2: 390/41.5
A Tonal, Harmonic, Melodic, and Rhythmic Organization of Jazz.

Ear Training: A Comprehensive Approach to the Systematic Study of Melodic and Harmonic Structures in Music. Three volume course by Elvo S. D'Amante.
- Volume 1: Scale Forms through Six Basic Tetrachords. Book/2 CDs. 315/33.25
All common scales and modes, Six Basic Tetrachords, and over 114 minutes of CD lessons, studies, and drills.
- Volume 2: Twelve Basic Interval Sounds to Master. Book/5 CDs. 390/41.75
Defines intervals (Ascending & Descending Melodic Intervals, Harmonic Intervals, The Diatonic Major-Key Signature, Simple & Compound Intervals, Chromatic Intervals, Interval Inversion, Interval Grouping, etc...) Includes over 360 minutes of CD lessons, studies, and drills.
- Volume 3: Capturing the Basic Chord Sound Qualities. Book/4 CDs. 350/37.5
Captures the sounds of the most-used melodic and harmonic chord qualities. Includes over 290 minutes of CD lessons, studies, and drills.

Metaphors For the Musician by Randy Halberstadt. Sher Music. 329p. book. 525/56
A slightly different approach covering philosophical aspects for any musician and some more piano related things.

"Melodic Junction" by Jay Umble. Book/CD. 195/20.75
Discusses the joining together of melodies from various key centers in a in-depth manner. Covers playing ideas "inside" and "outside" the stated harmonies.

"The Jazz Educator's Handbook" by Jarvis and Beach. Book/2CDs. 625/66.5
After month's of dilligent preparation, this is the most comprehensive, how to handbook for jazz educator's ever published. 271 pp with 2 CD's.

"It's Not On The Page!" by Stephanie Nakasian. Book/CD. 450/48.5
How to integrate jazz and jazz rhythm into chordal and solo repretoire. An exciting an innovative guide to learning to sing jazz. Includes sample CD with practice exercises.

"The Jazz Theory Book" by Mark Levine. Sher Music. Book only. 475/50.75
following the success of the "Jazz Piano Book", the author came up with this book, a broader approach of jazz theory this time but still with the piano as means of explanations. Quite as pedagogical as its previous companion.

The Inside Improvisation Series by Jerry Bergonzi
A very successful series by an acclaimed musician. Each volume focuses on a specific topic. Book/CD. 300/32
+ Vol.1: Melodic structures
+ Vol.2: Pentatonics
+ Vol.3: Jazz Line (chromaticism, line playing and voice leading)
+ Vol.4: Melodic Rhythms
+ Vol.5: Thesaurus Of Intervallic Melodies. Attention! This book: 350/37.25!
+ Vol.6: Developping A Jazz Language. 350/37.25

Ready, Aim, Improvise! By Hal Crook. 352 p.book/2CD. 500/53.25
A clear and comprehensive study of every step in a jazz musician's education by an acclaimed musician and pedagog.
Includes: music theory, jazz harmony, ear training, jazz execution, jazz vocabulary, practicing, self critiquing and more …



TRANSCRIPTIONS & PLAY-ALONGS


Seriously Brubeck. Dave Brubeck has incorporated a wealth of European musical elements, from J.S. Bach to Darius Mihaud (with whom he studied), in each of these dynamic works. This unique collection effectively showcases Brubeck's compositional genius in a "classical style" idom Includes: Glances Overture, Blue Aria ,Struttin, Doin the Charleston, Points on Jazz, Chromatic Fantasy Sonata and Tritonis. 259.25/28

Cyrus Chestnut: The Collection. Piano Transcriptions. 7 note-for-note transcriptions including Blue Skies, Caravan, East of the Sun, Elegie, My Funny Valentine, Revalation, and Tenderly. 200/21,5
Charlie Christian: The Definitive Collection. 15 songs from one of the most influential jazz guitarists of all time. Includes note-for-note transcriptions with tab. 200/21,5
John Coltrane Plays Coltrane Changes. This book presents an exploration of Coltrane's changes (Giant Steps/Countdowm) by studying 13 of his arrangements, each containing Coltrane's unique harmonic formula. It includes complete solo transcriptions with extensive performance notes for each. Titles include: Body and Soul, But Not For Me, Central Park West, Countdown, Fifth House, Giant Steps, Summertime, The Night has a Thousand Eyes. 200/21,5
"The Chick Corea Collection": Book only. 290/30.5
30 piano solos including Night Streets, 500 Miles High, La Fiesta, Spain, Children's Song, Captain Senor Mouse, Space Circus and more....

Miles Davis. Jazz Piano arrangements of 17 classic tunes. 195/21

Miles Davis Kind Of Blue Complete Transcriptions. Inkl. piano voicings, bass linier og alle soli.
En klassiker kan snart gemme en anden ! 260 Kr. Hard cover udgave: 300/32
Miles Davis Originals Vol.2. Features 14 Davis Originals transcribed note-for-note for trumpet exactly as he recorded them. Includes Agitation, All Blues, Bitches Brew, Country Son, Eighty One, Filles De Kilimanjaro, Four, Miles, Miles Runs the Vodoo Down, No Blues, Petits Machins, Seven Steps To Heaven, So What, and Spanish Key. 200/21,5
Buddy DeFranco. 15 solos. 240/25.75
Bill Evans: The Trio Vol. 1. First of its kind! Note-for-note piano, bass, and drum transcriptions of eight great tunes performed by the formidible trio of Bill Evans, Scott LaFaro and Paul Motian. 350/37.75
Bill Evans: The Trio Vol. 2. Featuring Bill Evans, Chuck Israels, and Paul Motian. Straight-from-the-record transcriptions of eight more favorites as performed by these jazz all-stars. 350/37.75
Bill Evans: The Trio Volume 3. Note-for-note transcriptions for piano, bass and drums of 8 great jazz tunes. 350/37.75
Barry Galbraith Guitar Solos Volume 2. Mel Bay. This is the second volume of 13 standards arranged for solo guitar by Barry Galbraith. Facilitating the learning experience, all chord symbols, left-hand fingering, and tablature are included. There is also a companion CD recorded by John Purse. 233.25/25

"The Bill Evans Guitar Book" by Sid Jacobs. Book/CD. 260/27.75
Includes music, instruction and analysis of 14 Bill Evan's pieces, all in their original keys and with full demonstration tracks on the accompanying CD.
"Bill Evans Piano Solo" by Andy LaVerne. Book only. 195/20.75
22 Piano Solos arranged by Andy LaVerne. Includes a wide cross-section of Bill's original compositions arranged by one of the authorities on his music.

"Bill Frisell -- An Anthology". Book only. 260/27.75
127 pages of original music. Includes over 50 tunes by Bill Frisell
"Barry Galbraith Guitar Solos". Book/CD. 260/27.75
13 standards arranged for solo guitar by the great guitarist in both standard and TAB notation. Includes Darn That Dream, My Funny Valentine, Alone Together, I Can't Get Started, Have You Met Miss Jones …
The Dizzy Gillespie Collection. 20 Transcriptions for Trumpet. A must for every trumpet player, this songbook features 20 newly transcribed solos from this jazz giant's long and varied career, from swing to bebop to Latin. 200/21,5
Benny Goodman: The Collection. This Unique songbook takes 29 Benny Goodman big band arrangements and expertly transcribes and adapts them for solo piano. Includes a Goodman discography and the standards and more.
"The Don Grolnick Collection": Book only. 235/25
This outstanding collection features 30 tunes including Act Natural, Dogs in the Wine Shop, Heart of Darkness, What a Miracle can do, and more. Includes a biography and discography. Lead sheets & sketch scores.
The Herbie Hancock Collection. 8 piano transcriptions transcribed by Richard Tuttobene. One of American music's most gifted and eclectic artists, Hancock's talent as a pianist and composer is highlighted in these 8 note-for-note solo piano transcriptions of his performances. 200/21,5
Coleman Hawkins: Artist Transcription Series. 16 transcriptions. 260/28

Bebop Piano. A step-by-step breakdown of the styles and techs of the great bop masters, including Red Garland, Al Haig, Barry Harris, Hampton Hawes, Hank Jones, Wynton Kelly, Thelonious Monk, Bud Powell, George Shearing, Horace Silver and Lennie Tristano, through analysis of lines transcribed from famous solos. Includes CD of the lines being demonstrated with stylistic feel and nuances. 259.25/28
Diana Krall: Live In Paris. book only. Piano/Guitar /Vocal Transcriptions. 150/16,25
Scott LaFaro Solos. Transcribed by Phil Palombi. Here's the first book of Scott LaFaro solo transcriptions taken from the Bill Evans trio recordings Sunday at the Village Vanguard and Waltz For Debbie. The Book contans highly detailed transcriptions of all 15 of Scott's bass solos, including the alternate takes. 260/28

The Music Of Eric Marienthal. Book/CD: 300/32,25
Brad Mehldau Collection. Note for note transcriptions. 200/21,5

Pat Metheny Songbook. 167 kompositioner i stærkt spiralbundet bog. En must! 350/37.25

Charlie Parker: Signature Licks. Learn the trademark riffs, solos, and compositions of the man who revolutionized jazz on the saxophone. This book/CD pack provides in-depth alalysis of 12 classics. CD Tracks include a studio sax player (Not Bird) playing the heads and transcribed solos to demonstrate correct inflections and nuances. 259.25/28

"Charlie Parker - Essential Jazz Lines". Play-Along Book/CD. 195/20.75
Includes a book of Parker phrases and analysis of his style correlated to a CD of rhythm tracks (guitar, bass, and drums) to play them with. 32 pages. Choice between C, Bb, Eb, F edition + a special one for guitarists.
"The Essential Jaco Pastorius": Book only. 235/25
15 exact transcriptions of his brilliant work including Amerika, Birdland, The Chicken, Donna Lee, Invitation, Opus Pocus and more. Contains Standard and TAB notation....
"Jaco Pastorius: The Greatest Jazz Fusion Bass Player": Book only. 235/25
15 exact transcriptions of his best fusion works, including Barbary Coast, Birdland, Black Market, Port of Intry, River People, Punk Jazz, Speechless and more. Includes Standard and TAB nota...
"The Music of Django Reinhart" by Stan Ayeroff. Large 272 page book. 390/41.5
44 classic solos by legendary guitarist with complete analysis. Each solo is a masterpiece.

"Jazz Rock Solos for Guitar" by Norman Brown, Steve Freeman, and Doug Perkins. Book only. 235/25. Lead Guitar in the styles of Larry Carlton, Robben Ford, Pat Metheny, John Scofield, Mike Stern and more!...

Lead Sheets from Kendor: Book only. 90/9.75
- Basie-Nestico Lead Sax Book:
Complete Lead Alto parts for 9 charts as recorded by Count Basie and his Orchestra on the Album "Basie Straight Ahead"
- Basie - Nestico Lead Trumpet Book: same for trumpet.
- Thad Jones Lead Sax Book or Thad Jones Lead Trumpet Book:
Complete parts for 8 recorded charts. Including Dedication, A Child is Born, Ahunk Ahunk, Fingers, and more....

Jazz Track Series: Play along CD and Book for improvistation study and performance. Easy to read. 195/20.75
Choice of backing tracks: Full stereo rhythm section or Split track with melody, Removable Bass and Piano. 10 tracks.
- Vol.1 Duke Ellington Caravan/In A MellowTone/ In A Sentimental Mood/Satin Doll/Take The A Train/Prelude To A Kiss
- Vol.2 Miles Davis All Blues/Blue In Green/Four/Milestones/Nardis/SevenSteps To Heaven/So What/Tune Up/Nardis ..
- Vol.3 The Blues Mr. PC/Freddie Freeloader/Now's The Time/Blues In the Closet/Tenor Madness/C-Jam Blues …
- Vol.4 Jazz Ballads Body And Soul/But Beautiful/Here's That Rainy Day/Misty/My Foolish Heart/My Funny Valentine ..
- Vol.5 Best Of Be Bop Anthropology/Donna Lee/Doxy/Epistrophy/Lady Bird/Oleo/Ornithology/Scrapple From The Apple ..
- Vol.6 Jazz Classics With Easy Changes Blue Train/Footprints/Impressions/Killer Joe/St. Thomas/Well You Needn't …
- Vol.7 Essential Jazz Standards Autumn Leaves/Cotton Tail/Easy Living/I Remember You/Stella By Starlight ….
- Vol.8 Antonio Carlos Jobim the GirlFrom Ipanema/How Insensitive/One Note Samba/Desafinado/Wave/Meditation …
- Vol.9 Dizzie Gillespie Con Alma/A Night In Tunisia/Manteca/Salt Peanuts/Woodin' You/Groovin' High …

"Exercises and Etudes for the Jazz Instrumentalist" by Jay Jay Johnson. Book only. 225/23.5 - From Hal Leonard. A collection of original pieces by the master trombonist/composer J.J. Johnson. Designed as study material (home or class study) and playable by any instrument, these pieces run the gamut of the jazz idom, featuring all time signatures and styles. Easy to Advanced. Hand written notation. Great for sight.reading.

Artist Transcriptions Series: transcriptions with biography and discography. Book only. 260/27.75
+ "The Stanley Clarke Collection". 16 Masterpieces & Transcriptions by one of the most celebrated bass players in the world today....
+ "Miles Davis Standards Volume 2": Airegin, Basin Street Blues, Footprints, I'll Remember April, Lament….
+ "Vince Guaraldi Collection": Nine Transcribed solos of the popular jazz pianist, including Cast Your Fate To The Wind, Christmas Time Is Here, Greensleves, Linus and Lucy, Samba De Orfeu, and Star Song ...
+ "The Herbie Hancock Collection": 8 piano transcriptions of: Autumn Leaves, Butterfly, Cantelope Island, Dolphin Dance
Maiden Voyage, 'Round Midnight, Speak Like A Child ...
+ "Hampton Hawes Collection". 8 transcriptions of jazz standards for piano. All the Things You Are, Autumn in New York, Body and Soul, Easy Living …
+ "Thelonious Monk Plays Jazz Standards" Vol.1 & Vol.2:
Each volume contains 15 note-for-note transcriptions from Monk's classic recordings.
The Bud Powell Collection. Book only: 9 piano transcriptions
+ "Wayne Shorter": 24 transcriptions of his Blue Note and Miles Davis period.

"Play with a Pro" by Bugs Bower. Book/CD. 195/20.75
15 duets for alto sax over tunes in standard, bop, swing, latin, rock, and jazz styles. CD has three tracks for each duet, one performance track, one with lead part and one with harmony part
"Tenor Sax Artistry -- Jazz Standards". Book only. 155/16.75
Two transcribed solos for each artist, with many artists soloing on the same tune, making style comparison much easier. Includes Coltrane, Getz, Gordon, Hawkins, Simms, Stitt, and more.

"The Jamey Aebersold Jazz Ensemble Collection": A set of eight full arrangements correlated to selected tracks from Jamey's Play-A-Log Vol. 1 Learn to Play JazzVol. 2 Nothin' But the Bluesand Vol. 88 Millennium Blues.
The conductor's score includes a CD with full recordings of all the charts. Choose between:
Dms/Alto 1-2/Tenor 1-2/Bariton Sax/Bass/French Horn/Flute/Guitar/Piano/Trumpet 1-4/Trombone 1-4/Tuba: 130/14
Master Score: 260/27.75
Complete Set: 1235/131.75



REAL BOOKS & FAKE BOOKS


Pocket Changes 2. This mini fakebook is building on the success of the first volume and this new edition contains over 360 chord changes to jazz classics and standards. No tune duplication with the first volume! 4.5" x 6" spiral bound. 225/24.25

Sher Music is a leader in this category and has provided us with all the "good" Real Books, the Bible, as we musicians say. On the down side, we must note with a sigh that the prices have increased quite a bit….

All-Jazz Real Book: Sher Music. 550 pages spiral bound book AND CD. 585/63
Now in C, Bb & Eb. CD included. The latest shot from Sher in the matter of Real Books. An amazing assortment from Lester Young to Steely Dan, with plenty of Latin favorites. Special demo CD of 37 melodies allows you to capture every stylistic nuance.
The Latin Real Book: Sher Music. C, Bb,Eb edition. 475/50.75
Nearly 600 pages of the finest Latin music available. More than just a collection of heads, many songs include the original harmony parts and the C version contains several piano parts and a section for percussionists explaining rhythmic styles. This is the definitive book on Latin music!
Also available: SAMPLE CD for the Latin Realbook. 175/18.75 - A CD of 12 exciting reissues of the original recordings by the original artists. The best way to capture not only the notes, but the style as well!
The Standards Real Book. Sher Music. Over 600 pages. C, Bb,Eb edition. 475/50.75
The Best of Gershwin, Cole Porter, Rodgers & Hart, Johnny Mandel, Van Heusen & Cahn, Dietz & Schwartz, Mancini, Burt Bacharach, Jobim … but also pop standards (Doobie Brothers, Jarreau, Benson m.m.).

And of course all the New Real Books (Vol. 1, 2 & 3) i C,Bb og Eb. 450/48



The Real Easy Book: 269.50/29. A 94 page, coil-bound book.Sher Music Co. and the Stanford Jazz Workshop have created the ideal introduction to playing jazz for beginning musicians. This book is designed for music teachers to give their beginning students and jazz combos a collection of tunes that are easy to play, and that will work as rock, Latin or funk tunes, as well as swing.
Tested and refined for years at the Stanford Jazz Workshop's summer camps, each tune in the book also includes a page of supplementary educational material---suggested scales, simple chord voicings, sample bass lines, etc.---so that beginning improvisers can sound good right away. The C version is available now and the Bb, Eb and bass clef versions will be released by the end of February 2003. Features among others:
- tunes from Horace Silver, Eddie Harris, Freddie Hubbars, Red Garland, Cannonball Adderley, Rollins, Cedar Walton, Wes Montgomery ..
- sample piano voicings or bass lines, guitar chord diagrams, useful scales for improvisation included with each tune for reference.
- developed and road-tested at the Stanford Jazz Workshop's summer jazz camps.
- each song sounds good played in rock, funk or latin as well as swing.
- easy but classic jazz tunes selected for giving the student a good start in learning the jazz repertoire
"As a company producing books by musicians, for musicians, we wanted to create a strong stepping stone up to our New Real Book series. This is it!", explains bassist and Sher Music Co. president Chuck Sher.

Pocket Changes: A mini fakebook (4.5" x 6") with only chord progressions written. 421 standards. 260/27.75

Bill Evans Fake Book: 60 of his classic composition + essay on his life. 300/32

The Chicago Fakebook. 187 kompositioner ( 25 or 6 to 4 m.m.) af den legendariske gruppe Chicago Transit Authority i fake book format med leadline, lyrics & akkorder. I C udgave. 250/26.75





LATIN JAZZ / SALSA & BRAZILIAN MUSIC


"Explosion Latina". This hot collection features note-for-note TAB transcriptions for 14 of today's biggest latin hits by bands such as Mana, Jagures, Puya, Santana and others. 170/18,25
"Ultimate Latin Riffs" by Carlos Campos and Gordon. Book + CD. This book provides an extensive study into the various piano/keyboard latin styles including Salsa, Mambo, Merengue, Calypso, Cha CHa, ect. These exciting 50 examples will have you spending many enjoyable hours learning the intricacies of Latin keyboard playing. The book is transcribed note-for-note from the superbly recorded audio CD. Each example is recorded twice, the first version with piano, bass, and drums and the second version with just bass and drums so the pianist can practice along with the rhythm section. 230/24,75



Latin Violin: How to Play Salsa, Charanga and Latin Jazz Violin by Sam Bardfeld. Book + CD. 325/35.
Chapters include a brief history of charanga and how the violin was afro-cubanized; how the music works; solo Transcriptions and analysis (Miguel Barbon, Jose Chombo, Silva, Felix, Alfredo De La Fe, Eddie Drennon, Lewis Kahn, and Rob Thomas). CD includes famous Afro-Cuban violin solos and an extended play along session featuring John Almendra (sideman with McCoy Tyner, Mongo Santamaria, Willie Colon).

Latin Real Book: Trad. & Modern Salsa + Brasilian. (See under "Real Books & Fake Books")
Inside the Brazilian Rhythm Section by Nelson Faria. Sher music. Book/2CDs. 400/42.75 - Play along and interact with a master rhythm section on different brazilian grooves. For all instruments.
The Brazilian Guitar Book by Nelson Faria. Sher music. Book/CD. 350/37.25
A complete guide to playing guitar in different styles with authentic voicings. Unique!
Bossa Nova Guitar: Romero Lubambo. VHS PAL from Rittor. 33 licks & samples. 250/26.75
Tudo E' Som: Music of Hermeto Pascoal. 32 compositions with lead line & chords. 200/21.25
The Latin Bass Book: Sher Music. By Chuck Sher & Oscar Stagnaro. 450/48
While "The True Cuban Bass" limited itself to cuban music we also go here into afro-cuban, brasilian, southamerican and carribian styles including latin jazz. 250 pages with exercises + 3 CDS and a super rhythm section.
Muy Caliente ! Sher Music. Afro-Cuban Play Along CD + Book. 200/21.25
Keyboards (Rebecca Mauleón), Bass (Oscar Stagnaro), Timbales & percussion (Orestes Vilató). Over 70 mn latin grooves.
101 Montunos. Sher Music. Book/2CD. 400/42.75
A practical and authorative guide to salsa piano styles. Learn how to create authentic comping in various styles!
Brazilian Music Workshop by Antonio Adolfo. 144p. book/CD. 300/32
A very good and authentic book to learn to play in many different brazilian styles including some lesser known.
Horacio Hernandez: whole performance from the Modern Drummer Festival 2000. With guests such as Michael Brecker, John Patitucci …. 63 mn VHS 300/32
The Salsa Guide Book by Rebeca Mauleón. Sher music. 259p. book. 350/37.25
A complete book on salsa and its history, background, styles, instruments … Ideal for teachers.


MUSIC GUIDES


Penguin Guide to Jazz on Compact Discs (Sixth Edition) af R.Cook & B. Morton.
An unavoidable source of reference.Each new edition gets thicker and thicker. Each artist's entry has been reassessed, and text updated to incorporate thousands of additional CDs. All about jazz records on the market and a special focus on european releases.
Rough Guides: The Penguin Group has developed a series of thematic books and CDs called "rough guides" which contains a lot of practical information and are ideal reference books for students, libraries, etc..
Country Music. 608s. Juni 2000. 225/24
Country Music: 100 Essential CDs.208s. 80/8.5
Drum 'n' bass. 400s. 1st edition Juni 99. 80/8.5
House. 400s. 1st edition Juni 99. 80/8.5
Jazz.880s. Marts 2000. 250/26.75
Music USA.512s. 1st edition April 99. 195/20.75
(The Best of American music coast to coast, the clubs, the radio stations, the albums and the history)
Opera. 736s. 2nd edition October 99. 225/24
Opera: 100 Essential CDs. 208s. 1st edition September 99. 80/8.5
Reggae. 416s. 1st edition October 97. 175/18.75
Reggae: 100 Essential CDs. 208s. 1st edition September 99. 80/8.5
Rock. 2nd edition October 99. 250/26.75
Rock: 100 Essential CDs. 1st edition September 99. 80/8.5
Soul: 100 Essential CDs. Nyt ! October 2000. 80/8.5
Techno.288s. Nyt ! August 2000. 80/8.5
World Music Vol.1. 720s. New Edition November 99. 250/26.75
World Music Vol.2. 720s. New Edition March 2000. 250/26.75
World Music: 100 Essential CDs. Nyt ! October 2000. 80/8.5


BIOGRAPHIES & ESSAYS - JAZZ


In A Silent Way - The Autobiography of Joe Zawinul. Book. A5 format/350 p. from Sanctuary Publishing. 250/26.75
Written by journalist Brian Glasser, here is a biographical essay on the man who founded Weather Report after having been playing with Cannonball Adderley or Miles Davis. Discover many aspects of his life told sometimes with much humour.

A Love Supreme: The Story of John Coltrane's Signature Album. Hardback Book. 365/38.75
A passionate, revealing portrait of the creation of the album, balancing biography, cultural context and musical analysis. Written with the full cooperation of the Coltrane family.
"Bill Evans - Everything Happens to Me" by Keith Chadwick. Book only. 208 p. 260/27.75
This important book chronicles Evan's career from freelance work in the 50's, through his groun breaking solo and trio work, to the intense final phase of his life.
"Bill Evans: How My Heart Sings" by Peter Pettinger. A New York Times Notable Book. 346 p. paperback. 225/24. Description of Evan's life, music making and approach, legacy. Updated edition
"Miles Davis: So What" by John Szwed. 480p. book. 365/38.75
Carefully researched and elegantly written, a deep searching biography of the man behind the legendary defiance.
"The Making Of Kind Of Blue" by Ashley Kahn. Hard cover. 250/26.75
Kind Of Blue backstage: interviews, handwritten partitions, pictures from the session and more …
John Coltrane Discography & Musical Biography by Fujioka & Porter:
397 p. book. 675/72. The most complete and detailed work on Coltrane's music production through all medias available: Lps, CDs, Videos, Cartridges, recorded interviews. Thorough chronological listing of every session with reproduction of album covers. Rare photos, drawings and more …
Effortless Mastery by Kenny Werner: Book/VHS Video (PAL or NTSC).
The book is a best seller and addresses actually not only musicians but anyone wishing to achieve mastery and understand why we put ourselves a stop in our development. The video is the recording of a workshop in New York, 1998, in front of an audience of students, teachers and musicians.
Book/CD (meditation exercices) 200/21.25
Video (ca 60 mn) 200/21.25 for NTSC or 250/26.75 for PAL. (NTSC/PAL)
CD Unprotected Music by Kenny Werner Trio. 140/15
The record shows actually the principles from Effortless Mastery set to practice. With joey Baron and Marc Johnson
Jaco: The World's Greatest Bass Player by Bill Milkowski. Paperback book/CD. 175/18.75
Keith Jarrett: The Man & His Music by Ian Carr: 264p.book.160/17
Ian Carr, who also wrote one biography of Miles Davis.


MOVIES


BIRD: Clint Eastwood's film about Charlie Parker. VHS/DVD. 250/26.75
BIX: An Interpretation Of A Legend. 1990 film by Pupi Avati. DVD: 325/34.75 VHS: 250/26.75<> 'Round Midnight: Bertrand Tavernier's film om Dexter Gordon. DVD/VHS. 250/26.75
Sweet Love Bitter: a film from 1966, built on Charlie Parker's life. Shows the musical work of Charles Mc Pherson, Mal Waldron and Chick Corea. 92 mn B/W VHS. 350/37.25
Thelonious Monk: Straight No Chaser. DVD 270/28.75 featuring an interactive session. VHS 200/21.25


PERFORMANCE & CONCERT VIDEOS/DVDs



Swing Era. There are quite a few DVDs coming from Idem Video, Spain.
+ STAN KENTON/CHARLIE BARNET/LES BROWN/CLAUDE THORNHILL. Features classic footage of 4 of the most influencial big bands. 68mn.
+ SARAH VAUGHAN/LENA HORNE/BESSIE SMITH/ETHEL WATERS. Features some of the great singers of the 1940s. 80 mn.
+ PEGGY LEE/JUNE CHRISTY/INA RAY HUTTON. 68mn
+ NAT KING COLE. This video is a fascinating collection of his early film shorts produced for theaters or television. 73mn.
+ MEADE LUX LEWIS. Features the greatest boogie-woogie and rhythm and blues artists of the 1930s and 1940s such Meade Lux Lewis, Amos Millburn, Maurice Rocco, Gene Rodgers, etc...71mn.
+ LOUIS JORDAN. Selected material from his feature film + a selection of soundies. 90mn.
+ JIVIN' IN BEBOP WITH DIZZY GILLESPIE AND HIS ORCHESTRA. This film offers rare footage of Dizzy Gillespie and His Orchestra performing 18 hits live on stage. The footage here includes performance by other musicians, notably Charlie Parker, Ray Brown, and John Lewis. Fans of bebop will certainly find this footage of value. 60 mins
+ GEORGE SHEARING/MEL TORME/SLIM GAILLARD. Besides gathering different clips featuring the great George Shearing and his combo, this video includes additional numbers showcasing what we could term Fifties Swingers: Mel Torme, the Slam Stewart Trio, Slim Gaillard, the Bob Cats, and others. 98mn.
+ DUKE ELLINGTON/LIONEL HAMPTON. This dazzling anthology gathers different clips from the 40s & early 50s. 77mn.
+ DUKE ELLINGTON. Duke Ellington with Bille Holiday, Ivie Anderson and Mae West. This video compiles different Ellington films as Black And Tan (1929), Symphony In Black (1935 - feat. Billie Holiday), Belle Of The Nineties (1934, feat Mae West). 60 mins.
+ DINAH WASHINGTON/MARTHA DAVIS/RUTH BROWN. Main feature is Dinah, followed by a selection of clips by other female vocalists from the 1940s and 1950s. 60 mins.
+ COUNT BASIE/FATS WALLER/LOUIS ARMSTRONG + others. PAL & NTSC. 94mn.
+ BILLY ECKSTINE/ANDY KIRK/BING CROSBY. This DVD features many of the most important artists from the heyday of the big band era. The giants presented here include Billy Eckstine with Gene Ammons, Andy Kirk, John Kirby, Bing Crosby, Tex Beneke, Johnny Long, Ozzie Nelson, and Johnny Messner. 60 min.
+ ARTIE SHAW/TOMMY AND JIMMY DORSEY/ART TATUM/STAN KENTON. Included here is footage of some of the most legendary bands of the era, including: The Art Tatum All-Stars with Tommy Dorsey, and the orchestras of Artie Shaw, Tommy and Jimmy Dorsey, Big Sid Catlett, Stan Kenton with June Christy, Glen Gray, Larry Clinton, Victor Young, Ina Rae Hutton, and Xavier Cugat. 60 mins.
+ BENNY GOODMAN/ARTIE SHAW/JIMMY DORSEY/JACK TEAGARDEN. A compilation of different clips featuring the great Benny Goodman and his band, this DVD is completed with a selection of assorted clips from the Swing Era starring performers and bandleaders of the day such as Artie Shaw, Jimmy Dorsey, Hoagy Carmichael and Jack Teagarden. 77 Min.

+ Count Basie & His Orchestra Whirly-Bird '65. . In England, 1965. '60's Basie band w/ Al Grey, Marsh all Royal, Eddie Lockjaw Davis. Arrangements by Quincy Jones & Neal Hefti. Flight of the Foo Birds, L'il Darlin', April in Paris, more. 45 mins. 250/27
+ Count Basie At Carnegie Hall. Count Basie delivers a spectacular show live from Carnegie Hall on March 20, 1981 celebrating the fiftieth anniversary of his illustrious career. This all-star tribute celebrates also features Sarah Vaughn, Tony Bennett, George Benson, and Joe Williams. 200/21,5
+ Art Blakey And The Jazz Messengers: Live At Ronnie Scotts. Art and his group recorded Feb 1, 1985. Includes Terence Blanchard, Donald Harrison, Jean Toussaint, Mulgrew Miller, and Lonnie Plaxico. 5.1 surround sound, 60 mins. 200/21,5
+ Charlie Byrd Trio Live in New Orleans. This DVD finds guitar great Charlie Byrd, his brother Joe Byrd on bass, and Chuck Redd on drums. 200/21,5
+ Casino Lights '99: Bob James, K.Garrett, L. Carlton, Kirk Whalum, G.Duke… DVD 124mn 300/32
+ Classic Drum Solos and Battles Vol. 2. The second installment in this exciting and acclaimed series. Volume Two features fifteen thunderous drum solos from legends like Buddy Rich, Lionel Hampton, Gene Krupa, Papa Jo Jones, Art Blakey, Shelly Manne, Sonny Payne, Sam Woodyard, Rufus Speedy Jones, and others. Spanning the years 1947 to 1989, many of these performances have never been previously released on home video or DVD. Bonus clips include Bobby Troup's history of the jazz drum set from 1958 and a great segment featuring The Gene Krupa Jazz Trio impersonating Russian musicians from 1946! Special DVD Features: a photo gallery, notes on each clip, and a short bio of each drummer. DVD running time: 73 Minutes. 300/32,25
+ Chick Corea: A Very Special Concert. This concert features Chick Corea playing with members of the Return to Forever band, which includes Stanley Clarke, Lenny White and Joe Henderson. 260/28
+ Chick Corea, Pat Metheny & Lee Konitz. Includes the above mentioned plus Anthony Braxton, Jack Dejohnette, and Miroslav Vitous. 60 mins. 200/21,5
+ Mike Mainieri & Richie Cole Live at the Village Vanguard. This DVD was filmed live at the Village Vangaurd Club in New York in 1982. 30 minutes of Mike (and group) and 20 minutes of Cole (and group.) 200/21,5
+ Eddie "Lockjaw" Davis: Live in Europe 1985. Eddie Lockjaw Davis (tenor saxophone); Niels Jørgen Steen (piano); Jesper Lundgaard (bass); Ed Thigpen (drums). Color 88mn.
+ Miles Davis Live In Montreal. 1985 with Bob Berg, Scofield …. VHS 250/26.75. DVD 300/32
+ Drummers Collective 25th Birthday Celebration. On november 24, 2002, Drummer's Collective celebrated its 25th anniversary with an incredible evening of music. Features Dave Weckl and band, Horacio Hernandez and John Patitucci, Victor Wooten, Felix Pastorius, Steve Smith, Steve Gadd and his "Gang," Kenwood Dennard, and Collective faculty ensembles. 500/53.75
+ Clint Eastwood: After Hours. Join Joshua Redman, Christian McBride, Flip Phillips, Charles McPherson, James Rivers, Slide Hampton, Hank Jones, Thelonious Monk Jr, and The Kyle Eastwood Quartet in this Carnagie Hall salute to the actor/musician who uniquely integrated jazz into the scores of his films. 106 minutes. 200/21,5
+ Duke Ellington: Live at the Tivoli Gardens. Dating from 1971 and with Ben Webster sitting in for some tunes. 250/27
+ Duke Ellington: Forever Gold. Recorded mostly in 1961 and 1962. 130/14
+ Duke Ellington: Memories of Duke. DVD or VHS. 260/27.75
Memories of Duke is a loving tribute capturing the Duke & his band on their 1968 Mexican tour, filmed at Mexico City's Palacio De Bellas Artes as well as in Guadalajara.
+ Duke Ellington: The Intimate. On January 23, 1967, Ellington filmed two programs for Danish television. The first has him jamming with an octet taken from his orchestra, including altoist Johnny Hodges, tenor-saxophonist Paul Gonsalves, baritonist Harry Carney and trumpeter Cat Anderson. The second showcases the Duke in solo and trio settings. 57 minutes. 200/21,50
+ Duke Ellington & His Orchestra. 1929 - 1943. This collection of 6 shorts and clips from feature length films featuring Duke and the whole orchestra in a number of varied settings gives us a wonderful picture of his musical evolution. 55 mins. 195/21
+ "On the Road With Duke Ellington". DVD. 325/34.75
Filmed just six years before his death and at the peak of his career, this is perhaps the most revealing and intimate portrait of the artist ever recorded....
+ Tal Farlow: Live at Bowling Green University. Tal with trio. 85 mins. 325/35
+ Ella Fitzgerald: Something To Live For. This DVD jazz documentary features Ella Fitzgerald and is 86 minutes. It includes never-before-seen footage and exclusive interviews.Narrated by Tony Bennett. It is the definative portrait of the singer and her music. 250/27
+ Vintage Getz: Live at the Mondavi's Vineyards, 1983. 2DVD 106mn. 520/56
+ Benny Goodman Farewell Collection: Includes both a CD and DVD of Benny's last recorded live performance. 259.25/28
+ Dexter Gordon and McCoy Tyner: Cool Summer. DVD. 260/27.75
Live Performances during the Harvest Jazz Festival at Paul Masson Vineyards in California.
+ Stephane Grappelli: A Life In The Jazz Century. In this 2 DVD set, he tells the sory of his 77 year career with: Django Rheinhardt, Martin Taylor, George Shearing, Bing Crosby, and many more. Includes all known film footage of Django including 7 minutes of the Hot Club Quintet and lots of bonus material. Over 3 hours! 300/32,25
+ Lionel Hampton's Jazz Circle: with all star band: Mel Lewis, R.Eldridge, Z.Sims … VHS 300/32
+ Herbie Hancock: Future 2 Future Live. DVD. Check the price! The concert was recorded live at the Knitting Factory in LA in the highest audio and video fidelity available and is presented for this DVD Video in ground-breaking Dolby Digital and DTS 5.1 surround sound. The band features heralded players including Wallace Roney on trumpet, Darrell Diaz on keyboards, Terri Lyne Carrington on drums, Matthew Garrison on bass and DJ Disk on the turntable.
+ Barry Harris: Spirit Of Bebop. Documentary with interviews & performances. VHS 55mn 250/26.75
+ Keith Jarrett, Gary Peacock, Jack Dejohnette "Standards". DVD. 325/34.75
Recorded Live at Koseinekin Hall, Tokyo, on February 15th, 1985.
+ Keith Jarrett Trio: The Open Theatre East 1993. Now also on DVD! 300/32 VHS 250/26.75
+ Jazz Collection The Legends Series. This 120 minute DVD features volumes 1 & 2 of The Legends Series Jazz Collection and features some of the world's all-time best Jazz musicians such as Dizzy Gillespie, Art Blakey, Willie Dixon, Red Rodney, Stan Getz, Dexter Gordon, and a host of others. 200/21,5
+ Jazz Life Vol.1: Johnny Griffin Quartet & Richie Cole Group. From concerts in 1981. 95/12.75
+ Jazz Life Vol.2: Blakey, Marsalis, Mainieri. 55 mn. 95/12.75
+ Stanley Jordan: Live In Montreal. This video filmed at the XI Montreal International Jazz Festival presents spectacular guitar solos confirming his immense talent. 59 mins. 260/28
+ Duke Jordan Trio. April 7, 1985 at Copenhagen's Montmartre Jazzhus. A tribute to Ben Webster, this excellent concert showcases Jordan playing with Clark Terry. Duke Jordan + Jesper Lundgaard + Age Tandgaard. Duke Jordan Trio with Clark Terry: Clark Terry; Duke Jordan (piano); Jimmy Woode (bass); Svend E. Nørregaard (drums). 75 mins.
+ Rahsan Roland Kirk: The One Man Twins. Montreux Jazz Festival 1992. VHS 250/26.75
+ Manhattan Transfer Vocalese Live. Recorded live in Tokyo in Feb, 1986. Includes Four Brothers, Airegin, Sing Joy Spring, That's Killer Joe, Birdland, Shaker Song, How High The Moon, Boy From New York City and eleven more. 250/27
+ The Marsalis Family: A Jazz Celebration. On Aug 4, 2001, the Marsalis family (five brothers) in a live musical tribute to their father. Includes material from the original PBS broadcast and exclusive interview and concert footage. Includes 12 selections. Special guest stars Harry Connick Jr and Lucien Barbarin. aprox 90 mins. 50/27
+ Les McCann / Eddie Harris: Swiss Movement. Live from Montreux Festival. VHS 250/26.75
+ McLaughlin, De Lucia, Coryell: Meeting Of The Spirits. This 1979 concert was recorded in Royal Albert Hall. 55 mn. 250/27
+ Pat Metheny/Herbie Hancock/ Jack De Johnette/Dave Holland: In concert. DVD 300/32. VHS 250/26.75
From Mellon Jazz Festival 1990. This is the "Parallel Realities" tour concert under the leadership of De Johnette.
+ Charles Mingus: Triumph Of The Underdog. Now also available on DVD! 300/32. VHS: 250/26.75
+ Modern Drummer Festival Week-End 2003. Featured artists and groups included: Nathaniel Townsey (ex Zawinul's Syndicate), with a very soulful trio; a burning set by Steve Smith and Vital Information; Mike Portnoy with his Beatles Tribute band and with Dream Theater; the brilliant percussionist Airto Moreira; an incredible drum duo from Holland called the Drumbassadors and many more. Special DVD Features include, Mike Portnoy rehearsal footage, Stick Tricks with Steve Smith and the Drumbassadors, a Photo Gallery, and more. 500/53.75
+ Monterey Jazz Festival 1975. Featuring Bill Evans, John Lewis, Dizzy Gillespie and Paul Desmond. Performers include Paul Desmond, Bill Evans, Blood Sweet and Tears, Dizzy Gillespie, John Lewis, Chuck Mangione. Akiyoshi Big Band featuring Clark Terry, Bobby Blue Band, Etta James and the Outlaws, Marian McPartland and many more! Color. 60 Min. 195/21
+ Newport Jazz Festival 1962. Features Count Basie & His Orchestra, Johnny Hodges, The Oscar Peterson Trio, The Clara Ward Gospel Singers, Pee Wee Russell, Ruby Briff, Joe Williams, Roland Kirk, & The Duke Ellington Orchestra. 60 mins. 260/28
+ Horace Parlan by Horace Parlan. An intimate and touching self-portrait. Includes performances of Broken Promises, Deep River, Party Time, and more. 57 minutes. 200/21,5
+ Buddy Rich and His Band: Channel One Suite. This 1985 Emmy Award winning performance was his last studio recording. 200/21,5
+ Buddy Rich and His Big Band: The Lost West Side Story Tapes. Recorded in 1985, the master tapes were thought to have been lost in a fire. They were discovered in 2000, along with the original surround sound digital master, and extensive work was done to bring you this state-of-the-art audio mix. 4.0 Channel Dolby® Digital and DTS® Digital Surround tracks, interview segments, behind-the-scenes footage of Buddy, and rare photos from the Rich family archives. Approximately 110 minutes. 200/21,5
+ George Shearing: Jazz Legend. This DVD was recorded live at the Ambassador Auditorium Pasadena, 1981. 260/28
+ Zoot Sims Quartet & Shelly Manne Quartet. From 1970. R.Brown, H. Hawes. VHS 56 mn 200/21.25
+ Steps Ahead: Copenhagen Live. 60mn. With Eliane Elias, Peter Erskine, Michael Brecker, Eddie Gomez and Mike Mainieri. Recorded 01/04/83 at the Glyptotek, Copenhagen. 95/12.75
+ Steps Ahead: Tokyo Live. 30/07/86 med Mike Stern, Darryl Jones, St. Smith, Brecker. DVD 300/32
+ Clark Terry Quartet: Copenhagen Live. 07/04/85 at Montmartre with Svend Nørregaard. 95/12.75
The Greatest Jazz Films Ever. This 2DVD set includes Jammin' the Blues (Hollywood, CA, August-September, 1944) + The Sound of Miles Davis (New York, April 2, 1959) on disc 1. Disc 2 has The Sound of Jazz. Duration: 130 mn. 500/53.75
+ The Sound Of Jazz. VHS. 325/34.75
The Seven Lively Arts presents The Sounds of Jazz originally broadcast from CBS Studio 58 on December 8th, 1957. Starring Count Basie, Billie Holiday, Thelonious Monk, Lester Young, and Coleman Hawkins.
+ Randy Weston: Live In St Lucia. Includes an interview. 68 mins. 260/28
+ Lester Young / Charlie Parker / Miles Davis: Great Performances. Includes all the existing footage of Charlie Parker with Lester Young, Illinois Jacquet and others + The Sound of Miles Davis, a fantastic television program featuring the Miles Davis Quintet with Coltrane, Kelly, Chambers and Cobb, with the Gil Evans Orchestra + Jazz at the Philharmonic (Early September, 1950): Harry Edison, Charlie Parker, Coleman Hawkins, Lester Young, Flip Phillips, Hank Jones, Ray Brown, Ella and others + The Sound of Miles Davis (New York, April 2, 1959): Miles, Coltrane, Kelly, Chambers, Cobb, and others. 60 mn.

Jazz Casual: Rare Performances by Jazz Giants.
From Ralph Gleason's TV series in the 60's. 30 mn. B/W. 28 references available at very low prices as long as stocks last.VHS à 125/13.5
+ Cannonball Adderley Quintet, Oct.61 with Zawinul, L. Hayes, Sam Jones and brother Nat
+ Louis Armstrong in studio 1963
+ Count Basie, May 68
+ Dave Brubeck Quartet, Oct. 61
+ John Coltrane Quartet, Dec. 63
+ Art Farmer & Jim Hall. 1963 with Steve Swallow & Walter Perkins
+ Dizzy Gillespie Quintet 1961 with Lalo Schifrin, Leo Wright, Bob Cunningham & Chuck Lampkin
+ B.B. King May 68
Woody Herman, 1/July 62 2/May 63 3/Feb. 64 (3 different videos)
+ Earl Hines Trio Feb. 63
+ Thad Jones & Mel Lewis, April 68. With Randy Brecker, Bob Brookmeyer, Pepper Adams, Roland Hanna
+ Lambert, Hendriks & Bavan, Feb. 63
+ Charles Lloyd Quartet, June 68 with K. Jarrett, Ron Mc Clure & Jack De Johnette
+ Carmen Mc Rae, March 62 with Norman simmons, Walter Perkins & Victor Sproles
+ Modern Jazz Quartet, May 62
+ Gerry Mulligan Quartet, July 62 with Bob Brookmeyer
+ Turk Murphy, June 62
+ Art Pepper Quartet, May 64 with Bill Goodwin, Frank Strazzeri & Hersh Hammel
+ Sonny Rollins, March 62 with Jim Hall, Bob Cranshaw & Ben Riley
+ Jimmy Rushing, Oct. 62
+ Bola Sete & Vince Guaraldi, Sept. 63
+ Muggsy Spanier, Dec. 63
+ Joe Sullivan, Dec. 63
+ Mel Torme, May 64
+ Paul Winter Sextet, March 68 with Warren Bernhardt, Bill Riley, Jay Cameron, Arthur Harper
+ Jimmy Witherspoon & Ben Webster 1962

Findes også nu som DVD à 225 Kr med anden gruppering (2 videos per DVD) !
Also now on DVDs à 24 € (2 videos grouped on each DVD)!

Louis Armstrong i studie 1963 + Earl Hines Trio Feb. 63
Count Basie, May 68 + Lambert, Hendriks & Bavan, Feb. 63
Dave Brubeck Quartet, Oct. 61 + John Coltrane Quartet, Dec. 63
Art Farmer & Jim Hall. 1963 + Gerry Mulligan Quartet, July 62 with Bob Brookmeyer
Dizzy Gillespie Quintet 1961 + Mel Torme, May 64
B.B. King May 68 + Turk Murphy, June 62
Woody Herman, 1/July 62 + 2/May 63
Thad Jones & Mel Lewis, April 68 + Woody Herman 64
Charles Lloyd Quartet, June 68 + Paul Winter Sextet, March 68
Sonny Rollins, March 62 + Carmen Mc Rae, March 62
Jimmy Rushing, Oct. 62 + Jimmy Witherspoon & Ben Webster 1962
Muggsy Spanier, Dec. 63 + Joe Sullivan, Dec. 63

Der er nu så mange forskellige tilgængelige videos, at vi ikke kan nævne dem alle. Så spørg !
There are so many videos available that we can't list them all. So ask us!

Bestilling eller kontakt til / For orders contact:

Music By Mail
Kattekilde 4 5750 - RINGE
Fax/Tel.: 65 98 23 05
E-Mail: pierremusby@email.dk